Volunteering opportunities
Want to get involved in public engagement but don't know where to start? Why not consider participating in events organised by the College. These are an excellent way to enhance your communication skills and inspire future generations. Please get in touch to find out more or show your interest.
Colourful Pathology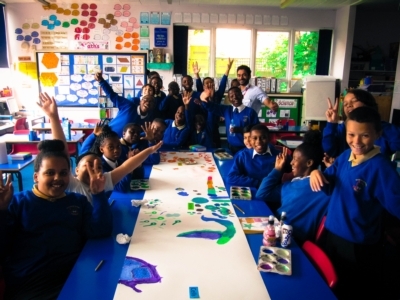 Wednesday 28 June, Thursday 29 June - Bristol and Basingstoke respectively
Ever thought about mixing science with art? Lizzie Burns, University of Oxford Scientist, now professional science-based artist, has a passion for making scientific ideas accessible and exciting to all children through the medium of art. The Royal College of Pathologists has commissioned Lizzie to run two workshops that will focus on how pathologists help prevent, diagnose and treat diseases – using art.
Why we need your help. Lizzie needs a pathologist to come with her on the day to be a representative for the field of pathology, to inspire the students about possible careers within the remit of pathology. No preparation is needed. All you need is to come along, answer any questions the children might have, and have some fun!
When are the activities?
Wednesday 28th June - Abbeywood Community School, New Road, Stoke Gifford, Bristol BS34 8SF. Theme: micro-organisms or blood.
Thursday 29th June - Dove House School Academy, Sutton Road, Basingstoke RG21 5SU. 2 workshops: Secondary, special educational needs.11am-12.30pm; 1.30pm-3pm. Theme: viruses/bacteria/cells.
Get in touch. If you think you want to be involved in these exciting workshops, then get in contact with the public engagement team at publicengagement@rcpath.org if you want to get involved as soon as possible.