Dr Kimberly Gilmour, Clinical Scientist in Immunology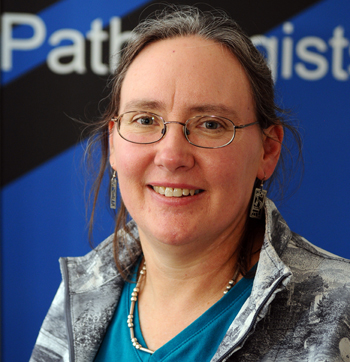 I begin my day by…
Cycling to work; where I start many mornings reading through my e-mails. In conjunction with genetics, I run a national service diagnosing patients with defects of their immune system (the patients get severe and frequent infections). I answer several e-mails advising about appropriate testing and sample requirements.
I spend my mornings doing…
Ward rounds where we discuss both in-patients and out-patients. We evaluate their diagnosis, current treatment and future management in a multi-team setting consisting of nurses, doctors and scientists. Recently, there was a baby with probable SCID (severe combined immunodeficiency) - children who are unable to fight infections and would die without a bone marrow transplant or gene therapy. I suggested the appropriate diagnostic tests and arranged for blood to be sent to the immunology laboratory. One of the doctors in training (SpRs) had to take my blood to serve as a control sample for the requested tests. Control samples are important because they ensure that the tests work and any abnormalities found are due to defects in the patients and not because the assay failed. It was later found that the baby lacked T cells and a protein called the 'common gamma chain'. This means the baby has X-linked SCID and will either need gene therapy or a bone marrow transplant.
During lunch…
I sometimes listen to talks by external speakers and then attend a brief meeting of scientists involved in gene therapy to ensure that we are prepared to treat patients next week. After lunch, I analyse patient results as many of the tests we do are qualitative (descriptive) rather than quantitative (a numerical value). All molecular immunology qualitative test results are reviewed by two people - immunology consultants or clinical scientists, to ensure results are accurate. Any abnormal result must be phoned through to the referring clinicians and further tests and/or therapy will be discussed with them.
Later in the afternoon…
I return to my work at the immunology laboratory where we are currently developing a new test for analysing how well immune cells can kill other cells. Patients who lack killing cells are prone to infection, malignancy and have a dysregulated immune system. Once the new test is validated, it will be routinely used; this will be better for patients as currently patient samples have to be sent to Germany which is time consuming and costly. After processing some more samples, reviewing patient results, writing letters about patients, answering telephone queries from doctors and laboratories around the UK; I return to my office, check my e-mails, shut down my computer and then cycle home though the evening mist.
What do you enjoy most about your job?
I love the variety of work. No two patients are the same and no two days are the same. I also enjoy being able to apply science for the benefit of patients. The combination of research and clinical is exciting.
What advice would you give students that wish to enter your field?
For whatever career you chose ensure it is something you are interested in. If clinical science interests you, read about different types of science (immunology, haematology, chemistry, etc.) and try and visit different laboratories (both research and clinical) to understand how they work and what the differences are. There are also numerous websites that provide more information. There are many points of entry into healthcare science but all require science A-levels. Enthusiastic, competent scientists are always needed.