Chelsea Flower Show
The College exhibited a Low Allergy Garden at the Chelsea Flower Show on 24-28 May 2016. With one in four people suffering from hay fever, the College displayed beautiful low allergy plants, shrubs and trees, which can help minimise allergic reactions. The exhibit had an open design and plants with low amounts of pollen or are insect-pollinated, such as Trachelospermum jasminoides, Papaver, Hosta, Rosemary and Thyme.
The garden was developed by College Fellow, Dr Tim Wreghitt, to raise awareness of the role of pathologists in diagnosing and monitoring people with allergies.
The exhibition was run by pathologists and visitors were able to learn about many aspects of an allergy including symptoms and possible allergens. The College also created a leaflet, highlighting plants suitable for a low allergy garden, a pollen calendar and explaining how pathologists investigate allergies.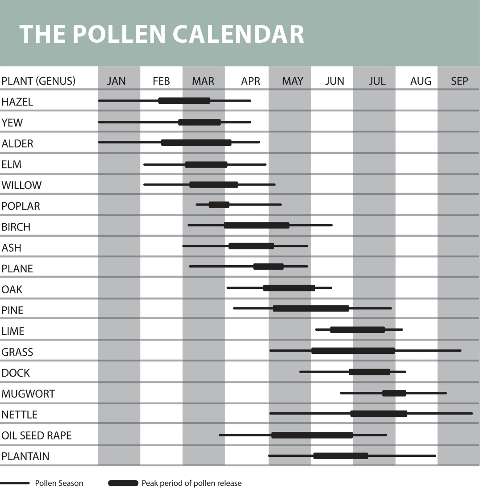 If you find that you sneeze, cough, have an itchy, runny nose and eyes at certain times of the year, have a look at the pollen calendar to find out what might be causing your hay fever.
A day-to-day pollen forecast can be found on the Met Office website.
Download the leaflet