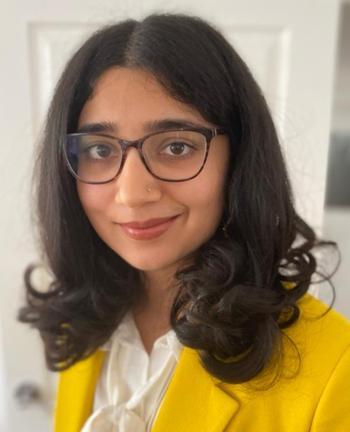 Congratulations to this year's Hugh Platt Foundation Essay Prize winner, Dr Saumya Singh. Saumya is a Foundation Doctor at the Essex, Bedfordshire, and Hertfordshire Foundation School.
In celebration of the College's Diamond Jubilee, this year's essay question was 'How has pathology changed in the last 60 years?' Thank you to all those who who submitted an essay and to the judges, Vice President, Learning, Professor Angharad Davies, and Undergraduate Pathology Education Lead, Dr Alison Finall.
The Hugh Platt Foundation Essay Prize will reopen in Spring 2023. In the meantime, you can read Saumya's winning essay on our competition webpage.
We asked Saumya a few questions about this year's prize.
How do you feel about winning this year's Hugh Platt Foundation Essay Prize?
I am delighted to have won this year's Foundation prize. I found this year's question challenging but highly enjoyable. It was not easy trying to summarise sixty years of amazing advancement in pathology into 1000 words! I am pleased my entry was chosen by the judges.
Why did you enter this essay competition?
I am at the stage of my career where I am exploring what to do after my Foundation training is complete. I enjoyed learning pathology at medical school and so I entered the competition to explore more about pathology as a field of work. This year's question was broad and intrigued me.
What do you hope to do in the future?
I am keeping an open mind about my future career. I hope to complete Internal Medical Training as a first step and have been exploring Infectious Disease & Medical Microbiology by doing a taster week in the specialty.
What do you like about pathology?
I always enjoyed pathology at medical school. Pathology reveals the amazing intricacies of the body and its interactions with the outside world. I find the science fascinating and appreciate how an understanding of pathology aids clinical decision making and communication with patients about what is happening to them and why.
What would you say to students who are considering entering this competition?
I would encourage fellow Foundation Doctors to go for it and enter this competition! There is nothing to lose by entering. I learned a lot about pathology by participating and it was a fun challenge to work on.