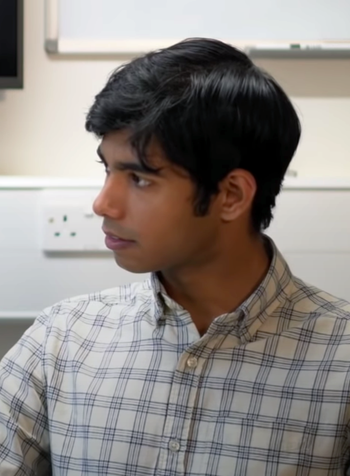 Congratulations to this year's Paola Domizio Undergraduate Essay Prize winner, Anamay Shetty. Anamay is a final year medical student at the University of Cambridge, who will be going on to do his foundation training in Aylesbury and Oxford.
This essay question for this year's prize was 'Which one scientific discovery or pathologist has had the most significant impact on medicine/pathology in the last 60 years?' Thank you to everyone who took part in the competition and to the judges, Professor Angharad Davies and Dr Alison Finall, who had the difficult task of scoring all of the brilliant essays and deciding on an overall winner.
"The standard of writing in the undergraduate essay competition was very high and reflected thorough research into the topic by the entrants. There was a breadth and depth of understanding of the role of the full range of sub-speciality subjects in pathology. My heart felt congratulations to our winner for an outstanding effort and fantastic contribution." – Dr Alison Finall, Undergraduate Pathology Education Lead
The Paola Domizio Undergraduate Essay Prize will reopen in Spring 2023. In the meantime, you can read Anamay's winning essay on our competition webpage.
We asked Anamay a few questions about this year's prize.
How do you feel about winning this year's Paola Domizio Undergraduate Essay Prize?
I am very glad that the judges enjoyed my submission as much as I enjoyed writing it!
Why did you enter this essay competition?
I heard about this competition from my medical school, and I enjoy writing about medicine, so I thought it was a good fit. The prize money would also go a (small) way to offset the costs from frequent trips home to see my family and London to see my friends!
What course and year are you currently studying and at which university?
I am a final year medical student at the University of Cambridge, going on to foundation training in Aylesbury and Oxford.
What do you hope to do in the future?
I don't know what I want to do yet – I have heard pathology is a good speciality choice.
What do you like about pathology?
I like pathology because pathology is modern medicine. Prior to pathology developing as a field in the late 19th century, we had made some progress in understanding the body (anatomy, the beginnings of physiology and infectious disease transmission, some bioactive compounds) but we were stuck without a correct theory of how these integrated together. The development of a theoretical base (germ theory, genetic basis of cancer) and the tools (microscopy, IHC, PCR) from pathology meant we could rationally investigate disease and develop treatments which we associate with medicine today.
What would you say to students who are considering entering this competition?
You should apply for this competition! It is hard to find time to think about medicine broadly in medical school, so it is a great opportunity to write essays like this.