Welcome to the Alie Street Blog, where we'll keep you updated on progress with the College's new permanent home, the Goodman Building on Alie Street in the Goodman's Fields area of East London. The current building, purchased with the proceeds of the sale of the lease of 2 Carlton House Terrace in March 2015, will be demolished and new purpose-built premises constructed on the site. The whole process is expected to take over two years, with the aim of opening the new College in November 2017.
While work is at the planning stage I thought I'd take the opportunity to let you know a bit about the history of the building and the area.
East London
The area near the new College is one of the most rapidly changing inner-London neighbourhoods, with uses varying from the large commercial offices and residential towers of the City fringes to small residential and commercial properties in the historic back-streets. Alie Street is within minutes' walk of bustling Whitechapel, St. Katherine's Dock and the City. Aldgate and Aldgate East tube stations are less than five minutes' walk away and it less than a twenty minute walk to Liverpool Street and London Bridge.
Goodman's Fields
A convent was established in this area of London in 1293 and survived until the Dissolution of the Monasteries in the sixteenth century. A farm attached to the convent was bought by wealthy London fishmonger and farmer Roland Goodman and was used for grazing horses. The area has been known as Goodman's Fields since.
Alie Street
In the sixteenth century Goodman's Fields was bought by Sir John Leman, then Lord Mayor of London. Four new roads were laid in a square and named after Leman and three relatives – Ayliff (or Ayliffe), Mansell and Prescot. Ayliff Street eventually became Alie Street but the other three roads remain as they were originally named.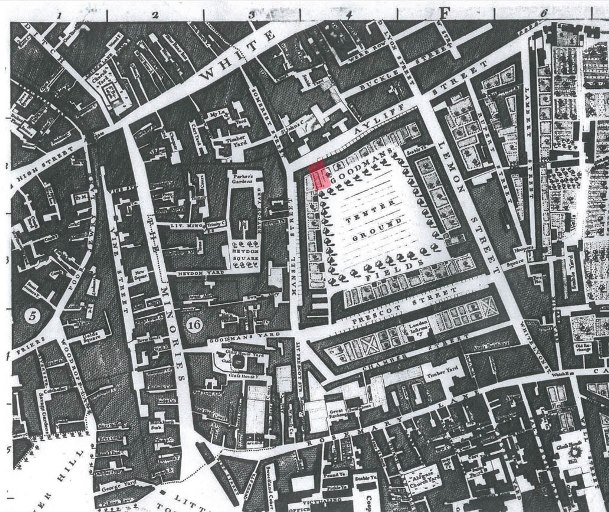 The Goodman Building
The existing building on the site was constructed in the 1980s and has six floors. The building's internal layout is compromised by large structural columns, which would make it impossible to fit in a large lecture theatre. The external appearance is also typical of the 80s and could do with a major makeover.
It is, perhaps surprisingly, more cost effective to demolish the current building and rebuild than invest in renovating the existing building. This also gives the best opportunity for the College to create an efficient, attractive and flexible headquarters for the benefit of its members and staff for decades to come.
Council planning approval is likely to take six to eight months. Once this is in place, building work will start immediately.
Next month I hope to have more detailed architects' drawings of the layout of the new building. In the meantime, if you would like more information or have an enquiry about the College's relocation, please email rcpathmove@rcpath.org