Inspired by bacteria, viruses and cells, pupils from English Martyrs Catholic Primary School created pathology-related artwork commissioned by the College. The hoardings are being used at a construction site at 6-8 Alie Street, which will be the new location of the College's purpose-built premises when building work is completed in late 2018.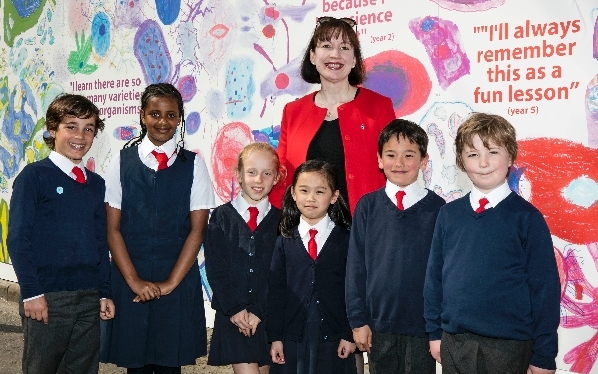 The President of The Royal College of Pathologists, Dr Suzy Lishman was joined by pupils to celebrate the unveiling of the hoardings.
English Martyrs Catholic Primary School is located at St Mark Street, which is just behind the Alie Street development.
Dr Suzy Lishman said: "We wanted to inspire the school pupils to create vibrant and colourful artwork to reflect the diverse world of pathology to brighten up our construction site while we build our new premises.
This wonderful kaleidoscope of images created by the children represents the microscopic world of human cells and micro-organisms, which many pathologists examine as part of their study of disease.
Pathology is at the heart of modern healthcare and plays an important part in almost every patient's care. Pathologists and scientists are involved in preventing, diagnosing, treating and monitoring disease to keep people as healthy as possible. I hope that some of the pupils joining us today will be pathologists of the future and who knows, they might also come and work in our new building one day!"
The College collaborated with Dr Lizzie Burns, a scientist and artist, to run the classes with the school pupils.
The hoardings are based at North Tenter Street, London, E1, just behind the Alie Street development