The College's Service Spotlight blogs aim to highlight services that have made impressive changes in their practice that improve quality and/or patient safety. If you would like to nominate a service that you think should be highlighted, please email
[email protected]

.
Would you like to begin by introducing yourself? What's your role within the Centre for Diagnosis and Research in Cancer (CeDARC) group and how long have you been there?
I'm Harshima Wijesinghe, a Histopathologist and Senior Lecturer attached to the Department of Pathology, Faculty of Medicine, University of Colombo. I joined the department as a junior academic in 2009 and completed most of my postgraduate training in histopathology in the same unit.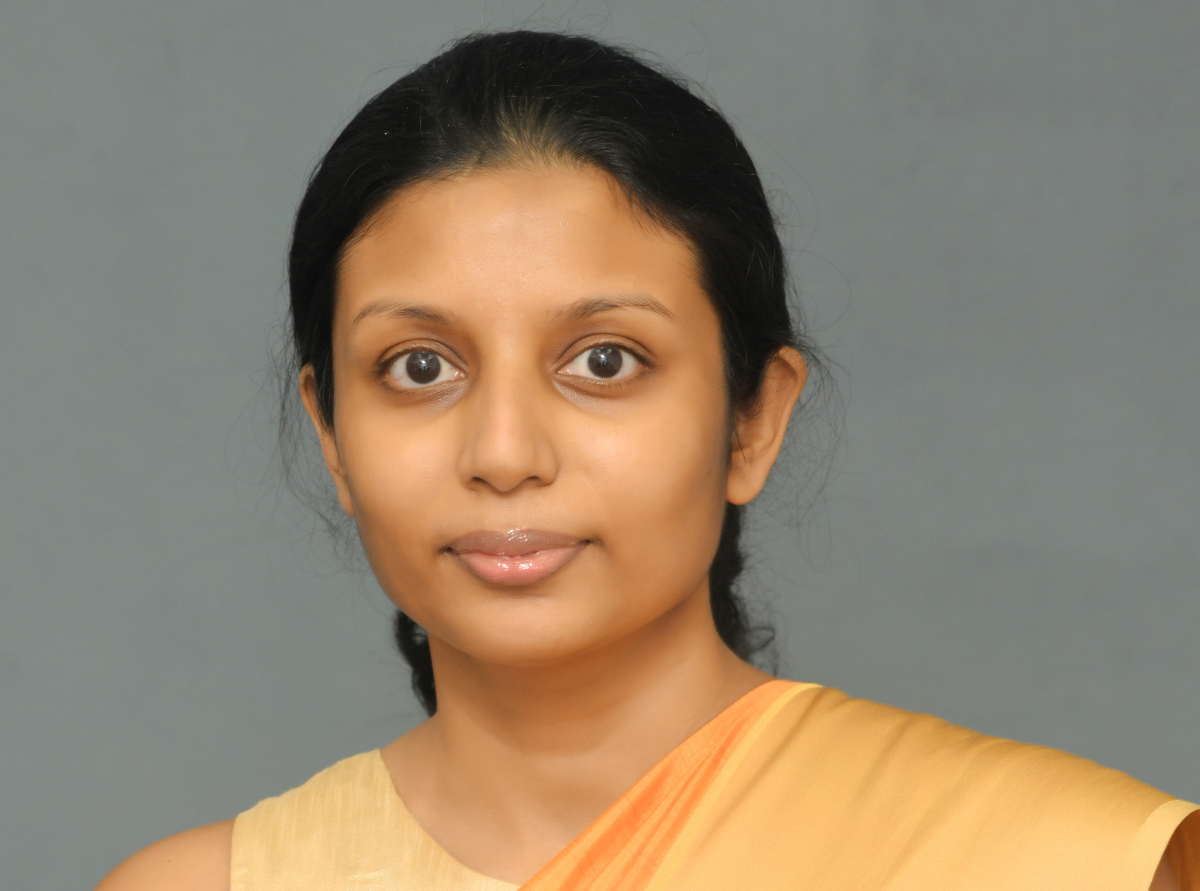 CeDARC was established within the University of Colombo in January 2022. I have been involved in the project as part of a diverse multidisciplinary team since 2019, when we first started planning the project. Since the centre opened, I have been involved in the day-to-day handling of cases that are referred to the centre. I am also involved in several cancer-related research projects that are conducted by the centre and contribute to training programmes.
Could you introduce us to your team – how many people are in the team and what are their job roles?
We are a large multidisciplinary team, comprising pathologists, geneticists, scientists, pathology trainees, and technical and secretarial staff. The team lead is Professor Chandu de Silva who is Chair Professor of Pathology at the University of Colombo and the pioneering force behind CeDARC. He recognised that a cancer referral centre for complex cases was needed in Sri Lanka, championed this cause and lobbied for funds for the centre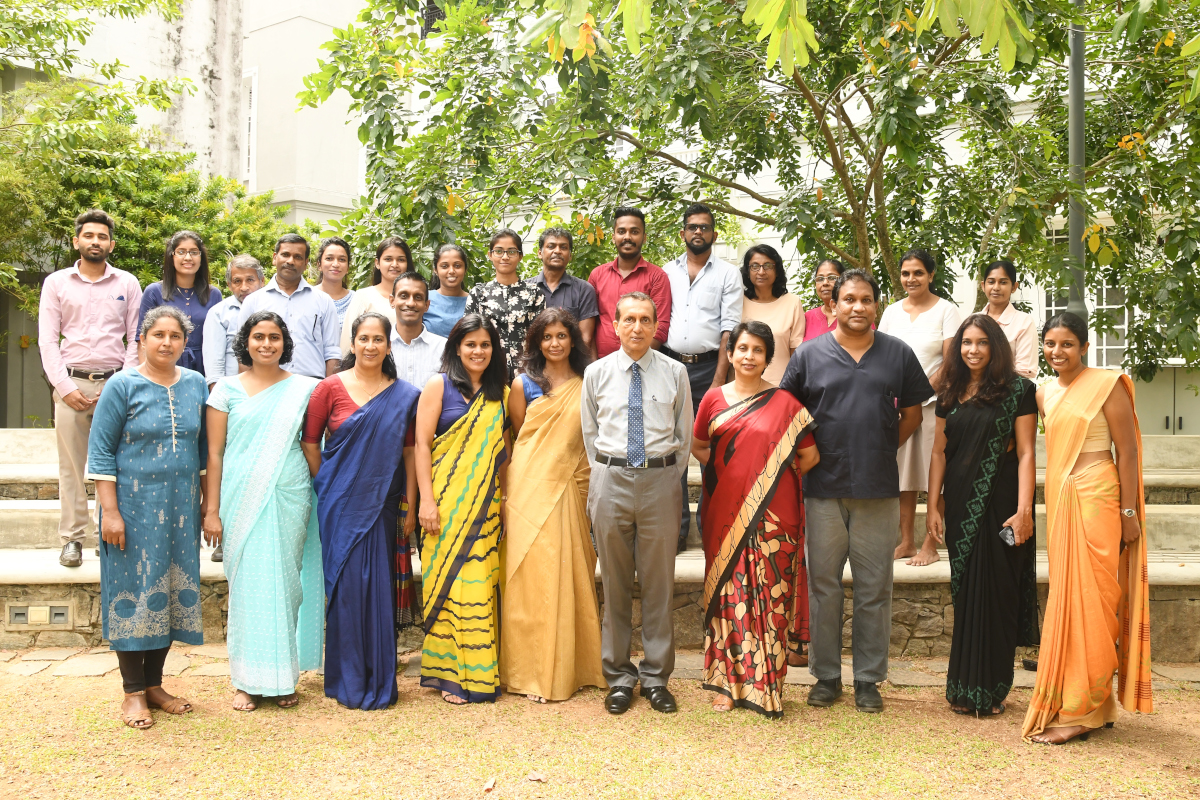 I am one of six histopathologists attached to the centre. The other histopathologists are Professor Chandu de Silva, Professor Dilani Lokuhetty, Professor Niranthi Perera, Professor Priyani Amaratunga and Dr Gayani Ranaweera. The team also includes haematologists Professor Lalindra Gooneratne, Dr Manu Wimalachandra and Dr Ahalyaa Sivashangar, geneticists Professor Vajira Dissanayake and Professor Nirmala Sirisena, Professor of Zoology Professor Preethi Udagma who has an interest in molecular diagnostics, Dr Tharanga Thoradeniya from the Department of Biochemistry and Molecular Biology, and histopathology trainees and lecturers attached to our department Dr Lalani De Silva and Dr Chamali Baranasooriya. The team is supported by our technical staff and secretarial staff led by Ms Yamuna Jayasekera and Ms Kokila Wijesinghe and the other postgraduate trainees in histopathology and haematology who are attached to the centre.
Is there anything that you think is particularly unique to CeDARC and how would you describe its mission?
The facilities available in most histopathology laboratories in Sri Lanka are limited and many are manned by a single histopathologist. Facilities for immunohistochemistry are available in only a few tertiary-care hospitals in the country, and none of these laboratories are equipped with facilities to perform all stains needed for cancer diagnosis. Although a vast amount of clinical material is available, research into the aetiology and pathology of cancer is limited in Sri Lanka, mainly owing to the lack of resources.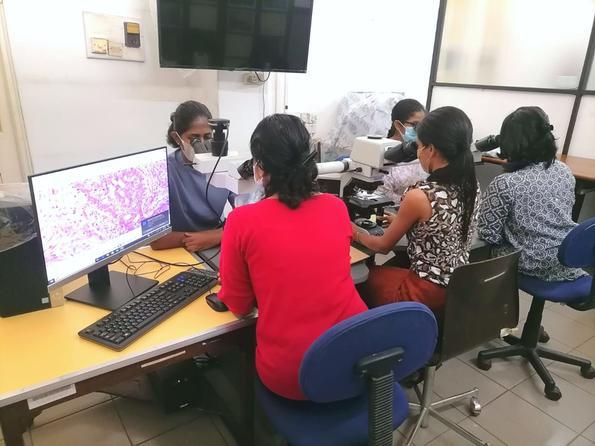 CeDARC was established with the intention of overcoming some of these shortcomings.
Our mission is to establish a state-of-the-art referral centre, with multidisciplinary teams of clinicians and scientists to enable a comprehensive cancer diagnostic service, translational research and capacity building.
Over the last year through the establishment of CeDARC, we have introduced a referral mechanism for pathologists all around Sri Lanka, to refer cases for a second opinion. We have established an immunohistochemistry laboratory within the centre and have validated over 90 antibodies so far; some of which are not available elsewhere in the country.
All cases that are received by the centre are reviewed by at least two pathologists. If further immunohistochemical testing is required, they are performed at the centre. When possible, the case is discussed with the referring pathologist using the telepathology facilities. We are hoping to develop the centre in the future to establish molecular testing, which is currently unavailable in the country.
Being part of the university, research is an important aspect of our work. We have a few ongoing multicentre studies that are being conducted through the centre and we have established links with pathologists in all parts of the country. This helps to bring pathologists in Sri Lanka together to engage in collaborative research work.
What are the challenges of being a university pathology unit? How have you tackled them?
As a university pathology unit, the limited funding that is available from the state is generally utilised for undergraduate teaching. The Sri Lankan health and education systems are still recovering from the COVID-19 pandemic. The current socioeconomic crisis has further compounded matters and led to a dearth of funding for basic reagents and immunohistochemistry markers that are essential for a comprehensive diagnosis. We are a popular training centre for histopathology trainees, however, we struggled for years to replace the existing old multiheaded microscope and procure microscopes for the increasing numbers of trainees allocated to the centre.
We have been able to purchase some of the essential equipment and consumables required for diagnostic work and postgraduate training through the funds that we obtained to establish the centre. The greatest challenge that we have now is procuring continued funding to ensure the sustainability of the centre. We are hoping to achieve this through generated funds, donations and research grants.
How do you encourage effective collaboration among your team?
The contribution of each team member is crucial for CeDARC to function effectively, and this is always emphasized. There is always the opportunity to share new ideas and discuss issues they may have. All relevant stakeholders are included in the decision-making process.
The RCPath Achievement Award for teamwork that we received last year was also a great boost to the morale of our team and has encouraged us to keep striving for excellence.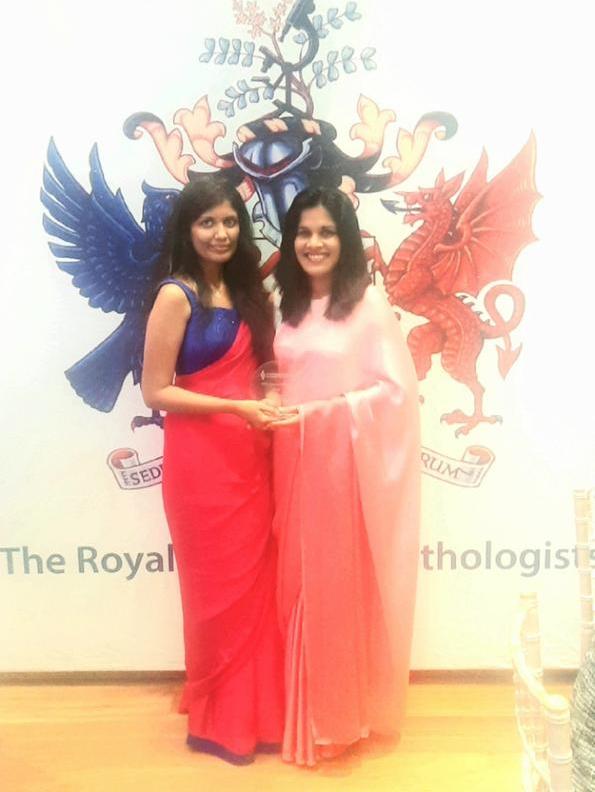 What role does digital technology play in your experience and how do you see this developing in the near future?
We use digital technology to support both diagnostic work and teaching. Digital photographs of gross specimens and the projected live microscopic images are used routinely in our daily reporting and regular multidisciplinary team meetings with clinical colleagues.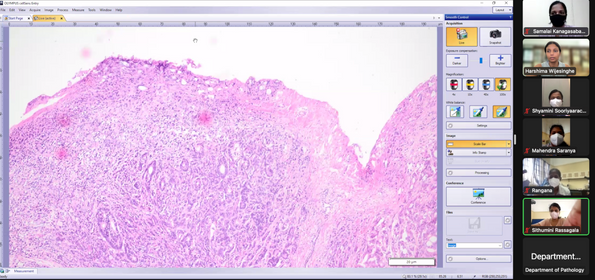 We also use Zoom to share live microscopy images and discuss cases with pathologists working in different parts of the country, as well as to discuss teaching cases with postgraduate trainees. This was especially useful last year during the COVID-19 pandemic and fuel crisis in Sri Lanka when travelling to work for all members of the team was restricted.
Digital technology has allowed us to share images of slides with experienced overseas experts to obtain technical advice on optimising immunohistochemistry testing for some of the trickier antibodies.
We are involved in a collaborative research project with undergraduates from the Faculty of Information Technology to develop algorithms to use artificial intelligence to detect papillary nuclear features.
Currently, there is no digital slide scanner in Sri Lanka. A digital scanner would be very useful for teaching and sharing cases to obtain a second opinion. It would also help to run a quality assurance programme for Sri Lankan histopathologists working in different parts of the country. The purchase of a digital scanner and the use of digital pathology for routine diagnosis and teaching is unlikely to happen soon in our setting, owing to funding limitations. Despite the lack of a slide scanner, I believe that our use of other forms of digital technology will only continue to increase over the coming years.
Could you describe an average week for you and your team?
As members of a university pathology unit, our staff is involved in different areas of work. Our work is not limited to diagnostic work at CeDARC. We are also involved in teaching – both undergraduate and postgraduate – and research. A proportion of our time is spent engaged in reporting, which includes the handling of cases referred to CeDARC as well as other pathology specimens handled in our department laboratory including skin, kidney, gynaecological, breast, soft tissue, gastrointestinal, liver, urological and haematolymphoid specimens.
We are involved in the peer review of cases and participate in weekly multidisciplinary team meetings. Since we are still in the initial stages of setting up the centre, a considerable amount of time is spent planning workflows and the next steps in the development of the centre.
How does your programme benefit patients in Sri Lanka?
The main role of CeDARC is to function as a referral centre for cancer diagnosis. Cases are referred here from all parts of the country and patients are the main beneficiaries of CeDARC.
I will try to illustrate this through one example. We get many referrals from Jaffna Hospital, which is situated in the North of the country, 400 km away from Colombo. Jaffna Hospital is usually manned by the most recently qualified histopathologists in the country – it is usually the pathologist's first consultant post. If the pathologist has a difficult case for which they require a second opinion, they can refer it directly to us at CeDARC.
Recently, we had a referral from Jaffna for a liver tumour in a 51-year-old woman who was investigated for a liver lesion. The CT appearances favoured an intrahepatic cholangiocarcinoma. Serum tumour markers were not available. Histology showed a carcinoma with hepatoid morphology and abundant fibrous stroma. Immunohistochemistry performed at Jaffna Hospital showed that the tumour was negative for HepPar1 but showed focal positivity for CK7. The pathologist referred it to us because the morphology and immunohistochemistry did not tally. This case was reviewed by a panel of pathologists at CeDARC. Further immunohistochemistry testing was performed at the centre, including glypican 3, which is not available elsewhere in Sri Lanka. Glypican 3 was positive.
The case was discussed at a consensus meeting and with the referring pathologist. The final consensus diagnosis was a scirrhous variant of hepatocellular carcinoma.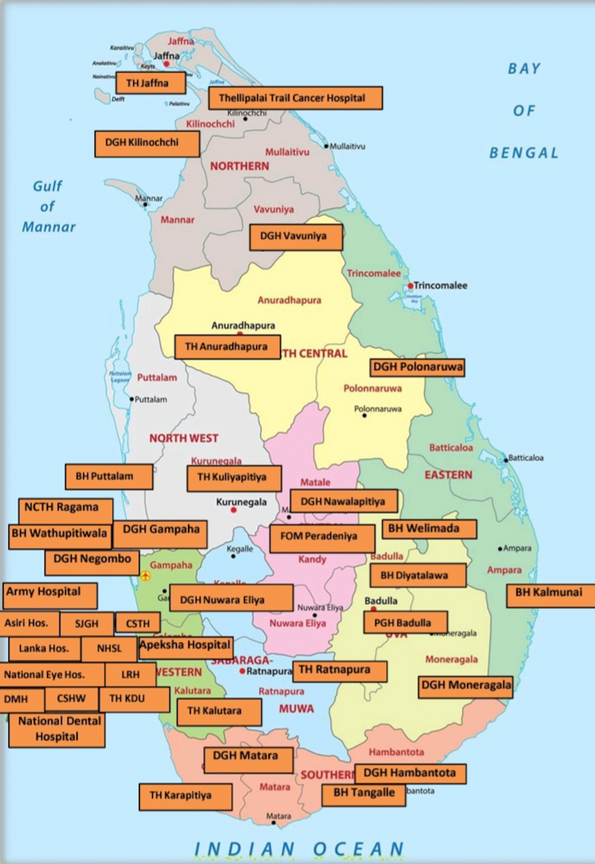 At CeDARC we have a panel of pathologists, some of whom have over 20 years of experience. We are supported by the facilities for specialised testing. As a result, the patients are more likely to receive a more accurate and comprehensive diagnosis and we can provide support to histopathologists all around the country.
What advice would you give to Sri Lankan trainees?
Sometimes the lack of funds and facilities available in the local setting is discouraging. The ongoing problems in Sri Lanka have led to many talented trainees and early career pathologists migrating to the west, particularly in the more recent past. However, through hard work, great teamwork, persistence and a bit of luck you can sometimes achieve what seems impossible. I think the establishment of CeDARC is a testament to that. So do not give up. Think big and keep at it.
What are you looking forward to for the future of CeDARC?
In the immediate future, we hope to consolidate and further develop our existing laboratory facilities.
We hope to strengthen our multidisciplinary teams and establish links with local and overseas centres to obtain support for diagnosis and research.
We are also working towards getting accreditation for our laboratory, which would make it one of the first laboratories in the country to receive accreditation.
In the long term, we are looking towards establishing a diagnostic molecular genetics laboratory and digital pathology facilities within the centre. Our long-term vision through CeDARC is that any Sri Lankan patient, regardless of their location or economic status, can receive a comprehensive diagnosis in keeping with global standards.