The College has launched a new blog series – called Service Spotlight – highlighting services that have made impressive changes in their practice that improve quality and/or patient safety. This is the first blog in the series. If you would like to nominate a service that you think should be highlighted, please email [email protected].
What's your role within the service and how long have you been there?
I'm Sarah Coupland, a Consultant Histopathologist. I'm based at the Royal Liverpool University Hospital and I run the ophthalmic pathology service. There are four supraregional ophthalmic services in England, and they are located in Liverpool, Manchester, Sheffield and London. I've been at the Royal since December 2005, so 14 years. There were other ophthalmic pathologists when I first started but they've since retired, and so it's me together with a couple of dermatopathologists, who help me with the eyelid tumours.
What's the setup of the ocular pathology team – how many people are in the team and what are their job roles?
Belonging to the ophthalmic pathology team is myself as histopathologist, the two biomedical scientists – Simon Biddolph and Anna Ikin – and our secretary Chloe Jordan, who collates all the cases that come into the service. Simon has taken an extra qualification specifically looking at ocular pathology, which allows him to report some corneal cases. We also have two molecular post-doctoral scientists – Sophie Thornton and Helen Kalirai – who run the routine molecular pathology service associated with the eye cancers. These tests are important for confirming the diagnosis, and, in the case of uveal melanoma also stratify the patients into those that are high- or low risk of potential cancer spread. We are also characterising the mutations present in the uveal melanoma cells, hoping that one day these mutations be 'actionable' with novel therapies.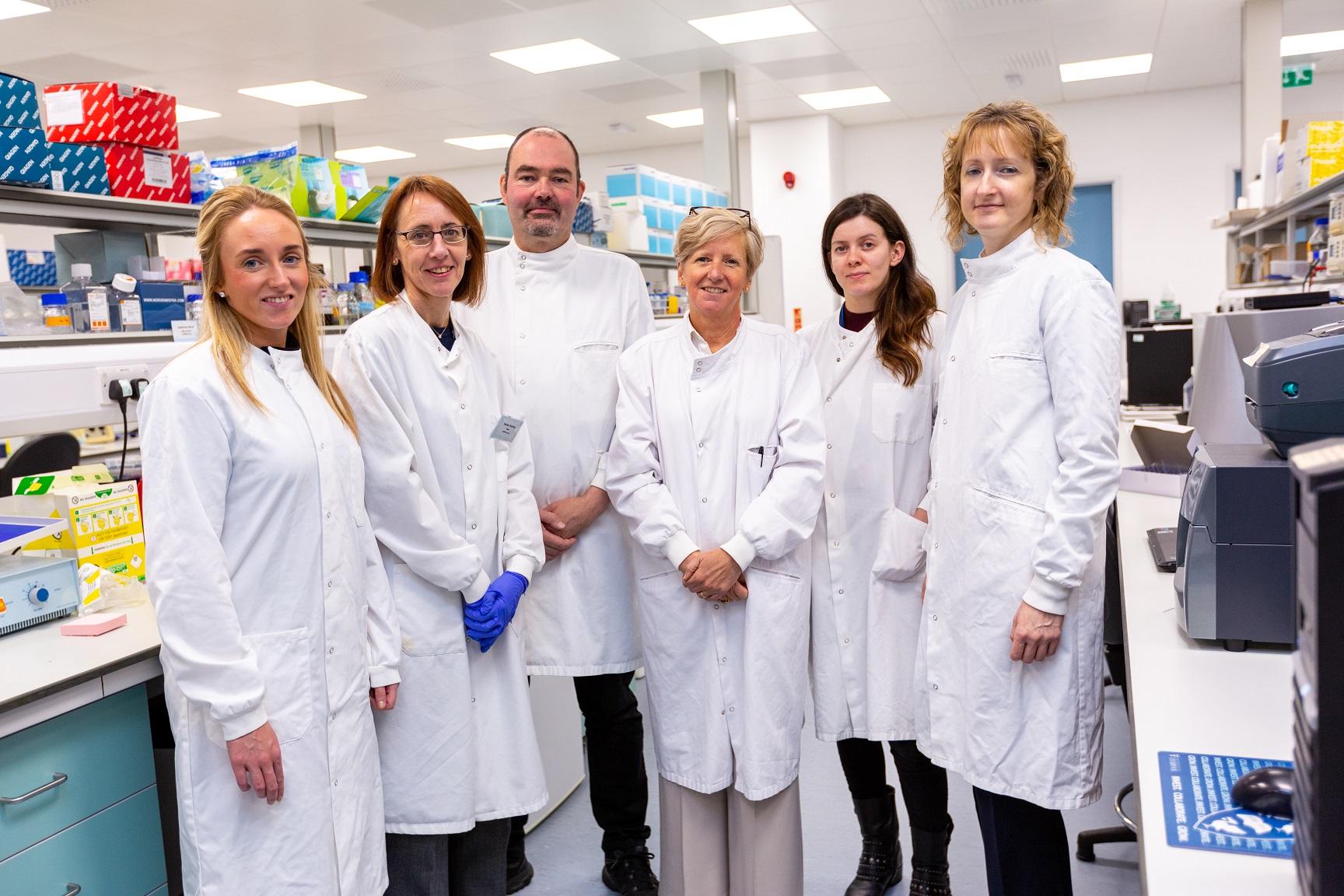 How does your NHS work fit together with your research work?
I have a 50% NHS and 50% University (academic) contract: the research work that I do is very translational – it always has an objective of being translated into and of use to the clinic. I guess it's fair to say that the vast majority of research work that my team does focuses on ocular melanoma. Whether it's conjunctival melanoma or intraocular (uveal) melanoma, we aim to get a better understanding of why these tumours arise and also how they then spread in some patients. Uveal melanomas characteristically spread to the liver: we are trying to understand that micro-environment there, and decipher why uveal melanomas are attracted to the liver over other organs, and to improve the therapy. At present, there is no successful treatment of metastatic uveal melanoma. Things that work in metastatic skin melanoma don't necessarily work in a metastatic uveal melanoma. They're like very distant cousins – they look similar under the microscope at high power, but they're very different in their genes and clinical courses.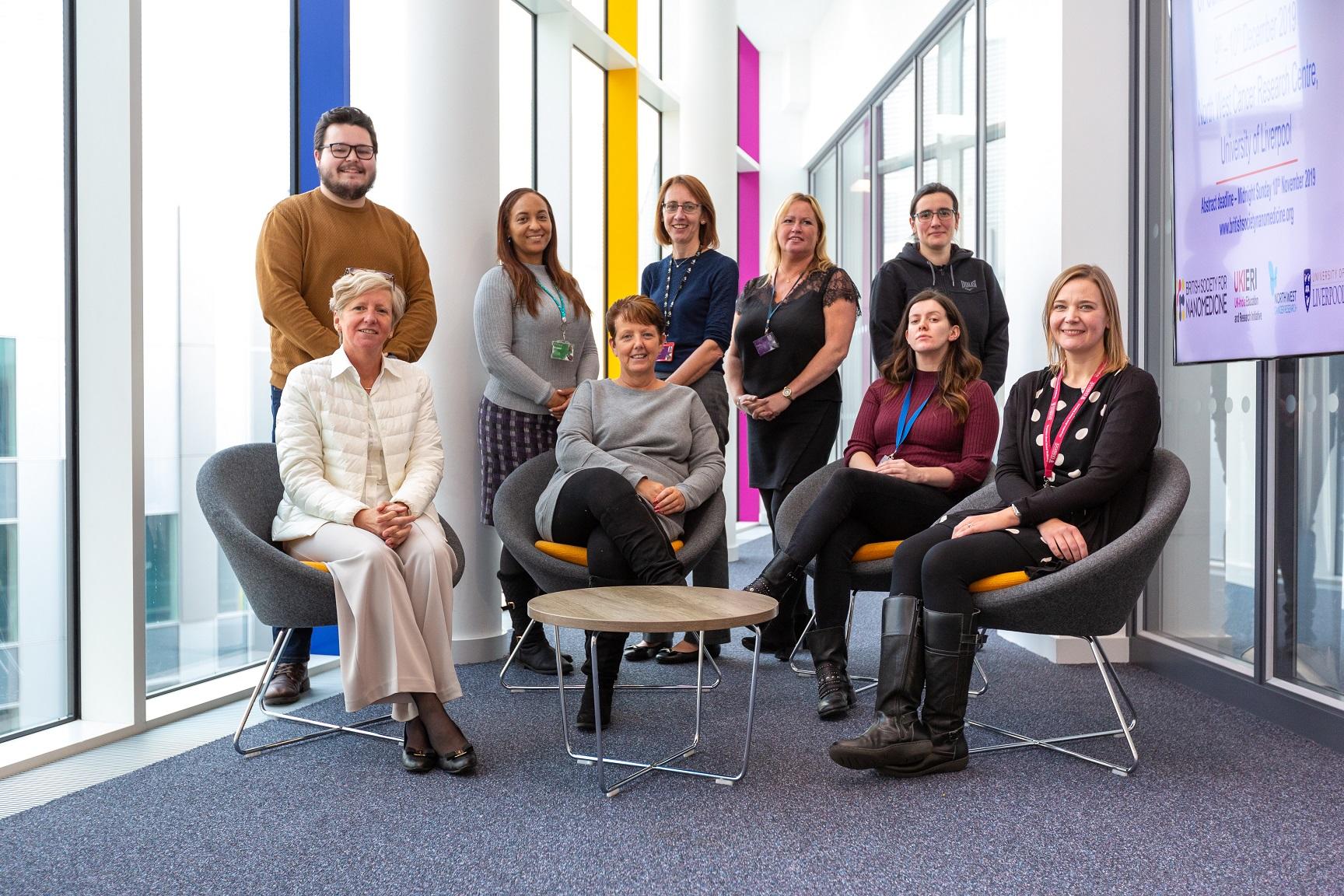 Could you tell us what ocular pathology involves?
Ocular pathology involves anything in and around the eye: so eyelids, conjunctiva, lacrimal gland (which is the tear gland), the drainage duct from it, and anything behind in the orbit, as well as anything in the eye – the cornea, iris, lens, retina and so on. We receive a wide range of samples, which vary from tiny, intraocular biopsies to larger samples. We can get miniscule samples where you are almost stretching every single cell present to get as much information out of it as possible. For example, you could do some immunohistology or you could do the molecular pathology, but you can't do both. Or we may get a large sample, e.g. the whole eye, or sometimes horrible cases of the eye with all associated tissues (eyelid, orbital soft tissue and sometimes bone) – these large samples take a while to dissect.
Do tiny specimens present a new kind of challenge in deciding what to do with a sample? How do you decide?
This is where the interaction with the biomedical scientists (Simon and Anna) is critical. They might receive a tiny biopsy and you can hardly see it in the tube and the question may be: is it an intraocular tumour or is it something else? Simon may only be able to make one slide or one cytospin out of it and he'll say: 'well, what do you want me to do now?' And then I've really got to think carefully, in order to optimise the specimen. Both Sophie and Helen are experts at extracting DNA from samples, whether they are tiny or larger ones, fresh or fixed.
We work closely with the clinical ocular oncology team, so we always know what operations are taking place each Tuesday and Friday. This means we know the background of the clinical problem, the type of samples we are expecting and which ones will be tricky. We maybe get around 30 samples a week from inhouse, but they vary in their degree of urgency and complexity.
Describe an average week for the service?
Mondays are when the Liverpool ocular oncology clinic sees all new suspected eye tumour patients. These are people that have been referred by their opticians, ophthalmologists or family doctors, and they are sent to this supraregional referral centre. The team start seeing patients at around 8:30, and then at 2 or 3 in the afternoon there is the clinical multidisciplinary team meeting (MDT). This is where they present all of the patients notes and findings as a very brief summary, showing images and explaining how the decisions for treatment were made. At least one from my pathology team will attend this MDT, and hear what will be happening on Tuesday and what kind of samples we will be getting. While all that's going on, I'm normally doing diagnostic or research work.
If the samples come from elsewhere in the UK, then they typically come fixed; although we do receive urgent eyelid resections in taxis (!) from the oculoplastic team at Aintree.
Tuesday we are on-standby, so to say, as we get all of the surgical samples fresh in the path lab. It's fairly busy running back and forth, processing the samples and the bloods. We have quite good communication – Simon will send a text or an email when each sample arrives. Helen also organises our ocular oncology biobank. When we have consent from the patients, we undertake tumour harvesting and this surplus material is biobanked for research. A separate consent is required if the uveal melanoma patients want to have the prognostication testing on their tumour done. If the samples come from elsewhere in the UK, then they typically come fixed; although we do receive urgent eyelid resections in taxis (!) from the oculoplastic team at Aintree.
Wednesday is the finishing of the grossing of the samples, immunocytology and molecular pathology. Thursday is consumed by diagnostic work, as the clinicians are wanting to have definitive diagnoses and/or do re-constructions in the case of the oculoplastic team. Friday is another operating day, but it's not as busy as Tuesdays.
In between all of that I do my research work, the administrative work for the University and the running of the North West Cancer Research Centre. My diary is quite full but that makes it varied and interesting.
Is there anything particularly unique to the service?
OUR BIOBANK
We are really quite unique with the Liverpool Ocular Oncology biobank, which has existed close to 12 years. We have freezers full of fresh-frozen primary uveal melanomas, metastatic tumour samples and also the bloods from the consented patients. It's because of this precious biobank that we have been able to take part in a number of national and international studies. It was set up form scratch and now we have loads of samples – probably around 10,000 – which is really like a treasure-trove of this rare tumour.
It's because of this precious biobank that we have been able to take part in a number of national and international studies.
Helen is just incredible because she knows all the 'ins and outs' of the Human Tissue Act, and she's very strict with the patient consent forms and patient information sheet – if it's not signed properly, the sample won't be processed any further until the situation is clarified. Any research groups wanting to access the ocular oncology samples need to provide us with an outline of the project (to make sure it's a reasonable scientific question), an indication of how they are going to fund the work, and we also have to evidence that they have ethical approval, before we transfer any samples.
OUR PROGNOSTICATION SERVICE
Another thing that is unique to the service is the molecular genetics and the prognostication service for the uveal melanoma patients. Essentially you can divide the uveal melanoma patients into those who have a good tumour and a bad tumour, predominantly on the basis of the tumour cell genetics, although there are other features that help prognosticate. Most patients want to know if they've got a good or a bad tumour, but we only do the testing if we have their consent, because it's quite frightening to know that you may develop metastasis in two, five or ten years.
We then incorporate the genetic findings into our prognosticator tool, which takes into account the age and gender of the patient, the location of the tumour, the morphology of the cells and the genetics. For every patient, we can generate an individualised prognostic curve, which then goes to the ocular oncology team. The team have a clinical psychologist and ocular oncology nurses who then talk these results through with the patients.
So, this means that uveal melanoma patients at low risk of spread can be reassured and they will have surveillance of their liver less regularly. If it's a 'bad' tumour with a high risk of spread, we have been told by uveal melanoma patients that they prefer to know this as it helps them determine their activities and sort things. Furthermore, through more regular liver surveillance using better imaging techniques, then any spread may be detected earlier with the aim of either removing the cancer spots surgically, or being possibly recruited to a trial. We collaborate very closely with the patient support groups Ocumel UK, CureOM and Melanoma Patients European network.
If it's a 'bad' tumour with a high risk of spread, we have been told by uveal melanoma patients that they prefer to know this as it helps them determine their activities and sort things.
Prognostication in uveal melanoma is a bit controversial because people in some ocular centres say 'What's the point in doing the prognostication, if there is no "magic bullet" to treat the patients with?' We are working together with a number of other groups and different drug companies, who all realise how important it is to work out what is the Achilles heel of these rare tumours, and so one day we will indeed be able to come up with this magic bullet. We may not achieve this in my lifetime, but at least we have developed the 'know-how' of stratifying these patients into risk groups according to genetic changes, so that we could target the high-risk patients with any potential new drug. And we have to remember that even if there's a lengthening of survival by only 6 months or so, for the patient and their family this can be of incredible value.
How do you maintain excellence as a service?
I think there is a lot of sense of pride of the quality in the team. It is such a small and niche area but all of these patients need just as excellent care as anybody with a more common tumour. When it comes to the cutting of the blocks and staining of the sections for the diagnostic work, both Anna and Simon do it just so beautifully: they are really photogenic slides. There's a lot of care put into everything, but particularly the immunohistology – we are always trying to be up to date with new biomarkers – and molecular pathology. We have internal and external controls to make sure everything is up to a high standard. For example the molecular pathology tests that we perform are not part of the national EQA. So, we've contacted various other laboratories across Europe, and asked to work together to make sure that we are both providing an excellent quality. They would send us samples without us knowing their results and vice-a-versa, so that we can evaluate whether we've come up with concordant results.
We have KPIs according to the royal College and also within the NHS. Certain tumour samples, for example a carcinoma of the eyelid, are turned around within a certain time period, so that the ocular plastics team can close up the wound as quickly as possible with a good cosmetic result.
Could you tell us about an interesting innovation in the treatment of ocular tumours?
In some cultures, they treat eyes very differently. In Japan, for example, during autopsies they never remove the eyes because they believe that the soul of the person is in the eye. Hence, removing the eye in a patient is always considered the last resort, and new therapies, such as very tricky intra-arterial chemotherapy via the ophthalmic artery, have been designed in Japan and are now used across the globe.
The ocular oncology team in Liverpool offer a surgical procedure not offered elsewhere in the UK: they can cut out a choroidal melanoma only, without removing the eye.
The ocular oncology team in Liverpool offer a surgical procedure not offered elsewhere in the UK: they can cut out a choroidal melanoma only, without removing the eye. It's microsurgery with high stakes similar to those seen in neurosurgery. Remember the eye itself is only 2 and a half centimetres in length. As the choroid (the middle layer at the back of the eye) is very vascular, the blood pressure of the patient has to be reduced significantly, down to half of what it normally is in order to avoid intraocular bleeding (and so the patient has to be fit to have such lowered BP). The eye surgeons can cut out the tumour and the adjacent scleral flap, close things up with the other structures of the eye falling back into their usual places. There are various reasons why patients have this operation done – some may be from Japan and other parts of Asia for the reasons cultural reasons mentioned above. Other patients may need two eyes, and the associated stereotypic vision, to maintain their jobs. It's tricky surgery – the tumour has to be in the right place, the patient has to be very fit, but for some it is worth the journey.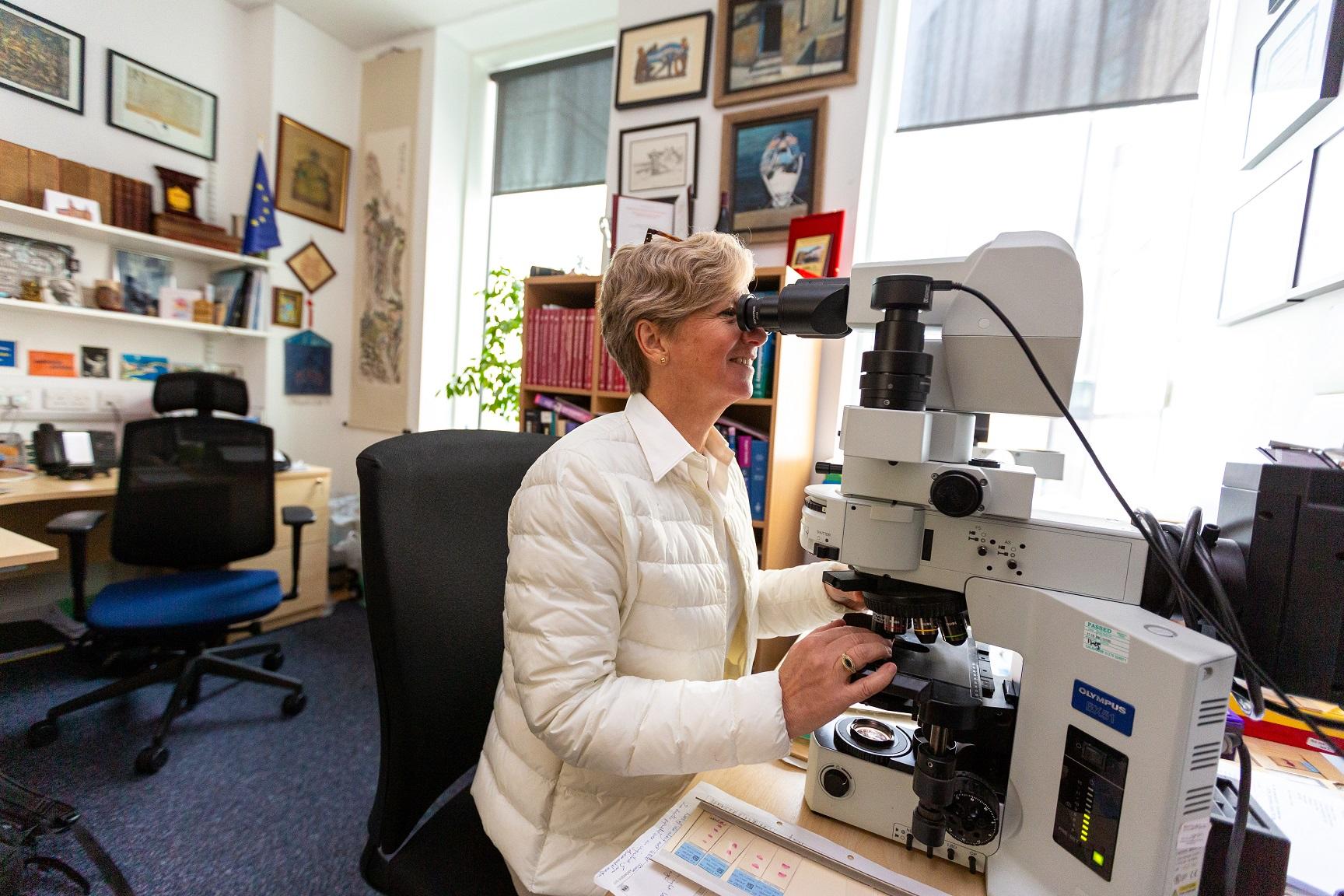 And finally, what are the biggest challenges you face as a service and how have you taken steps to overcome these challenges?
The main challenges we face as a service are funding and succession planning. I'm fortunate in that there is a fully-trained ophthalmologist, who has decided to take up a second training in pathology, because she wants to do ophthalmic pathology. She's half way through her training, so I know that there will be someone to continue the work here in Liverpool should I decide to have a second career, retire or move. Making sure that there are people interested in ophthalmic pathology is a challenge, as it's such a niche area.
And funding – if NHS England didn't put funding into these four national supraregional centres, there is a risk that ophthalmic samples may take less priority in a large general pathology centre, where they are dealing with huge numbers of more common (and usually large) tumours. At least with the present system, all general pathologists know that they can send the ocular specimens here directly, and if they are unsure about any diagnoses, we are open for and regularly provide second opinions.