Dr. Estefania Ochoa, Medical Microbiologist from Ecuador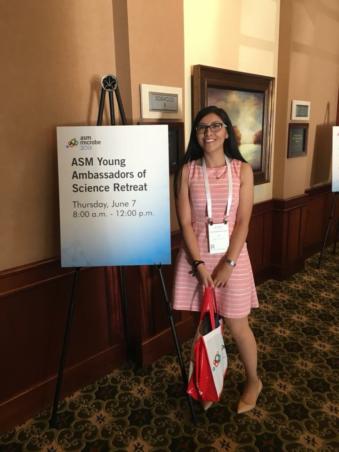 I am Ecuadorian doctor full of aspirations regarding contributing to public health and microbiology. After graduation I worked with the state as part of the mandatory community year. Within this time, I realised how important the concept of one's health was.
Why Manchester?
I applied for an Ecuadorian government scholarship, part of programme called Excellence Program of Scholarships, to study an MSc in Medical Microbiology at Manchester University. Studying abroad proved to be a life changing decision.
While the academic course developed, I realised the importance and impact of the role of the Clinical Microbiologist in the clinical setting. In Ecuador Microbiologists are primarily laboratory based, and do not have the clinical training that UK Microbiology trainees undertake. Therefore, I applied for a clinical attachment to the Department of Microbiology at Wythenshawe Hospital.
What I gained?
During my time at the Wythenshawe Hospital, I saw how clinical the role of the microbiologist in the UK is and how fundamental this is to clinical diagnostics. I was actively involved in outbreak investigations and clinical audit. I saw how the multidisciplinary team is essential in order to reach goals to fight antimicrobial resistance and to prevent more infections due to MDR organisms.
My future plans
I returned to Ecuador with lots of hope and determination to spread the knowledge that I acquired. With the insight that different tools and opportunities need to be given to young students in order to expose them to the endearing path of microbiology. I am finishing my second year of residency in clinical pathology and I was delighted to be nominated as a Young Ambassador for the American Society of Microbiology for Ecuador.
Bring a new concept to a traditional model its always challenging. However, I am up for the challenge. Using my experiences from Manchester, I would like to develop new strategies for microbiology education in my home country and find ways to spread the importance of microbiology in clinical diagnostics.
I am proud of the path I selected and I am enthused to study further. I am determined to continue with my education and would like to attempt the FRCPath examination.