Dr.Shalika Palangasinghe, Medical Microbiologist from Sri Lanka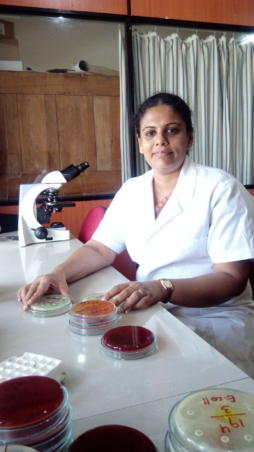 I obtained my primary MBBS in 2004 from University of Ruhuna, Galle, Sri Lanka. In 2009, I carried out post graduate studies in Medical Microbiology, completing five years of training including a one year Diploma, a three year MD and one year Post-MD training locally. I completed FRCPath Part 1 in 2016 (held in Singapore).
Why Manchester?
In order to become Board Certified and work as a Consultant Microbiologist in Sri Lanka, it is mandatory to undergo one year of post MD training in an overseas centre recognised by the Postgraduate Institute of Medicine, University of Colombo. Therefore, I contacted the educational supervisor at Manchester University Foundation Trust, Wythenshawe Hospital, and was offered a one year placement as an International Training Fellow, under the Medical training Initiative (MTI) scheme.
I completed the IELTS, became registered with the GMC and the Royal College of Pathologists provided a Certificate of Sponsorship. So that I could obtain a VISA under the Tier 5 Government Authorised Exchange category. My living expenses were funded by the Ministry of Health, Sri Lanka.
What I gained?
Wythenshawe is a busy hospital which had many new learning opportunities for me. I had lots of clinical exposure, such as reviewing patients on ICU and bacteremia ward rounds and carried out an audit on the management of S. aureus bacteraemia which I have since presented in my own Hospital. In addition I gained experience of some areas which were completely new to me, e.g. managing patients undergoing Extracorporeal Membrane Oxygenation (ECMO), management of severe burns and infections in Cystic Fibrosis patients. I worked closely with all the Consultants giving me lots of exposure to MDT working.
I gained experience working with new laboratory technologies such as MALDI – TOF and VITEK. I learnt more about how to prepare clinical and infection prevention guidelines and antibiotic stewardship policies. I had opportunity to participate in infection control activities including RCA on C. difficile infections and MRSA bacteraemias. Clinical handover meetings made me consider how I could bring these into practice in my own country.
My future plans
I have since returned to Sri Lanka where I have been awarded board certification by the Postgraduate Institute of Medicine, University of Colombo, Sri Lanka. I now have a permanent post in a Teaching Hospital in Southern Province of Sri Lanka. I enjoy my work, with the challenges facing me with the limited facilities we have here. Using the knowledge and experience gained in Manchester, I am trying to do my best to develop my local Microbiology diagnostic facilities.
My future plans are to continue to develop my knowledge through CME activities and complete FRCPath Part 2 examination in Medical Microbiology in the near future which I hope I am more prepared from after my year in the UK.