Conducting a clinical audit
As part of our Continuous Quality Improvement programme, the College promotes high quality clinical audit. Clinical audit is a process that seeks to identify where improvements can be made within healthcare services by measuring them against evidence based standards. Care providers can then target specific areas for quality improvement ensuring patients receive the best care.
Each audit cycle involves defining standards, collecting data to measure current practice against those standards, and implementing any necessary changes to improve practice. Undertaking a reaudit, after changes have been made, aims to show the impact of changes and completes the audit cycle.
The audit cycle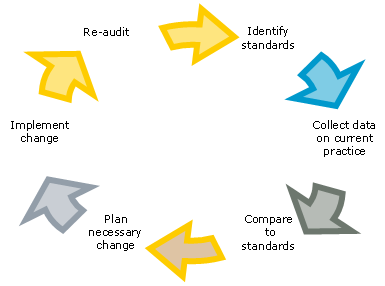 The College offers a scheme for the certification of audits in order to foster high quality clinical audit projects. The scheme is voluntary and will certify only audits that follow the audit cycle methodology and meet the standards set by the College. To encourage high quality audit, we publish examples of high quality audits both here and in the College Bulletin. Audits are only published with the consent of the author.