This year's National Pathology Week was focused on Pathology in the Community, with three College events held in London and many more happening across the UK. Here, we look back at some of the highlights.
Cancer screening: What does the future hold?
The College has just moved to Tower Hamlets, where uptake of cancer screening is low compared to UK targets. To help understand how the College may help address this issue, we invited relevant local stakeholders – including representatives from Breast Cancer UK, Social Action for Health and Barts Health NHS Trust – to join our Senior College officers at a roundtable discussion on cancer screening.
The fruitful and lively discussions will help inform how we develop our public engagement activities with school students and families in the future. College President, Professor Jo Martin said it was refreshing to "hear the many different perspectives" on the day, and looks forward to collaborating with some of the charity leaders in the future.
The great plague: How have autopsies transformed our understanding of disease?
Dr Suzy Lishman presented her popular 'virtual autopsy' event during her last week as President of the College. The event took place as part of Centre of the Cell's Big Question Series, and over 200 people attended. After listening to the lecture, one student asked what Dr Lishman thought would happen to autopsy in the future. Dr Lishman replied saying she thought perhaps post mortem imaging would replace the need for full autopsies in most cases.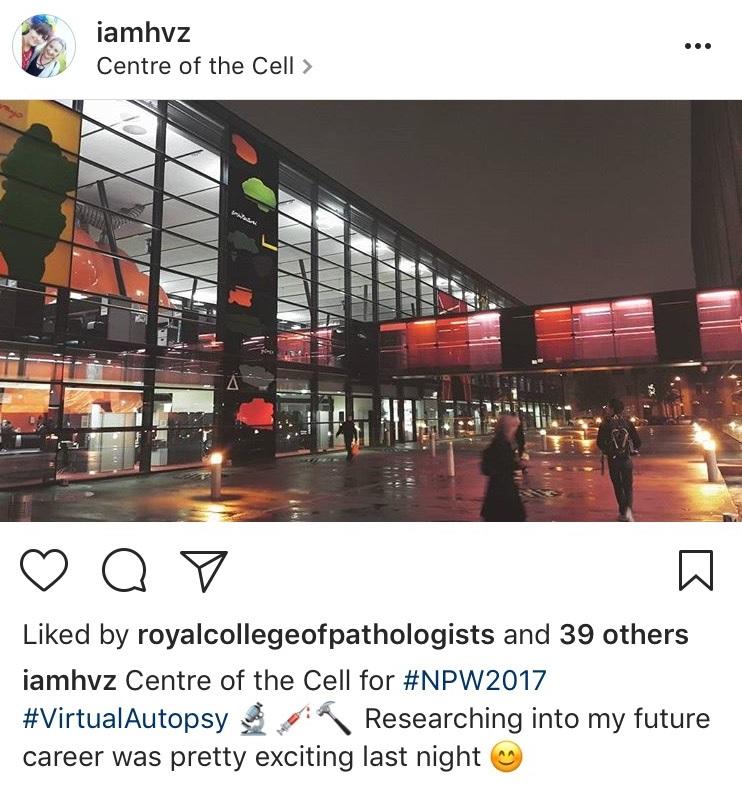 Adventures in health: Secrets of the lab
We welcomed 236 students and 324 members of the public through the doors of our pathology fair at the Ecology Pavilion in Mile End Park. Dr Lishman hosted some of the event in live videos on our Facebook page, reaching altogether 3.6k people!
Members of the College volunteered to take members of the public behind the scenes and showed them what happens in hospital labs with a variety of free hands-on activities, demos and displays. The Pavilion was alive with families and students testing fake poo, smiling at their glowing hands during the handwashing activity, and colouring in their beautiful depiction of red blood cells.
By the end of the event, our 'tell us what you learned' poster was completely covered in colourful sticky notes, including comments from under 10s ('black poo is not good!') and prospective students ('there are different routes into medicine that aren't through being a doctor').
What you did
Over 100 member events took place across the UK, from pathology bake-offs to pathology art exhibitions. The College was extremely impressed by the many ways members engaged with diverse audiences and the subject of pathology.
Our members and supporters also shared their stories and thoughts on our website throughout the week. We received some inspiring stories from pathologists from many specialities, which helped to shed a light on the affect pathology has on the lives of patients. Dr Shubha Allard and Dr Catherine Booth from Barts Health NHS Trust talked to us about the importance of patient consent in blood transfusion, and newly-elected Vice President for Communications Dr Rachael Liebmann wrote on the challenges facing our pathology workforce.
And the winner is…
We were inundated with entries to our #TestingTesting social media competition. Photos included group shots depicting teamwork between pathologists and biomedical scientists, lively pictures showing pathologists engaging with the public, and behind the scenes photos that really helped show the world what actually happens in the laboratory.
However, there could only be one winner, and we're pleased to announce that Chris Tiplady will receive a £100 voucher to take his team out to a place of his choice. Chris is a Haematologist, Coach and Director of Education in Northumbria NHS. Below is his post.
For those moments when you just absolutely have to spin something at 3000rpm #TestingTesting pic.twitter.com/5BOf9MuU0R

— Chris Tiplady (@christiplady) November 9, 2017
Chris' photo made us chuckle, and we really liked the creativity of it. Congratulations to you!