National Pathology Week (NPW) is our annual celebration of pathology, when we highlight the important contribution pathologists make to healthcare. Working in partnership with pathologists and laboratory scientists, our programme of events and activities aims to engage people of all ages, and improve public awareness and understanding of how pathologists and scientists diagnose disease.
We welcome pathology-related events and activities of all sizes, and various formats (including online!), in our nationwide programme – we've got lots of ideas and free resources to help with planning and delivering great activities.
National Pathology Week 2022
National Pathology Week 2022 ran from 20 – 26 June. We've moved the celebrations from November to June as part of the College's Diamond Jubilee. The theme was 'Pathology: past, present and future'.
Find out about the free NPW College-led events using the links below.
Watch the recordings of our NPW 2022 events
Organise your own NPW activities and events
Here are some ideas of activities you can run during National Pathology Week.
Share your NPW photos with us on Twitter - tag us @RCPath and use the hashtags #RCPath60 and #PathologyWeek
Download our 2022 NPW design assets
A look back at National Pathology Week 2021
NPW 2021 ran from 1 to 7 November. We ran a virtual programme again this year and supported member-led events of all sizes and formats.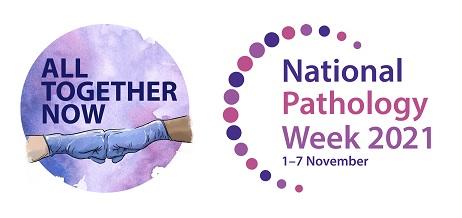 Our theme for 2021: 'All Together Now'
This National Pathology Week (NPW) our theme was 'All Together Now'. We invited healthcare teams, medical students, schools, community groups and families to interpret our theme in creative ways with their events and activities - from the teamwork used by healthcare workers and communities in the fight against COVID-19, to the strength of the 17 pathology specialities working together to diagnose, prevent and treat diseases. There were many events around the UK and beyond and we'd like to thanks all those who were involved.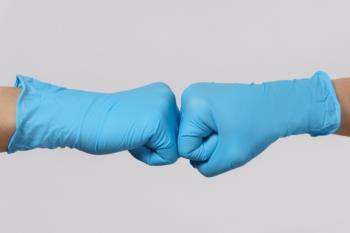 College-led events
Our online programme for NPW 2021 aimed to reach a range of audiences this November.
RCPath Book Club. Our popular Book Club panel-discussion series returned, with a special NPW event on 1 November. The event featured 'Ten Drugs: Plants, How Pills and Powders Have Shaped the History of Medicine' by Thomas Hager. We also worked with the Social Mobility Foundation and the Royal Veterinary College, along with some of our members to deliver events for both university and school students. Our popular Virtual Pathology Careers Talks for 13 to 18 year-olds featured interactive talks and Q&A sessions with some of our members who had attended public engagement training to develop their talks. We also held a special webinar event for RCPath members with the founder of Harvey's Gang, Malcolm Robinson and two 'Virtual Pub Quizzes' for medical, biomedical and veterinary students.