Pathologists in Profile Podcast Series
Welcome to the Pathologists in Profile podcast. In this podcast series, we'll be chatting to some incredibly inspiring people working across the 17 different pathology specialties. Each month we'll be releasing two episodes, featuring the same guest speaker. In part one, we will explore the life and career of our podcast guest, and in part two, we'll be delving into a case study chosen by our guest.
About the podcast host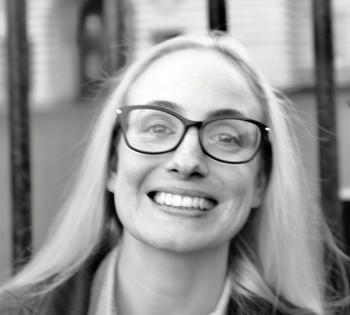 Originally from Cape Town, South Africa, Natasha Cutmore studied medicine at the University of Birmingham before moving to West Yorkshire to train in Histopathology. Natasha is currently out of programme on her PhD in Cambridge, where she is learning the craft of bioinformatics.
"I really do love pathology in all its forms and feel it is a shame that we are sometimes thought of as a 'hidden' specialty. A big motivator behind creating the podcast was my passion for people to hear about the varied and amazing careers that this sector offers and to promote the wonderful world of pathology."
About the podcast sponsor

The Pathologists in Profile podcast is kindly sponsored by Cirdan. Cirdan is a leading provider of informatics and imaging solutions that enhance and speed up the diagnosis of patients. Headquartered in the UK, with offices in Canada and Australia, Cirdan is recognised as one of the leading suppliers of laboratory information systems worldwide. Their systems are currently helping to increase efficiency and streamline operations in clinical laboratories across six continents. Find out more at www.cirdan.com.
Episodes
Pilot episodes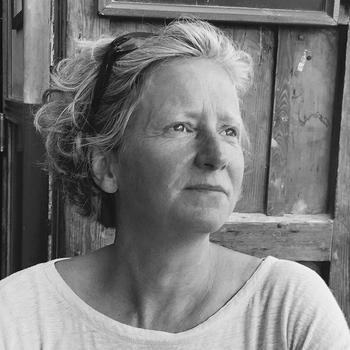 In our pilot episodes, host Natasha speaks with consultant histopathologist, Prof. Sarah Coupland. Originally from Australia, where she studied Medicine before moving to Germany to do her specialist training in Pathology, Sarah is a Consultant Histopathologist and the current George Holt Chair of Pathology in Liverpool. She was Director of the 'North West Cancer Research Centre' for 6 years until December 2019. Since November 2020, Sarah is the current Vice President (Communications) and Genomics Lead of the Royal College of Pathologists. She is also General Secretary-Elect of the Pathological Society of Great Britain and Ireland.
Part one: Prof. Sarah Coupland's life and career
In part one, Natasha finds out about Sarah's childhood in Australia, what inspired Sarah to pursue medicine, and the challenges and successes throughout her training and career.
Part two: Prof. Sarah Coupland's case studies
In part two, Sarah discusses two patients who presented with vitreous floaters (specks or dots in a one's vision that seem to float away when looked at directly) but received different diagnoses.
January 2022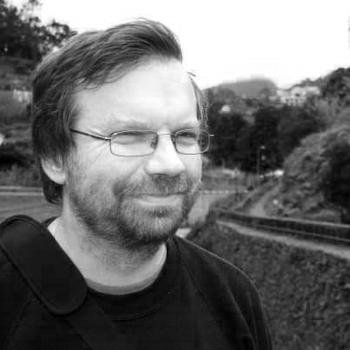 2022 marks the 60th anniversary of the Royal College of Pathologists. In our first Diamond Jubilee podcast episodes, host Natasha Cutmore speaks with Nigel Brown, Consultant Clinical Scientist in Analytical Toxicology and deputy examiner in Clinical Chemistry for the IBMS. Nigel leads a small regional toxicology service in the North East of England. His interests are drug metabolism, mass spectrometry and alcohol markers. Outside the lab he sings in a choral society, plays the church organ (reasonably well) and cycles to and from work. His children are both now at university, so he and his wife are learning how to talk to each other again!
Part one: Nigel Brown's life and career
In part one, Natasha finds out about Nigel's exciting and all-encompassing career in toxicology, spanning varied roles in academia and NHS laboratories.
Part two: Nigel Brown's case study
In part two of our January 2022 episode, toxicologist Nigel Brown guides us through a post-mortem case study and discusses some of the challenges toxicology teams face when interpreting results.
February 2022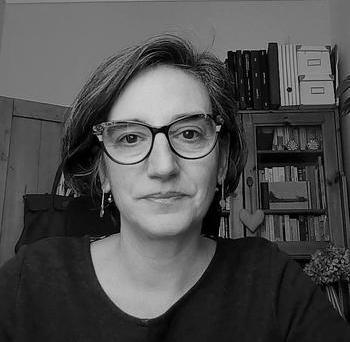 In our February episodes, Natasha speaks with virologist Miren Iturriza-Gómara. Miren is the Initiative Team Lead for Rotavirus Vaccines at the Centre for Vaccine Innovation and Access, PATH. Her interests are gastrointestinal infections and vaccines against diarrhoeal disease, and in particular rotavirus disease prevention. Prior to joining PATH, she was Professor of Virology at the University of Liverpool and Director of the NIHR Health Protection Research Unit in Gastrointestinal Infections at the University of Liverpool in collaboration with PHE and Warwick University. Outside work she enjoys nature and walking, cooking and is rediscovering the joys of snow and cross-country skiing.
Part one: Miren Iturriza-Gómara's life and career
In part one, we explore Miren's career in virology, which has taken her from San Sebastian, Spain, to Belgium, the UK and most recently to Switzerland.
Part two: The Past, Present and Future of Rotaviruses and Vaccines
In keeping with the College's 60th anniversary theme, pathology: past, present and future, Miren chats to Natasha about the past, present and future of rotaviruses and vaccines. Find out what rotaviruses are, how scientists create new vaccines, and the hurdles that need to be overcome when creating vaccines for developing countries.
March 2022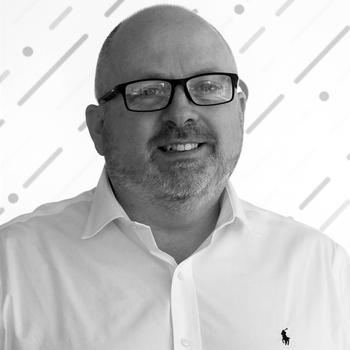 In our March episodes, Natasha speaks with Aberdeen-based Consultant Chemical Pathologist, Dr Bernie Croal. Bernie has had an interesting career, focussed around health services research, senior NHS management positions, and professional body work. He has served in various clinical director roles within the NHS and is the current chair of the Scotland Regional Council (third term) within the Royal College of Pathologists. Bernie has also previously chaired six of the College's committees. In addition, he has been an RCPath Trustee for a total of 13 years and was an RCPath Vice President from 2011-2014. Bernie is also the current President of the Association for Clinical Biochemistry and Laboratory Medicine (ACB-UK).
Part one: Bernie Croal's life and career
In this episode, host Natasha Cutmore speaks with Bernie Croal, about his humble beginnings and his journey to becoming a Consultant Chemical Pathologist.
Part two: the past, present and future of intravenous nutritional support
In part two, Bernie guides us through the past, present and future of a specific clinical aspect of his job: intravenous nutritional support.
April 2022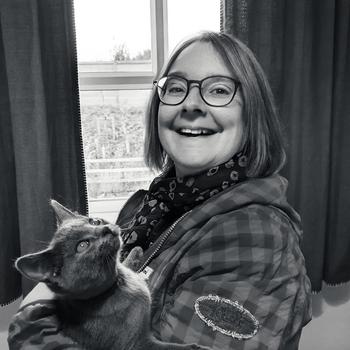 In our April episodes, we chat to veterinary pathologist, Reverend Dr Jenny McKay. Originally from Northern Ireland, Jenny is the European Head of Anatomic Pathology, IDEXX, a global veterinary healthcare company. She leads a team of over 30 anatomic pathologists and histopathology, in most countries, is read out using digital pathology. Prior to joining IDEXX, Jenny was a Senior Pathologist at AstraZeneca for 12 years, and was a Lecturer in Veterinary Pathology at Liverpool University. Jenny completed her PhD at the University of Cambridge in 1997 in the field of neuropathology and her specialist interests are in neuropathology, feline pathology and dermatopathology. She was an Examiner of the European College of Veterinary Pathologists for six years and is a past President of the European Society of Toxicologic Pathology. Outside of work, Jenny is an ordained priest and has an extensive social media presence as @TheReverendVet. She also enjoys Nordic walking with husband, Dave, and has three cats.
Part one: Reverend Dr Jenny McKay's life and career
In part one, find out why Jenny chose a career in veterinary pathology, how digital pathology has changed the way she works and how she came to also be an ordained priest.
Part two: Reverend Dr Jenny McKay's case study
In this episode, Jenny talks us through her chosen case study: a cat with cowpox.
May 2022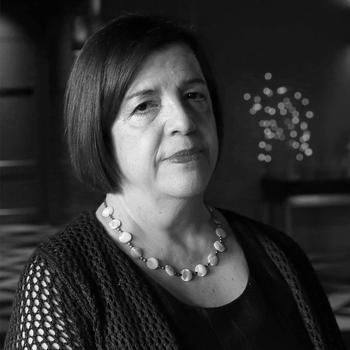 Our May podcast guest is Consultant Paediatric Pathologist, Professor Marta Cohen OBE. Marta is originally from Argentina, where she studied Medicine and trained in general pathology, before taking a fellowship in Paediatric Pathology at the Red Cross Children's Hospital in Cape Town, South Africa. Marta moved back to Argentina where she took a position as a Consultant Paediatric Pathologists at a Children's Hospital in La Plata. After a decade, she moved to the UK, where she was appointed as a Paediatric Pathologist at Sheffield Children's NHS FT. She became Head of Histopathology in 2004 and Clinical Director of Pharmacy, Diagnostics and Genetics in 2019. In 2018 she was appointed Academic Lead for the Specialty Advisory Committee (SAC) on Prenatal, Perinatal and Paediatric Pathology of the Royal College of Pathologists.
Currently, Marta is a Council Member of the European Society of Pathology, Director of the Paediatric and Perinatal Pathology Giordano Fellowship of the European Society of Pathology and Board Member of the International Society for the Study and Prevention of Perinatal and Infant Death (ISPID). She is the Past President of the International Paediatric and Perinatal Pathology Association (2016-2018) and course Director of the Post Graduate IPPA Course (2014-2018). In recognition of her work on sudden infant death syndrome, she was awarded an OBE in 2020.
Part one: Professor Marta Cohen's life and career
In part one, we follow Marta's incredible career path from Argentina to South Africa and then to the UK. Find out how a ten-dollar dinner changed her life, about her work in sudden infant death syndrome and how she came to acquire over 131K followers on Instagram.
Part two: Professor Marta Cohen's case study
In this episode, Marta discusses a case of sudden death in childhood and Jarvell and Lange-Nielsen Syndrome.
June 2022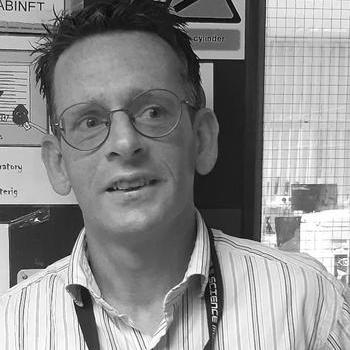 In our June episode, we chat with Consultant in Microbiology and Infectious Diseases, Dr Brendan Healy. Brendan started his medical career as an undergraduate at the University of Liverpool and went on to specialise in microbiology and infectious diseases. He is Clinical, IP&C and antimicrobial stewardship lead for the Swansea infection service. Dr Healy is the Blood Borne Viral Hepatitis Action Plan for Wales Lead for Cardiff and Vale (Management of the hepatitis B and C viruses), Chair of the Viral Hepatitis subgroup of the All-Wales Liver Disease Implementation Group and Lead clinician for the All-Wales Hepatitis Network and All Wales Hepatitis C roll out programme. He provides advice to the All-Wales Medicines Strategy Group on matters relating to hepatitis, HIV and infectious disease. Other work interests include orthopaedic infection, C diff and Q fever. He was the principal investigator for three COVID trials in Swansea including RECOVERY & MEDICAGO (a vaccine trial).
Brendan has spent time in several African countries and worked in Sierra Leone during the 2014/15 Ebola outbreak. More recently, he has helped to transform the lives of patients with hepatitis C through his work to eliminate postcode prescribing. The hard work Brendan and his team put into this was recognised with a BMJ leadership award in 2020. Brendan has also helped to establish a successful infectious diseases training programme in Swansea. Outside of work he is a keen sportsman, currently focussing on touch rugby as he is representing Wales in the male 45's category at the upcoming Euros. He also likes running with his dog, spending time with his kids, reading, socialising and learning to dance Salsa.
Part one: Dr Brendan Healy's life and career
Brendan started out wanting to be a big game vet. In this episode, find out what made Brendan change his mind and inspire him to pursue a career in medicine, specialise in microbiology and infectious diseases and go on to work in Africa as well as in the UK.
Part two: Dr Brendan Healy's case study
In part two, Brendan talks us through a case of a patient with hepatitis C and speaks about developments in testing and screening, and how his team are using mobile phones to help improve compliance in hepatitis C patients.
July 2022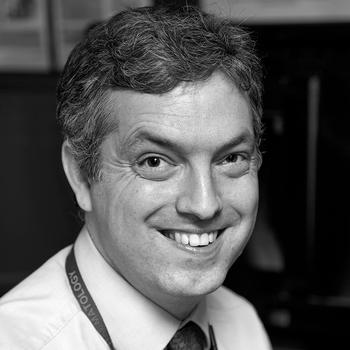 Our July podcast guest is Consultant Haematologist, Dr Ben Uttenthal. Ben is the clinical lead for teenagers and young adults with haematological malignancies at Addenbrooke's Hospital. He also leads the clinical Immune Effector Cell Therapy programme and the Cambridge Cellular Therapy Laboratory's work in advanced therapies and trials, overseeing the implementation of novel cellular immunotherapies for malignant and other conditions in patients of all ages. Ben is the co-Director of the Cancer Immunology programme for the CRUK Cambridge Major Centre.
He gained his degree in Medical Sciences at Cambridge University before finishing his clinical training at University College London. He completed his postgraduate training in Oxford and at the Royal Free and the Hammersmith Hospitals, followed by a PhD in cellular immunotherapy at University College London, and then undertook a Fellowship in Blood and Marrow Transplantation at the Fred Hutchinson Cancer Research Center in Seattle, USA. In 2013 he moved to Cambridge to take up his current post.
Ben's specialist interests include cellular immunotherapy, haematopoietic cell transplantation, lymphoma and acute leukaemia, and he is Principal Investigator for several national and international clinical studies in these areas. He is a member of the national clinical panel for CAR-T cell therapy.
When he is not working, he enjoys climbing the hills of the Lake District, hacking away at the piano and trying to prevent the foxes eating the chickens at the end of his garden.
Part one: Dr Ben Uttenthal's life and career
Ben didn't particularly enjoy pathology at university. In this episode, we find out what changed his mind, how he became a consultant haematologist and about his work on cellular immunotherapy for cancer.
Part two: Dr Ben Uttenthal's case study
In this episode, Ben guides us through two cases studies of patients who underwent cellular immunotherapy for lymphoma, a type of blood cancer.
August 2022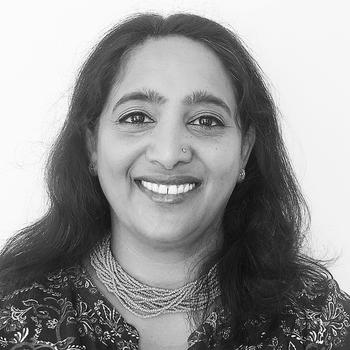 This month's podcast guest is Dr Arthi Anand. Arthi is a Consultant Clinical scientist in Histocompatibility and Immunogenetics (H&I), at the Department of Infection and Immunity sciences, North West London Pathology, Imperial College Healthcare NHS trust (ICHT). Her role involves overseeing testing in the Histocompatibility and Immunogenetics lab and providing critical interpretation of results and associated scientific and clinical advice to support transplantation. Arthi is originally from India and completed her masters in biotechnology from the Indian Institute of Technology, before moving to the UK to complete a doctoral degree in Immunology from University College London. She completed post-doctoral research at Cancer Research UK before moving from "mouse to man" and retraining as a Clinical Scientist.
Arthi is an RCPath specialist advisory group member for H&I, steering committee member for H&I UK NEQAS and the current H&I Councillor for British Transplant Society. She is passionate about promoting Equality, Diversity and Inclusion, is an enthusiastic and active participant in college diversity network since its inception in 2020 and serves as one of the Race Equality Ambassadors within ICHT. She also serves on the editorial board of the Healthcare science leadership journal which provides a high-level strategic discussion forum on healthcare policy, scientific leadership and horizon scanning of issues that may affect the whole of the healthcare science workforce. She is a trained coach with a record of successfully supporting colleagues with career transitions and building confidence. Outside work, she enjoys reading, training as a black belt level Karateka and nature walks.
Part one: Dr Arthi Anand's life and career
In this episode, find out about Arthi's career so far, which has taken her from India to the UK. Arthi also tells us about how she coped with fitting into a new country and culture and about the importance of diversity in pathology.
Part two: Dr Arthi Anand's case study
In part two, Arthi guides us through a case study of a 5 year old patient from Afghanistan who required a transplant, highlighting how histocompatibility and immunogenetics teams work together with other healthcare teams.
September 2022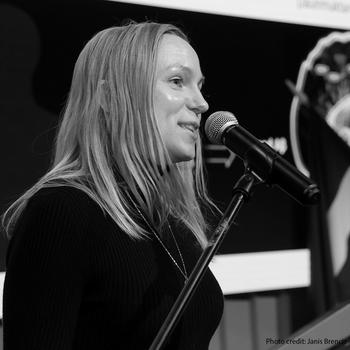 In support of World Alzheimer's Month, our September podcast guest is Dr Zane Jaunmuktane, Honorary Consultant Neuropathologist at the Division of Neuropathology, National Hospital for Neurology and Neurosurgery, UCLH and recently has been appointed to Associate Professor at University College London, Queen Square Institute of Neurology, Queen Square Brain Bank for Neurological Disorders. Zane received her medical degree in 2006 and completed residency training in diagnostic histopathology in 2010 at Riga Stradins University, Latvia. She underwent further training in neuropathology at University College London Hospitals and was appointed as consultant neuropathologist at the National Hospital for Neurology and Neurosurgery in 2016.
Over the past 10 years her diagnostic work has concentrated on the molecular diagnostics of brain tumours with conventional and advanced technologies. Her research interest and focus is on neuropathology aspects of neurodegenerative disorders and specifically understanding the basis of selective cellular and regional vulnerability to various misfolded protein pathologies. Zane and colleagues were the first to demonstrate in 2015 that amyloid-beta pathology can be transmitted in humans through medical procedures with subsequent studies demonstrating that the transmitted amyloid-beta pathology can result in cerebral bleeds.
She is editorial board member of pathology journal Acta Neuropathologica, academic committee member of the British Neuropathological Society and deputy training lead in Diagnostic Neuropathology at the Royal College of Pathologists. Fashion, interior design and architecture is Zane's passion and fascination and enjoyment of it a perfect way to relax.
Part one: Dr Zane Jaunmuktane's life and career
In this episode, find out why Zane is so passionate about neuropathology, what brought her to the UK from Latvia and about her research on neurodegenerative diseases.
Part two: The past, present and future of misfolded proteins and neurodegeneration
In episode two, we explore the past, present and future of neurodegenerative diseases linked to misfolded proteins, namely, Alzheimer's disease and prion diseases such as Creutzfeldt-Jakob disease (CJD).
October 2022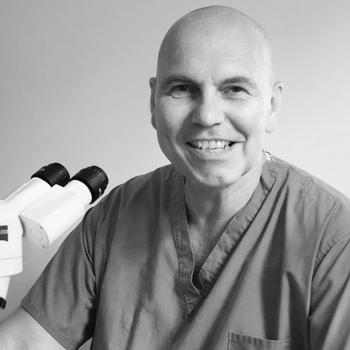 Our October podcast guest is Consultant Reproductive Scientist Dr Bryan Woodward. Bryan has been helping people to conceive for over 30 years. After obtaining a dual BSc in Physiology and Zoology at the University of Sheffield, Bryan began his career in at the Sheffield Fertility Centre, where he first trained as a Clinical Embryologist.
Midway through his career, Bryan took a break to read for a PhD at the University of Nottingham, supervised by Professor Keith Campbell. This was an opportunity too good to miss as Prof. Campbell was the scientist who led to the team that produced the first cloned mammal, Dolly the Sheep. Working alongside vets and animal pathologists, Bryan refined his skills in micromanipulation during this time, by performing an assisted conception technique called ICSI (intracytoplasmic sperm injection) on cows and mice.
Bryan then returned to clinical embryology and moved to Trinidad and Tobago to help establish the country's first IVF clinic. He has also helped set up clinics in Africa and Asia. Bryan is now the Founder and Director of X&Y Fertility in Leicester, a small independent fertility clinic that advises and assists people in their dream for a having a child.
He has a passion for training scientists in clinical embryology. Bryan chaired the group that constructed the RCPath Part 1 and 2 curricula and currently serves on the Embryology Certification Steering Committee for the European Society of Human Reproduction and Embryology. Bryan also serves on the Executive Committee of the British Fertility Society and is subeditor for the UK journal Human Fertility.
When he's not working, Bryan can be found climbing mountains, listening to music and collecting jukeboxes.
Part one: Dr Bryan Woodward's life and career
Listen in to the first of Dr Bryan Woodward's podcast episode to find out about his incredible career, which has resulted in him setting up clinics in several countries to help couples conceive through IVF.
Part two: Dr Bryan Woodward's case study
In this episode, Bryan guides us through a case study of a patient with retrograde ejaculation. This is when semen travels backwards into the bladder instead of through the urethra. We also spoke to Bryan about male fertility and National Fertility Awareness Week, which takes place from 31 October to 4 November.
November 2022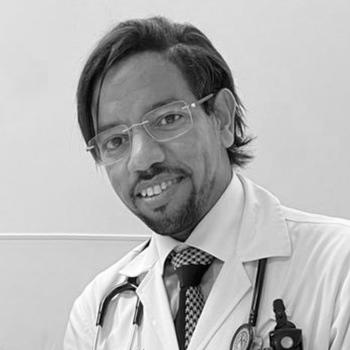 Our November podcast guest is Dr Shuayb Elkhalifa. Shuayb is currently a Consultant in Immunology and Allergy at Cleveland Clinic Abu Dhabi. Prior to joining the Cleveland Clinic Abu Dhabi, Shuayb was a Consultant in Immunology and Allergy at Salford Care Organization, Northern Care Alliance Foundation Trust, United Kingdom and Honorary Lecturer at The University of Manchester, United Kingdom.
Shuayb received his medical degree from University of Khartoum and completed his Internal Medicine, Immunology and Allergy training at Greater Manchester Hospitals, United Kingdom. Throughout his tenure, Shuayb specialised in clinical assessment, investigation, treatment, and holistic management of patients with suspected and established immunodeficiency (primary and secondary excluding HIV related immunodeficiencies) and atopic and allergic conditions, in addition to various disorders of immune dysregulation. He worked closely with primary care, paediatricians and other hospital specialists to manage patients with complex allergic and immune-mediated diseases. Shuayb also ran joint clinics with a few specialist services such has the gastroenterology and respiratory departments.
Shuayb has published extensively in the field of Immunodeficiency, autoimmunity, COVID-19 vaccination, drug allergy and anaphylaxis in prestigious Journals such as Nature, the Journal of Allergy and Clinical Immunology: In Practice & others. He has an outstanding track record in innovation and developed the first UK drug allergy app. His commitment to promoting excellence and improving care, his innovative ideas and implementing them led to him receiving awards from regional and national bodies in the United Kingdom.
When he's not working, Shuayb enjoys travelling and exploring the wonderful worlds with his family. He enjoys various sports particularly swimming, running and Pilates.
Part one: Dr Shuayb Elkhalifa's life and career
In this episode, we chat with Dr Shuayb Elkhalifa about his career within Immunology. Find out what and who motivated him, the importance of mentors and how he recently made the transition to a Consultant role.
Part two: Dr Shuayb Elkhalifa's case study
In Shuayb's second episode, we explore the case of a 70-year-old women with a rare genetic condition, Hereditary Angioedema, that is potentially life threatening.
December 2022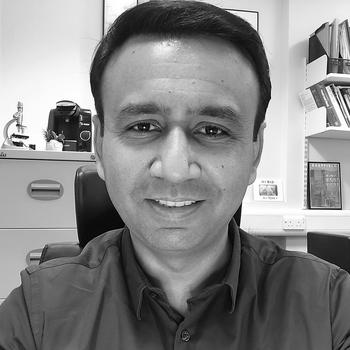 In our final episodes for 2022, podcast host Natasha Cutmore speaks with Sheffield-based Professor and Consultant in Oral and Maxillofacial Pathology, Professor Ali Khurram. He has had an unusual and interesting career which started with studying Dentistry in Pakistan, before moving to the UK for his academic and clinical training in Pathology, culminating in a FRCPath in Oral and Maxillofacial Pathology in 2016.
Ali is the Clinical Lead for his Specialty in Sheffield and Training Programme Director (Oral and Maxillofacial Pathology) for Yorkshire and the Humber. He is actively involved in teaching and training at local, regional, national and international level and also leads a research group (NEOPATH) focussed on research on head and neck cancers. Ali is the Secretary of the British Society for Oral and Maxillofacial Pathology, the Webmaster/Digital Adviser for the Pathological Society of Great Britain and Ireland and a Patron for The Swallows Head and Neck Cancer Charity.
Ali has also led the development of a digital teaching platform called 'Pathogenesis'. In recognition of his contributions to oral pathology teaching, he has been awarded the 2022 PathSoc Golden Microscope Award.
Part one: Professor Ali Khurrum's life and career
In this episode, we find out about Ali's career in oral and maxillofacial pathology, which has taken him from Pakistan to the UK. The discipline of Oral and Maxillofacial Pathology is a clinical specialty, undertaken by laboratory-based dentists. It is a branch of histopathology and, in common with medical histopathologists, oral and maxillofacial pathologists provide reports based on interpretation of tissue biopsies of varying types and of surgical resection material.
Part two: The past, present and future of oral and maxillofacial pathology
In this episode, we chat to Ali about the past, present and future of oral and maxillofacial pathology and head and neck cancer. Find out how oral and maxillofacial pathology became a pathology specialty and about the exciting tools that will be helping pathologists diagnose and treat head and neck cancer patients in the future.