October 2022 podcast with Dr Bryan Woodward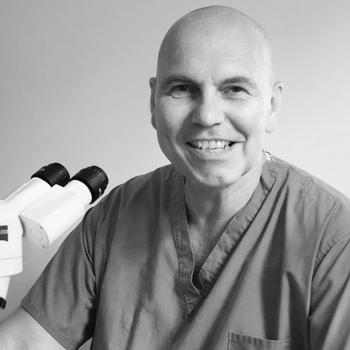 Our October podcast guest is Consultant Reproductive Scientist Dr Bryan Woodward. Bryan has been helping people to conceive for over 30 years. After obtaining a dual BSc in Physiology and Zoology at the University of Sheffield, Bryan began his career in at the Sheffield Fertility Centre, where he first trained as a Clinical Embryologist.
Midway through his career, Bryan took a break to read for a PhD at the University of Nottingham, supervised by Professor Keith Campbell. This was an opportunity too good to miss as Prof. Campbell was the scientist who led to the team that produced the first cloned mammal, Dolly the Sheep. Working alongside vets and animal pathologists, Bryan refined his skills in micromanipulation during this time, by performing an assisted conception technique called ICSI (intracytoplasmic sperm injection) on cows and mice.
Bryan then returned to clinical embryology and moved to Trinidad and Tobago to help establish the country's first IVF clinic. He has also helped set up clinics in Africa and Asia. Bryan is now the Founder and Director of X&Y Fertility in Leicester, a small independent fertility clinic that advises and assists people in their dream for a having a child.
He has a passion for training scientists in clinical embryology. Bryan chaired the group that constructed the RCPath Part 1 and 2 curricula and currently serves on the Embryology Certification Steering Committee for the European Society of Human Reproduction and Embryology. Bryan also serves on the Executive Committee of the British Fertility Society and is subeditor for the UK journal Human Fertility.
When he's not working, Bryan can be found climbing mountains, listening to music and collecting jukeboxes.
Part one: Dr Bryan Woodward's life and career
Listen in to the first of Dr Bryan Woodward's podcast episode to find out about his incredible career, which has resulted in him setting up clinics in several countries to help couples conceive through IVF.
Part two: Dr Bryan Woodward's case study
In this episode, Bryan guides us through a case study of a patient with retrograde ejaculation. This is when semen travels backwards into the bladder instead of through the urethra. We also spoke to Bryan about male fertility and National Fertility Awareness Week, which takes place from 31 October to 4 November.