September 2022 podcast with Dr Zane Jaunmuktane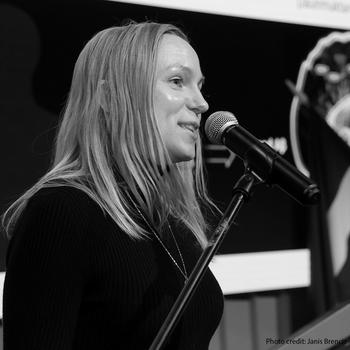 In support of World Alzheimer's Month, our September podcast guest is Dr Zane Jaunmuktane, Honorary Consultant Neuropathologist at the Division of Neuropathology, National Hospital for Neurology and Neurosurgery, UCLH and recently has been appointed to Associate Professor at University College London, Queen Square Institute of Neurology, Queen Square Brain Bank for Neurological Disorders. Zane received her medical degree in 2006 and completed residency training in diagnostic histopathology in 2010 at Riga Stradins University, Latvia. She underwent further training in neuropathology at University College London Hospitals and was appointed as consultant neuropathologist at the National Hospital for Neurology and Neurosurgery in 2016.
Over the past 10 years her diagnostic work has concentrated on the molecular diagnostics of brain tumours with conventional and advanced technologies. Her research interest and focus is on neuropathology aspects of neurodegenerative disorders and specifically understanding the basis of selective cellular and regional vulnerability to various misfolded protein pathologies. Zane and colleagues were the first to demonstrate in 2015 that amyloid-beta pathology can be transmitted in humans through medical procedures with subsequent studies demonstrating that the transmitted amyloid-beta pathology can result in cerebral bleeds.
She is editorial board member of pathology journal Acta Neuropathologica, academic committee member of the British Neuropathological Society and deputy training lead in Diagnostic Neuropathology at the Royal College of Pathologists. Fashion, interior design and architecture is Zane's passion and fascination and enjoyment of it a perfect way to relax.
Part one: Dr Zane Jaunmuktane's life and career
In this episode, find out why Zane is so passionate about neuropathology, what brought her to the UK from Latvia and about her research on neurodegenerative diseases.
Part two: The past, present and future of misfolded proteins and neurodegeneration
In episode two, we explore the past, present and future of neurodegenerative diseases linked to misfolded proteins, namely, Alzheimer's disease and prion diseases such as Creutzfeldt-Jakob disease (CJD).