April 2022 podcast with Reverend Dr Jenny McKay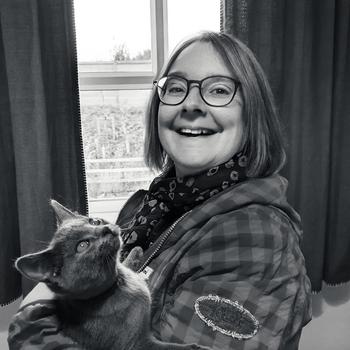 In our April episodes, we chat to veterinary pathologist, Reverend Dr Jenny McKay. Originally from Northern Ireland, Jenny is the European Head of Anatomic Pathology, IDEXX, a global veterinary healthcare company. She leads a team of over 30 anatomic pathologists and histopathology, in most countries, is read out using digital pathology. Prior to joining IDEXX, Jenny was a Senior Pathologist at AstraZeneca for 12 years, and was a Lecturer in Veterinary Pathology at Liverpool University. Jenny completed her PhD at the University of Cambridge in 1997 in the field of neuropathology and her specialist interests are in neuropathology, feline pathology and dermatopathology. She was an Examiner of the European College of Veterinary Pathologists for six years and is a past President of the European Society of Toxicologic Pathology. Outside of work, Jenny is an ordained priest and has an extensive social media presence as @TheReverendVet. She also enjoys Nordic walking with husband, Dave, and has three cats.
Part one: Reverend Dr Jenny McKay's life and career
In part one, find out why Jenny chose a career in veterinary pathology, how digital pathology has changed the way she works and how she came to also be an ordained priest.
Part two: Reverend Dr Jenny McKay's case study
In this episode, Jenny talks us through her chosen case study: a cat with cowpox.