November 2022 podcast with Dr Shuayb Elkhalifa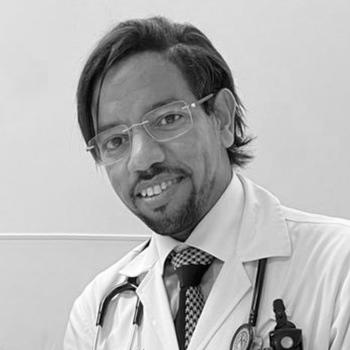 Our November podcast guest is Dr Shuayb Elkhalifa. Shuayb is currently a Consultant in Immunology and Allergy at Cleveland Clinic Abu Dhabi. Prior to joining the Cleveland Clinic Abu Dhabi, Shuayb was a Consultant in Immunology and Allergy at Salford Care Organization, Northern Care Alliance Foundation Trust, United Kingdom and Honorary Lecturer at The University of Manchester, United Kingdom.
Shuayb received his medical degree from University of Khartoum and completed his Internal Medicine, Immunology and Allergy training at Greater Manchester Hospitals, United Kingdom. Throughout his tenure, Shuayb specialised in clinical assessment, investigation, treatment, and holistic management of patients with suspected and established immunodeficiency (primary and secondary excluding HIV related immunodeficiencies) and atopic and allergic conditions, in addition to various disorders of immune dysregulation. He worked closely with primary care, paediatricians and other hospital specialists to manage patients with complex allergic and immune-mediated diseases. Shuayb also ran joint clinics with a few specialist services such has the gastroenterology and respiratory departments.
Shuayb has published extensively in the field of Immunodeficiency, autoimmunity, COVID-19 vaccination, drug allergy and anaphylaxis in prestigious Journals such as Nature, the Journal of Allergy and Clinical Immunology: In Practice & others. He has an outstanding track record in innovation and developed the first UK drug allergy app. His commitment to promoting excellence and improving care, his innovative ideas and implementing them led to him receiving awards from regional and national bodies in the United Kingdom.
When he's not working, Shuayb enjoys travelling and exploring the wonderful worlds with his family. He enjoys various sports particularly swimming, running and Pilates.
Part one: Dr Shuayb Elkhalifa's life and career
In this episode, we chat with Dr Shuayb Elkhalifa about his career within Immunology. Find out what and who motivated him, the importance of mentors and how he recently made the transition to a Consultant role.
Part two: Dr Shuayb Elkhalifa's case study
In Shuayb's second episode, we explore the case of a 70-year-old women with a rare genetic condition, Hereditary Angioedema, that is potentially life threatening.