The theme for this year's Art of Pathology Competition was 'All Together Now'. We invited entries from the UK and abroad, across the three age categories: under 11, 11-17 and over 18. Over a third of the entries were from artists based outside the UK – from the USA, Mexico, Peru, India, Pakistan, Sri Lanka, Thailand, Singapore, Australia, Greece, Turkey and South Africa.
Thank you to everyone who took the time to submit their artwork. We received a record number of submissions – 83 to be exact! Many of these centred around the efforts of pathologists and other members of the healthcare team during the COVID-19 pandemic, while others focused on the ways pathologists investigate, diagnose and treat diseases.
Needless to say, the judges were extremely impressed by the high standard and had a thorough discussion before deciding on the three category winners, runners up and commended entries. Many thanks to Vice President for Communications, Prof. Sarah Coupland, Clinical Director of Publishing and Engagement, Dr Shubha Allard, and science-based artist, Dr Lizzie Burns.
All of the winners, runners-up and highly commended entries are displayed on our Art of Pathology competition page. The three category winners are shown here.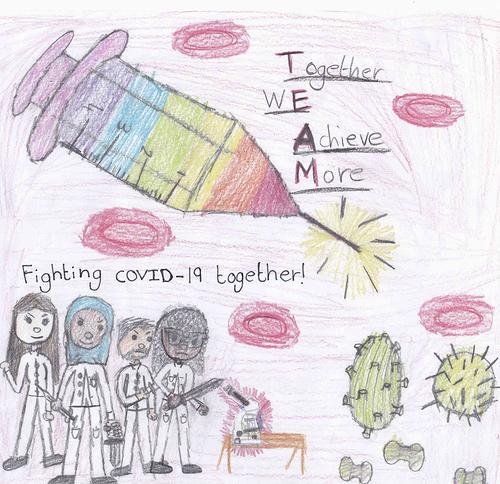 Under 11 category winner: 'The Pathology Microscopic Fighters' by Layla Minett, UK
11-17 category winner: 'Unity' by Mereena Pun, UK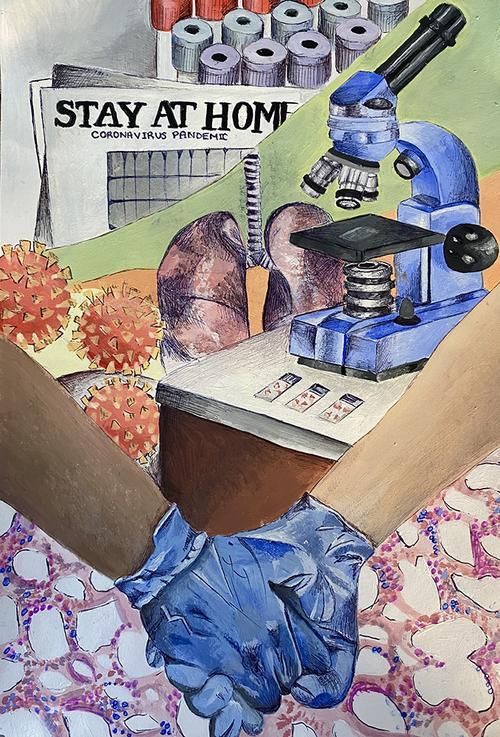 Over 18 category winner: 'Against it All' by Weronika Kukulska, UK
The Art of Pathology competition will reopen in Spring 2022, during the College's Diamond Jubilee Year. In the meantime, join us for National Pathology Week (1–7 November), where we'll continue to explore the theme 'All Together Now'.