The Art of Pathology competition 2022 is now closed and will reopen in Spring 2023. Thank you to everyone who submitted an entry for the 2022 competition. Scroll down to see this year's winners, runners up and commended entries.
Each year, the College runs an Art of Pathology competition, where people of all ages can submit paintings, drawings, sculptures, digital art, collages or any other media on a specific theme. To celebrate the College's 60th anniversary, this year's theme was 'Pathology: past, present and future'. Participants were invited to interpret this theme in their own unique and creative way, while exploring different aspects of pathology. We provided some ideas and useful links below for those for whom pathology is a new topic.
The competition is open to UK and international entrants of all ages. There are three categories for entries: under 11s, 11–17 and adults (over 18s). The judges of the Art of Pathology Competition are College Fellows, Dr Sarah Coupland and Dr Shubha Allard, and science-based artist, Dr Lizzie Burns.
Prizes
This year, the Art of Pathology competition is kindly sponsored by Sonic Healthcare UK. £1000 will be awarded to the winners of the over 18 and 11–17 categories. For the under 11s category, the winner will receive £500 and another £500 will be awarded to their school. There will also be two runners up prizes in each category. In the under-11 category, the runners up will receive £250, with an additional £250 awarded to their school. The runners up in the 11–17 and adult categories will receive £500.
The winning entries will be published on the RCPath website and featured in the College magazine, The Bulletin. The winning artworks will be exhibited in the College Members' Room, with a reception sponsored by Sonic Healthcare UK. The artwork will also be used by Sonic Healthcare UK to support their recruitment campaigns and Sonic Healthcare UK may use images on their website and other promotional collateral. Scroll down to see the winning entries from this year and from 2019–2021.
About our sponsor: Sonic Healthcare UK

The Art of Pathology competition's sponsor, Sonic Healthcare UK, are leaders in consultant-led diagnostics, innovation, value, and long-term investment in healthcare provision. They have over 30 years' experience in the UK pathology market and have been working in partnership with the NHS for over 20 years.
Sonic Healthcare UK has been at the forefront of COVID-19 testing for the UK since the disease first emerged. The team has developed new testing methods, worked closely with hospitals, helped others open their own labs, and by the end of September 2020 was processing more than 10,000 PCR tests a day.
Sonic Healthcare UK, which incorporates the TDL Group of laboratories and services, is part of the Sonic Healthcare group, one of the world's largest clinical diagnostics groups with a demonstrated track record of medical excellence. Find out more at www.sonichealthcare.co.uk.
'Hippocrates said 'Wherever the art of Medicine is loved, there is also a love of humanity'. In line with its company values of clinically led patient-centred pathology Sonic Healthcare UK is proud to sponsor the RCPath Art of Pathology competition. We believe this popular competition reflects both diagnostic science and an individual's artistic vision of healthcare…whatever their age.' – Dr Rachael Liebmann OBE, College Fellow and Group Medical Director of Sonic Healthcare UK
2022 winners
Over 18 Category
Winner: 'Pathology Through the Times' by Dr Rittika Biswas (India)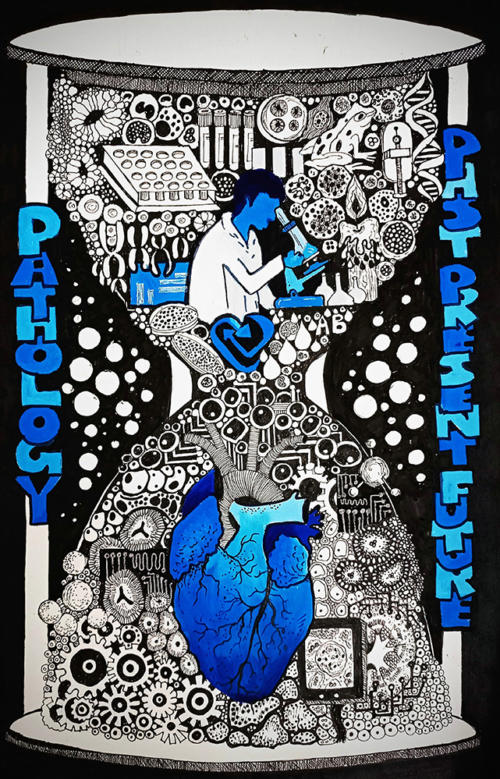 The Past of Pathology - the first microscope, the frog, glass slides and agar plates, blood grouping and organ donation, DNA and karotyping - can be seen evolving into the technology-driven digital Future with virtual workflows, molecular biology, AI and deep machine learning. And in the Present, connecting them all, the pathologist remains.
Runner up: 'Remembering Dorothy' by Helen Mayall (UK)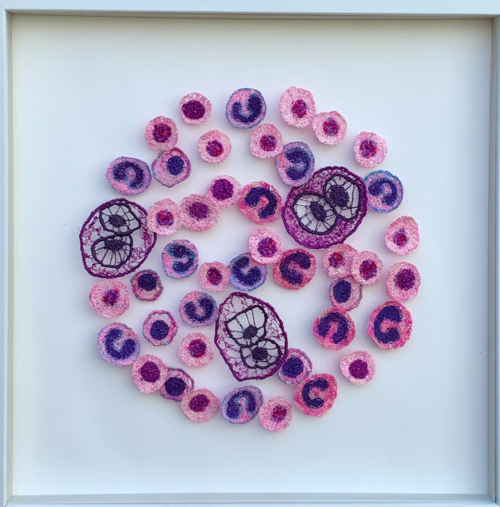 This 3D embroidered artwork was inspired by Dorothy Reed who was one of the first female pathologists. Her discovery of the distinctive Reed-Sternberg cell played a significant part in the understanding of Hodgkin's Disease. Reed-Sternberg cells remain an important part of diagnosis today and will continue to be in the future.
Runner up: 'Beyond Morphology - Advancing Science by Accelerating Particles' by Lennart Brandt (Germany)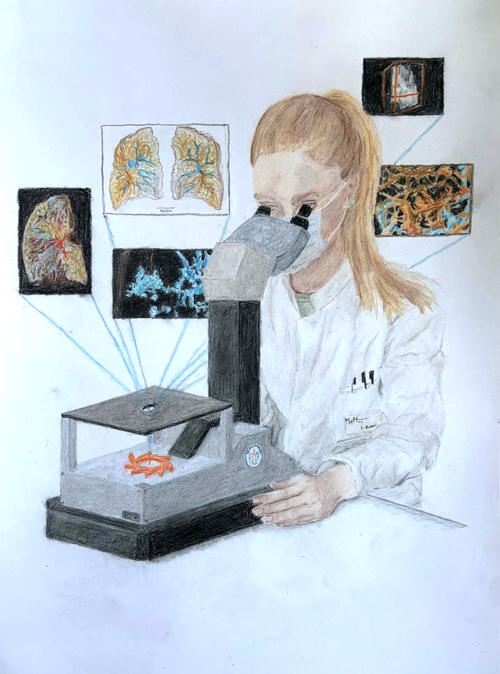 This artwork illustrates the most recent quantum leap in histopathology. The COVID-19 pandemic enabled us to apply hierarchical phase-contrast tomography (HiP-CT), a high-resolution Synchrotron radiation-based phase propagation technique that allows for the morphological analysis of human tissues from the whole organ down to the cellular scale in three dimensions.
Commended entry: 'Pathology: A Legacy of Light' by Kalissa Crowley (UK)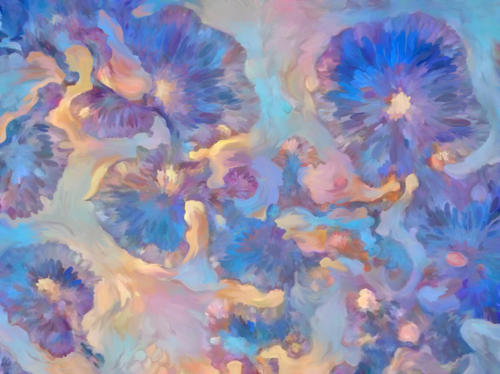 Inspired by a colour-laden sunrise, this impressionistic painting of invasive mucinous adenocarcinoma pays tribute to pathology's past and continuing legacy by playing on the theme of light. Light is central to pathology—whether it's illuminating microscopes or enlightening minds. After thousands of discoveries and advancements, this light has allowed pathologists to take something as terrifying as cancer and turn it into something hopeful. The future of pathology is as bright as this sunrise!
Commended entry: 'Behind the microscope' by Dr Cassandra Bruce-Brand (South Africa)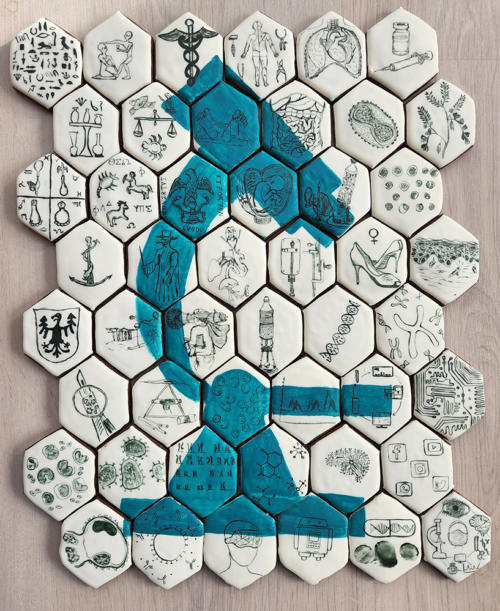 This edible artwork is made of cookies painted with food colours. As a pathologist, baking and cookie art is my creative outlet. Starting in ancient Egypt we move down and across through the history of pathology towards the future while appreciating that the microscope remains central to our daily practice.
Commended entry: 'The evolution of the art and science of Pathology' by Emanuela Veras (USA)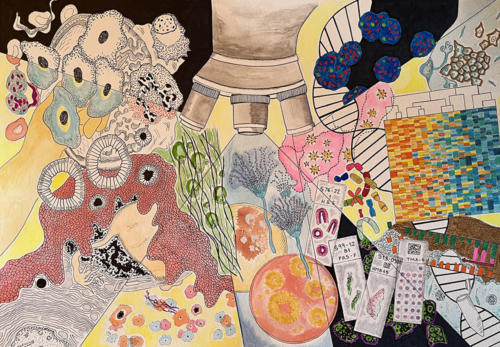 As a practicing pathologist for over a decade, I took inspiration from my daily practice and experience in this evolving field of art and science. I chronologically captured from left to right the evolution of techniques and ancillary testing I've seen in my lifetime. Who knows what the future holds?
Commended entry: 'Picturing the past, Framing the future' by Jacqueline Easter (UK)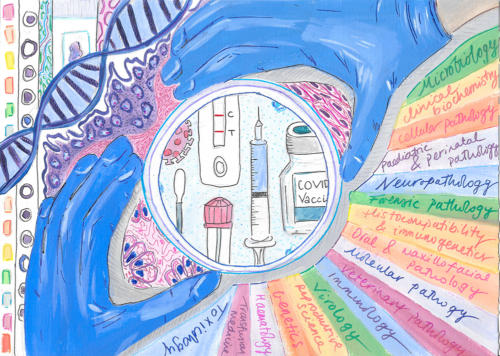 Looking back, we can see how the pioneering work of pathologists has significantly advanced our clinical practice and transformed the care we provide our patients. During the pandemic, pathologists have been critical in our fight against Covid-19. I'm excited to see where this incredibly diverse specialty will guide us going forwards.
Commended entry: 'Bust of a Pathologist with a Mask' by Alex Lewthwaite (UK)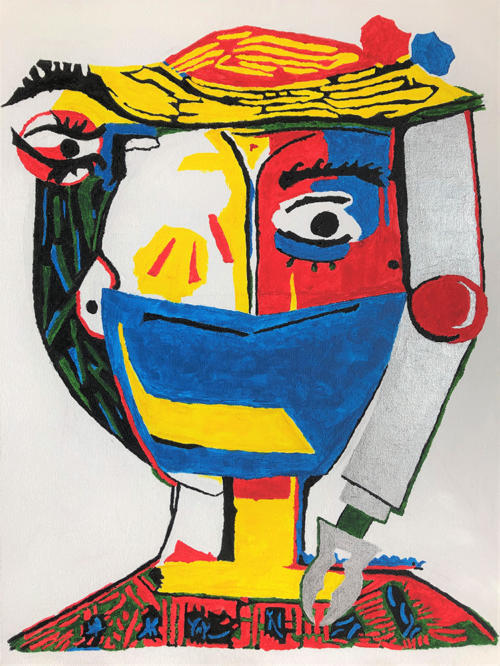 This piece takes its inspiration from Picasso's 1962 artwork 'Buste de Femme au Chapeau', which - like the College - too enjoys it's 60th anniversary this year. The iconic bubonic plague mask, the ubiquitous blue disposable mask, and the robotic arm represent the pathologist's masks of the past, present and future respectively.
Commended entry: 'A small life' by Dr Derren Ready (UK)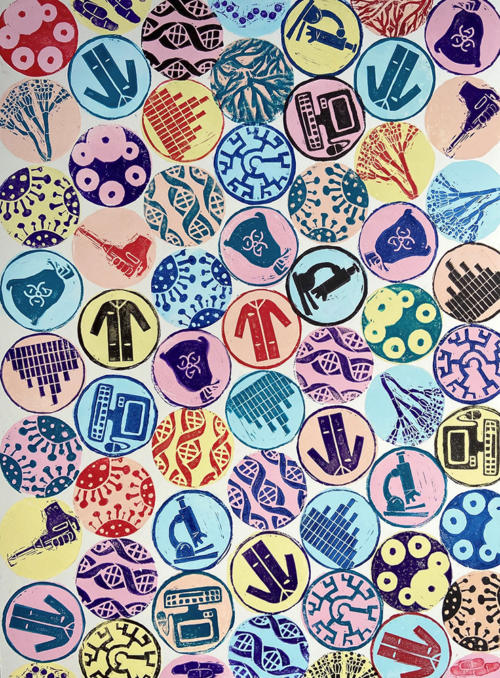 These hand-printed, linocut images represent historical, current and future methods used in clinical microbiology. I used circles to illustrate the importance of the humble agar plate, the laboratory coat symbolises that pathology staff are one constant in our profession, as unfortunately is the waste we generate, depicted by clinical-waste bags.
Commended entry: 'Pathology: In Our Past, Present and Future' by Laura Gherman (UK)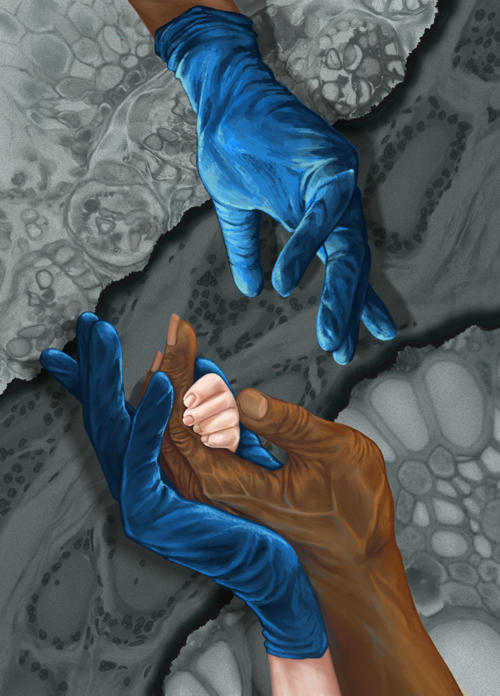 Pathology shapes people's lives in more ways than we could imagine; it nurtures our elderly back into health, protects our present and ensures a brighter future for our children. It is the bridge between science and medicine, with diligent pathologists ensuring that patients receive accurate and timely diagnosis and treatment.
11-17 Category
Winner: 'A Continuous Path Towards Light' by Sethajeni Santhirapillai (UK)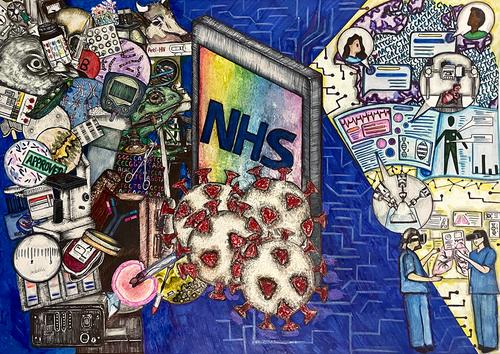 A flash of time. I was inspired by the history of pathology in 50 objects, which laid the foundation for us today, allowing us to overcome COVID. Past this point awaits a new path of light through technology leading to new discoveries and accessibility to further knowledge around the world.
Runner up: 'The evolution of pathology' by Nyneisha Bansal (UK)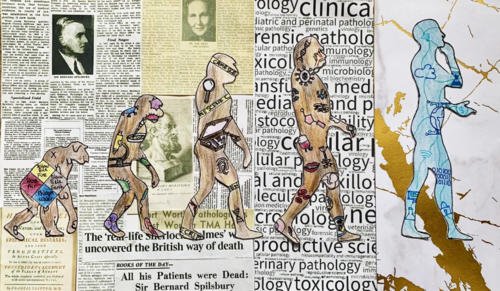 My artwork is a take on human evolution but instead inspired by major pathological contributions and discoveries. The first three humans are inspired by Hippocrates and his humoural theory, Rudolf Virchow and his microscopic discoveries and lastly Bernard Spilsbury who contributed so much to forensic pathology. The present is represented by the 4th person representing the 17 sub specialities that are practiced today on a word art background naming each one. The last represent the future of digital pathology with increased global inter connectivity, the use of the cloud, and further technological advances. The marbled background for the future is abstract, as nobody knows what is to come, we can only assume.
Runner up: 'Plagues of the ages' by Abi Caplan (UK)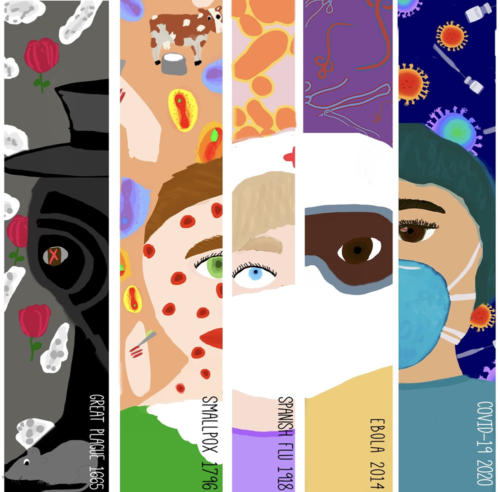 My inspiration was learning about diseases in my history GCSE and the steps individuals through time have taken to stop them as well as the recent pandemic.
Commended entry: 'Pathology has been here for people throughout the history and it will always be here for us' by Adela Herdova (Slovakia)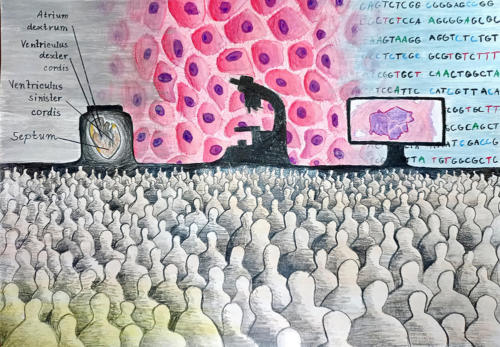 Pathology has seen major advances over the past few centuries. Autopsy allowed us to see changes in organs by naked eye. Microscopic examination of tissue has enabled us to see diseases at cellular level and this remains the mainstay of diagnosis nowadays. I believe that pathology will see many changes in the future, such as more and more detailed genomic studies or digital pathology. However, what will remain the same is the purpose - Pathology will be always here for people.
Commended entry: 'Trial and Error' by Clarissa Lovatt-Young (UK)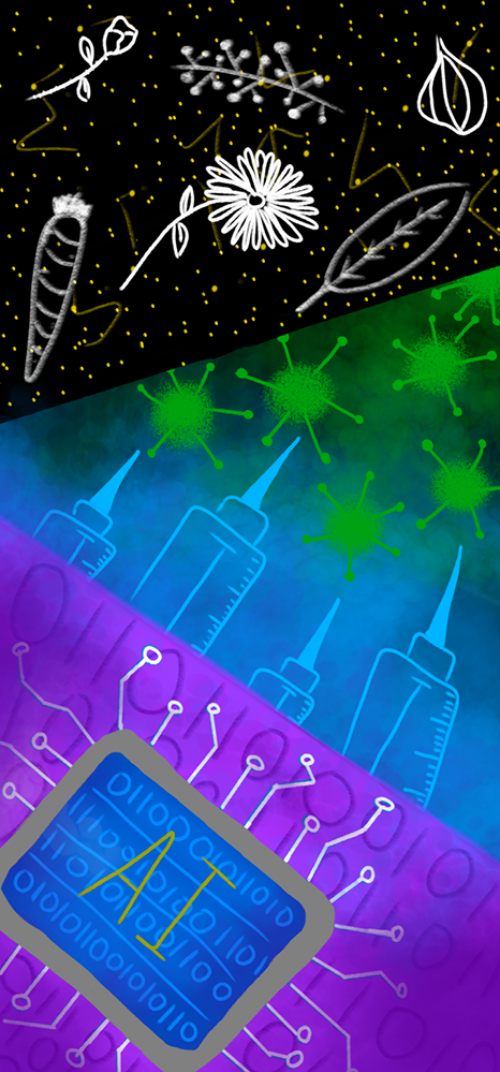 The three sections represent the past, present and future. The past shows simpler times with stars and medicinal herbs. The present shows the fight against COVID with the syringes of vaccines providing a wall of security. The future shows the digital possibilities for pathology.
Commended entry: 'Women In Pathology: What the future beholds' by Krisha Bansal (UK)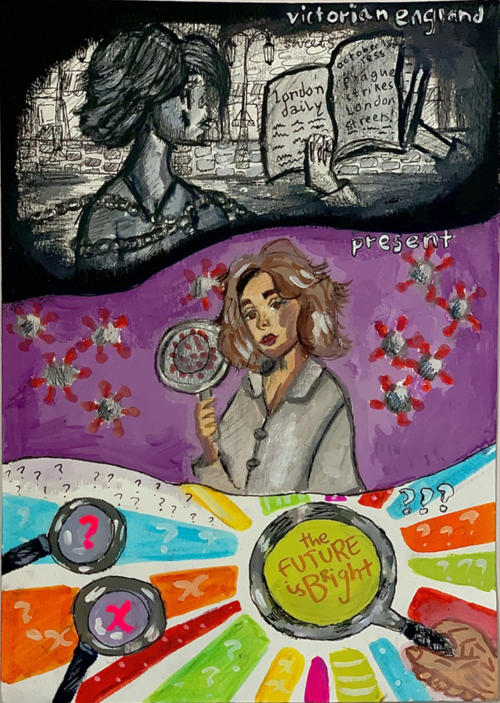 My artwork focuses on the past, present and future of women in pathology, with the pathologist being chained in the past (Victorian England) to show how her thoughts were not heard during the Plague. In the present she is unchained and is contributing to defeating the pandemic, and the future is becoming brighter and brighter…
Commended entry: 'Bond of Reunion' by Saima Turabul (UK)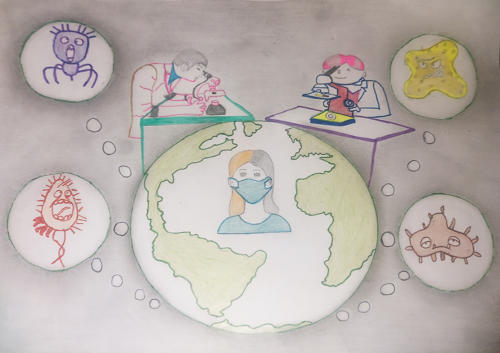 In the past pathology rescued millions of lives, and steel determent to trying their best to accomplish their goal, all though in the distant future they would be facing more pressure, nothing can provoke them from achieving their intentions, even if it means risking their own lives to reconcile the victoms with their family! They are the true heroes, who truly deserves more love and support from the heart!!!
Under 11s Category
Winner: 'Women in Pathology' by Lavanya Rawal (India)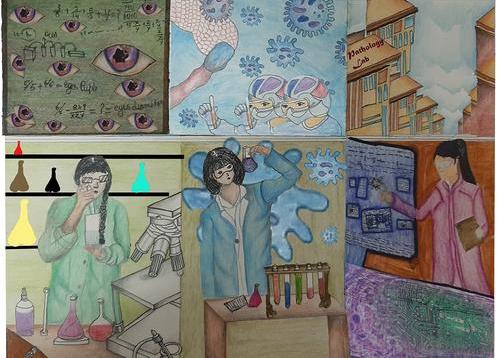 My work shows the adaptability and progress of women pathologists from classical pathology to digital pathology techniques. It changes diagnosis with microscopes and glass slides to virtual microscopy on the computer. With multiple tools using artificial intelligence and machine learning it support women pathologists in their future work.
Runner up: 'Histopathology magic, past, present and future' by Meredith Edwards (UK)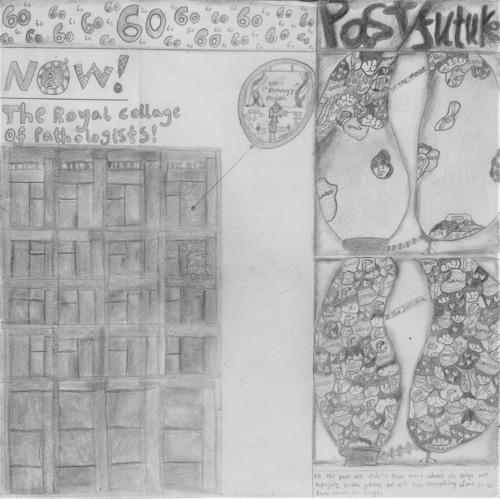 I have drawn the Royal College of Pathology's building how it is now to represent the present. And the drawing of two lungs, one in the past when we didn't know much about them and one for the future when we know everything about the lungs. In the lungs I've dawn cancer as this is what histopathologists study.
Runner up: 'Pillar of Medicine' by Nandini Mishra (India)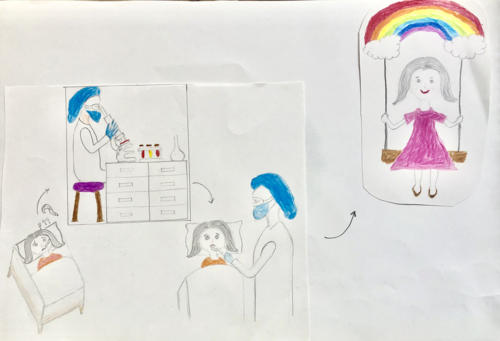 My artwork shows when I was sick a pathologist did tests to find out what's wrong with me so that the doctors can give me the right medicine. Rainbow represents happiness and hope. My inspiration was when my mother explained to me whether past, present or future the role of pathologist remains the same, an important 'pillar of medicine.'
Commended entry: 'Paths of Pathology' by Sofia Alam (UK)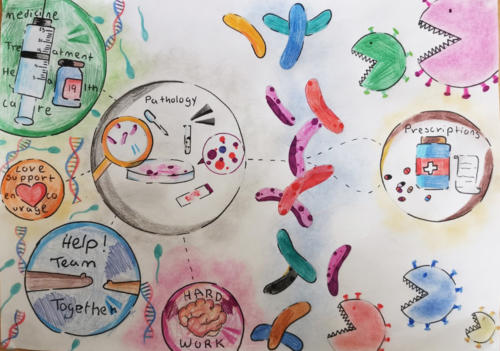 There's never a difficult route for pathologies, they will always find an easier solution. No matter what comes in the way, they discover one way or another to develop their success, they will fight for the safety of humanity! 'one in all, all in one' they are the Guardians who keep us from danger or illnesses! Forever Together.
Commended entry: 'Past, Present or Future' by Ananya Veerashetty (India)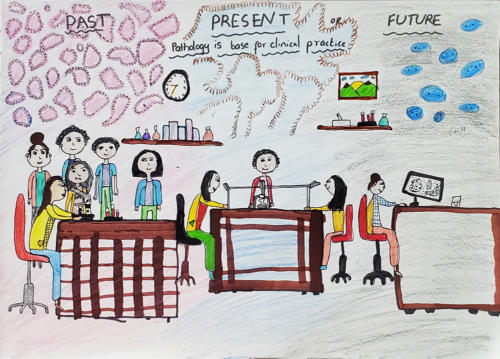 Past, Present or Future, Pathology is the base of clinical practice. Evolution of histopathology from mono ocular microscope to whole slide digital view.
Over 18 Category
Winner: 'Against it All' by Weronika Kukulska (UK)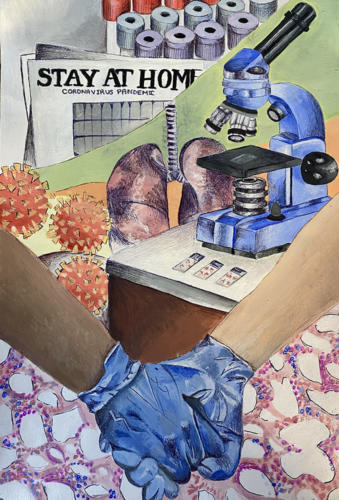 With a focus on the Covid-19 pandemic, I tried to encapsulate the theme with two pathologists holding hands, facing their challenges together. I've combined representations of the pandemic and pathology itself to display the role that pathologists have played in our advancing knowledge of Covid-19.
Runner-up: 'Pathology - A Diverse Specialty' by Charlotte Mercer (UK)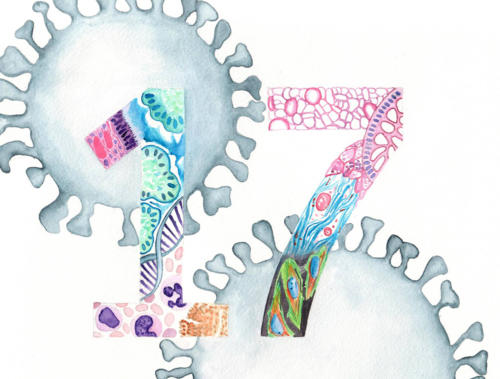 ALL TOGETHER, 17 subspecialities form the incredibly diverse specialty of pathology. In the shadow of COVID-19, collaboration between teams of pathologists is essential to gain a greater understanding of the pathological changes resulting from this disease, and to aid development of novel treatments. This is more crucial NOW than ever.
Joint third place winner: 'Nuestra pequeña lucha (translated to: Our Little Fight)' by Thaya Desireé Catacora Valencia (Peru)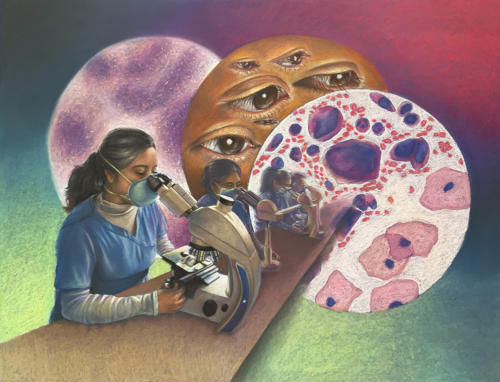 The motivation of mi artwork is based on my daily activity as Anatomical Pathology resident of a public hospital from Peru. For external eyes, the fight of a pathologist may seem small and lonely, but the truth is that each slide is a battle that we wage against the disease and that we all do together, around the world.
Joint third place winner: 'Working Together' by Laura Montserrat Bernal López (Mexico)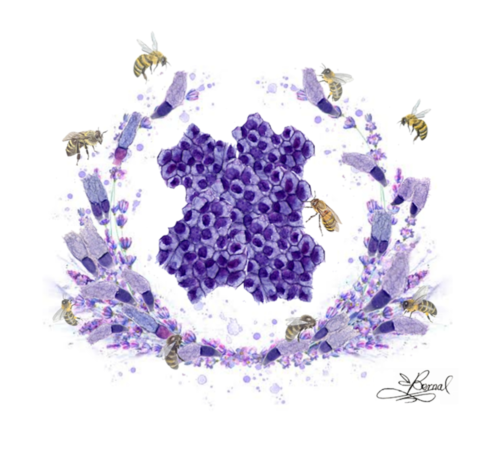 It is summer and my garden is full of lavenders and bees. When I see them, I always remember the honeycomb pattern described in benign cytologies. I think pathologists are like bees: we look for clinical data/x-rays (pollen), and with all together, we create a diagnosis (honey).
Commended entry: 'The International Fight' by Reece Patel (UK)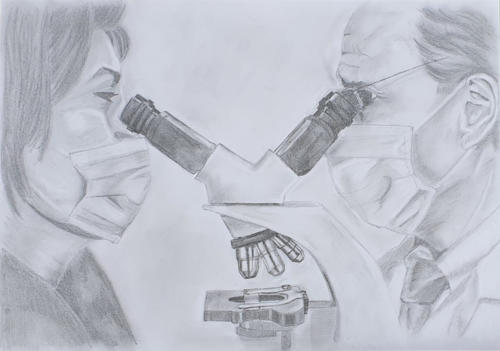 The way pathologists have collaborated in response to COVID-19 has been incredible. Sharing technologies and research enabled us to quickly respond to the biggest global event in our generation. My work pays homage to this, showing people from around the world, looking through one microscope, fighting for the same cause.
Commended entry: 'Tough Times Don't Last; Tough Teams Do' by Raaghul B. (India)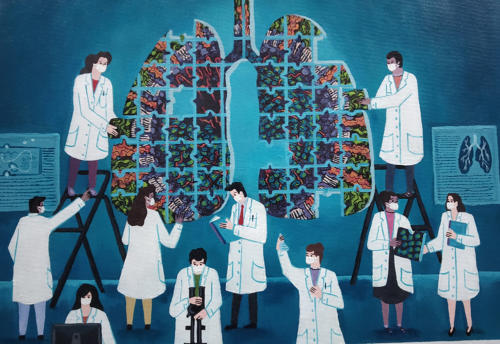 My painting is all about how pathologist played an important role in unraveling the mystery of corona virus. I depicted this idea by representing corona virus as puzzle pieces being put back on to their position by a group of pathologist .I drew the puzzle in a shape of a lung with the image of internal structure of corona virus with all its parts like spike protein[orange],N-protein[blue],M-protein[purple],RNA[red] and lipid membrane [peach]. My inspiration comes from an article I read about the hard work of the pathologist in this pandemic of COVID-19.
Commended entry: 'Dr. Jane Paxton, Pathology Consultant' by Merlyn Harvey (UK)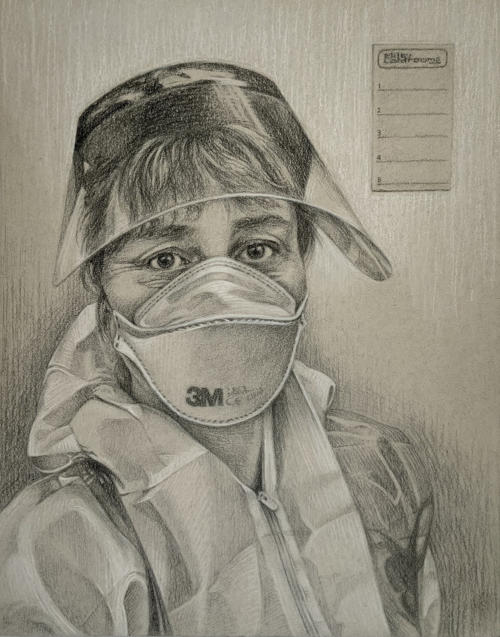 I was inspired to draw my Covid NHS hero - my sister Jane, a Pathology Consultant at the Queen Elizabeth Hospital in Glasgow. She has worked tirelessly throughout the pandemic and still manages to smile under her PPE and 'lockdown fringe'.
Commended entry: 'Through the Looking-Glass' by Emma Chang (UK)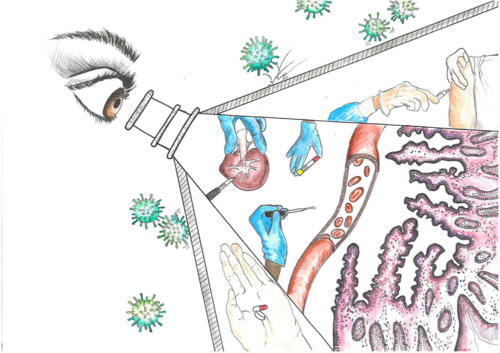 This piece depicts pathology at the centre of the fight against Covid-19. The eye of the pathologist could also represent the way the world watched as pathologists worked alongside those who contributed to vaccines and novel treatments in the race against the pandemic. Together, we build stronger barriers against Covid-19.
Commended entry: 'Pillars' by Dr Emma Allde (UK)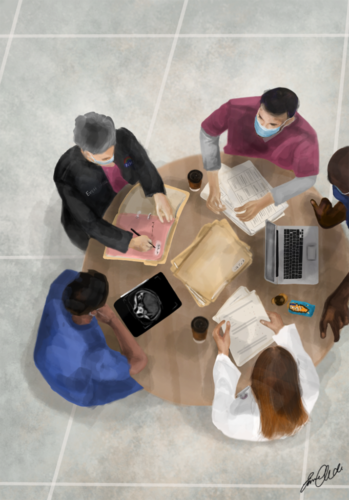 For this year's theme 'All Together Now' I aimed to portray the multi-disciplinary team (MDT) meeting as an impressionist snapshot into everyday life in the hospital and how a pathologist is an essential member of a larger team. The members of the team (clockwise) are a medic, a surgeon, a pathologist, a radiologist and a cancer specialist nurse. Each member of the team is vital to ensuring a personalised care plan for the patient is created. They each provide their own unique insights and expertise; the success of the MDT outcome is dependent on the attendance of each member. Furthermore, whilst all these specialties, like pathology, may not be patient-facing, at the centre of the scene is a pile of manila folders symbolising the patient as the focus.
Commended entry: 'The Last Fight: All Together Now' by Elif Demirci (USA)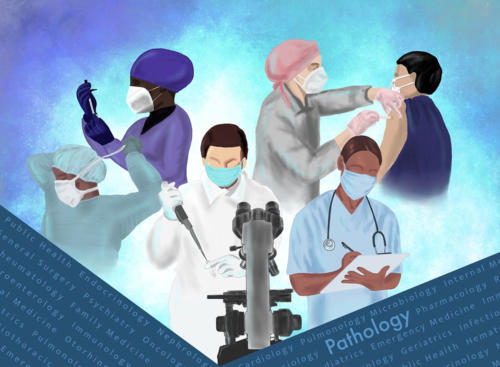 With Pathology at the core and the help of all specialties, we have achieved groundbreaking advancements towards the diagnosis and treatment of Covid-19, we are now closer than ever to getting our lives back through vaccination. To all the healthcare workers across the globe: it's time to fight All Together Now.
Commended entry: 'Where Pathology Saves Lives' by Ani Haykuni (UK)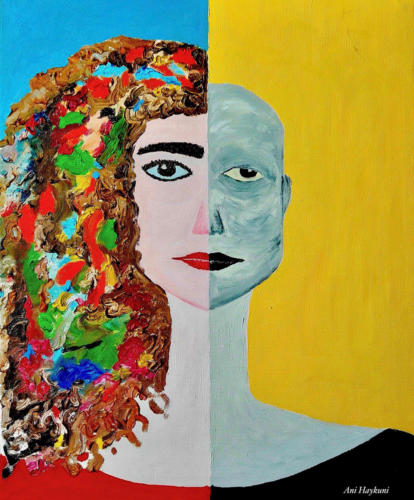 Through this painting I wanted to show the role of pathology from the perspective of people living with cancer. I have been fighting cancer since 2015, and I probably wouldn't be alive if my cancer wasn't diagnosed in time (twice). This painting represents me and millions of other people living with cancer. Every patient starts a journey right after their diagnosis, a long and sometimes a difficult journey. Although cancer can take away some of the light and positivity of people living with cancer, it cannot take away their hope for a brighter and healthier future. Without pathology this hope wouldn't even exist.
11-17 Category
Winner: 'Unity' by Mereena Pun (UK)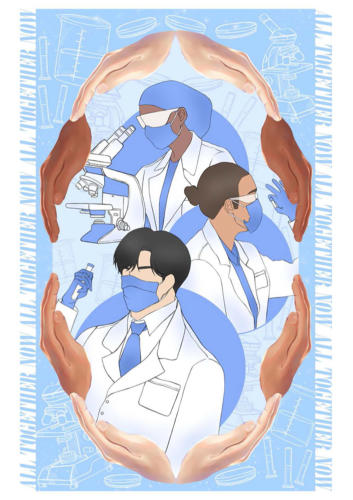 On the closing page of 2019 to the early light of 2020, the world was thrown into silence and separation. Yet through the unity and cooperation of humankind, we have fought against COVID-19 and broken through the darkness. Pathologists are the beginning of this chain as without their hands in diagnosing the disease and developing the treatment, humanity would've not stepped forward to the light.
Runner-up: 'Pathology: a piece of the puzzle' by Vignesh Rajiv (UK)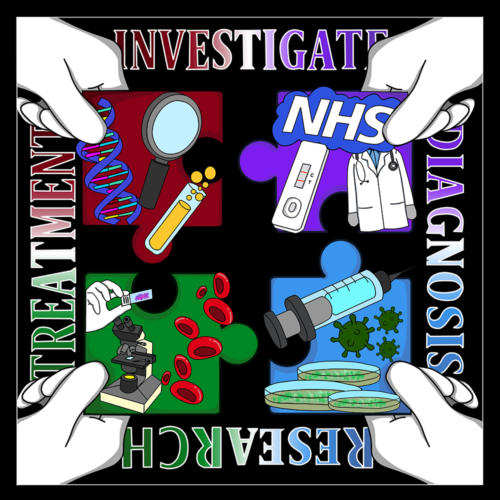 Pathologists have many roles, including diagnosis, research, investigation and treatment, but most importantly they work together with other healthcare professionals: they are a key piece of the puzzle. The hands are blank and undefined, to show that everyone has a role to play and anyone can work in a team. Pathology can be the perfect fit for anyone, is it the perfect fit for you?
Third place: 'One life, one line' by Zoe Soh (UK)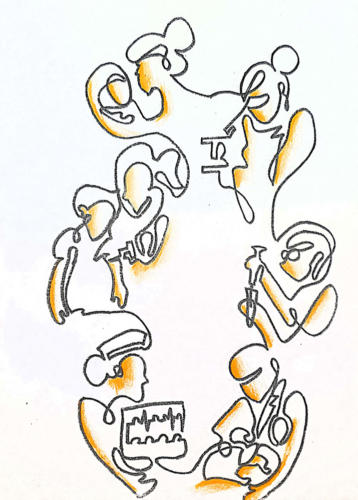 A single continuous, unbreakable line drawing that connects all of us during this moment of crisis, in a full circle of life. We will soon emerge stronger and better.
Commended entry: 'Masking the Unmasked' by Nyneisha Bansal (UK)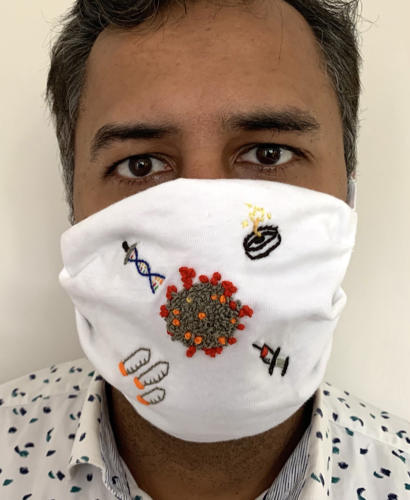 My artwork honours the diligence of Pathologists who have played a key role in curbing the spread of the Covid-19. In order to fulfill the theme 'All Together Now', I decided to incorporate equipment in the form of weapons used by different fields within pathology, all attacking the virus in the centre. The petri dish bomb, sharp syringe, centrifuge tube bullets and DNA sword represent histopathologists, cytopathologists, anatomical, clinical and all other subdisciplines. The medium of the art I used was embroidery on a mask; the coronavirus in the centre uses french knots to show the difficulty in defeating it, whilst the outline of each piece of equipment uses a chain stitch, demonstrating the determination of pathologists all throughout the pandemic.
Commended entry: 'At the roots of pathology: love, nurture, togetherness' by Avani Maindola (UK)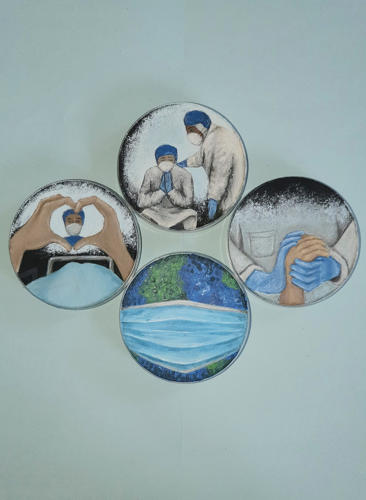 The theme 'All Together Now' inspired me to create artwork on the unconditional love, nurturing of relationships and togetherness that has become more important than ever and the unconveyable amount gratitude and support that the healthcare community deserves. The theme of 'Pathology' inspired me to paint on faulty petri dishes and explore love, nurture and togetherness being at the roots of pathology. They are what bring people out of darkness, into a place of light, regardless of the hardships. They are what heal all.
Commended entry: 'We are forgetting something' by Griha Kodavur (India)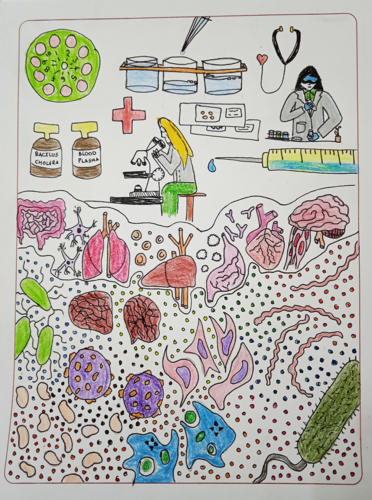 We forget that without the help of our body and mind no medicine will cure. Our body itself is a wonderful medicine and can cure all sorts of diseases. With the help of our amazing bacteriologists and pathologists the body of ours can perform amazing feats. Staying happy and positive is the key to healthiness along with all the other treatments we go through. My inspiration was my mom, she persuaded me to take part in this interesting competition. She also took part to encourage me though her drawing was very silly for her age, but her drawing gave me my idea.
Commended entry: 'All Together Now : shining a light on pathology' by Claudia Ferrier (UK)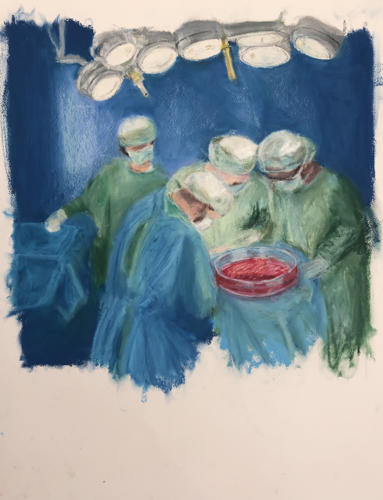 This painting represents how important teamwork is in all aspects of medicine and highlights the central role of pathology across multidisciplinary team decision-making to identify, diagnose, and treat disease.
Under 11 Category
Winner: 'The Pathology Microscopic Fighters' by Layla Minett (UK)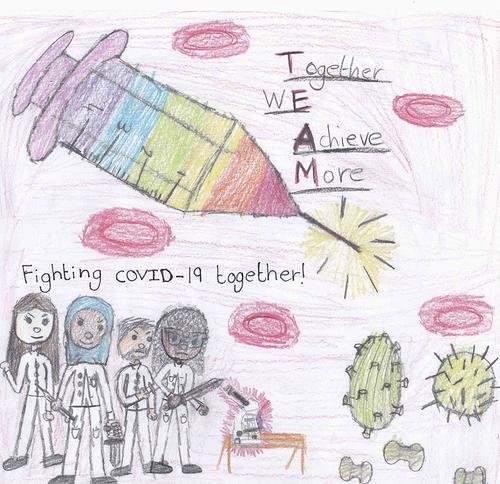 I've drawn the Pathology people microscopic in the blood like antibodies teaming up to defeat the bacteria and viruses like COVID-19 and cure diseases. The swords represent the different tools they use to do it like microscopes, blood tubes and vaccines.
Runner-up: 'Together Pathologist...' by Lily Scott (UK)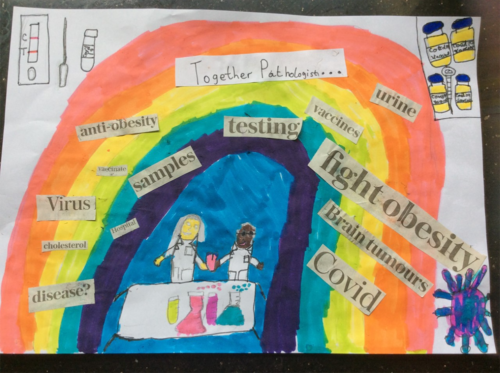 My picture shows pathologists working together to test people for illness. The rainbow symbolises hope for the future and has helped us in Covid 19 , the words describe some of the roles pathologist carry out and the diseases they help fight.
Third place: BY ZARA BAIG (UK)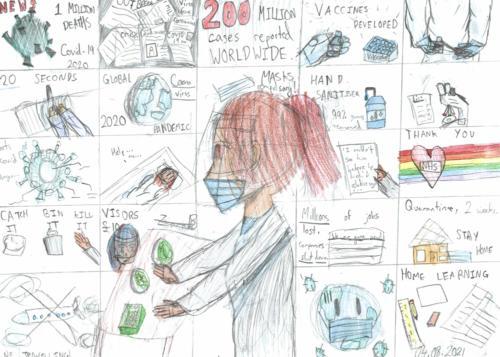 Pathology staff all around the world have worked extremely hard to develop various successful vaccines, tests and treatments, which I have tried to represent here. The background displays various news headlines and events relating to the pandemic.
Over 18 Category
Winner: Max Butler (UK)
The Heart of the Matter, India ink, pen, graphite, charcoal, and gold leaf on paper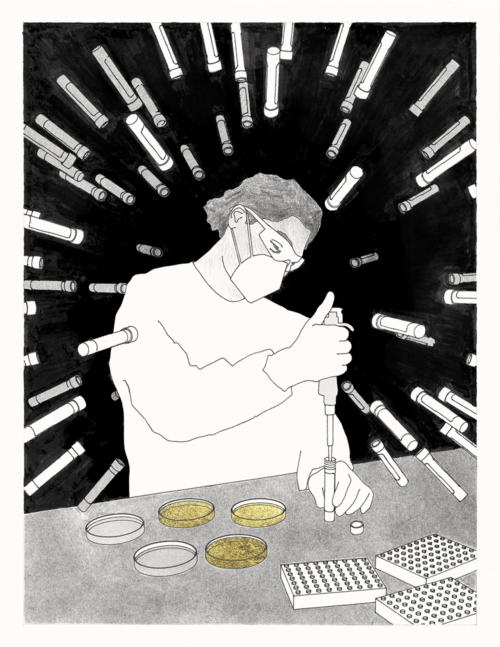 Through diagnostic testing and the development of potential treatments and vaccines, pathologists have been central in the fight against COVID-19. A pathologist's insights can have far-reaching consequences – from shaping national guidelines, to transforming patient care. In this challenging time it has been particularly clear: pathology is at the heart of healthcare.
Runner-up: Molly Harrison (UK)
Pathology: at the heart of healthcare, drawing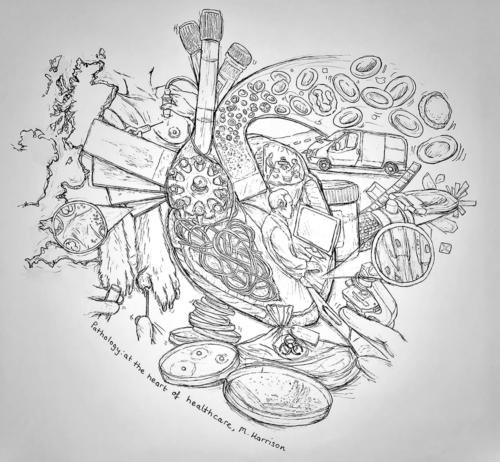 I tried to encompass several aspects of pathology within and around an anatomical heart that is positioned in the centre of my fine liner pen drawing. To display visually that pathology is at the heart of healthcare.
Runner-up: Douglas Donnachie (UK)
At the heart of our community, drawing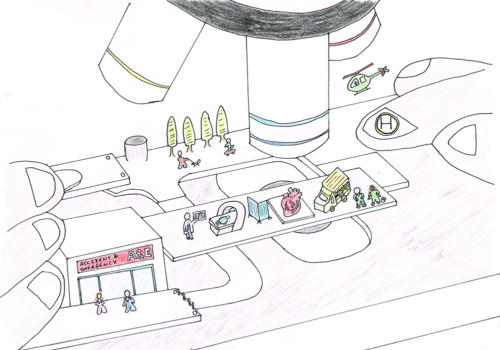 This artwork was inspired by my experiences carried out in my hospital. Our healthcare system relies on the brilliance of the our pathologists carrying out important diagnostic testing to treatment advise while the world outside carries on.
Highly commended: Tamsyn Mckenna (UK)
The Oral Cavity is the Gateway to the Heart, watercolour and pen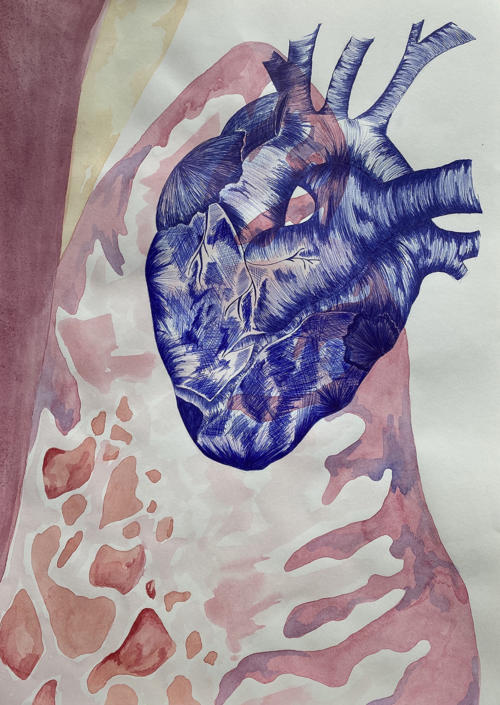 The watercolour painting (background), represents the pathology of gingival epithelium. In the foreground I have sketched a heart using BIC blue pen. The artwork encompasses how the oral cavity is the gateway to the heart. Emphasising the established connection between poor oral hygiene and the risk factor of cardiovascular disease.
Highly commended: Caddie Laberiano-Fernandez (Texas, USA)
Cytology multiplex, digital art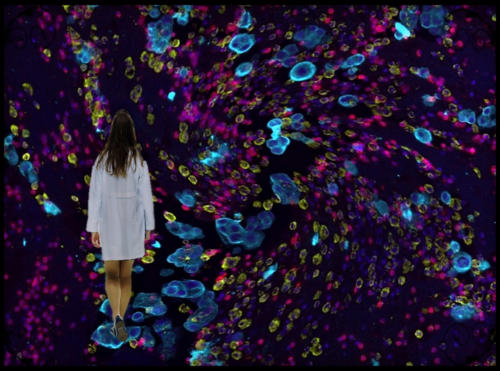 This is a picture about multiplex immunofluorescence in malignant pleural effusion. I wanted to share that cytology is a world a part , as each technique. Pathology is a universe of infinite possibilities and all the paths direct us to discover the disease.
Highly commended: Meredith Herman (Michigan, USA)
Life magnified, acrylic on 14'x16" canvas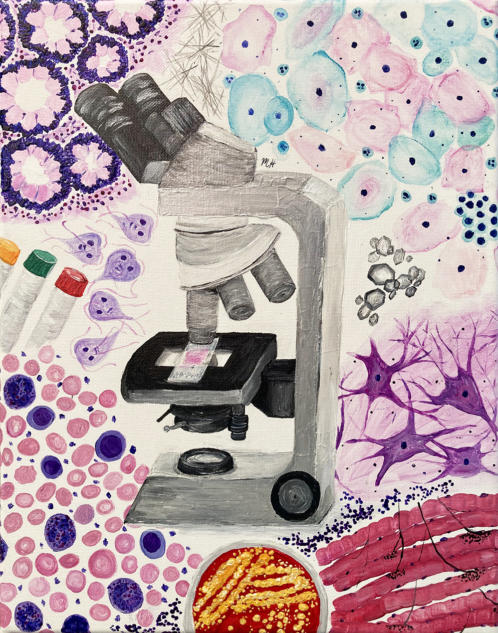 What do you see? You peer into the microscope, mesmerized and bewildered, and study the slide for this case. Neurons in your brain fire as you examine the cells, nuclei, and patterns. This patient's care depends upon your expertise and final diagnosis. This slide is more than a case, a cell block or peripheral smear. It is the patient.
My inspiration arose from my enjoyment of learning pathology in medical school and during a post-sophomore Pathology Fellowship in the United states. Studying pathology and gaining hands on experience in the laboratory has helped deepen my understanding of disease, the importance of the hospital laboratory in healthcare, and the critical role pathology has in developing treatments and vaccines.
11–17 Category
Winner: Johnny Ma Kwok Kit (UK)
Heroes, digital art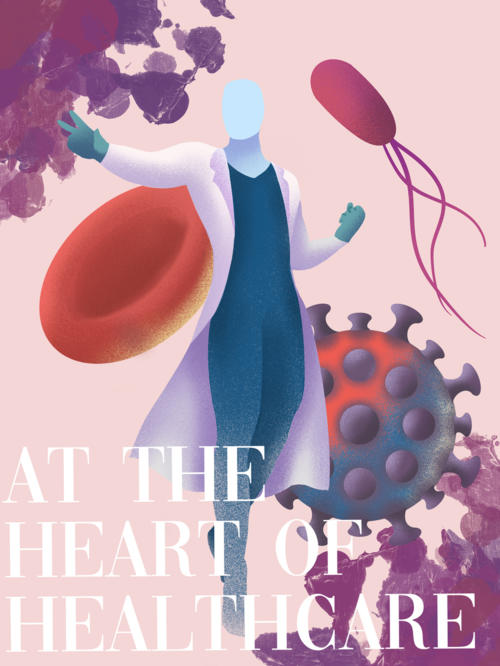 Pathologists play a critical role in the world of healthcare; they are responsible for diagnosing patients and administering treatment. From advancing medicine to disease prevention, they play a pivotal role in the heart of healthcare. Dive down into the microscopic realm, explore the undiscovered and who knows! But more importantly, who is this pathologist, could it be you? A side note, the pathologist in the digital art has no face because its identity remains to be confirmed, as it can be anyone.
Runner-up: Sidionie Fleury (UK)
Art from the Heart, drawing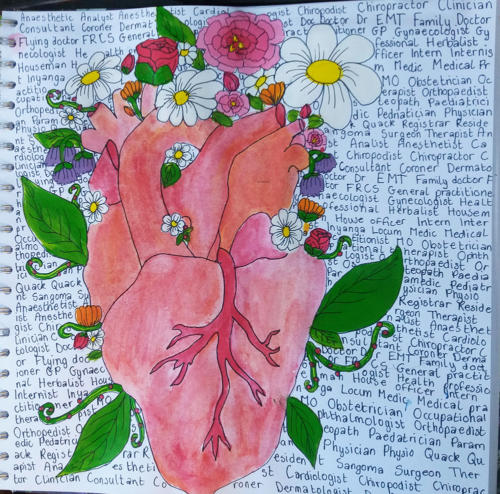 Pathology is all about tissue cells and finding cures for disease. Cancer has many different pathologies and actually that is what I based my picture on. In January my grandfather was diagnosed with heart cancer. This was truly heartbreaking as i was very close to him. I then decided to enter this painting in honour of him. At first all the words were going to be names of the people helping to find a cure for cancer but I couldn't find this so instead it is all the different types of doctors.
Highly Commended: Ju Won Park (Illinois, USA)
Toolbox, pigment ink on paper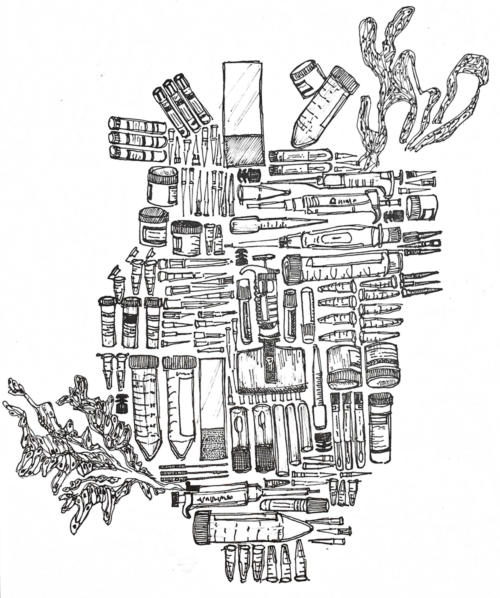 The patient never enters the lab. However, the heart of pathology is the lab where diseases are identified and stopped in its tracks. Just like a carpenter's toolbox, a pathologist's lab is filled with equipment and supplies that are essential to the detective work.
Under 11 Category
Winner: Ava Pundole (Pune, India)
Pathology to the rescue in a sea of uncertainty, drawing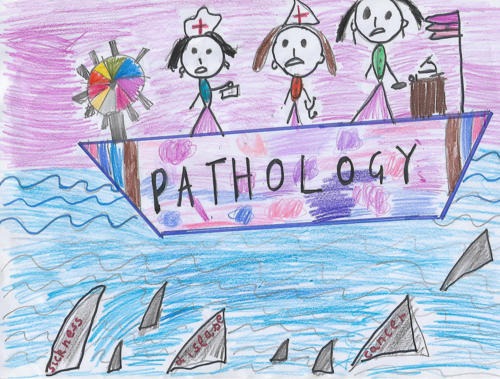 The ship called Pathology helps doctors surgeons and other healthcare professionals to navigate the rough and predatory seas of healthcare. The sharks represent diseases, sickness and cancer etc. The boat also has a microscope which is used to navigate the seas safely and represents the ships wheel.
Runner-up: Hannah Khasati (UK)
Pathology. The heart of healthcare, collage made of magazine cuttings from different articles with fine liner pen used for the writing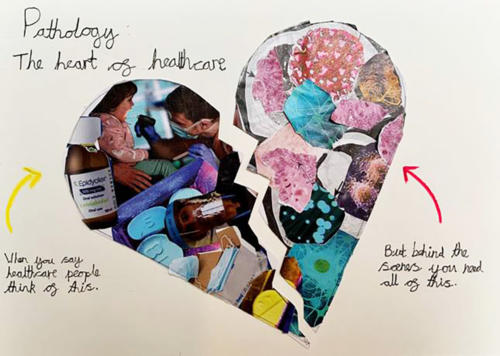 My picture shows that pathology is really important but a lot of people don't know anything about it. I didn't until I spoke to my sister. She has been working really hard in the hospital and I want to be just like her.
Over 18s Category Winner
Gautham Kumar, 'Handshake'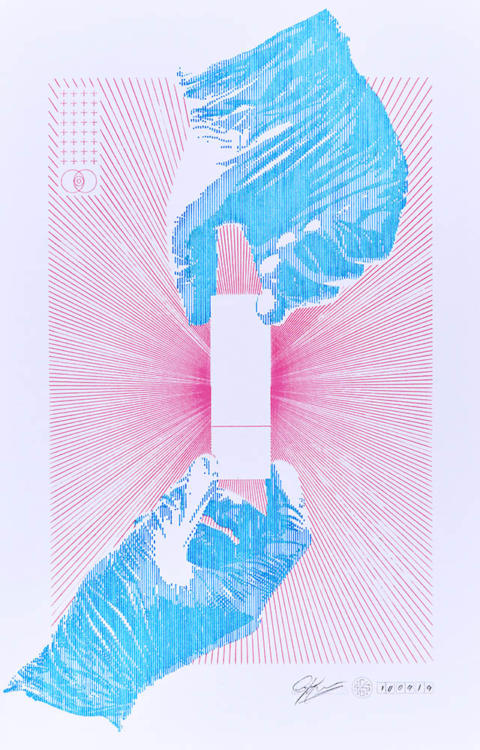 "Take a look at this," you say passing a slide. This one is particularly interesting. When pathologists share observations and ask questions, ambiguity is resolved, research is fuelled, and cases are cracked. The person beside you has a New Point of View and that could make all the difference.
Over 18s Category Runner-up (highly commended)
Mengye Li, 'The Past, the Present, the Future: Our Love Affair with Our Bugs'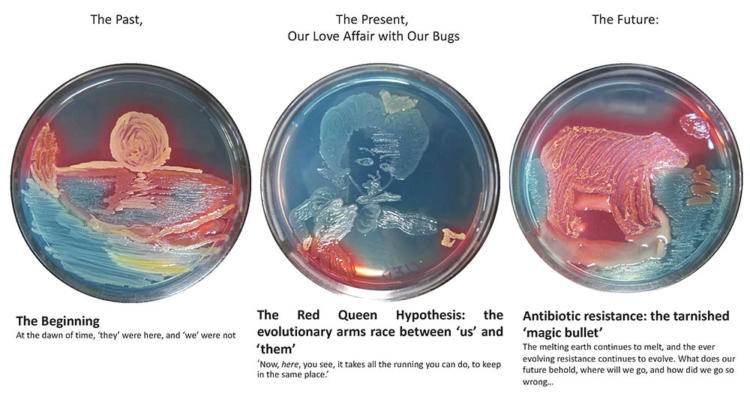 Humans think we rule the world, but do we really? In the millions of years the Earth has existed, microbial organisms have occupied nearly every corner of this world, in habitats inhabitable to us humans. We thought the discovery of antibiotics was the end of all infectious diseases. We thought we had it all. But we were wrong. In the evolutionary race between micro-organisms and us, we have never stopped running… and yet we have never moved. With the never ending development with antibiotic resistance, and the invested interest of pharmaceutical companies in the development of other more 'profitable' drugs, one day, we will have to pay for the price of antibiotic misuse.
11–18s Category Winner
Jasmine Claire Ferrer, 'From a Microscopic View'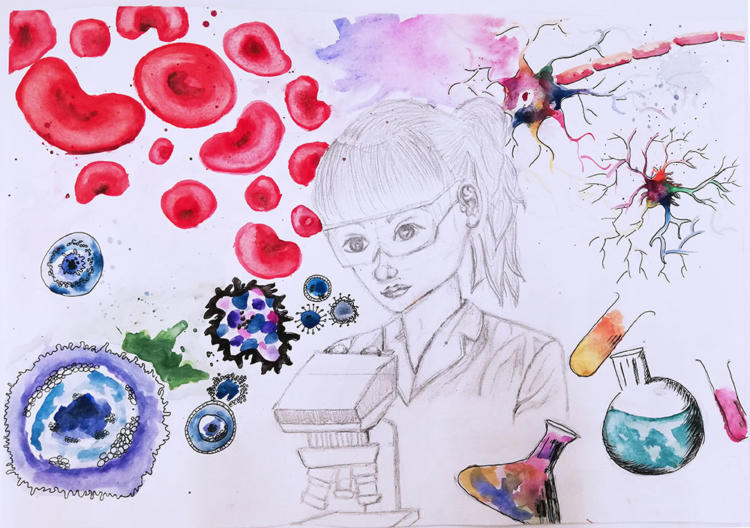 Pathologists hold a unique and powerful view, down the microscope, into a world of wonder of tissues, cells but also into the world of disease, its causes and effects, through bacteria, viruses, and other invaders or abnormal conditions. This unique view is not only for research purposes but provides the chance for the pathologist to understand the disease and potentially provide powerful clues and insights towards a diagnosis and cure for a patient. Who would think that the view through the microscope could be life changing?
11–18s Category Runner-up (highly commended)
Zora Kregar, 'Glands'
Pen drawing on semi-transparent paper, multiple layers. A4 format.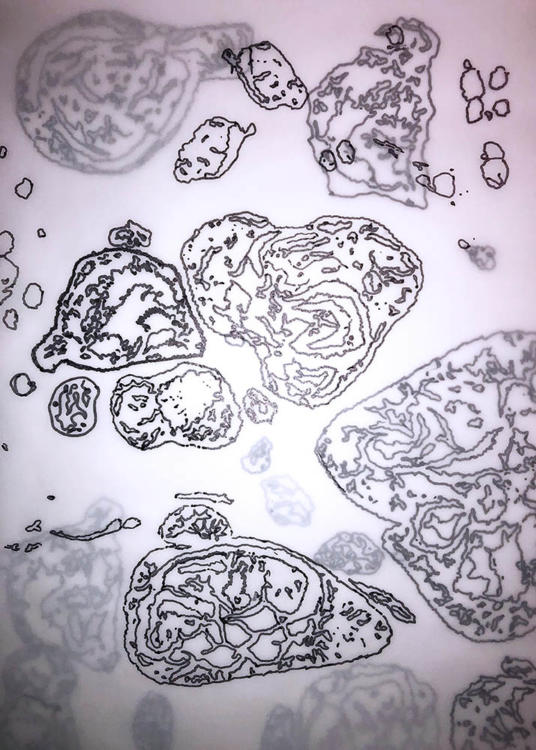 Looking through a microscope, a new world can be discovered! Sometimes, my mother shows me what she is doing at work, analyzing tissue. I like the forms and shapes a lot.
Under 11s Category Winner
Carys Logie, 'It's in the Genes'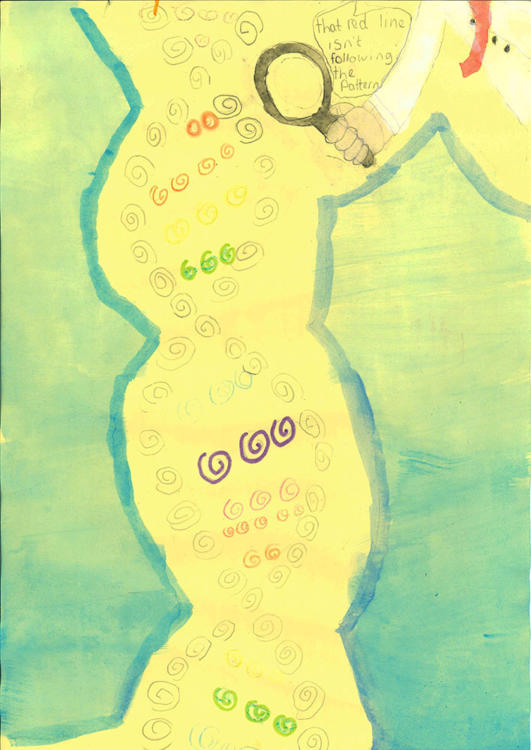 My picture shows DNA and the red line (the red line that the magnifying glass is pointing to/nearest to) isn't following the pattern. The pattern is swirls but the line has circles so it's wrong. I coloured by background dark to light with a scientist in a nice white jacket.
Under 11s Category Runner-up (highly commended)
Swara Sooriyakumar, 'Pathology: A New Point of View'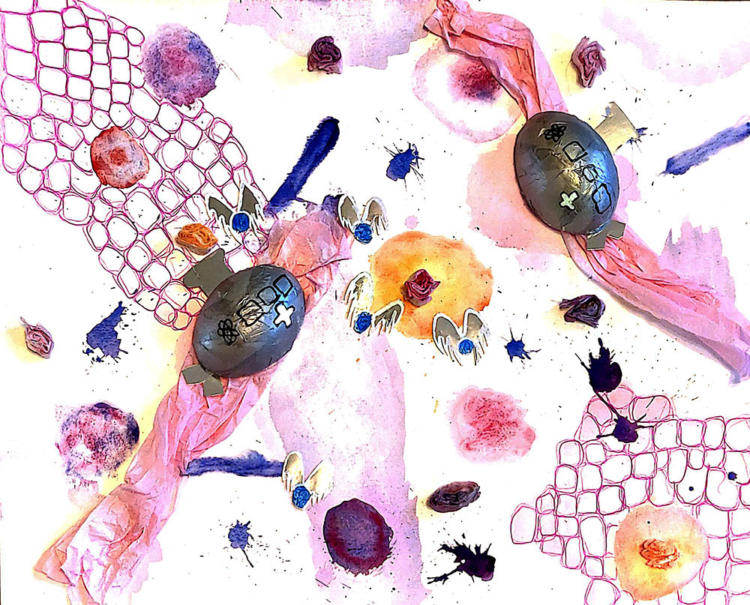 My picture is about scientists and doctors finding ways to fight and cure diseases. Here you can see that there are submarines floating through the blood, searching for ways to fight and cure diseases. The submarines are delivering medication to the cancerous cells. I created this piece by using kitchen roll for the nucleus, tissue paper for blood flow, silver card to the angel wing medication and I used watercolour for the background.
Commended Entries
The following entries were commended by the judges.
Terms and conditions
Please read the Terms and Conditions document below for more information about the competition.
Need inspiration?
Entrants are encouraged to consider the following questions to use as inspiration for their artwork.
What is pathology? This page provides an overview of pathology and includes a short video.

How do pathologists look after your health?

What have been the major discoveries in pathology throughout history?

Who has contributed to the major milestones in pathology?

What might the study of disease look like in the future?

What technologies have advance/will help advance pathology?
Did you know that there are 17 different specialties within pathology? You can explore one or more of these specialities when creating your artwork, or look at pathology as a whole. Visit our careers pages for more information.
Resources
Articles
Please note, any personal data collected in this competition will be kept only for the duration of the competition to notify winners, to send back art entries and to pay winners. All information will be kept in compliance with the College's privacy policy.
Browse our site for ideas and to learn more about the science behind the cure.