This year's Art of Pathology competition is now open. Entries should be submitted to publicengagement@rcpath.org by 11.59pm GMT on Friday 27 August 2021.
Each year, the College runs an Art of Pathology competition, where people of all ages can submit paintings, drawings, sculptures, digital art, collages or any other media on a specific theme. This year's theme is 'All Together Now'.
Participants are invited to interpret this theme in their own unique and creative way, while exploring different aspects of pathology. We have provided some ideas and useful links below for those for whom pathology is a new topic.
The competition is open to UK and international entrants of all ages. There are three categories for entries: under 11s, 11–17 and adults (over 18s). The judges of the Art of Pathology Competition are College Fellows, Dr Sarah Coupland and Dr Shubha Allard, and science-based artist, Dr Lizzie Burns.
Prizes
A £50 prize is awarded to the most creative work in each category, and the winning entries are published on our website and featured in the College magazine, The Bulletin. Scroll down to see the 2019 and 2020 winning entries.
Further information
Please read the Terms and Conditions document below for more information about the competition.
Need inspiration?
Entrants are encouraged to consider the following questions to use as inspiration for their artwork.
What is pathology? This page provides an overview of pathology and includes a short video.
How do pathologists look after your health?
How do pathologists collaborate with patients and other healthcare professionals to diagnose and treat diseases? What insights do pathologists provide?
How have pathologists contributed towards COVID-19 efforts, to help us return to normality (for example, through testing and vaccinations)?
What effect does global collaboration have on improving health (for example during the COVID-19 pandemic)?
Why is diversity important within pathology and healthcare teams?
What are multidisciplinary teams (MDTs)?
Did you know that there are 17 different specialties within pathology? You can explore one or more of these specialities when creating your artwork, or look at pathology as a whole. Visit our careers pages for more information.
Resources
2020 prize winners
Over 18 Category
Winner: Max Butler (UK)
The Heart of the Matter, India ink, pen, graphite, charcoal, and gold leaf on paper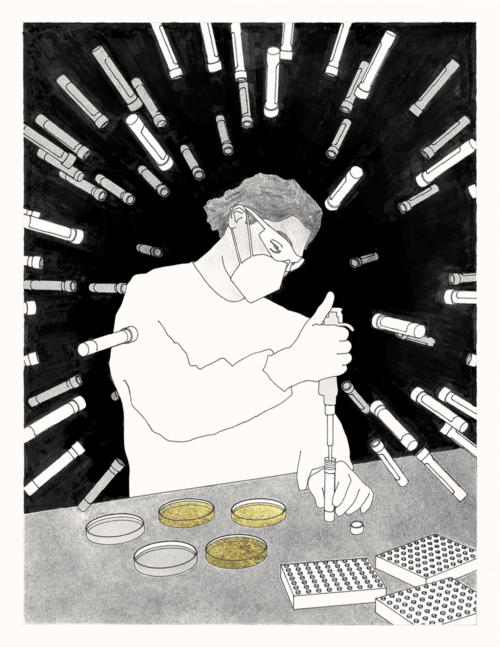 Through diagnostic testing and the development of potential treatments and vaccines, pathologists have been central in the fight against COVID-19. A pathologist's insights can have far-reaching consequences – from shaping national guidelines, to transforming patient care. In this challenging time it has been particularly clear: pathology is at the heart of healthcare.
Runner-up: Molly Harrison (UK)
Pathology: at the heart of healthcare, drawing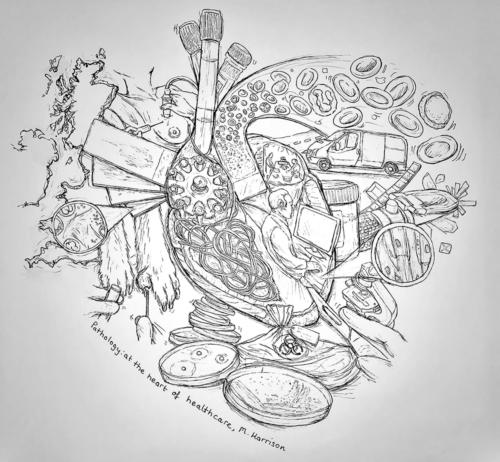 I tried to encompass several aspects of pathology within and around an anatomical heart that is positioned in the centre of my fine liner pen drawing. To display visually that pathology is at the heart of healthcare.
Runner-up: Douglas Donnachie (UK)
At the heart of our community, drawing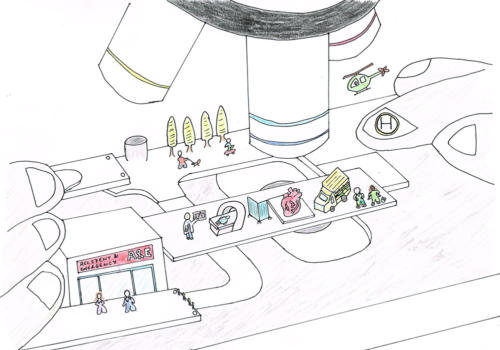 This artwork was inspired by my experiences carried out in my hospital. Our healthcare system relies on the brilliance of the our pathologists carrying out important diagnostic testing to treatment advise while the world outside carries on.
Highly commended: Tamsyn Mckenna (UK)
The Oral Cavity is the Gateway to the Heart, watercolour and pen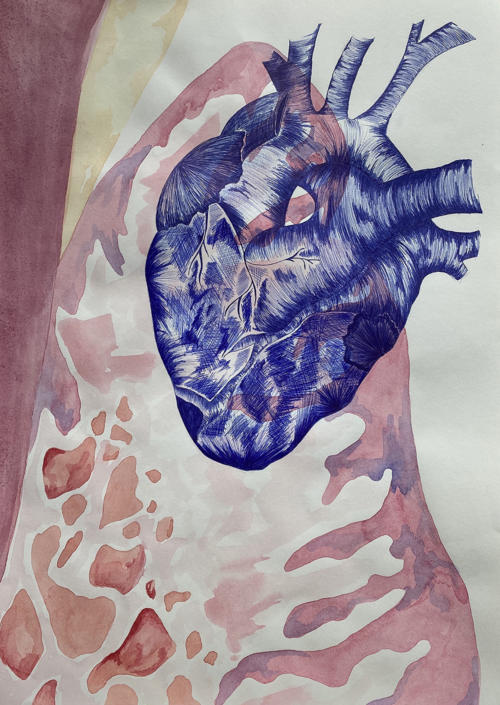 The watercolour painting (background), represents the pathology of gingival epithelium. In the foreground I have sketched a heart using BIC blue pen. The artwork encompasses how the oral cavity is the gateway to the heart. Emphasising the established connection between poor oral hygiene and the risk factor of cardiovascular disease.
Highly commended: Caddie Laberiano-Fernandez (Texas, USA)
Cytology multiplex, digital art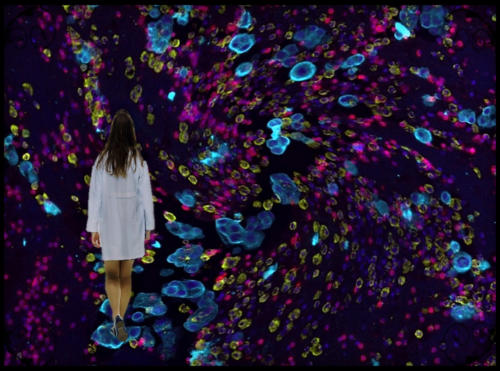 This is a picture about multiplex immunofluorescence in malignant pleural effusion. I wanted to share that cytology is a world a part , as each technique. Pathology is a universe of infinite possibilities and all the paths direct us to discover the disease.
Highly commended: Meredith Herman (Michigan, USA)
Life magnified, acrylic on 14'x16" canvas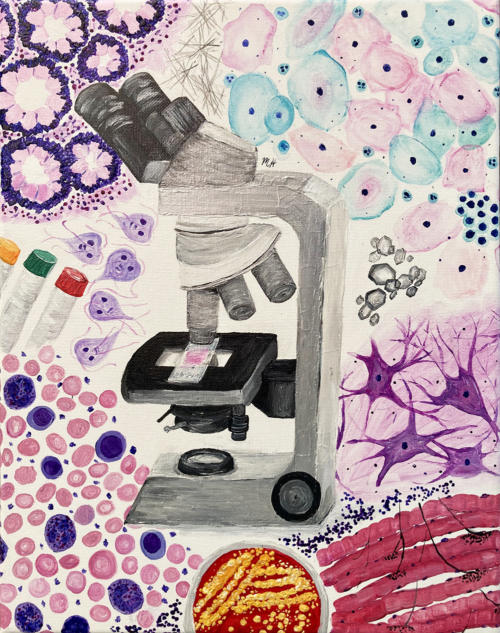 What do you see? You peer into the microscope, mesmerized and bewildered, and study the slide for this case. Neurons in your brain fire as you examine the cells, nuclei, and patterns. This patient's care depends upon your expertise and final diagnosis. This slide is more than a case, a cell block or peripheral smear. It is the patient.
My inspiration arose from my enjoyment of learning pathology in medical school and during a post-sophomore Pathology Fellowship in the United states. Studying pathology and gaining hands on experience in the laboratory has helped deepen my understanding of disease, the importance of the hospital laboratory in healthcare, and the critical role pathology has in developing treatments and vaccines.
11–17 Category
Winner: Johnny Ma Kwok Kit (UK)
Heroes, digital art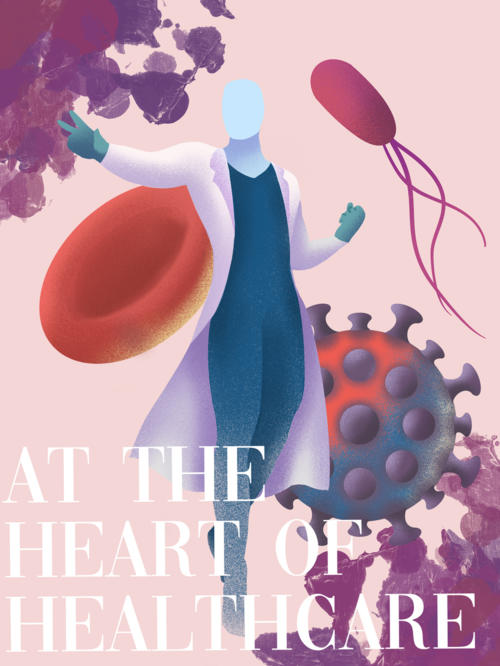 Pathologists play a critical role in the world of healthcare; they are responsible for diagnosing patients and administering treatment. From advancing medicine to disease prevention, they play a pivotal role in the heart of healthcare. Dive down into the microscopic realm, explore the undiscovered and who knows! But more importantly, who is this pathologist, could it be you? A side note, the pathologist in the digital art has no face because its identity remains to be confirmed, as it can be anyone.
Runner-up: Sidionie Fleury (UK)
Art from the Heart, drawing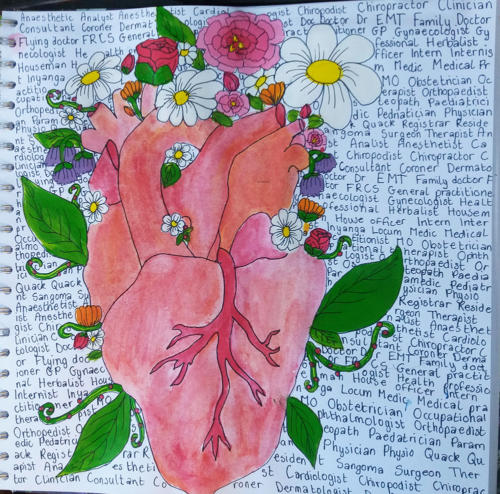 Pathology is all about tissue cells and finding cures for disease. Cancer has many different pathologies and actually that is what I based my picture on. In January my grandfather was diagnosed with heart cancer. This was truly heartbreaking as i was very close to him. I then decided to enter this painting in honour of him. At first all the words were going to be names of the people helping to find a cure for cancer but I couldn't find this so instead it is all the different types of doctors.
Highly Commended: Ju Won Park (Illinois, USA)
Toolbox, pigment ink on paper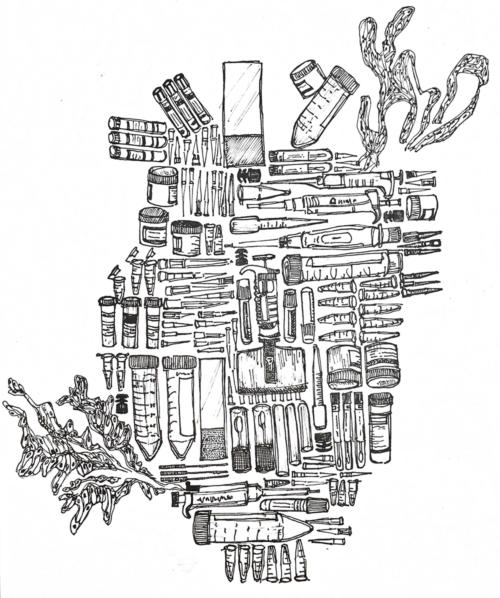 The patient never enters the lab. However, the heart of pathology is the lab where diseases are identified and stopped in its tracks. Just like a carpenter's toolbox, a pathologist's lab is filled with equipment and supplies that are essential to the detective work.
Under 11 Category
Winner: Ava Pundole (Pune, India)
Pathology to the rescue in a sea of uncertainty, drawing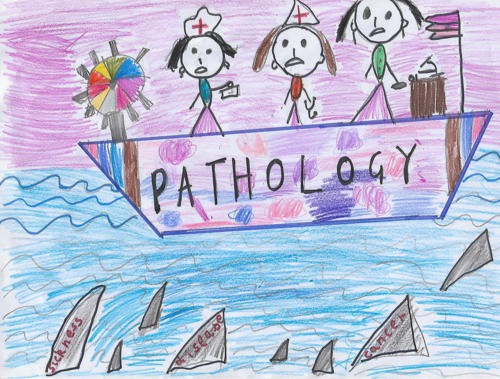 The ship called Pathology helps doctors surgeons and other healthcare professionals to navigate the rough and predatory seas of healthcare. The sharks represent diseases, sickness and cancer etc. The boat also has a microscope which is used to navigate the seas safely and represents the ships wheel.
Runner-up: Hannah Khasati (UK)
Pathology. The heart of healthcare, collage made of magazine cuttings from different articles with fine liner pen used for the writing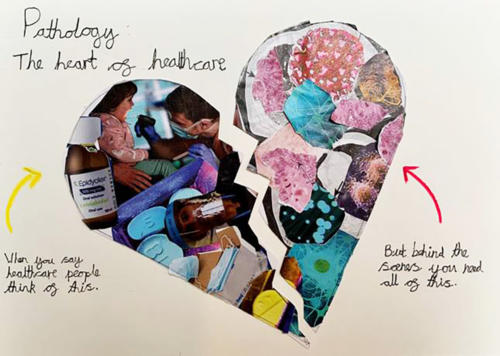 My picture shows that pathology is really important but a lot of people don't know anything about it. I didn't until I spoke to my sister. She has been working really hard in the hospital and I want to be just like her.
Over 18s Category Winner
Gautham Kumar, 'Handshake'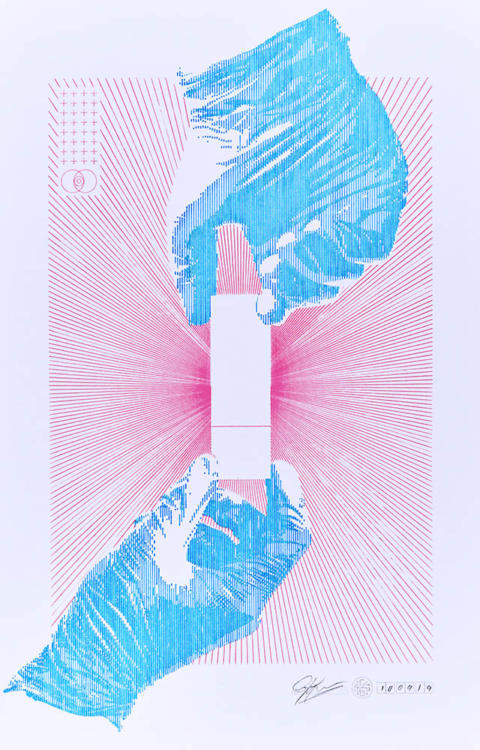 "Take a look at this," you say passing a slide. This one is particularly interesting. When pathologists share observations and ask questions, ambiguity is resolved, research is fuelled, and cases are cracked. The person beside you has a New Point of View and that could make all the difference.
Over 18s Category Runner-up (highly commended)
Mengye Li, 'The Past, the Present, the Future: Our Love Affair with Our Bugs'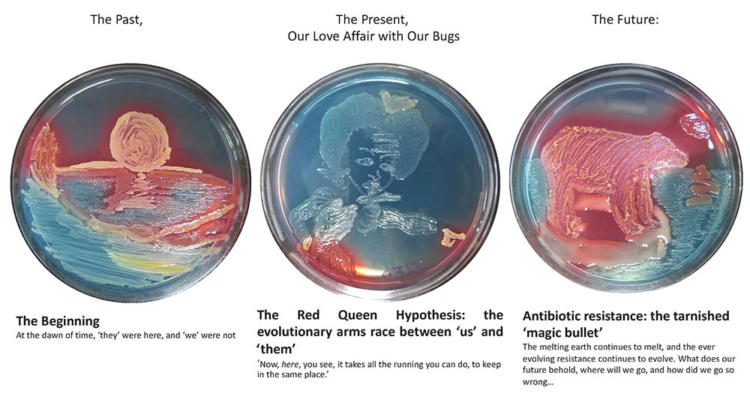 Humans think we rule the world, but do we really? In the millions of years the Earth has existed, microbial organisms have occupied nearly every corner of this world, in habitats inhabitable to us humans. We thought the discovery of antibiotics was the end of all infectious diseases. We thought we had it all. But we were wrong. In the evolutionary race between micro-organisms and us, we have never stopped running… and yet we have never moved. With the never ending development with antibiotic resistance, and the invested interest of pharmaceutical companies in the development of other more 'profitable' drugs, one day, we will have to pay for the price of antibiotic misuse.
11–18s Category Winner
Jasmine Claire Ferrer, 'From a Microscopic View'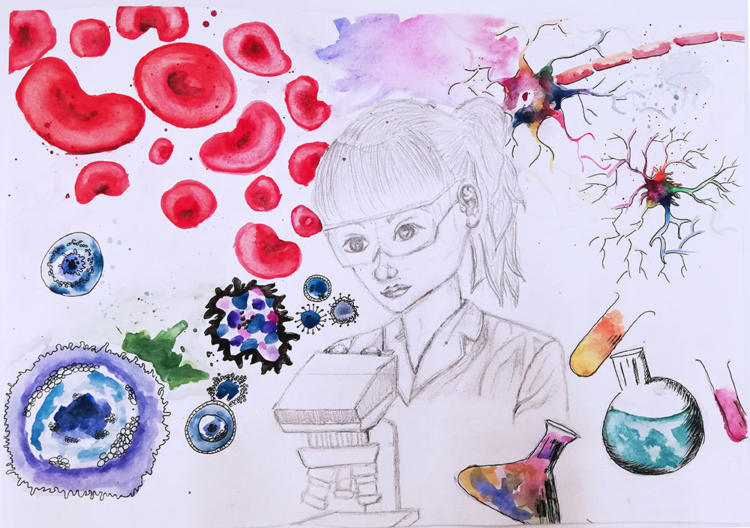 Pathologists hold a unique and powerful view, down the microscope, into a world of wonder of tissues, cells but also into the world of disease, its causes and effects, through bacteria, viruses, and other invaders or abnormal conditions. This unique view is not only for research purposes but provides the chance for the pathologist to understand the disease and potentially provide powerful clues and insights towards a diagnosis and cure for a patient. Who would think that the view through the microscope could be life changing?
11–18s Category Runner-up (highly commended)
Zora Kregar, 'Glands'
Pen drawing on semi-transparent paper, multiple layers. A4 format.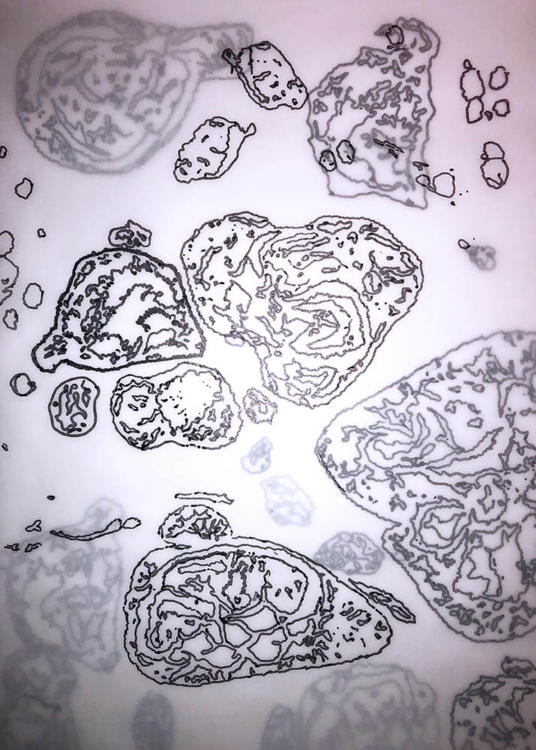 Looking through a microscope, a new world can be discovered! Sometimes, my mother shows me what she is doing at work, analyzing tissue. I like the forms and shapes a lot.
Under 11s Category Winner
Carys Logie, 'It's in the Genes'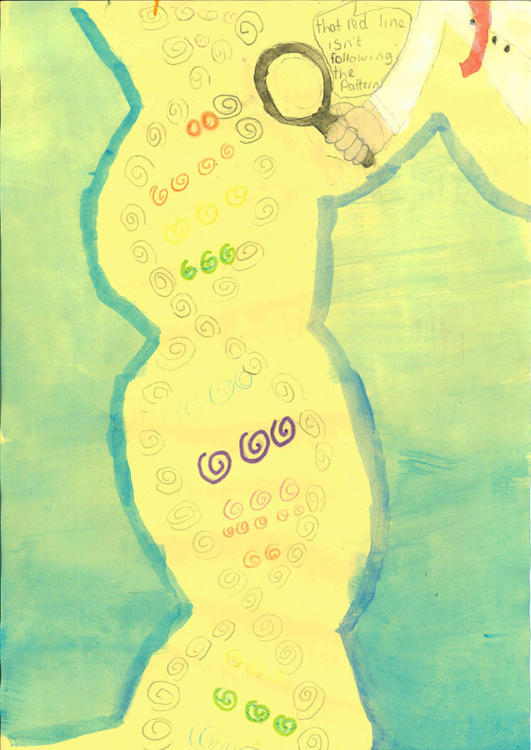 My picture shows DNA and the red line (the red line that the magnifying glass is pointing to/nearest to) isn't following the pattern. The pattern is swirls but the line has circles so it's wrong. I coloured by background dark to light with a scientist in a nice white jacket.
Under 11s Category Runner-up (highly commended)
Swara Sooriyakumar, 'Pathology: A New Point of View'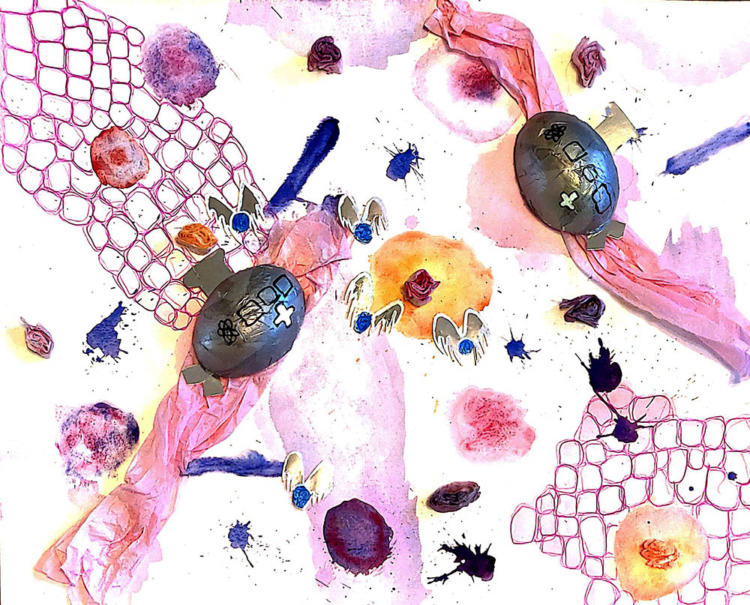 My picture is about scientists and doctors finding ways to fight and cure diseases. Here you can see that there are submarines floating through the blood, searching for ways to fight and cure diseases. The submarines are delivering medication to the cancerous cells. I created this piece by using kitchen roll for the nucleus, tissue paper for blood flow, silver card to the angel wing medication and I used watercolour for the background.
Commended Entries
The following entries were commended by the judges.
Please note, any personal data collected in this competition will be kept only for the duration of the competition to notify winners, to send back art entries and to pay winners. All information will be kept in compliance with the College's privacy policy.
Browse our site for ideas and to learn more about the science behind the cure.