Art of Pathology Competition 2019 – Now Open
Each year, the College runs an Art of Pathology competition, where people of all ages can submit paintings, drawings, sculptures, digital art, collages or any other media on a specific theme.
This year's theme is 'Pathology: a new point of view'. Participants are invited to interpret this theme in their own unique and creative way, while exploring different aspects of pathology. If pathology is a new topic for you, we have provided some ideas and useful links below. The competition closes on Monday 23 September 2019.
There are three categories for entry:
Under 11s
11-18s
Over 18s
Postal entries should be sent to: Public Engagement, The Royal College of Pathologists, 4th Floor, 6 Alie Street, London E1 8QT. Online entries should be emailed to publicengagement@rcpath.org. Please see the Terms and Conditions document below for more information.
The judges are College Fellows, Dr Rachael Liebmann and Dr Lorna Williamson, and science-based artist, Dr Lizzie Burns.
Prizes
A £50 prize will be awarded to the most creative work in each category, and the best entries are published on our website and featured in the College magazine, The Bulletin.
The winner of the 'Peoples' Choice' will receive a College goody bag.
Need inspiration?
Entrants are encouraged to consider the following questions to use as inspiration for their artwork.
What is pathology? This page provides an overview of pathology and includes a short video.
Did you know that there are 17 different specialties within pathology? You can explore one or more of these specialities when creating your artwork, or look at pathology as a whole. Visit our careers pages for more information.
Consider looking at things from a different perspective. For example, what would something look like if we zoomed into it or looked at it from far away, above or below?
Can you spot or create any pathology-related patterns? For example, with cell samples or equipment.
If we glanced into the future, what would pathology look like? What advancements are being made in pathology? How will new technology and research change the way pathologists work in future? How does the future of pathology link to its past?
What do the general public think pathologists do? Is this different to what pathologists actually do?
How do pathologists fit into healthcare teams? What insights do pathologists provide?
Resources
Further information
Read the Terms and Conditions for more information about the competition.
Please note, any personal data collected in this competition will be kept only for the duration of the competition to notify winners, to send back art entries and to pay winners. All information will be kept in compliance with the College's privacy policy.
Prize winners 2018
Over 18s Category Winner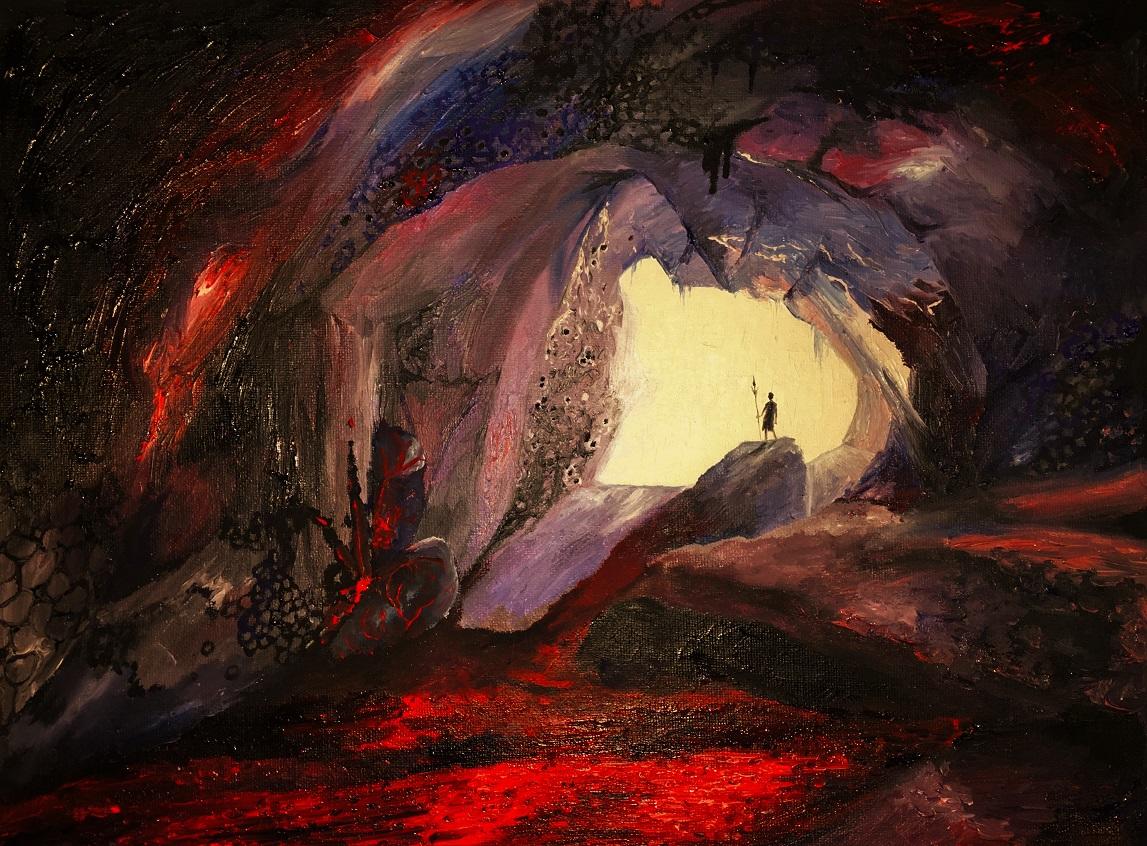 Nataliya Piletska 'The Quest'

"You are a small but valiant adventurer at the doorway of a nigh-insurmountable task. If the walls of the caves are lined by cancerous cells, imagine what the monsters look like. You thank your lucky stars you have your determination, wisdom and scientific reasoning to help you on your quest."
Over 18s Category Runner-up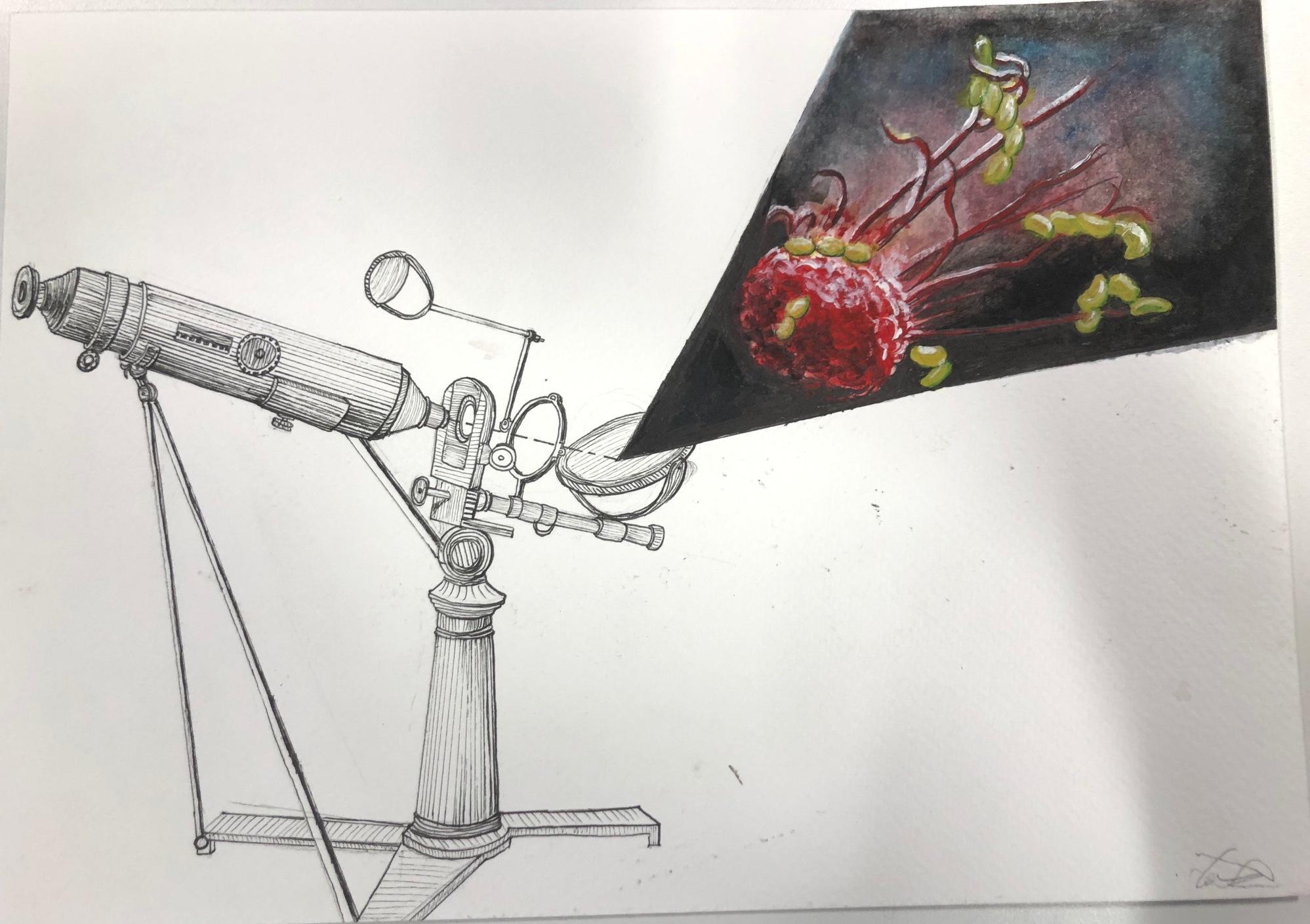 Terouz Pasha, Lister's Microscope
My submission for "Fighting disease" depicts Joseph Lister's microscope from 1826 shooting a beam to the mirror which is angled upwards into a watercolour image of a macrophage extending its pseudopods to embrace several ecoli bacteria. I wanted to convey that although technology and science has evolved enormously in the field of pathology and medicine, the trusty microscope is still central in identifying, researching and thus fighting disease. Just as our immune system fights our internal battle against disease, the microscope acts as our external weapon of choice against fighting disease.
11 - 18s Category Joint Winners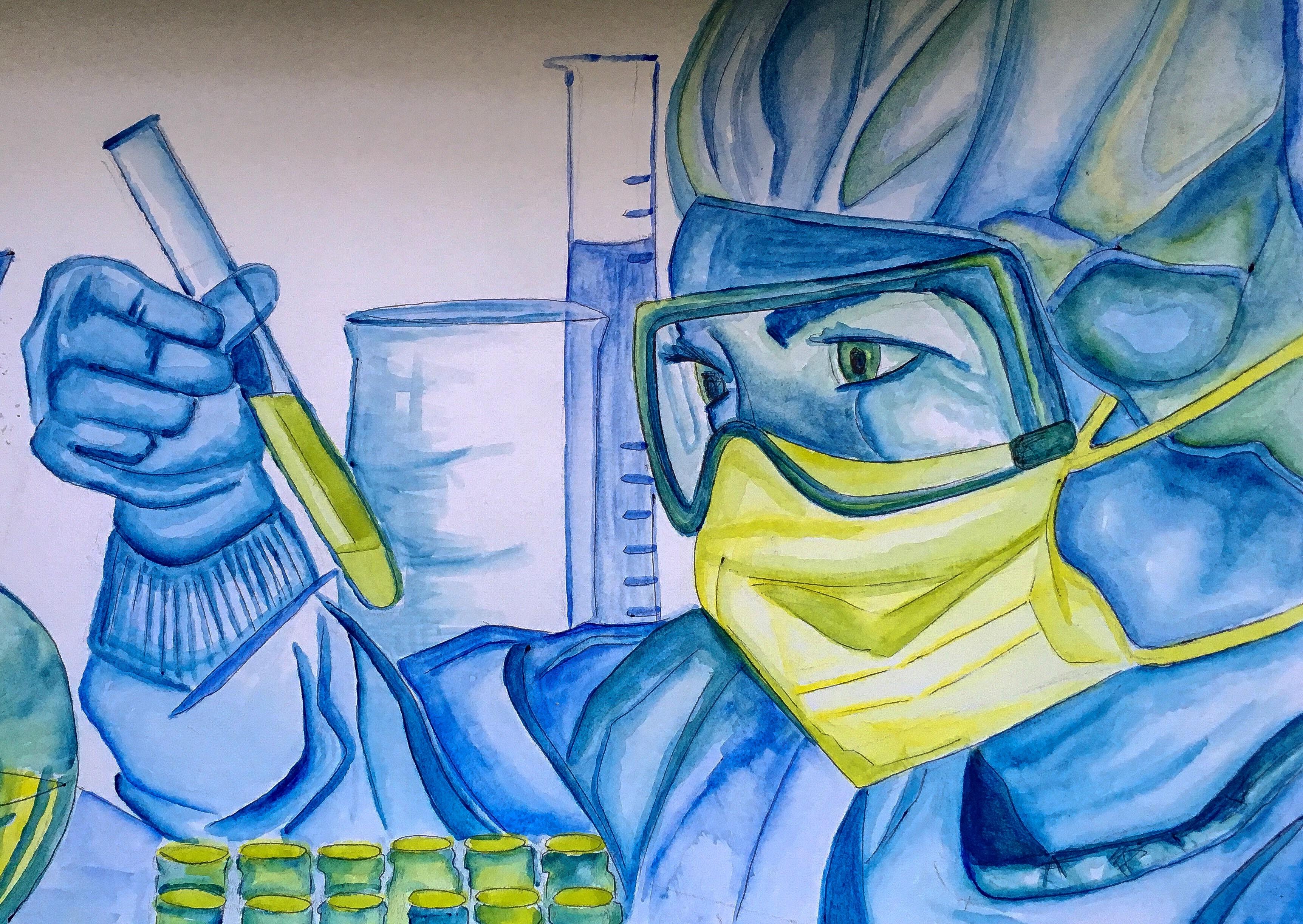 Alica Svedova, 'A hardworking pathologist'

I was inspired to paint a pathologist in a lab, holding a test tube because they are very intelligent scientists and experts in illness and diseases. They are specialised in guiding doctors on the right way to help a patient as well as discovering new medicine to prevent many people from facing life-threatening situations.

Alica's painting is also the winner of the 'People's Choice' prize as voted for by RCPath members across all age categories.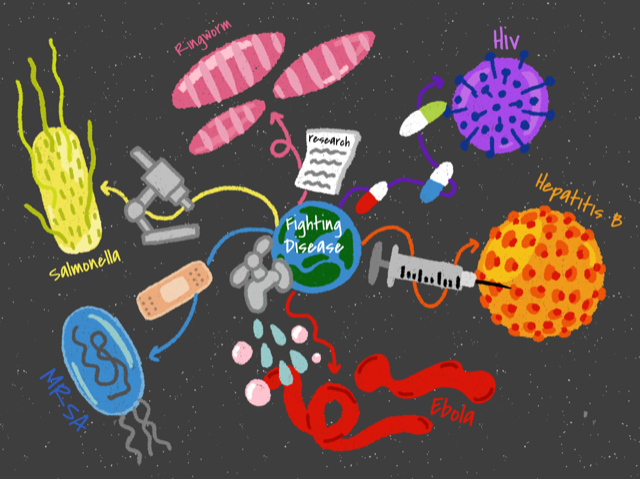 Rachel Barham, 'Fighting Disease; A Universal Perspective'

"Using digital art software, I decided to portray some of the world's most deadly diseases and clearly show what pathologists are doing to help combat them. I decided on a solar system design to represent how universal disease is; it affects everyone and we can only combat it by global collaboration."
Under 11s Category Winner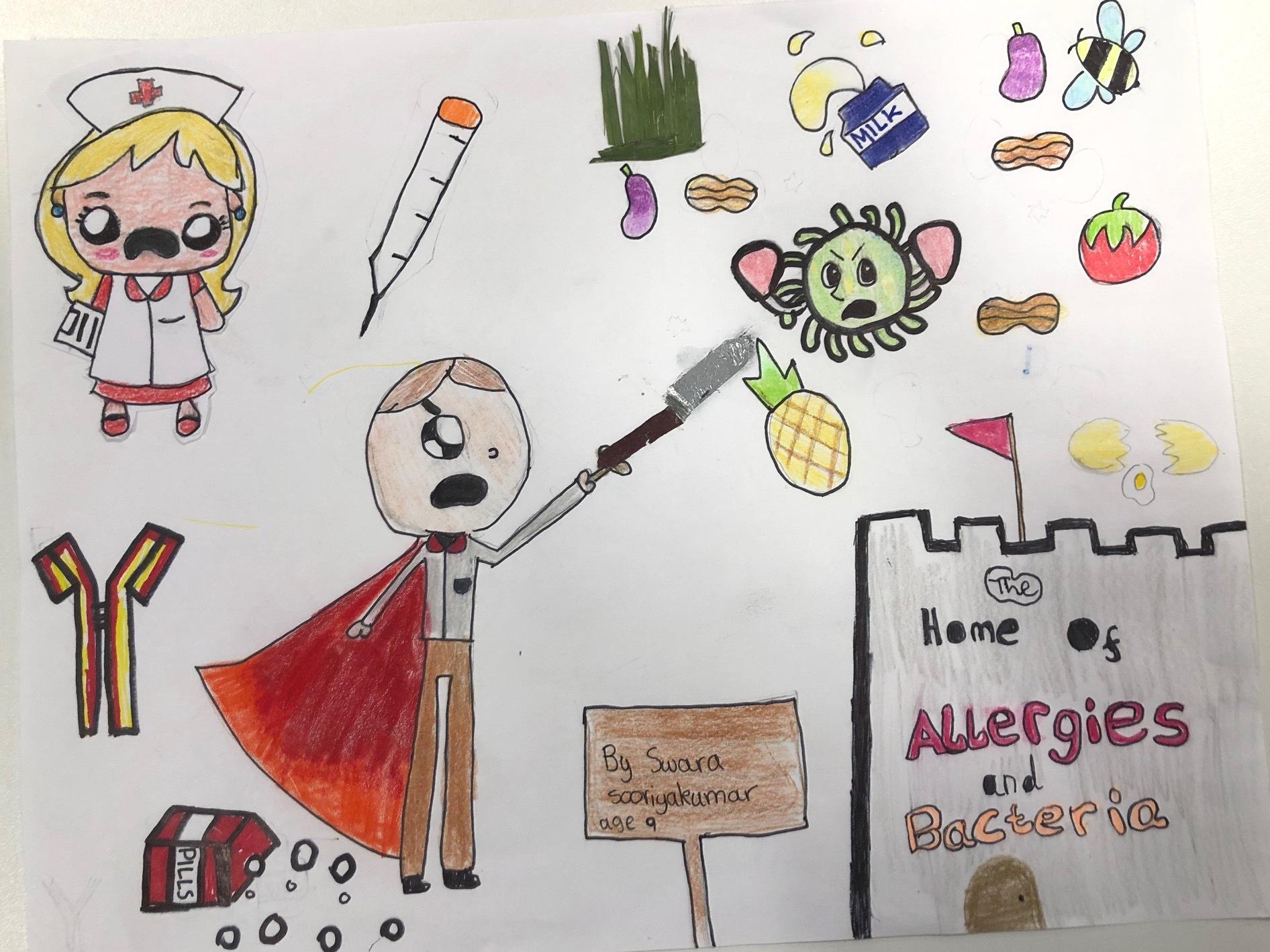 Swara Sooriyakumar, 'Fighting Disease' (Age 9)

"Allergists and immunologists are fighting with allergies and immunological issues every day. In my picture I showed a doctor fighting with different kinds of allergies and infections. Some of them are really severe and others are not as bad. People with immune deficiency are at higher risk of infections but immunologists give immunoglobulins and medicines to protect them from infections."
Browse our site for ideas and to learn more about the science behind the cure.