The Art of Pathology competition 2023 is now open! Entries should be submitted to

[email protected]

by 23:59 BST on Thursday 31 August. Please see below for full details and terms and conditions.
Each year, the College runs an Art of Pathology competition, where people of all ages can submit paintings, drawings, sculptures, digital art, collages or any other media on a specific theme. This year's theme is 'Pathologists and Patients', which is also the theme for this year's National Pathology Week (19–25 June). Participants were invited to interpret this theme in their own unique and creative way, while exploring different aspects of pathology. We provided some ideas and useful links below for those for whom pathology is a new topic.
The competition is open to UK and international entrants of all ages. There are 3 categories for entries: under 11s, 11–17 and adults (over 18s). The judges of the Art of Pathology Competition are College Fellows, Dr Sarah Coupland and Dr Shubha Allard, and science-based artist, Dr Lizzie Burns.
Prizes
The Art of Pathology competition is kindly sponsored by Sonic Healthcare UK. £1,000 will be awarded to the winners of the over 18 and 11–17 categories. For the under 11s category, the winner will receive £500 and another £500 will be awarded to their school. There will also be 2 runners up prizes in each category. In the under-11 category, the runners up will receive £250, with an additional £250 awarded to their school. The runners up in the 11–17 and adult categories will receive £500.
The winning entries will be published on the RCPath website and featured in the College magazine, The Bulletin. The winning artworks will be exhibited in the College Members' Room, with a reception sponsored by Sonic Healthcare UK. The artwork will also be used by Sonic Healthcare UK to support their recruitment campaigns and Sonic Healthcare UK may use images on their website and other promotional collateral. Scroll down to see the winning entries from this year and from 2019–2022.
About our sponsor: Sonic Healthcare UK

The Art of Pathology competition's sponsor, Sonic Healthcare UK, are leaders in consultant-led diagnostics, innovation, value, and long-term investment in healthcare provision. They have over 30 years' experience in the UK pathology market and have been working in partnership with the NHS for over 20 years.
Sonic Healthcare UK has been at the forefront of COVID-19 testing for the UK since the disease first emerged. The team has developed new testing methods, worked closely with hospitals, helped others open their own labs, and by the end of September 2020 was processing more than 10,000 PCR tests a day.
Sonic Healthcare UK, which incorporates the TDL Group of laboratories and services, is part of the Sonic Healthcare group, one of the world's largest clinical diagnostics groups with a demonstrated track record of medical excellence. Find out more at www.sonichealthcare.co.uk.
"Hippocrates said 'Wherever the art of Medicine is loved, there is also a love of humanity'. In line with its company values of clinically led patient-centred pathology Sonic Healthcare UK is proud to sponsor the RCPath Art of Pathology competition. We believe this popular competition reflects both diagnostic science and an individual's artistic vision of healthcare…whatever their age." – Dr Rachael Liebmann OBE, College Fellow and Group Medical Director of Sonic Healthcare UK
Terms and conditions
Please read the Terms and Conditions document below for more information about the competition.
Need inspiration?
Entrants are encouraged to consider the following questions to use as inspiration for their artwork.
What is pathology? This page provides an overview of pathology and includes a short video.

How do pathologists look after your health?

Did you know that there are 17 different specialties within pathology? You can explore one or more of these specialities when creating your artwork, or look at pathology as a whole. Visit our careers pages for more information.
Resources
Articles
2022 winners
Over 18 Category
Winner: 'Pathology Through the Times' by Dr Rittika Biswas (India)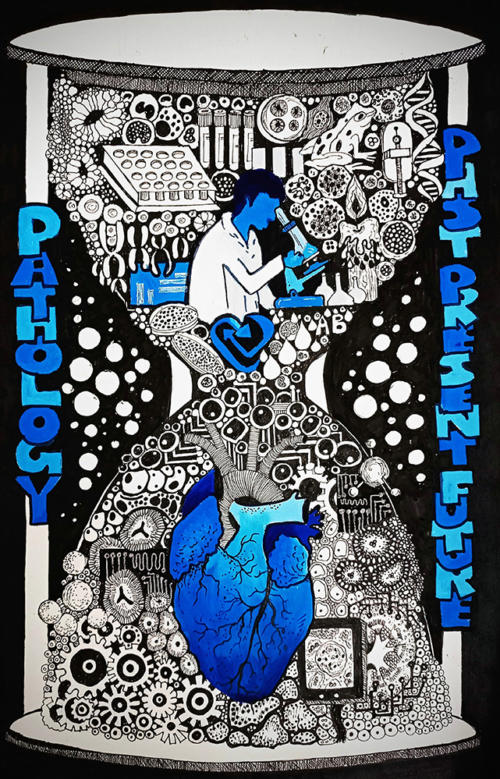 The Past of Pathology – the first microscope, the frog, glass slides and agar plates, blood grouping and organ donation, DNA and karotyping – can be seen evolving into the technology-driven digital Future with virtual workflows, molecular biology, AI and deep machine learning. And in the Present, connecting them all, the pathologist remains.
Runner up: 'Remembering Dorothy' by Helen Mayall (UK)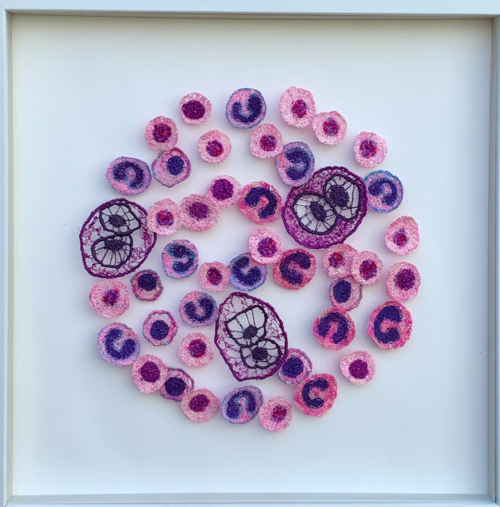 This 3D embroidered artwork was inspired by Dorothy Reed who was one of the first female pathologists. Her discovery of the distinctive Reed-Sternberg cell played a significant part in the understanding of Hodgkin's Disease. Reed-Sternberg cells remain an important part of diagnosis today and will continue to be in the future.
Runner up: 'Beyond Morphology – Advancing Science by Accelerating Particles' by Lennart Brandt (Germany)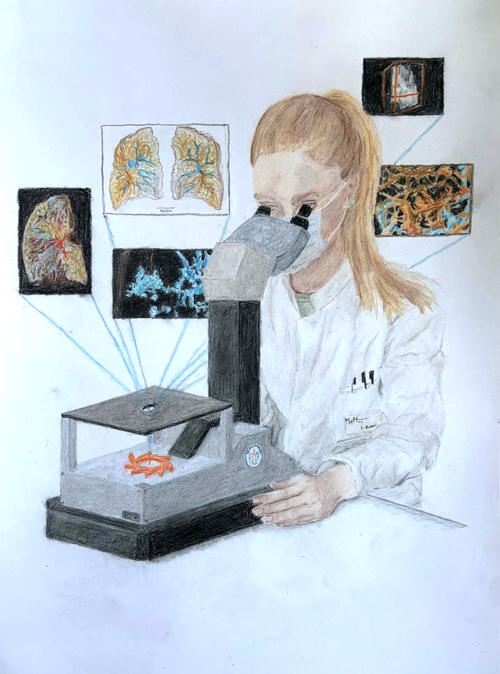 This artwork illustrates the most recent quantum leap in histopathology. The COVID-19 pandemic enabled us to apply hierarchical phase-contrast tomography (HiP-CT), a high-resolution Synchrotron radiation-based phase propagation technique that allows for the morphological analysis of human tissues from the whole organ down to the cellular scale in three dimensions.
Commended entry: 'Pathology: A Legacy of Light' by Kalissa Crowley (UK)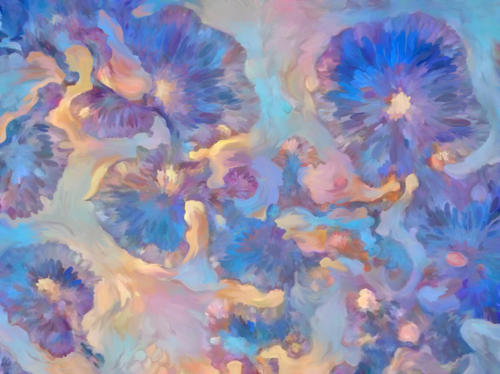 Inspired by a colour-laden sunrise, this impressionistic painting of invasive mucinous adenocarcinoma pays tribute to pathology's past and continuing legacy by playing on the theme of light. Light is central to pathology—whether it's illuminating microscopes or enlightening minds. After thousands of discoveries and advancements, this light has allowed pathologists to take something as terrifying as cancer and turn it into something hopeful. The future of pathology is as bright as this sunrise!
Commended entry: 'Behind the microscope' by Dr Cassandra Bruce-Brand (South Africa)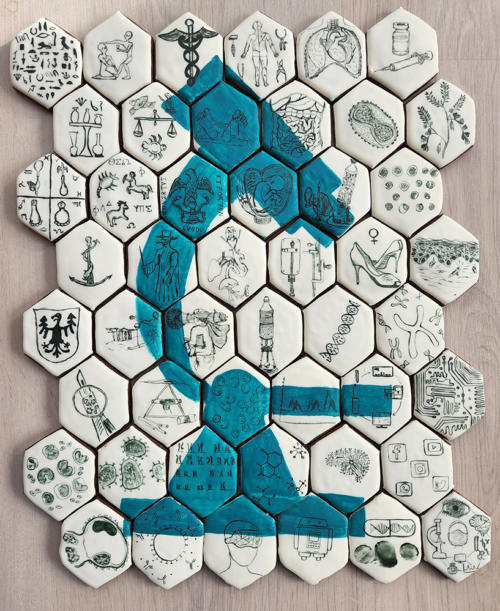 This edible artwork is made of cookies painted with food colours. As a pathologist, baking and cookie art is my creative outlet. Starting in ancient Egypt we move down and across through the history of pathology towards the future while appreciating that the microscope remains central to our daily practice.
Commended entry: 'The evolution of the art and science of Pathology' by Emanuela Veras (USA)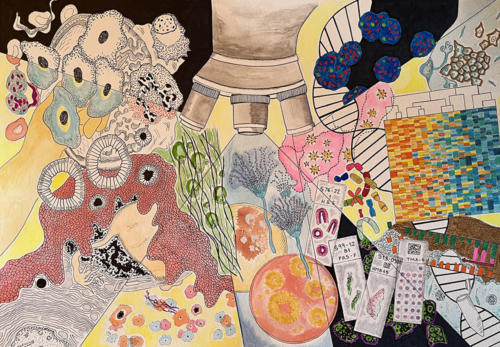 As a practising pathologist for over a decade, I took inspiration from my daily practice and experience in this evolving field of art and science. I chronologically captured from left to right the evolution of techniques and ancillary testing I've seen in my lifetime. Who knows what the future holds?
Commended entry: 'Picturing the past, Framing the future' by Jacqueline Easter (UK)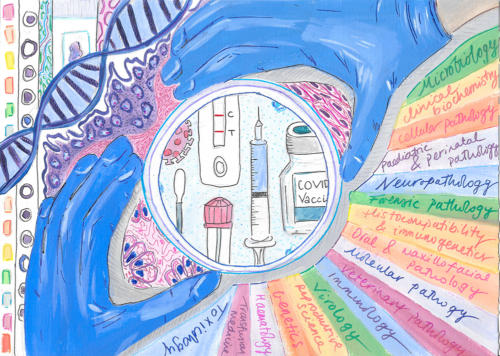 Looking back, we can see how the pioneering work of pathologists has significantly advanced our clinical practice and transformed the care we provide our patients. During the pandemic, pathologists have been critical in our fight against COVID-19. I'm excited to see where this incredibly diverse specialty will guide us going forwards.
Commended entry: 'Bust of a Pathologist with a Mask' by Alex Lewthwaite (UK)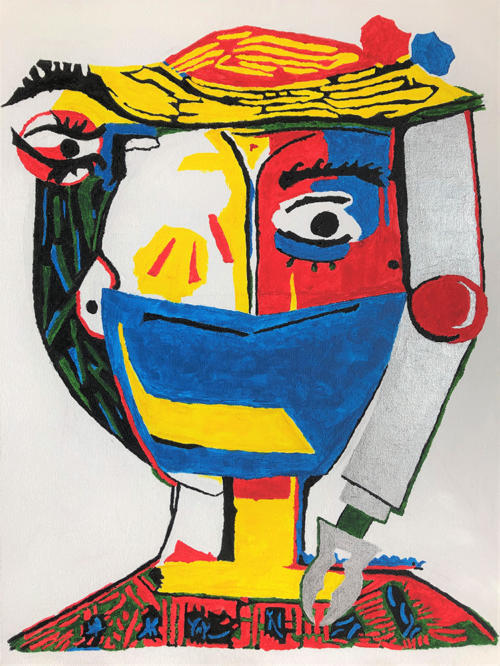 This piece takes its inspiration from Picasso's 1962 artwork 'Buste de Femme au Chapeau', which – like the College – too enjoys it's 60th anniversary this year. The iconic bubonic plague mask, the ubiquitous blue disposable mask, and the robotic arm represent the pathologist's masks of the past, present and future respectively.
Commended entry: 'A small life' by Dr Derren Ready (UK)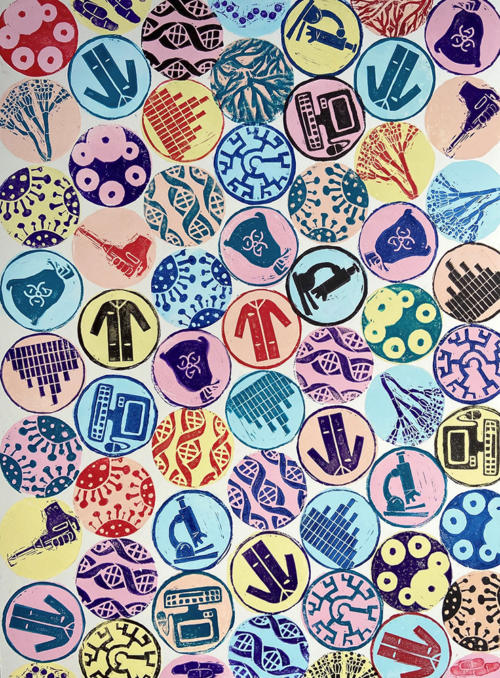 These hand-printed, linocut images represent historical, current and future methods used in clinical microbiology. I used circles to illustrate the importance of the humble agar plate, the laboratory coat symbolises that pathology staff are one constant in our profession, as unfortunately is the waste we generate, depicted by clinical-waste bags.
Commended entry: 'Pathology: In Our Past, Present and Future' by Laura Gherman (UK)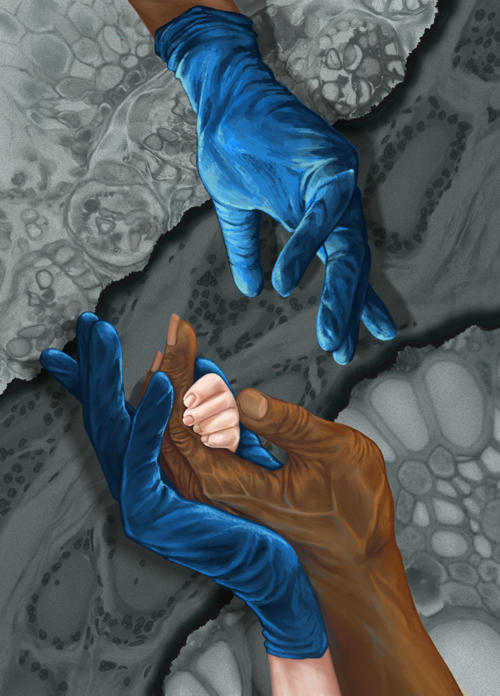 Pathology shapes people's lives in more ways than we could imagine; it nurtures our elderly back into health, protects our present and ensures a brighter future for our children. It is the bridge between science and medicine, with diligent pathologists ensuring that patients receive accurate and timely diagnosis and treatment.
11–17 Category
Winner: 'A Continuous Path Towards Light' by Sethajeni Santhirapillai (UK)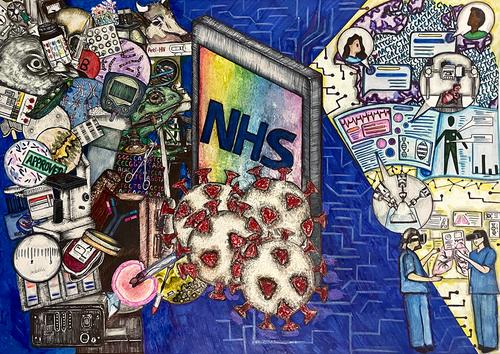 A flash of time. I was inspired by the history of pathology in 50 objects, which laid the foundation for us today, allowing us to overcome COVID. Past this point awaits a new path of light through technology leading to new discoveries and accessibility to further knowledge around the world.
Runner up: 'The evolution of pathology' by Nyneisha Bansal (UK)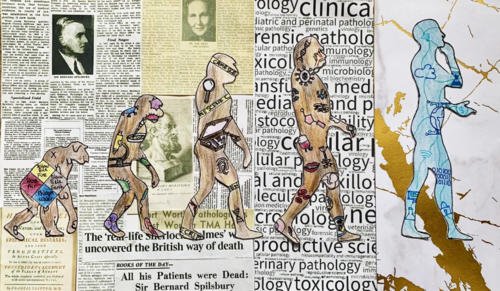 My artwork is a take on human evolution but instead inspired by major pathological contributions and discoveries. The first three humans are inspired by Hippocrates and his humoural theory, Rudolf Virchow and his microscopic discoveries and lastly Bernard Spilsbury who contributed so much to forensic pathology. The present is represented by the 4th person representing the 17 subspecialties that are practiced today on a word art background naming each one. The last represent the future of digital pathology with increased global inter connectivity, the use of the cloud, and further technological advances. The marbled background for the future is abstract, as nobody knows what is to come, we can only assume.
Runner up: 'Plagues of the ages' by Abi Caplan (UK)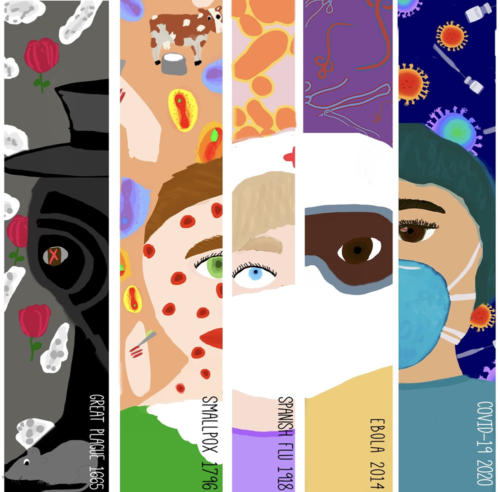 My inspiration was learning about diseases in my history GCSE and the steps individuals through time have taken to stop them as well as the recent pandemic.
Commended entry: 'Pathology has been here for people throughout the history and it will always be here for us' by Adela Herdova (Slovakia)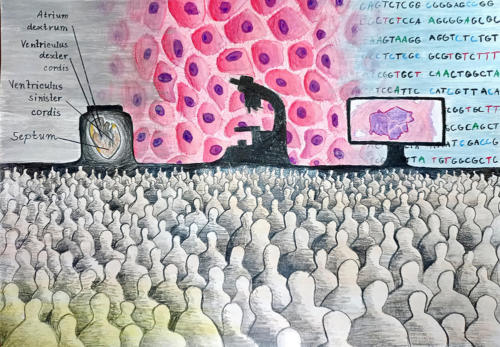 Pathology has seen major advances over the past few centuries. Autopsy allowed us to see changes in organs by naked eye. Microscopic examination of tissue has enabled us to see diseases at cellular level and this remains the mainstay of diagnosis nowadays. I believe that pathology will see many changes in the future, such as more and more detailed genomic studies or digital pathology. However, what will remain the same is the purpose – pathology will be always here for people.
Commended entry: 'Trial and Error' by Clarissa Lovatt-Young (UK)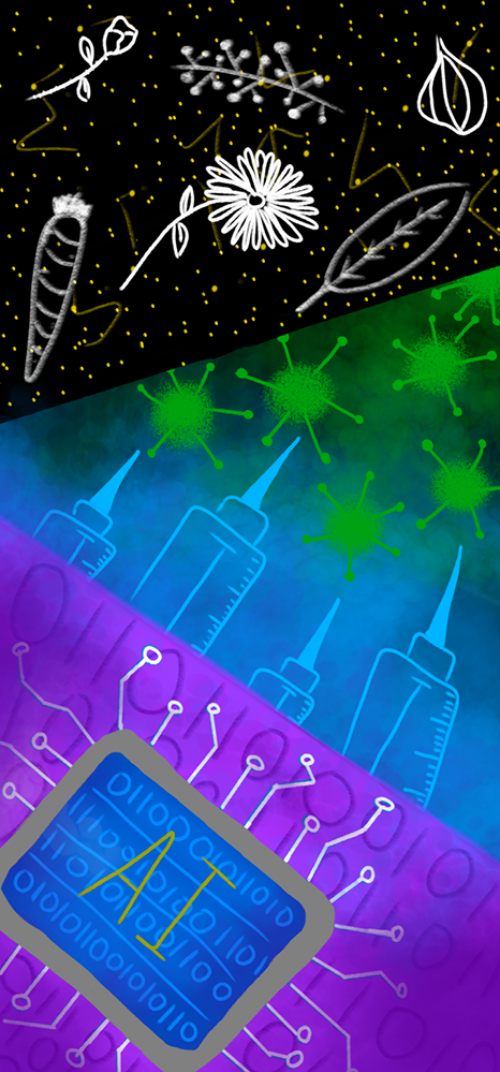 The three sections represent the past, present and future. The past shows simpler times with stars and medicinal herbs. The present shows the fight against COVID with the syringes of vaccines providing a wall of security. The future shows the digital possibilities for pathology.
Commended entry: 'Women In Pathology: What the future beholds' by Krisha Bansal (UK)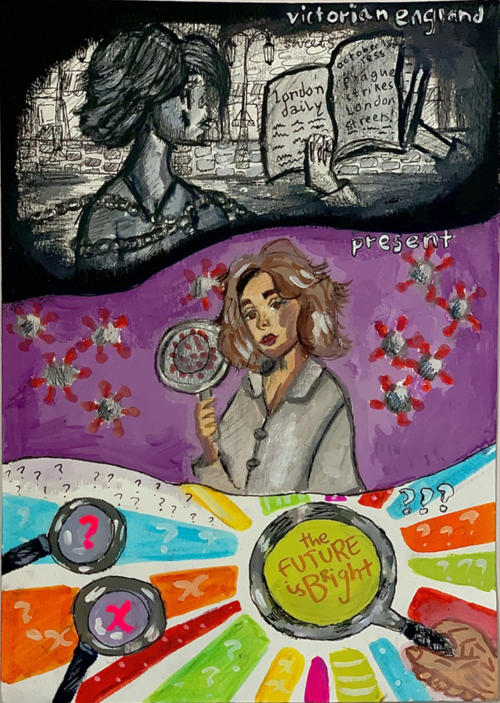 My artwork focuses on the past, present and future of women in pathology, with the pathologist being chained in the past (Victorian England) to show how her thoughts were not heard during the Plague. In the present she is unchained and is contributing to defeating the pandemic, and the future is becoming brighter and brighter…
Commended entry: 'Bond of Reunion' by Saima Turabul (UK)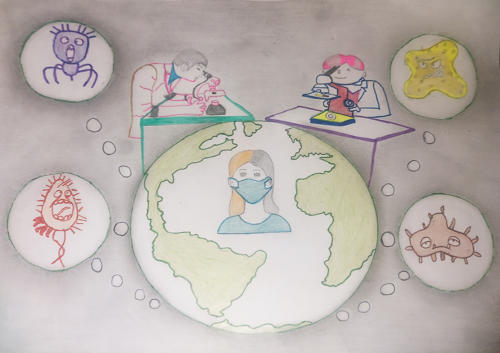 In the past pathology rescued millions of lives, and steel determent to trying their best to accomplish their goal, all though in the distant future they would be facing more pressure, nothing can provoke them from achieving their intentions, even if it means risking their own lives to reconcile the victoms with their family! They are the true heroes, who truly deserves more love and support from the heart!!!
Under 11s Category
Winner: 'Women in Pathology' by Lavanya Rawal (India)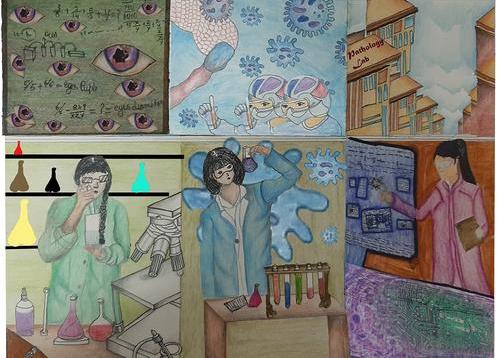 My work shows the adaptability and progress of women pathologists from classical pathology to digital pathology techniques. It changes diagnosis with microscopes and glass slides to virtual microscopy on the computer. With multiple tools using artificial intelligence and machine learning it support women pathologists in their future work.
Runner up: 'Histopathology magic, past, present and future' by Meredith Edwards (UK)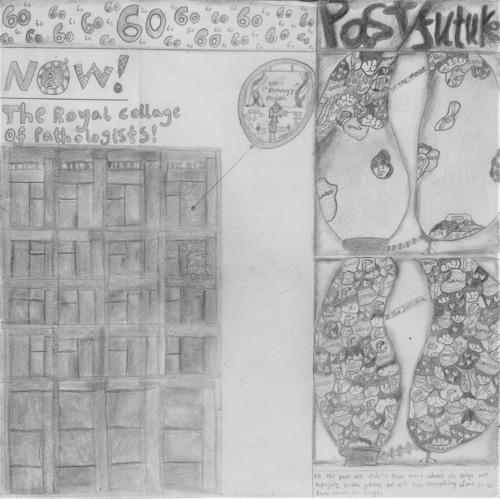 I have drawn the Royal College of Pathologists' building how it is now to represent the present. And the drawing of two lungs, one in the past when we didn't know much about them and one for the future when we know everything about the lungs. In the lungs I've dawn cancer as this is what histopathologists study.
Runner up: 'Pillar of Medicine' by Nandini Mishra (India)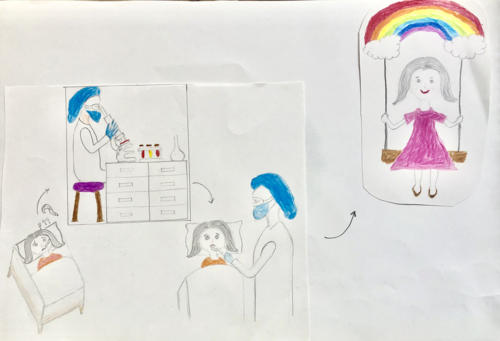 My artwork shows when I was sick a pathologist did tests to find out what's wrong with me so that the doctors can give me the right medicine. Rainbow represents happiness and hope. My inspiration was when my mother explained to me whether past, present or future the role of pathologist remains the same, an important 'pillar of medicine.'
Commended entry: 'Paths of Pathology' by Sofia Alam (UK)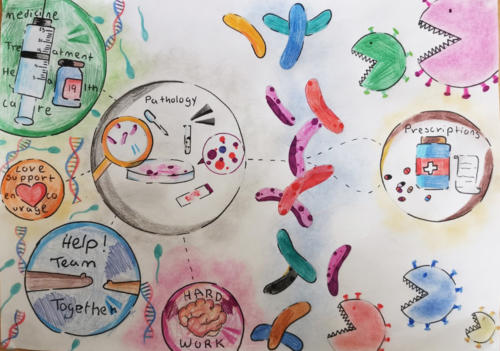 There's never a difficult route for pathologies, they will always find an easier solution. No matter what comes in the way, they discover one way or another to develop their success, they will fight for the safety of humanity! 'one in all, all in one' they are the Guardians who keep us from danger or illnesses! Forever Together.
Commended entry: 'Past, Present or Future' by Ananya Veerashetty (India)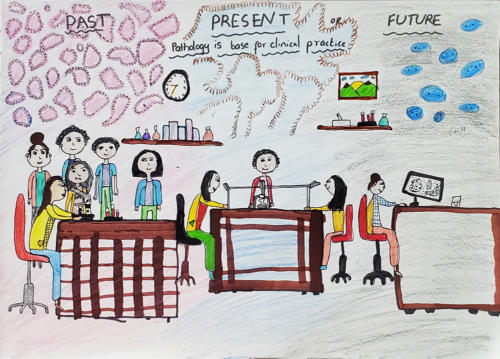 Past, Present or Future, pathology is the base of clinical practice. Evolution of histopathology from mono ocular microscope to whole slide digital view.
Please note, any personal data collected in this competition will be kept only for the duration of the competition to notify winners, to send back art entries and to pay winners. All information will be kept in compliance with the College's privacy policy.
Browse our site for ideas and to learn more about the science behind the cure.