Art of Pathology competition
Each year, the College runs an Art of Pathology competition, where people of all ages can submit paintings, drawings, sculptures, digital art, collages or any other media on a specific theme. This year's theme was 'patterns', where we asked entrants to explore patterns seen through a microscope, patterns in numbers, or patterns within a pathologist's way of working.
A £50 prize is awarded to the most creative work in each category, and the best entries are published on our website and featured in the College magazine, The Bulletin.
2017 winners: over 18s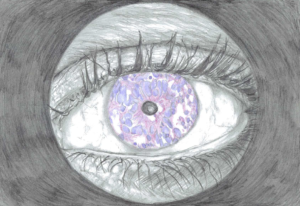 "I focused on the eye because pathologists are skilled in recognising visual patterns. To relate to the eye, I researched retinoblastomas and incorporated a Flexner-Wintersteiner rosette as the iris. The iris is the only part in colour, to emphasise the theme of patterns."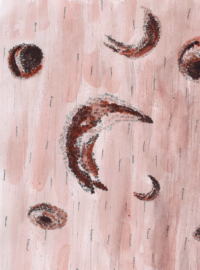 "A mixed media picture of sickle cell disease"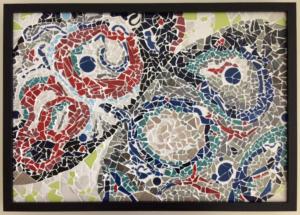 "The increasing challenge of bacterial resistance against the limited range of current antibiotic treatments is concerning. There are many contributing factors to this. Conjugative plasmid transfer by bacteria is an important driver in acquiring and spreading this resistance. A greater understanding of the rules of conjugative plasmid transfer may be a game changer in cracking the plasmid puzzle.
This piece illustrates a time point in the 'pattern' of conjugative plasmid transfer, contrasted by the dynamic plasmid shapes within the bacterial cytosol. Mosaic best illustrates the collaborative input required to crack the plasmid puzzle. The pieces of tile, glass and stone represent the pieces of knowledge slotting together to create a bigger picture."
2017 Winners: Under 11s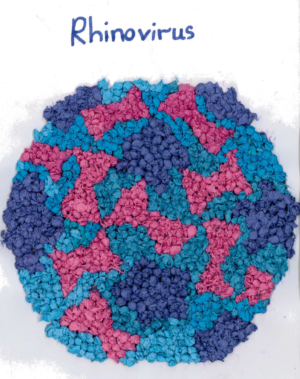 "Rhinovirus is so pretty with its patterns of stars and bow-ties. I decided to make mine out of tissue paper. It seemed so strange that something so beautiful makes so many of us feel poorly."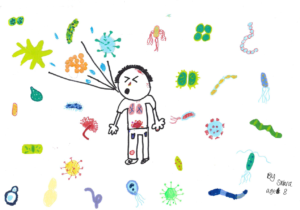 "Learning about germs is really interesting. Germs can be fungus and viruses. Germs can be different in shapes, sizes and even colours.
They can affect different parts of the body. They can cause different types of infections. Germs spread in a lot of different ways".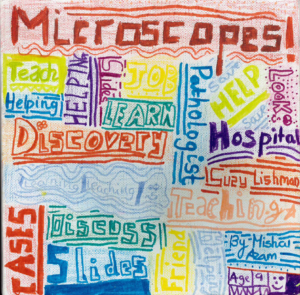 "This piece of artwork relates to 'Patterns in Pathology' because it shows everything a pathologist is related to, in the form of a positive 'colourful' way. This gives you a great inspiration that pathology can be anything. It also reminds me of what I want to do when I grow up, which is to teach pathology at school".
Need inspiration?
This year's competition may be closed – but you can still plan your entry for next year. Browse our site for ideas, and to learn more about the science behind pathology. Keep up to date of when the next competition will open on our Facebook and Twitter, as well as right here on this page!