RCPath Fellow Dr Jackie McDermott met with our public engagement team to showcase a new exhibit in the Centre of the Cell's Pod – a science centre located within working biomedical research laboratories at Queen Mary University of London.
School groups visit the Pod daily for an interactive experience which includes digital touchscreen and touch table games, films, microscopes and displays of pathology specimens of human organs. The College's Public Engagement Innovation Grant scheme has funded the installation of a new organ – a section of jejunum, with a large abscess in it caused by tuberculosis. The specimen was taken from a woman who had been working as a nurse in a tuberculosis hospital in the 1950s, and Dr Jackie McDermott, a histopathologist currently working at University College London Hospital, helped to interpret the specimen for inclusion in the Pod experience.
Dr McDermott spoke about how the section of diseased organ provides a very clear visual introduction to the structure of the intestine, and to pathology. She pointed out the villi structures that increase the surface area for absorption of digested food, and how the abscess would have caused the patient pain due to its large size. Dr McDermott also talked about her career that has included work in both diagnostic and research-based pathology.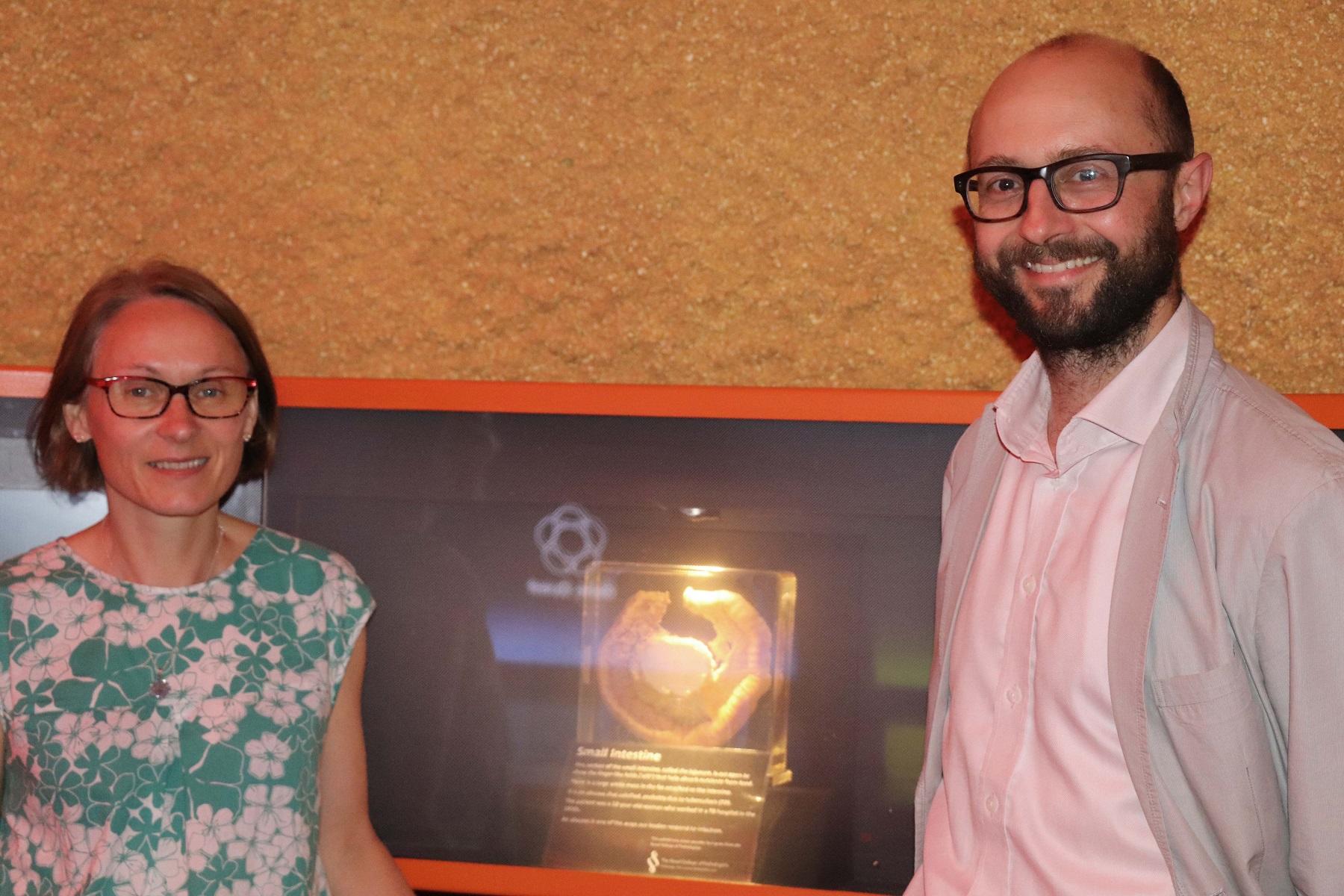 Young people have already been interacting with the new exhibit as part of recent school visits to the Centre of the Cell's pod experience; Head of Learning at Centre of the Cell, Duncan McMillan said:
These organs are revealed in a theatrical manner during the second half of each school group's Pod experience. They are an extremely popular part of the exhibition used to initiate discussions about research, pathology, medicine, cancer, survival rates, anatomy, physiology, research and personal experiences. We are extremely grateful for the funding from The Royal College of Pathologists as it has enabled us to further enhance the experience for schools, and allowed us to use another fascinating specimen from the Bart's Pathology archives.
The College is also working with Centre of the Cell to deliver a pathology-related workshop with attendees on its annual Summer School for sixth formers in August; we will be sharing footage from our fascinating interview with Dr Jackie McDermott with the Summer School attendees, and with online audiences, so keep an eye on our Twitter, Facebook and Instagram over the next few months.