The COVID-19 pandemic has highlighted the importance of pathology and pathologists and our 16-week seminar series has provided expert insight on diverse topics related to the virus, from its biochemical structure to cutting-edge research on potential treatments. The live online events have attracted hundreds of people, and the video recordings of them have now been viewed over 14,000 times. In our final online seminar event on 29 July, medical virologist and lecturer at the University of Cambridge, Dr Chris Smith, will provide an overview of current research to develop an effective vaccine against COVID-19.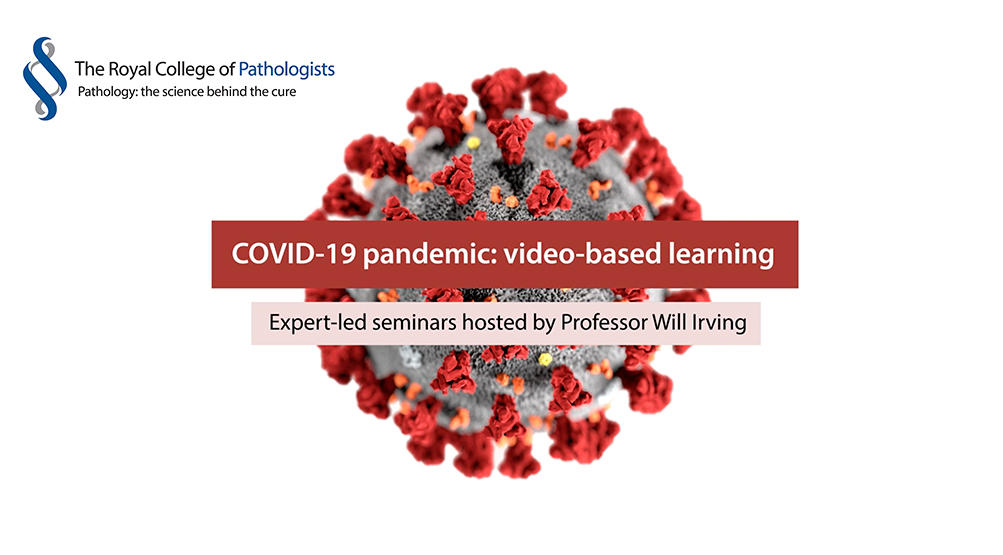 The RCPath's weekly COVID-19 seminars have each been led by a subject expert and have run for 30 minutes every Wednesday evening since mid-April. Introduced by virologist and College Fellow, Professor Will Irving, each seminar has involved a 15-minute talk followed a 15-minute Q&A session – all of them can be viewed on our website.
The diverse range of topics covered by the seminars have included both general-interest topics such as testing, and more technical topic areas such as safe processing of lab samples and convalescent plasma treatments. The last seminar is likely to be of interest to both health professionals and more general audiences; Dr Chris Smith is widely known by public audiences for his 'The Naked Scientists' radio show, podcast and website.
The progress of COVID19-vaccine research is also, understandably, an increasing area of interest for the public, governments and the press. The chance to hear Dr Smith talking about this fascinating and important area of work is likely to attract a large and diverse audience. He has been called upon throughout the coronavirus pandemic to contribute to international media, including television news channels, BBC Radio 4's PM programme, Jeremy Vine's programme on BBC Radio 2 and he co-hosted the 'Commonsense coronavirus call-in' on Saturday afternoons with Colin Murray on BBC Radio 5 live.
The College is grateful to Dr Smith for speaking at the final instalment in our COVID-19 seminar series, which will take place on Wednesday 29 July, 19:00 – 19:30. All are welcome at this free online event; places can be booked via our website.