Congratulations to Dr Alice Wort who completed her first London marathon in aid of the College's global health work in under-resourced countries!
Alice is a microbiology trainee in Newcastle. Currently, she chairs the Trainee Advisory Committee at RCPath and runs the College's trainee Twitter account @PathologyHouse. She also sits on College Council and the Academy Trainee Doctors Group.
Alice completed the 26.2 mile marathon in an impressive time of 04:22:11. Her sister Frances was with the International team at mile 16 to cheer her on (you can watch a video of Alice racing past the crowds on our Facebook page). The atmosphere was electric and it was evident how much the runners feed off the energy from the crowds. There were lots of fun costumes on the day. Spiderman and Batman were firm favourites, but some of this year's stand out attire included a washing machine, running shoe and Leonardo Da Vinci's 'Monalisa'. Perhaps an RCPath microscope next year?
It was then a race against time for the group to navigate through the crowds to meet our champion runner at the meet and greet area situated at St James's park. Alice was in high-spirits when the group met her 'I did it! I feel really good. It's been really successful. I felt good all the way around and my training really paid off.'
As the administrator of the College's trainee Twitter account, Alice has earnt herself quite a following since her marathon debut. Her frequent updates have resulted in numerous messages of support from the pathology community and worldwide.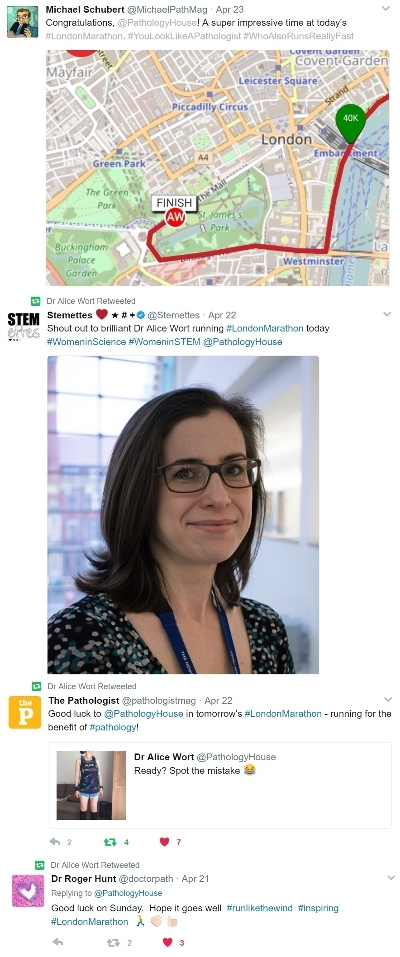 Alice has exceeded her initial target and raised an incredible £2,100 - but there's still time to donate. If you would like to sponsor Alice please visit her online donation page.
Alice was running the marathon to raise funds for the College's global health work, which includes a project to establish a regional blood donation and transfusion service at Mubende Regional Hospital in Uganda. The funds raised from the College's Global Health Challenge Scheme (GHCS) are vital as Alice explains 'The work of the College's International department is extremely important in improving pathology services in other countries. Their work is very much a collaboration and I think it's important that we pathologists take our experiences abroad to improve services in other regions and vice-versa. By doing so this in turn improves our own knowledge.'
The regional blood donation and transfusion centre will reduce the number of preventable deaths of mothers due to a shortage of blood, where every summer, Mubende Regional Referral Hospital in Uganda experiences a marked increase in the maternal mortality rate due to a lack of available blood for transfusion. Catastrophic bleeding around the time of delivery is the most common cause of maternal death in Africa, accounting for 34% of these deaths. Once bleeding starts, death can occur within 2 hours. Mubende Hospital services a population of more than 2 million but there is no blood donation and transfusion service for the region.
Almost all (99%) of the approximate 287,000 maternal deaths every year occur in developing countries and half of the world's maternal deaths from severe bleeding occur in Africa.
If you have been inspired by Alice's challenge, then please join Team RCPath for this year's Prudential Ride London-Surrey event. The College has a limited guaranteed places for this year's event which will take place on Sunday 30 July 2017. The Prudential RideLondon-Surrey is a 100 mile cycle ride from Queen Elizabeth Olympic Park, through the capital and Surrey's stunning country roads and through the Surrey Hills before a spectacular finish on The Mall in central London. For more information and to register please visit our website. Alternatively, you can email the College's International Administrator, Gemma Hooley at gemma.hooley@rcpath.org
Still need convincing? Then read on for some final words of encouragement from Alice.
'Look at the people who have already done a challenge and you'll see that everybody's had a go. It's not just for the super runners, or the super cyclists, it's for you, me, and anybody. The rewards of doing a challenge are huge; it will be fun, you'll make friends and will have a good time. It does take time and dedication but we've all worked hard as doctors to get where we are, so we're not frightened of a challenge!'