The College's Workforce team reviews and approves consultant level and specialty doctor (SAS) job descriptions for medical and scientific posts across all pathology specialties. In 2018 the team approved 473 job descriptions for NHS organisations as well as other employing bodies, including universities, public health teams and the NHS Blood and Transplant Service.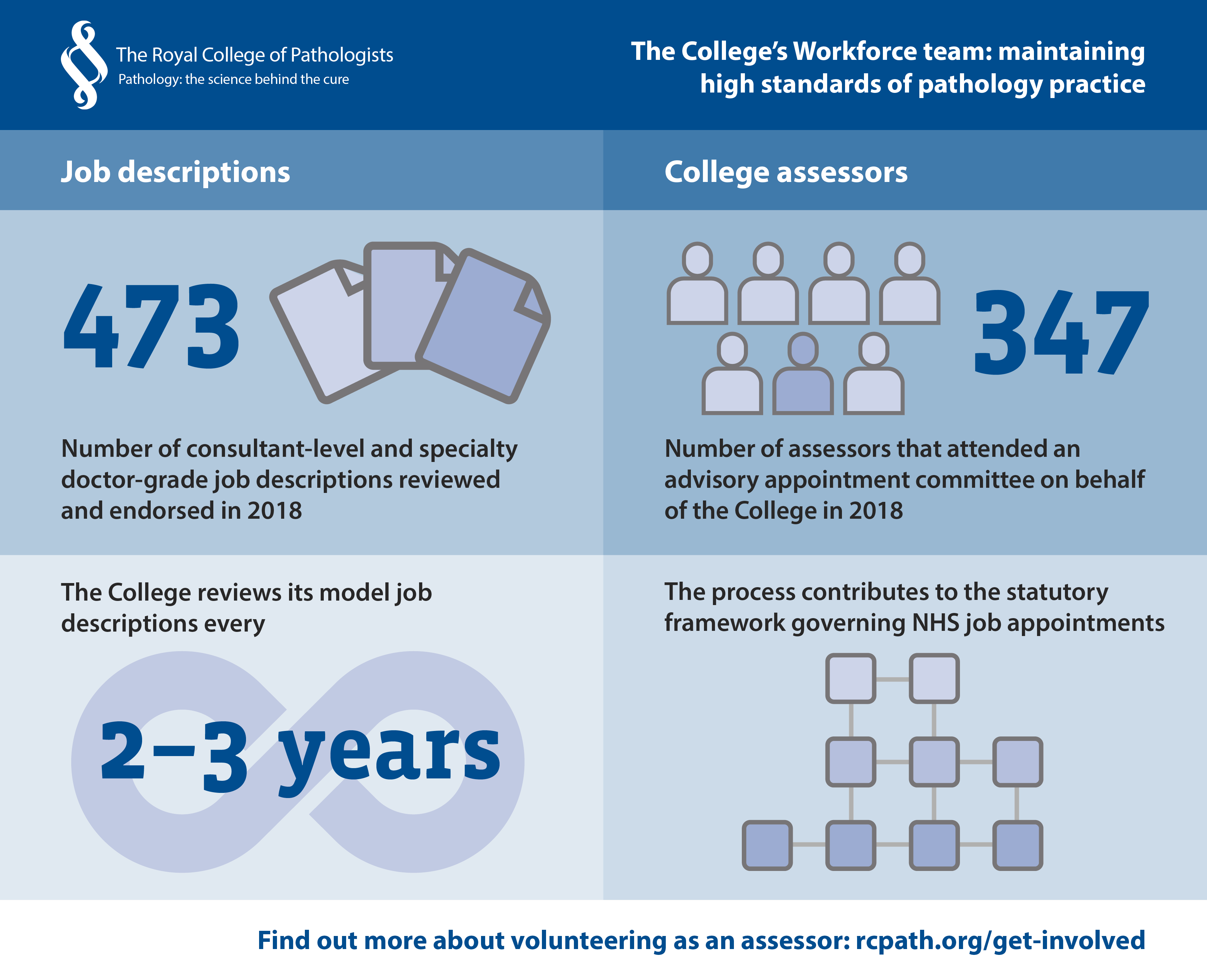 Download the infographic.
The team also arrange for College-nominated assessors who are members of the College, to attend interview panels known as advisory appointment committees (AACs) to ensure that employers are able to appoint the right candidate. For the NHS, this process contributes to the statutory framework overseeing the appointment of consultants.
College assessors act as an independent spokesperson and advise about the candidates' suitability for the post. In 2018, the College arranged 347 assessors to attend AACs.
The Workforce team review job descriptions supplied by the employer against a model job description, person specification and other information, to ensure the job description contains all the necessary and relevant information. They also make suggestions to include other supporting information that can help with recruitment such identifying and highlighting local research opportunities.
The model job descriptions provide the framework and standards to be able to review job descriptions from employers. These models are used to:
ensure that the job description contains a proper balance of clinical, research, managerial and, where appropriate, academic activities
check that there is sufficient support and facilities to enable the role to be carried out to assist employing bodies in ensuring the job description appeals to potential candidates.
Model job descriptions are reviewed regularly with the relevant College specialty advisory committee (SAC) to ensure they reflect the needs of modern pathology services. The College has recently published new model descriptions which are available online.
If you are a NHS organisation or other employing body, you can request a job description review or source a College assessor. Please contact the Workforce team at workforce@rcpath.org