Discover Pathology Careers, organised as part of National Pathology Week, introduced an audience of school students, undergraduates and Foundation Doctors to both human and veterinary pathology specialties. Interactive talks and semi-structured networking sessions, involving around 20 College members, highlighted the diversity of roles and areas of work in pathology, across human and animal health.

The programme included a talk from consultant haematologist, Dr Guy Hannah, who spoke about innovations in the diagnosis and treatment of blood diseases. Other talks and presentations included a demonstration of a renal biopsy by Histopathologist, Professor Mike Sheaff, an interactive demonstration of newborn blood spot screening by clinical biochemist, Dr Rachel Carling, and a live necropsy of a pigeon by London Zoo's wildlife pathologist, Dr Simon Spiro.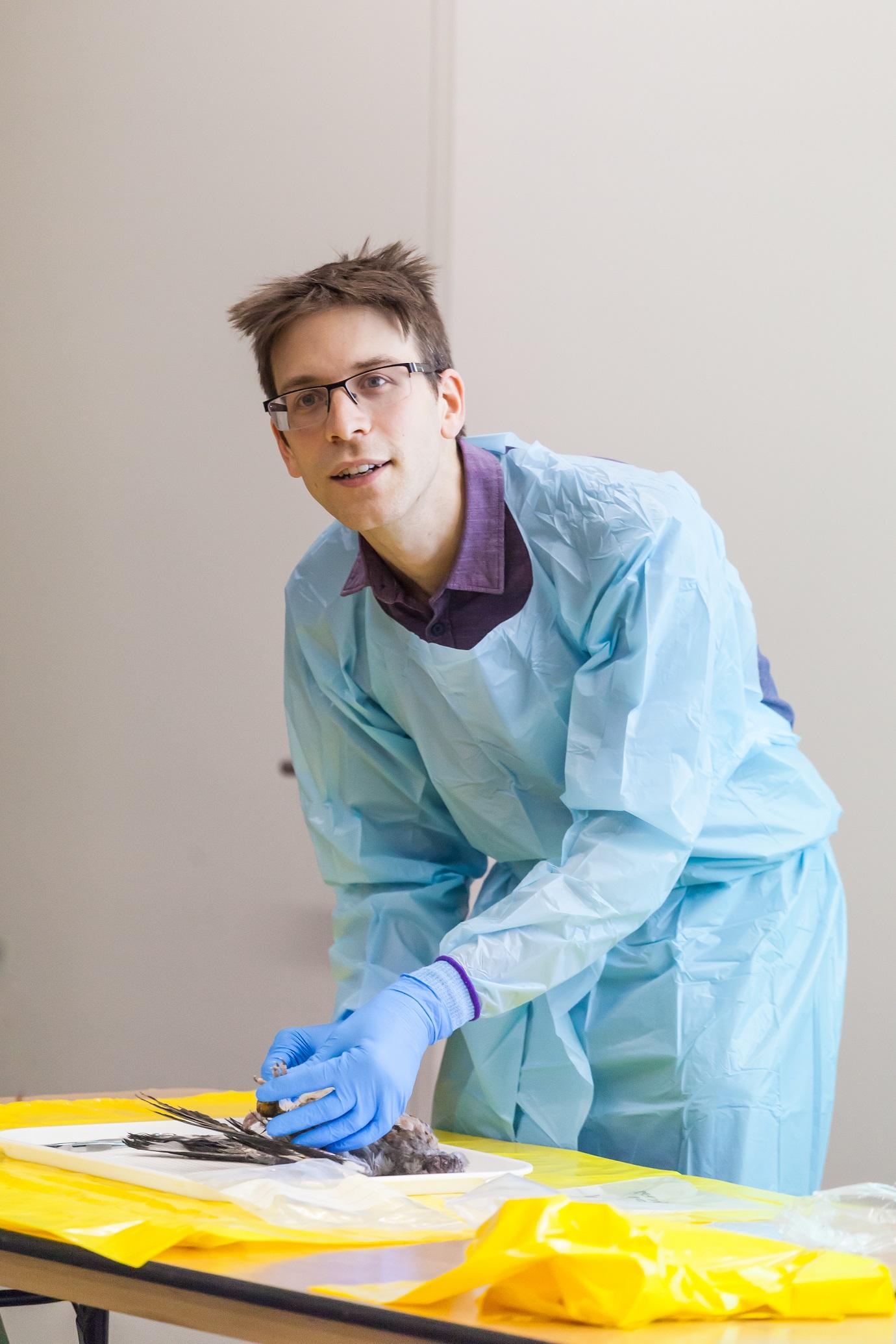 Attendees were also treated to a dramatic 'Living Autopsy' performed by consultant Histopathologist, Dr Mark Howard. Broadcast to online audiences via a Facebook Live, Dr Howard's Anatomical Pathology Technician, Robert Cast, took on the role of the dead body. To date the recording of the Living Autopsy has been viewed over 2000 times on Facebook.
A huge thanks to @TheIrishAPT for volunteering to model for Dr Mark Howard's living autopsy. If you missed our live stream, head over to our Facebook page where you can watch it again. #Histopathology #PathologyCareers #PathologyWeek pic.twitter.com/UFv3EwLNQ3

— RC of Pathologists (@RCPath) November 9, 2019

The event was opened by Dr Rachael Liebmann, the RCPath Vice President for Communications, who also chaired the talks on the 4 'main' human pathology specialties. Professor Rob La Ragione, Head of the Department of Pathology & Infectious Diseases, Deputy Head of the Vet School, University of Surrey, also welcomed attendees at the start and chaired the veterinary pathology talks. Cllr Victoria Obaze, Speaker of the local council (Tower Hamlets) joined us for the opening session; she spoke about the inspiring work of pathologists, and told attendees 'you could be the future of pathology.'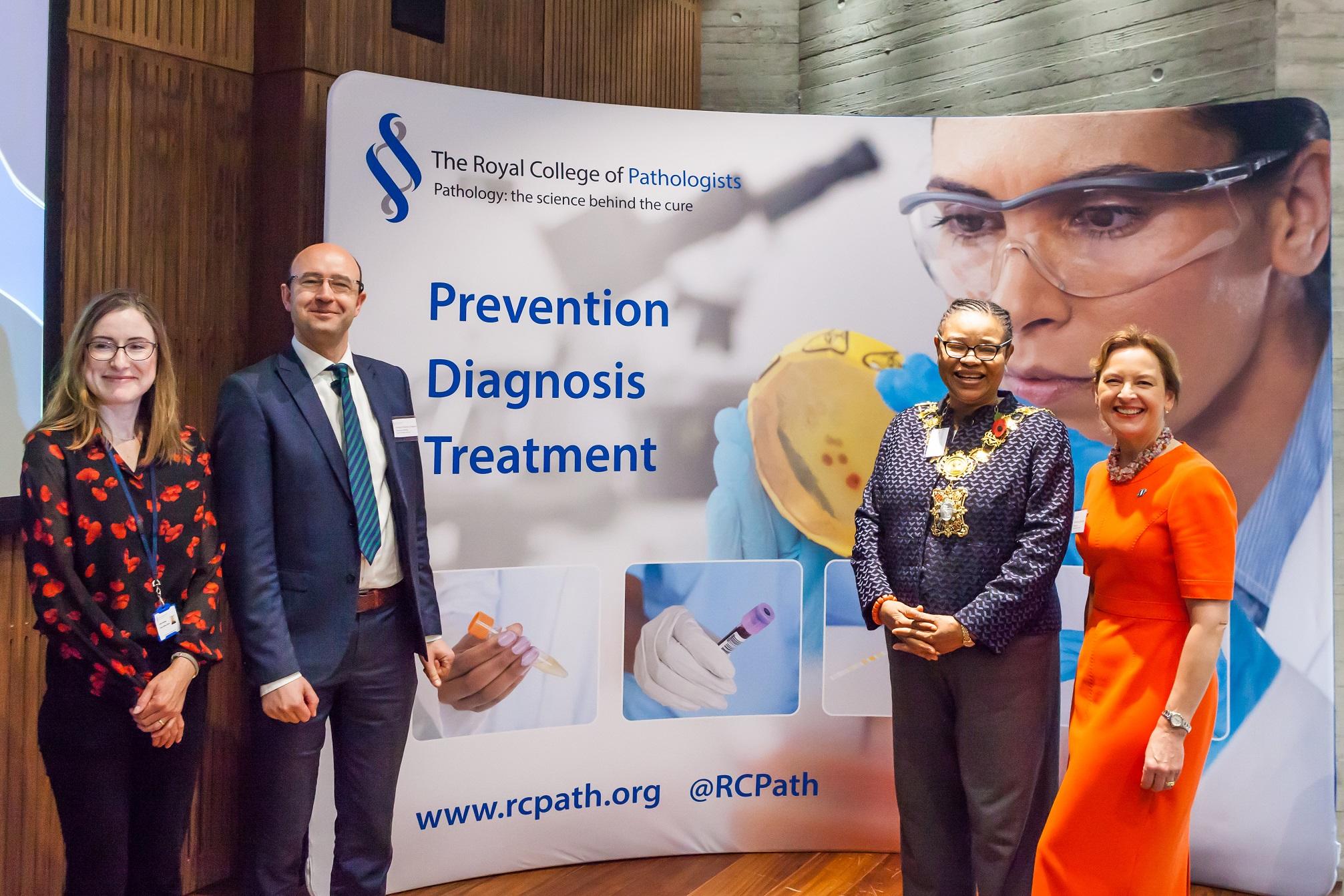 Social media engagement throughout the day was high, and live posts from the RCPath social media channels featured professional photography. At the time of writing tweets from @RCPath posted on the day have received over 13,000 impressions. A selection of the photos from the day are now on our Facebook page.
And that's a wrap! A huge thank you to everyone that helped make today's Discover #PathologyCareers event happen, to our wonderful volunteer speakers who gave up their Saturday to represent their specialties and to everyone that came along. #PathologyWeek

— RC of Pathologists (@RCPath) November 9, 2019

At the end of Discover Pathology Careers, attendees were given the chance to enter a raffle to win one of six work shadowing placements with some of the speakers. Those who participated in the Discover Pathology Careers gave hugely positive feedback about the event; one speaker commented 'It was a pleasure to be part of such a great event.'
Chair of the veterinary pathology sessions, Professor La Ragione said 'I thought the event was a real success and I thoroughly enjoyed the day (so did my son!).' Attendees were directed to our careers resources to find out more about the exciting range of opportunities available across our 17 specialties.
One of the tweets from an attendee at the end of the day was:
'It was a fantastic afternoon! Thank you everyone involved. Great insight into different areas of pathology and the speakers were fabulous!'
Thank you to everyone involved in the event, a great end to National Pathology Week 2019!