The symposium attended by over 120 delegates, covered the theme: What has pathology ever done for us? The day showcased why laboratory services are vital to healthcare, providing an important foundation for a variety of key medical and surgical disciplines.
Topics on the day also covered research, development and innovation, cutting edge cardiac markers and advances in artificial intelligence.
Held at the Royal College of Surgeons in Edinburgh, the programme featured many high-profile speakers including the Scotland Chief Medical Officer, Chief Scientist, Chief Healthcare Science Officer, four Presidents of national bodies, and College members.
Professor Mike Osborn, President of the College said:

`I was deliged to be invited to speak at the symposium. The event was a great success. Thank you to everybody who came to Edinburgh to discuss the theme of 'What has pathology ever done for us?'. It was a very enjoyable day and a valuable opportunity to highlight the work of the pathology community in Scotland.'
The symposium also covered the following themes:
introduction to the work of the College in Scotland
presentations on the challenges facing healthcare in the recovery from the COVID-19 pandemic
the future landscape of diagnostics in Scotland • precision medicine and precision diagnostics; antimicrobial resistance
the future biomedical scientist role in pathology services • insights from clinical immunology
the importance of labs and pathology to surgery
and the importance of pathology and lab medicine in relation to current and future developments with artificial intelligence.
The symposium also included the Cameron Memorial Lecture: A Fair and Sustainable Future; and Professor Freddie Flynn Lecture: Cardiac biomarkers and the transformation of acute cardiac care.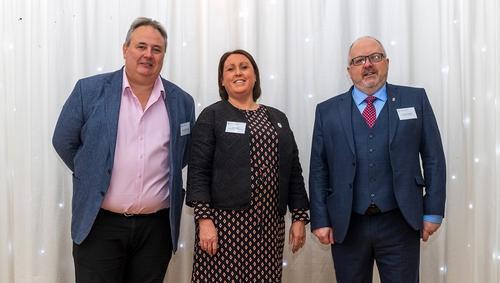 Speakers at the conference included:
Dr Vhairi Bateman, Aberdeen, Consultant Microbiology and Infectious Diseases
Dr Charu Chopra, Consultant Immunologist, Edinburgh
Professor Dame Anna Dominiczak, Chief Scientist for Health • Professor David Harrison, iCAIRD Director
Mr Mike McKirdy, President, Royal College of Physicians and Surgeons of Glasgow
Professor Nick Mills, Cardiology - University of Edinburgh
Professor Mike Osborn, President, Royal College of Pathologists
Debra Padgett, President, Institute of Biomedical Science
Professor Sir Gregor Smith, Chief Medical Officer
Catherine Ross, Chief Healthcare Science Officer