Would you like to begin by introducing yourself?
I'm Helen Seddon. I began training as a clinical scientist in the West Midlands in 1991, spending some time at the Birmingham Children's Hospital, where I subsequently took my first post after qualifying. In 1997, I went to work in the newborn screening laboratory at the children's hospital in Sydney, Australia, and I've been working in the biochemistry lab at the Royal Derby Hospital since 2000.
I'm Penny Blackwell, now a GP in the Derbyshire Dales and our ICS Place Board Chair. I was previously a clinical biochemist, training on the West Midlands pathology training scheme with Helen. I then worked in the Trent region, undertaking a PhD while there.
The PhD was very clinical and reawakened my teenage desire to study medicine, which I hadn't undertaken from school for various reasons. The decision was tricky for me, as I loved what I was doing as a clinical scientist, but I had an "I've got to try medicine before I get too old to do it" urge. I returned to university to study medicine with the support of my consultant biochemist, but I'm very much a clinical scientist at heart and now have the best of both worlds.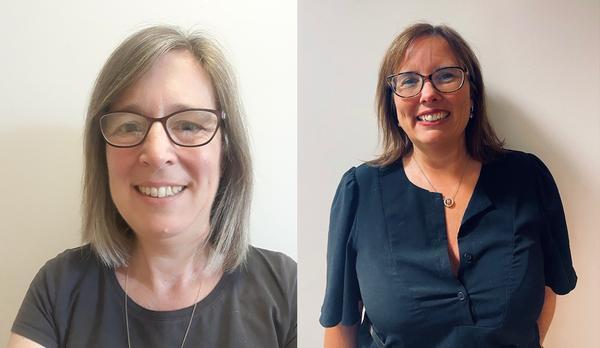 Could you tell us what sparked your interest in pathology and becoming a clinical scientist in the first place?
Helen: I joined the clinical scientist training programme straight after leaving university. I'd been shown around a hospital lab when I was considering future careers and was fascinated by the diagnosis process. I loved the idea of being a scientist in a clinical setting and learning to apply the biochemistry and analytical techniques I had learnt to the diagnostic pathway.
Penny: I would say very much the same as Helen here – I find diagnosis and the process you go through to make a robust diagnosis academically stimulating. While I was still at school, undertaking holiday work as a specimen receiver in the Derby Hospital labs, I became hooked. The 2 consultants I was privileged to work for, Peter Hill and Nigel Lawson, were inspiring advocates of 'the lab' being integral and visible in clinical medicine and making the discipline clinician-facing.
Could you explain the Shared Care Pathology team and why it was created?
Helen: The Derbyshire Shared Care Pathology team was created in 2011 under the leadership of Consultant Clinical Scientist Dr Nigel Lawson. The vision was to bring together local primary and secondary care clinicians to collaborate with laboratory scientists in writing guidelines that enable a better understanding of requesting and interpreting test results.
We aimed to bridge the gap between primary and secondary care (hence the team name) and give consistent interpretation and advice on patient management, depending on the pathology findings.
Penny: We like to influence clinicians' testing by educating and guiding them, helping them by setting out appropriate requesting pathways.
We consider reflex testing when we think it might be helpful for clinicians and try to make a patient's first outpatient appointment effective (for both consultant teams and the patient) by ensuring that the correct diagnostics are requested and undertaken before or at the point of referral.
How did you become a part of the team and what is your role on the team?
Helen: The key to the success of these guidelines has been the true collaboration of lab scientists and clinicians. My role has been to draft an initial guideline and gather feedback from my clinical colleagues before publishing the finalised version on the website. I've learnt how to pull together various comments and present information in a concise and user-friendly way. I'm always trying to make the pathology compelling and easy to navigate.
Penny: One of my roles, working in collaboration with Helen, is to look at the flow charts and ask, "Can a doctor, who has 10 mins to file all their results once or twice a day, use these flow charts quickly to tell them what to do next"? I network and liaise with other GPs across the region to see what they're struggling with. I act as a point of contact for them to feed in with ideas for how the lab could help to make their clinical day easier. I also liaise with them after a guideline has been published – how are they finding it? Is it easy to use?
Increasingly, my role is also to make sure that Shared Care Pathology connects well with other teams across Derbyshire by communicating with the acute trusts (whose clinicians need these guidelines just as much as general practice clinicians!), the community health providers, the widening roles found in general practices and therapy and pharmacy teams.
What challenges have the team faced and what steps have you taken to overcome them?
Helen: The first challenge was probably to engage enough people across different disciplines to help get the guidelines off the ground. When we had around 10 guidelines ready to go, we placed them on the website and began advertising them through comments attached to results and talking at some GP events. They soon became well known and expanded as GPs and hospital consultants saw their value.
Another challenge is finding differences in practice across our region. We started writing guidelines with referral information specific to the Royal Derby Hospital and when we expanded them across the whole of Derbyshire, we inevitably found some variation. Our response to this was initially to reflect any differences in our guidelines. Still, more recently, we have used this information constructively in discussions with the ICB to start conversations about harmonising processes.
Penny: There is also a challenge about how this work is recognised in our system and the desire of our local ICS to support, champion and robustly govern the work we do. This is getting easier over time, but we work in a litigious world and must ensure these guidelines are treated as good practices, not edicts and must-dos. It can be a difficult balance to strike.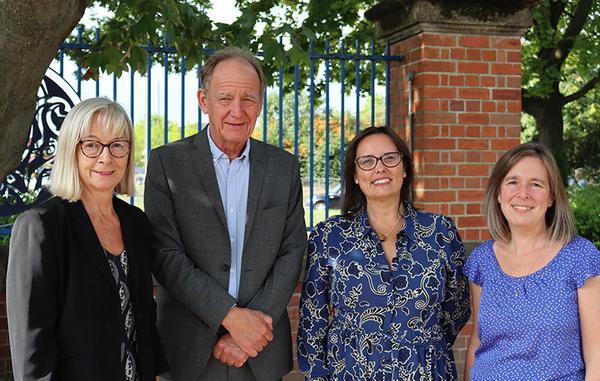 What are the main achievements of the team?
Helen: We know (from website access and direct communication) that many local and national GPs appreciate our guidelines with comments such as "they are so simple to use and so informative" and "they've become an important part of our everyday work". Our guidelines are also frequently used as a teaching aid locally.
In 2018, we were contacted by the Red Whale (national GP update) team and agreed that our guidelines could be referenced in their material – this was confirmation that they had reached a broad audience and were seen as being helpful and practical for primary care.
Penny: One of our most outstanding achievements is the increased visibility of my clinical scientist colleagues to patient-facing clinicians, enabling behaviour change and support around diagnostics. This relationship is vital to achieving better patient testing and outcomes and being able to put a face to a name in the lab is helpful. As a clinician, I'm never embarrassed that I don't know how to interpret something and know who to ask for help.
What advice would you give to someone wanting to become a clinical scientist?
Helen: Pathology is fascinating! Medical laboratory science is not just about producing numbers, but also about liaising with clinicians and, ultimately, being a vital part of the diagnostic pathway. My degree included metabolic pathways and the molecular basis of biochemistry, but I had so much to learn about how that translates into the diagnostic process of putting together presenting symptoms with blood results.
Penny: Go for it but choose your lab and mentors wisely if you get the choice! Go and get the feel of a lab. In my opinion, your role is to be of service to clinicians trying to make good and timely diagnoses and, along with those clinicians, to serve the patient. Your role is every bit as critical to that patient as the clinician choosing the tests and delivering the news with the outcome of those results. This is a brilliant and varied career that you are entering and has boundless possibilities for research, teaching, innovating, being technical and development as a clinical leader.