Histopathology webinars
This lecture series supports the histopathology membership and fellowship training programmes for the Ghana College of Physicians and Surgeons.
Membership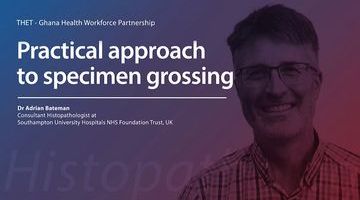 This lecture will provide an overview of the key aspects of resection specimen handling, macroscopic description, and block selection, using colorectal cancer as an example disease. The utility of the Royal College of Pathologists Cancer datasets is emphasised. The importance of linking the macroscopic and microscopic features of cancer resection specimens to key dataset items is highlighted. While this presentation is focused on colorectal cancer, the principles described would be applicable to many specimen types.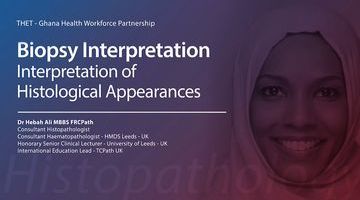 In this anatomical pathology lecture, we will follow the journey of the sampled biopsy from glass slide to the final pathology report. You will learn about the main diagnostic processes used in biopsy interpretation, become familiar with the artifacts' challenges and prior treatment effects on biopsy interpretation and know how to produce a clinically useful histopathology report.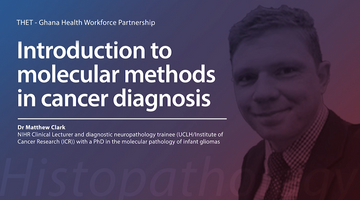 This lecture will describe some of the frequently used molecular techniques across different subspecialties of cellular pathology in relation to cancer diagnosis including immunohistochemistry, methylation profiling, fluorescence in situ hybridisation and different sequencing modalities. It will discuss the advantages of using each of these techniques for the pathologist, and how they can help to further characterise a tumour ensuring a more accurate diagnosis. It will also discuss how these different tests are useful for identifying patients suitable for targeted therapies.
Fellowship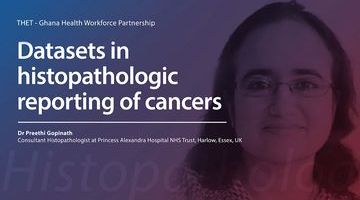 This lecture on datasets in the histopathologic reporting of cancers aims to give an understanding of what RCPath datasets are, what the elements of the datasets are and outline the application of datasets in routine general histopathological reporting practice. There are datasets available on the RCPath website by tumour site, which provide detailed textual guidance, educational information, guidance for macroscopy and microscopy, reporting proforma templates and information on ancillary and molecular testing where applicable.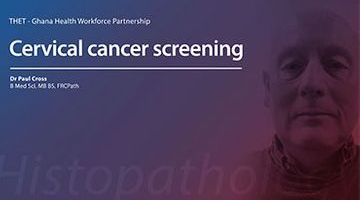 This lecture will outline the ideas behind population screening and how this can help identify cervical precancer and cancer. It will draw heavily from the WHO Global cervical cancer eradication strategy, and related WHO documentation. It will emphasise the need to offer a screening programme that is appropriate to the setting and resources available, and that several different but related strategies exist. It will emphasise that HPV vaccination is the ideal preventative measure, and how key this will be to the eradication of cervical cancer worldwide.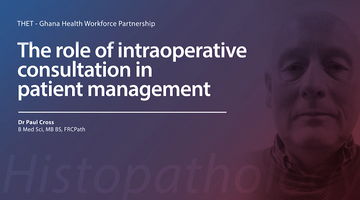 This lecture outlines the role and use of intraoperative consultation in helping assist with direct patient management. It will describe the use of both frozen sections and cytology in this capacity. It will highlight the advantages and disadvantages of both techniques, and common issues with them. It will also give examples of how intraoperative consultation can be used in patient management.