Microbiology webinars
This lecture series supports the microbiology membership and fellowship training programmes for the Ghana College of Physicians and Surgeons.
Membership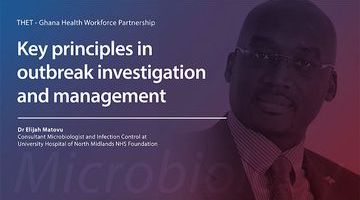 This lecture provides an overview of the outbreak investigation process. It outlines the steps that should be taken during an outbreak investigation to provide a systemic approach, including the use of epidemiology methods. Although the steps are listed sequentially, they may occur simultaneously. The steps will provide a systemic approach to an outbreak investigation. Although the steps are listed sequentially, they may occur simultaneously.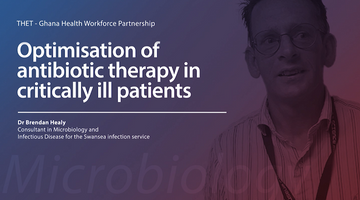 This lecture discusses infections in critically ill patients managed in an intensive care environment. It covers the importance of antimicrobial stewardship in the ICU setting as a means for reducing selection pressure and reducing risk of infection with resistant bacteria.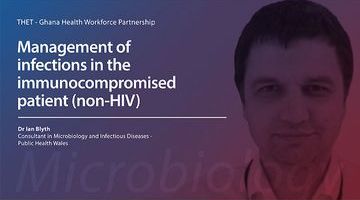 This lecture will cover disease and therapy-mediated immunosuppression, focusing on the principles that govern a functioning immune system and how they can be altered. We will discuss the impact immunosuppression has on an individual's infection risk, especially in terms of cytomegalovirus, pneumocystis pneumonia and invasive pulmonary aspergillosis. The lecture will conclude by discussing how immunosuppression affects diagnostic algorithms, prophylaxis and empiric antimicrobial therapy.
Fellowship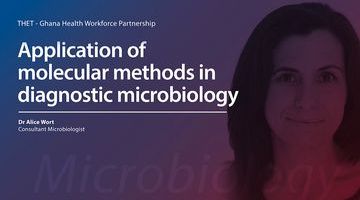 The lecture will examine the application of molecular methods in diagnostic microbiology. This will be a practical lecture looking at Dr Wort's experience of working as a microbiologist in Gateshead, Northeast England, UK. The laboratory in Gateshead is the largest NHS laboratory in the region and is housed in a state-of-the-art pathology centre. It specialises in high-throughput molecular screening. The vision of the laboratory is to utilise the latest technology and clinical and scientific expertise to provide the best possible quality of service to enhance patient care.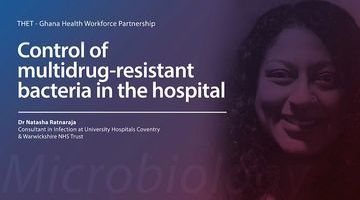 This lecture will discuss commonly used and effective methods for the control of multidrug-resistant bacteria in the hospital setting. It will briefly touch on the modes of transmission and how infection prevention and control measures can help spread between persons.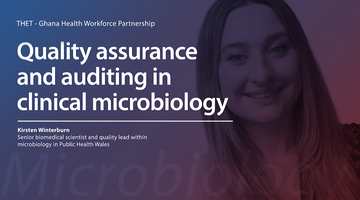 This lecture incorporates the broad areas of quality and what is required for ISO 15189:2012 standards. It encompasses the type of things assessors will look at, why we do what we do and how this can impact patient care. Specific examples are given covering IQA, IQC and EQA. Quality improvements and ongoing quality monitoring processes are also encompassed with real-life examples of the day-to-day quality practices and reviews undertaken in PHW.