She continues to develop learning material and provide training for medical examiners. In her profile, Dr Lishman explains how a chance meeting led to her becoming an elected officer of the College and the importance of promoting pathology through an innovative and dynamic public engagement programme.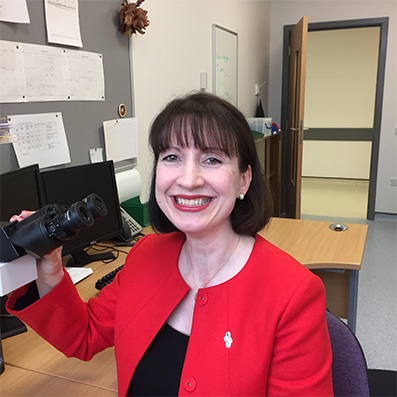 Background
Having grown up in Yorkshire and the Fens, I trained at Girton College, Cambridge, and the London Hospital Medical School. After house jobs I went straight into histopathology training, and spent six very happy years at University College London. It was as trainee representative for North East Thames that I first got involved with the College, attending trainees' committee meetings.
For the last 22 years I have worked as a consultant histopathologist at Hinchingbrooke and Peterborough District Hospitals, which merged in 2017 to form North West Anglia NHS Foundation Trust. Over the years I have been lead pathologist for breast, upper GI and urological pathology, but have been colorectal and Bowel Cancer Screening Programme pathology lead for over a decade now. I have been head of department several times, chair of the Medical Advisory Committee, Post-graduate Clinical Tutor and Clinical Governance Lead at various times. I'm currently Lead Medical Examiner, enjoying introducing this important new service across primary and secondary care, and Clinical Lead for Schwartz Rounds, exploring the emotional side of providing care for patients to support staff in all roles.
It was a chance meeting with the late Professor Paola Domizio in 2005 that led to my election as Assistant Registrar, after Paola encouraged me to put my name forward. I was subsequently elected Registrar, Vice President and President, spending 12 consecutive years as a College officer until I stepped down in 2017. Since then, I have chaired the Medical Examiners Committee and I'm national lead for medical examiner training. Outside the College, I am a Trustee of NCEPOD and the Association for Art History, a Council member of the Royal Veterinary College, where I also chair the Ethics and Welfare Committee, and chair of the Scientific Advisory Board of Bowel Cancer UK.
Key achievements
My key achievements are all team efforts – one of the joys of being a College officer is working with a diverse group of people from different regions, specialties and professional backgrounds for the benefit of members and patients. While the President leads the College for three years, they build on the work of previous presidents and are guided by Council and the Trustee Board. I was fortunate to work with a fantastic team of officers, committee members and College staff on a wide range of important issues, some of which are still work in progress!
One of the joys of being a College officer is working with a diverse group of people from different regions, specialties and professional backgrounds for the benefit of members and patients.
Public engagement
As a trainee I was struck by how little many of my contemporaries and friends knew about pathology but it wasn't until I got involved with the College that I saw an opportunity to do something about it. Introducing National Pathology Week in 2008 and International Pathology Day in 2014 provided the catalyst for pathologists and healthcare scientists to get out of the lab and talk to colleagues, the public and schools about the role of pathology and the diverse career opportunities in the specialty. Having been advised that my aim of holding 40 events the first year was ambitious and unrealistic, in actuality over 300 events were held around the country and many sceptics were converted to the benefits of public engagement, for both pathologists and the public. The College's Public Engagement team also grew during this time. Thousands of events have now been held, and the College provides basic and advanced science communication training for interested members.
Living Autopsy
Despite developing events to profile all the pathology specialties, the most popular one I hold is the Living Autopsy. From a relatively simple event in 2008, which described what a post-mortem examination involved using a live model and a set of autopsy instruments, the Living Autopsy has grown and evolved to cover a range of different themes, including the death of Richard III, arsenic poisoning, death of an astronaut and the festive Santa dissection. I'm looking forward to taking the Living Autopsy on tour for the College's Diamond Jubilee, with the theme 'Autopsy: past, present and future'.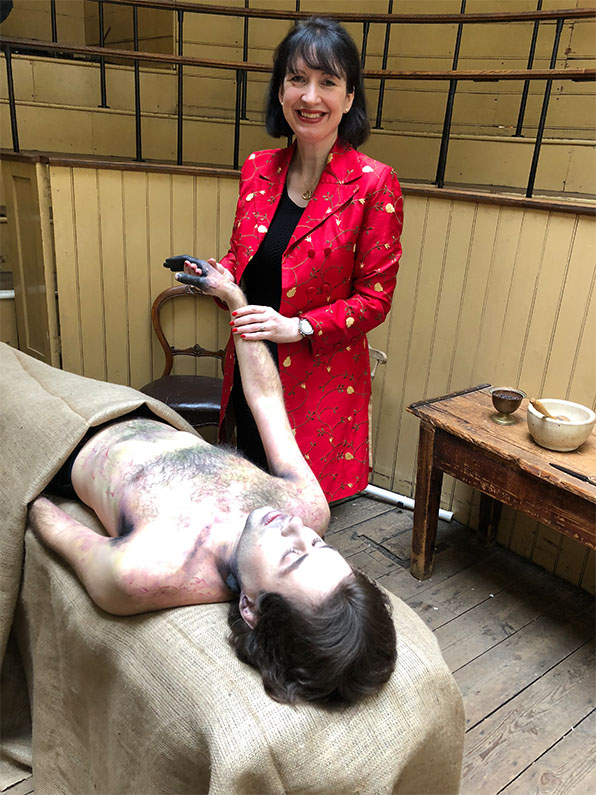 A YouTube video of the Living Autopsy has been viewed by over one million people and reactions have been very positive, such as, 'This is a brilliant video, and exactly what I needed. My friend recently died and a post mortem is being done because she died very suddenly and didn't have any known health problems. I found the idea of a post mortem very unnerving at first but seeing you explain how it's done, so calmly and with such respect for the deceased, is very reassuring. Thank you.'
Medical examiners
Despite very successful pilot schemes, repeated recommendations from national inquiries into poor care and a huge amount of work by many people including Professor Peter Furness, former President and Interim National Medical Examiner, implementation of a national medical examiner system has been repeatedly delayed. This made it a priority for me to champion the service when elected President and I met a series of health ministers, the Secretary of State and other stakeholders to try to move implementation forward. I represented the College on the Department of Health and Social Care's Death Certification Reform Strategic Programme Board as President and continue to do so, working closely with a wide range of government and other bodies.
Over the last three or four years much progress has been made and 2022 looks set to see the introduction of the statutory medical examiner system, with medical examiners scrutinising all non-coronial deaths in England and Wales. One of my biggest contributions has been helping to develop learning materials for medical examiners and developing and chairing information-sharing events for stakeholders, training days for medical examiners and the Medical Examiner Annual Conference, which the College hosts each year. Over 1,400 medical examiners had been trained by the end of 2021 and a series of further training events, including joint sessions with coroners, are planned for 2022.
Member engagement
All College presidents understand the importance of engaging with members and I found it one of the most important and enjoyable aspects of the role. Attending regional council meetings, specialist society conferences and public engagement events gave me a great opportunity to meet members around the country and listen to their concerns and ideas. I was pleased to take College Council out of London for the first time and to support the re-establishment of the England Regional Council. I also enjoyed being able to communicate via social media, and am still in contact with many of the colleagues who got in touch through that route.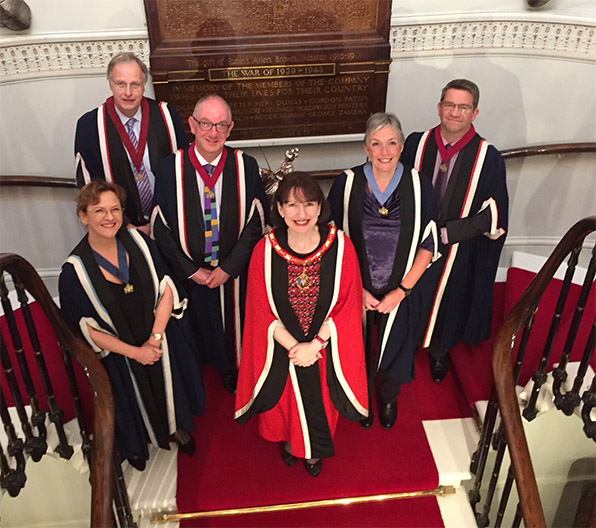 Workforce and capacity challenges
The main challenge facing all pathology specialties (and all of healthcare) is the lack of workforce and service capacity to meet the increasing needs of the population. Pathology services were already overstretched before the pandemic, but the last two years have put even more pressure on people and the system. There are no easy solutions – doctors and healthcare scientists take many years to recruit and train. Initiatives such as National Pathology Week, the Institute of Biomedical Science's Biomedical Science Day and Healthcare Science Week all help raise the profile of the specialty and encourage young people to consider careers in pathology. But this alone isn't enough.
The government is investing more money in healthcare to tackle the pandemic backlog – how much of that will reach pathology remains to be seen. And extra money for workforce is no help if there are no new staff, and the existing ones are exhausted. So we need to think of ways of working more efficiently.
I'm fortunate to work in a cellular pathology department that has introduced digital pathology, largely owing to the vision of my colleague and former College Vice President Dr David Bailey. I thought I might struggle converting to digital pathology but within days I found I preferred it to conventional microscopy for most cases. While reviewing sections takes a similar length of time, measuring or annotating anything, preparation for multidisciplinary team meetings and second opinions are much quicker and easier, freeing up both pathologist and secretarial time. I think we've only scratched the surface of the benefits of digital pathology so far – advances such as artificial intelligence will bring even more efficient ways of working. But all this needs significant initial investment in kit and training, and for remote access to be quick and reliable.
Demand optimisation has been a priority for pathology services for many years, but more can still be done to ensure that the right patients have the right tests at the right time. Sharing best practice, updating IT systems, embracing and investing in new technology and educating service users can all help, but there is clearly no quick fix as much of this relies on adequate numbers of appropriately trained staff
Inspiring trainees
I'm as enthusiastic now about pathology as I've ever been, so finding different ways to share that passion for the specialty is important. It's vital that students have the opportunity to see pathologists at work, understand what they contribute to patient care and have a chance to spend some time in pathology. This is why I've always been keen that National Pathology Week events, for example, target students and trainees as well as the public. Giving talks, holding lab open days and offering placements and rotations in pathology all help raise the profile of the specialty. Many pathology specialties also lend themselves to more modern ways of working such as flexible or annualised hours or working from home, which are attractive to trainees looking for a better work–life balance.
Maintaining a work–life balance
I'm not sure I'm the best person to ask about this! I'm even busier now than I was when I was President. Two things that I've found helpful are having other interests and hobbies with no connection to work, and taking regular holidays, which I've really missed over the last couple of years.