Education, specialty and career pathway
I was born in Alexandria, Egypt, and studied at Al-Manar English Girls School. In my penultimate year at secondary school, I decided to study for the General Certificate of Education awarded by Cambridge International Examinations, alongside my Egyptian degree. I joined Alexandria Medical School in 1983 and I graduated in 1989. In 1991, I was appointed as a demonstrator in the Department of Pathology at Alexandria Medical School, where I started my training in pathology and began my academic career by teaching pathology to undergraduate medical students. In 1996, I successfully completed my MSc and achieved a promotion to assistant lecturer.
At the end of 1997, I was awarded a scholarship from the Egyptian Ministry of Higher Education to study for a PhD at Imperial College London, UK. By 2003, I had earned my PhD and concluded my training in histopathology in the London Deanery, where I rotated between Hammersmith Hospital, Charing Cross Hospital and the Royal Marsden Hospital and completed my MRCPath examinations.
In 2005, I was appointed as a consultant histopathologist and honorary clinical senior lecturer at Imperial College London. I have since developed my specialisation as a gynaecological pathologist with a special interest in gynaecological tumour pathology. I became the lead gynaecological pathologist for the gynaecological oncology multidisciplinary team of the Hammersmith Hospital and Queen Charlotte and Chelsea Hospital, which houses the West London Gynaecological Cancer Centre. Over the years, my academic work in teaching, training, student supervision and running my research group at Imperial College London has continued and I have progressed through the academic line up to my appointment as Professor of Practice in Histopathology in 2019.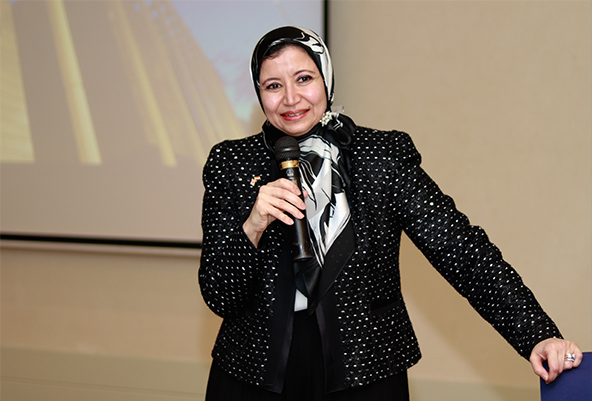 Key achievements
As many will know, having a career that is a hybrid of academia and clinical service work is packed with challenges and I am proud that I have been able to coordinate academic and service work in my professional practice at the different stages of my career. This has involved caring for patients, teaching and supervising over 40 research degree students to successful completion of their studies, producing well over 100 publications, including scientific journal papers and book chapters, and training junior doctors.
Setting up the Egyptian Committee for Pathology Training
While living and working in the UK for many years, I am particularly pleased to have maintained my connection with my beloved country of origin, Egypt, and my home institution, the University of Alexandria. When the right time came, I started building a more structured set-up for this project, in my field of practice. Working with my colleagues and seniors in Egypt, we set up the Egyptian Committee for Pathology Training (ECPT). In 2014, under the patronage of the Supreme Council of Universities (SCU) of Egypt and in affiliation with the Egyptian Society of Pathology, the ECPT was established to support and enhance capacity in training, assessment and educational supervision in pathology.
One day I came across a pathology book that stated that 'medical knowledge is like a tree, of which the roots are basic sciences, the stem is pathology and the foliage clinical practice'. I knew then that pathology was what I wanted to do.
In 2015, a memorandum of understanding was signed in Cairo between the RCPath, the ECPT and the SCU (renewed again in 2021) and another between the RCPath and the Egyptian Military Medical Services. The ECPT has since been working in partnership with the College and many distinguished Egyptian institutions to develop training programmes, qualifications, standards and best practice in pathology and laboratory medicine specialties.
Establishing events and exams internationally
Together, we developed the first ever International Pathology Summer School, which was held at the Armed Forces College of Medicine in Cairo and attended by undergraduate students from military and civil medical schools in Egypt and other countries in the Middle East and North Africa region.
We organised several joint educational and training events for trainees as well as trainers, with tutors from the UK and Egypt. The importance of these joint events goes beyond the value of shared knowledge, as we come to understand a diversity of approaches, attitudes, cultures and communications. We collaborated to set up the Cairo examination centre for Part 1 FRCPath examinations in all specialties and Part 2 examinations in histopathology. Our educational events and the exam centres in Egypt are attended by pathologists from Egypt, the Middle East, Africa and the Far East.
In 2018, International Pathology Day (IPD) was celebrated in Egypt for the first time, with events held at Shefa Al-Orman Charity Cancer Hospital in Luxor. In 2021, IPD expanded with celebrations also being held in Helwan Medical School, Modern University for Technology and Information Medical School, with several additional universities also developing plans. Working with the RCPath as Country Advisor for Egypt for the past six years and now as the President of the Egyptian Committee for Pathology Training, a lot has already been achieved and I look forward to our continuing success.
Challenges
Change has been a constant since the beginning of time, but nowadays the pace of change is phenomenal, and this represents as much of an opportunity as a challenge. The biggest challenge is maintaining a trained workforce that can adapt readily to rapid changes in practice and new technologies. This also needs appropriate resources and infrastructure to support continued professional development.
Finding a sense of identity and belonging
Centralisation of services in bigger laboratories has its merits, but also its challenges, especially when merging established institutions. One challenge that should not be overlooked is the conglomeration of different cultures into one space with one culture. Dealing with a change of identity and the need to find a sense of belonging are big challenges, especially to the seniors who are the most experienced and responsible for teams and the delivery of services at the new establishments.
Coordination is key
The integration of molecular testing into the practice of different specialties and the coordination between the different clinical teams, laboratories and the regional genomic laboratory hubs across the UK are new experiences. The necessary resources, most important of which is skilled workforce at both ends, and a clear agreeable workflow plan are most essential for running this service to the standards and timeliness required for patient service.
Inspiring trainees
Even before I joined medical school, I never saw myself on the wards, but more in a research laboratory, with clinical practice being my inspiration and basic sciences my foundation in that quest. One day I came across a pathology book that stated that 'medical knowledge is like a tree, of which the roots are basic sciences, the stem is pathology and the foliage clinical practice'. I knew then that pathology was what I wanted to do.
I was a third-year medical student sitting in the lecture theatre at Alexandria University when Professor Rawya Galal, Professor of Pathology, walked in to give a lecture. A lady with style and knowledge, in command of her subject, and of the room. Ever since that day, she has continued to be a role model and an inspiration to me; she developed my interest in pathology.
As I was at the point of deciding my career specialty, I was also starting a family and I wanted to ensure that I could maintain a work–life balance. So, it seemed sensible to choose a specialty where I could plan my work with some flexibility and manageable working hours. Therefore, laboratory medicine, in particular histopathology, seemed right.
Maintaining a work–life balance
In principle, it is important to view every aspect of one's personal and professional life as a part of life and not one's whole life, with each deserving the due time and attention. With this mindset, you set your priorities at every stage in life. On a daily basis you know that at times one aspect may require more focus than the other but ensure that you even things out as you go.
You need to have good time management, making sure you do not bite off more than you can chew. You've got to be assertive with yourself and with others. Always make sure you include some fun and enjoyment as an integral part in whatever you do – for example, the decor in your office.
Diversity matters
I grew up in Alexandria, in a listed building that is part of an old church in the city centre. My neighbours were of different faiths and different nationalities. My school was right in front of my home. Founded in 1925, it was originally a Scottish school. It changed to Egyptian administration just before I joined, but even then, it still had the spirit and some of the staff (like Miss Helen, my first English teacher at primary school) from the former Scottish administration. The Alexandria Medical School was in the street just behind my home. So, despite spending the first 30 years of my life moving day to day within a radius of probably less than one mile, looking back I realise I was raised in a very cosmopolitan environment.
I travelled on short trips with my parents and went on student exchange programmes and I always found it easy to navigate and fit in. When I came to live in London, I felt equally at home. Exposure to diversity and having genuine respect and appreciation of different cultures makes one a global citizen, which is a great thing to be, especially in this day and age when it no longer takes 80 days to go around the world!