New premises for the College - 6 Alie Street London E1 8QT
Based in zone 1 London, the new modern purpose-built premises will serve the College in the long-term. 6 Alie Street comprises a suite of facilities for members and trainees. a state-of-the-art. multi-purpose conference and meeting area equipped with the latest AV, office space for honorary officers and College staff, as well as ample space to run specialty pathology exams and to expand the College's wide-ranging programme of academic activities, events and conferences.
A central London location was an important factor in the choice of site, allowing the College to maintain and develop relationships with key stakeholders, government and other policy-makers. Transport links to and from central London are also good, which made it, on balance, the best location for the College.
Getting to Alie Street
The College's new address is 6 Alie Street, London E1 8QT. The College's phone numbers have remained the same.
The nearest tube stations are Aldgate (Metropolitan and Circle lines), Aldgate East (Hammersmith and City and District lines), and Tower Hill (Circle and District lines) and Tower Gateway (Docklands Light Railway). The nearest mainline stations are Liverpool Street and Fenchurch Street which are approximately 10 minutes' walk. The nearest airport is London City, approximately 35 minutes away by public transport.
Members and trainees' lounge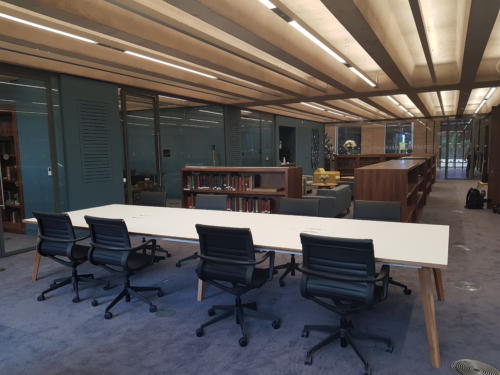 We have created a dedicated member and trainees' lounge on the ground floor where members are able to drop in at any time. Free refreshments are available with an open-plan informal meeting and working space with desks situated at the rear.
The lounge also features a full library collection managed by our Honorary Librarian and Archivist. There are aslothree bookable internal meeting rooms.
If you would like further information about the College's new premises, please email [email protected].
Visiting the College
The College is open from 8am to 6pm Monday to Friday. The main switchboard number for the College is 020 7451 6700.

You don't have to book to visit the College to use the member facilities but please register at reception when you arrive.

If you would like a tour of the building, we would be happy to arrange this for you. Please book in advance by contacting our in-house the Events @ No 6 team, on 020 7451 6004 or email

[email protected]

m
If you would like to book a meeting room in the members and trainees' area on the ground floor or the first or second floors, please email:

[email protected]
Events @ No 6
The move to 6 Alie Street allows the College to develop a new income stream through the professional marketing of conference and event facilities to external clients. An award-winning London caterer has been contracted to market and manage the hiring of conference facilities and meeting rooms as 'Events @ No 6'. The Events @ No 6 team will be an integral part of 6 Alie Street and will provide a wide range of food and drink for events while delivering a full venue management service to members attending internal events as well as external clients.
Membership discount on room hire
College members receive a exclusive 20% discount on venue hire bookings at 6 Alie Street. For more information or to arrange a site visit, please contact the Events at No 6 team at [email protected] or telephone 020 7451 6705. Events at No 6.
The new building
6 Alie Street is a nine-floor building includes a double-height entrance atrium and incorporates floor-to-ceiling windows on all floors to maximise natural light. The two-storey entrance hall, open staircase to the conference area and light-filled areas at the rear, create a spacious and open building.

The members and trainees' lounge is housed in the reception area on the ground floor, and includes three meeting rooms and the College library.
The function rooms are located on the first and second floors and include a 210 person lecture theatre (the Elizabeth Room) with adjoining break-out areas and four meeting rooms: Alie, Grosvenor, Park and Carlton. The rooms are also available for hire to external clients for a variety of events including external conferences, receptions, dinners and private celebrations, providing an important new revenue stream for the College. This will be managed through Events @ No 6 (see below).
The third and fourth floors provide office space for College staff and honorary officers.
The fifth floor allows for future College expansion. It will be let out in the meantime to allow the College to maximise income.
The sixth floor leads to two roof terraces either side of the Terrace Room that can accommodate up to 60 people for receptions or 40 for boardroom style meetings. This will provide space for both external events and College meetings.
The seventh floor contains accommodation that can be used by the College President or honorary officers for overnight stays as well as self-contained office space.
Other facilities include secure bike storage, showers and a cloakroom on the lower ground floor.
Environmental considerations have been taken into account with the following steps taken to minimise heating and cooling bills:
high-level windows on each floor that will open at night and allow air to cool the concrete ceilings; keeping the building cool the following day.
an automated lighting system that will operate only when required, to reduce energy consumption
the building will have a living roof that will provide a habitat for local birds and insects and reduce the volume of rainwater run-off.