New premises for the College - 6 Aiie Street London E1 8QT
Construction on the College's new premises is continuing apace with the move scheduled for late autumn.
The College will be moving to its new location Alie Street in autumn 2018. Based in zone 1 London, the College's new purpose-built premises will comprise a suite of facilities for members and trainees. state-of-the-art conference facilities equipped with the latest AV, office space for honorary officers and College staff, as well as ample space to run specialty pathology exams. Fewer than five minutes' walk from three tube stations and around 15 minutes' walk from Liverpool Street Station, 6 Alie Street is also near to numerous, cafes, restaurants, pubs and sites of historical interest such as the Tower of London.
The aim of the development at Alie Street is to provide modern purpose-built premises that will serve the College in the long term.
The new building includes a double height atrium and comprises seven floors with a lower ground floor. The reception area on the ground floor also houses member and trainee facilities, a library and stairs that lead to the first floor which has a 200 person conference theatre along with a suite of meeting rooms which are available for internal College use as well as for hire by external clients. The third and fourth floors will house office space for College staff and honorary officers.
Members and trainees' area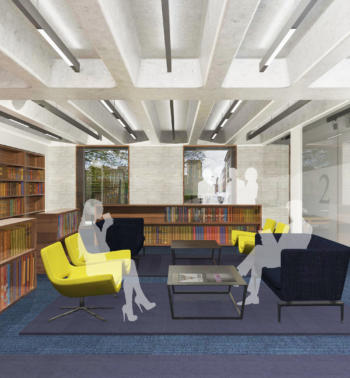 We have created a dedicated member and trainees' lounge on the ground floor where members will be able to drop in at any time. Free refreshments will be available and there will be an open-plan informal meeting and working space with desks situated at the rear.
The lounge will also feature a full library collection which will be managed by our Honorary Librarian and Archivist. There will also be three internal meeting rooms which can be booked by members.
You can see how the building is progressing through our series of videos below.
If you would like further information about the College's new premises, please email rcpathmove@rcpath.org