Dr Rachel Brown, Histopathologist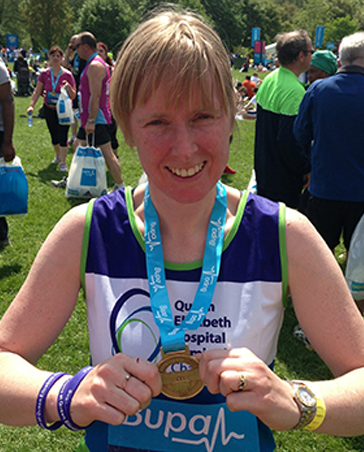 Tell us a bit about your average working day.
My day begins with a cycle to work at 7am. At my desk I do some cases at the microscope dictating reports as I go. I usually do some trimming in the morning. My areas of interest are liver/pancreas and head and neck pathology so I might be looking at a liver removed at transplantation or a partial liver resection or pancreatic resection for tumour. I may be dealing with a piece of jaw which requires a saw to dissect.
Multidisciplinary meetings often happen at lunchtimes. In the afternoon I will do some more reporting, discuss difficult cases with colleagues and consult the literature. I might do some collaborative research work or have formal teaching commitments.
Why did you choose this specialty?
I chose histopathology because it plays to my strengths. I am good at working on my own and organising my own time. Writing reports that I hope will mean the patient gets the best treatment for their condition gives me a great deal of satisfaction even without meeting the patient for myself. Histopathology is central to the diagnostic process and the role is very rewarding.
What do you enjoy most about your chosen specialty?
I most enjoy nailing a difficult diagnosis!
Do you have any professional or personal achievements that you would like to share or highlight?
Teaching and research opportunities are plentiful in histopathology. The workload is more predictable than other specialties but you can pursue outside interests. I have recently taken up triathlon having retired from hockey and ran the London 10k a few years ago for my hospital charity (pictured!).
What advice would you give to students looking to enter your field?
My advice to anyone considering this specialty would be to attend multidisciplinary meetings to see how pathology fits in to patient management. I would also advise thinking about what you are good at. If you do your best thinking under high pressure adrenalin fuelled situations then pathology might not be for you. If however you do your best thinking in your own time with the opportunity to consult the literature and your colleagues and have a meticulous approach to getting things right then it may well be for you. (Ignore anyone who accuses you of being a nerd!)