Dr Oleg Tkachenko and Dr Fiona Cooke, Medical Microbiologists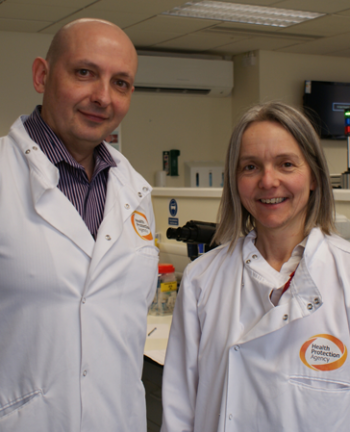 What does your average day involve?
Our day begins just before 9am with the phone ringing and a clinician on the other end asking for advice. Patients are becoming increasingly complex in a big teaching hospital – post transplant, haematological, neurosurgical patients can easily develop infections and the right choice of antibiotics is crucial. As medical microbiologists, it is really important to establish a good relationship with clinical teams, and they really appreciate our input.
Sometimes, our day starts with dealing with blood culture results, which are probably the most important results to be communicated to clinicians as soon as possible. The timely and correct treatment in these circumstances can save patients' lives. So, when Gram stain results are ready, we will discuss them with relevant doctors over the phone or on the ward.
Our afternoons are spent doing daily ward rounds​. Ward rounds are an important part of a microbiologist's routine and as one might think, microbiologists are not entirely laboratory-based doctors nowadays. Part of the afternoons will be spent on the wards such as intensive care unit, neurosurgical and haematology wards, with a consultant to see patients and discuss their antibiotic regime and further investigations with teams. Alternatively, we discuss patients' management at the multi-disciplinary meetings when various specialists sit down and put their heads together to work out the best treatment plans for patients.
Validation of the results is another routine part of microbiologist's laboratory job. All important positive results need to be scrutinised by a doctor as some might need additional testing, correction or a comment before they are released to the wards or GP surgeries.
Why did you choose this specialty?
Oleg: Despite the fact that I worked as a clinician in general medicine before applying for microbiology training, I was always interested in pathology. I attended many microbiology short courses and was a member of Society of Applied Microbiology. So, when I had a chance to train in medical microbiology, I didn't think twice.
What do you enjoy most about your job and your chosen specialty?
Oleg: Microbiology gives endless opportunities for research, publications, presentations and teaching, so if you want to be involved in academic activities, this specialty might suit you. Personally, I enjoy dealing with unusual or rare cases of infection, which you come across from time to time. Such cases require literature research and discussions with various experts, and you can learn a lot from them. Microbiology gives me job satisfaction and a feeling of being a professional in a specialised area of medicine, as you help others solve difficult diagnostic problems and advise them on the best possible treatment.
What advice would both of you give to students looking to enter your field?
Oleg: If you are interested in finding out more, go to your local hospital and speak to the consultant microbiologist, ask them to show you around and spend a day in the department so that you begin to get a feel of what microbiology is about.
Fiona: Microbiology is a fascinating specialty, especially for people who like the link between laboratory work and clinical medicine. The huge variety of clinical cases, involving almost every medical and surgical specialty means there is never a dull day. However, it is evolving and becoming combined with infectious diseases, as a core infection stem. Choosing core medical training initially, learning more about microbiology by liaising with the local department and making your final decision at a later stage might be the right way forward.