Undegraduate essay competition
2018 competition now closed
Please note, this competition is now closed. The winner will be announced in November 2018.
If you are passionate about pathology or are an aspiring pathologist, then the undergraduate essay prize is your opportunity to demonstrate your enthusiasm.
This year's theme is: 'Discuss the interactions between human and animal health'.
We would like you to think broadly about the topic, whether it's talking about zoonoses, antimicrobial resistance, immunotherapies, oncology, metabolic disease or any of the other myriad of ways in which human and animal health can, or could, interact. You can give a broad view, or choose something specific and write about a particular aspect of the links between human and animal health. Most of all we want you to use your creativity and originality alongside the facts.
A prize of £200 will be awarded to the winning entrant, as well as having their essay published on our website and in the College magazine, The Bulletin. This, along with a certificate, is presented during National Pathology Week and travel expenses are covered by the College.
How to enter
The competition is open to medical, biological science and veterinary science undergraduates.
The essay should be no more than 1,000 words, excluding references and bibliography.
Full details, including essay specifications and format, can be found in the Terms and Conditions, can be found below:
Deadline
Entries should either be sent to publicengagement@rcpath.org or via post to: Public Engagement, The Royal College of Pathologists, 4th Floor, 21 Prescot Street, London, E1 8BB.
The competition closes on Monday 22 October 2018 at midnight.
2017's winner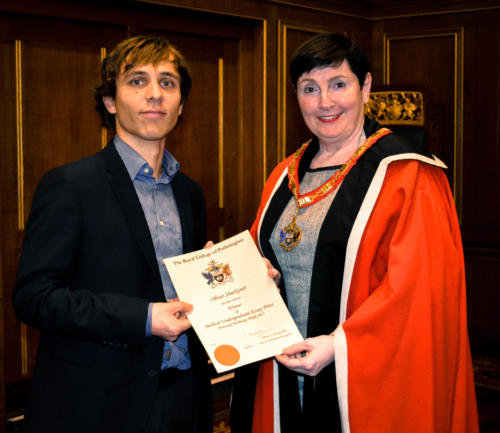 The theme for last year's essay competition was the role of IT in pathology - congratulations to winner Oliver Shutkever (Ollie), 23, sixth-year medical student.
Further congratulations to last year's runner up, Kevin Teo, from the University of Cambridge. Kevin was extremely pleased with the result, commenting that "writing the essay has been a very educational endeavour after being inspired by the speakers in RCPath's summer school in August!"
You can read both of their essays below.
The role of IT in pathology: the 2017 entries that won
Need inspiration?
Considering writing something for our competition? Explore our site and discover the myriad of topics you could take on. Keep up to date on our Facebook and Twitter page for up to date blogs about pathology.