Medical undergraduate essay competition
The deadline for the Medical Undergraduate Essay Competition has now passed. The winner will be announced during
National Pathology Week.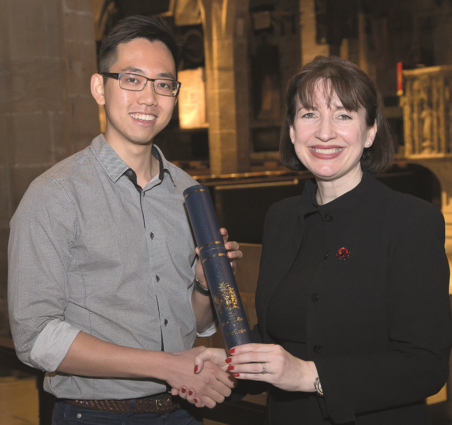 Last year's winner: Dr Suzy Lishman presenting the Undergraduate Essay Prize to Paul Tern Jie Wen 2016
Information about the 2017 Competition
If you are passionate about pathology or are an aspiring pathologist, then the medical undergraduate prize is your opportunity to demonstrate your enthusiasm.
The 2017 theme is: 'The role of IT in pathology'
We want you to think broadly about the topic, whether it's talking about digital analysis, sharing results, Big Data, machine learning, patient input, population anaylsis, or any of the other myriad of ways in which IT supports and enhances the work that pathologists do. You can give a broad view, or choose something specific and write about a particular influence that IT has on pathology. Most of all we want you to use your creativity and originality alongside the facts.
For more inspiration, browse through our 'What is Pathology?' pages of the website to discover more about the specialties.
Full details, including essay specifications and format, can be found in the Terms and Conditions.
Every essay should include the standardised front page, which can be downloaded at the bottom of this page.
Prize
A prize of £200 will be awarded to the winning entrant, as well as having their essay published on our website and in the College magazine, The Bulletin.
Inspiration from 2016's winner
The winner, Paul Tern Jie Wen, was noted for his originality. The subject last year was to discuss the impact of global travel and migration on patterns of disease. Paul created a comprehensive and succinct piece of work, and it was published in the January 2017 edition of the Bulletin. Below is an excerpt of the introduction to his piece of work.

"This essay seeks to explore the effect of global travel and migration on the epidemiology of communicable and non-communicable diseases. I argue that globalisation has increased the prevalence of certain diseases in nations and people groups that were previously sheltered from them. This has ramifications on public health, perhaps even necessitating a paradigm shift in the way that epidemiology is conceptualised'.
He concludes, 'Geographical and political boundaries are less effective barriers to disease than ever before, and it is becoming increasingly difficult to pinpoint what diseases are 'expected' or 'unexpected' in any given country.'
Deadline
The deadline for submissions is Monday 2 October 2017
Entries must be submitted to publicengagement@rcpath.org
Documents

Undergraduate Essay Prize 2017 - Terms and Conditions.docx

Undergraduate Essay Prize 2017 - Front Page.docx