Amid the backdrop of the COVID-19 pandemic, we invited adults and children to enter this year's Art of Pathology competition and interpret the theme 'Pathology: at the heart of healthcare'.
For the first time since its launch, the competition was opened to the international community. The judges had an incredibly difficult task on their hands, deciding between 74 fantastic entries. Twenty three of these were from entrants based outside the UK – from the USA, India, Pakistan, Bangladesh, Sri Lanka, Saudi Arabia and Zimbabwe. Pathology has been vital in the global COVID-19 efforts and the entries we received certainly reflected this.
Thank you to everyone who took the time to submit their artwork! We are also extremely grateful to the judges, Vice President for Communications and International, Dr Rachael Liebmann, Clinical Director of Publishing and Engagement, Dr Shubha Allard, and science-based artist, Dr Lizzie Burns.
All of the winners, runners-up and highly commended entries are displayed on our Art of Pathology competition page. The three category winners are shown here.
Over 18 category winner: The Heart of the Matter by Max Butler from Cambridge, UK (top left image)
11-17 category winner: Heroes by Johnny Ma Kwok Kit from Shropshire, UK (top right image)
Under 11 category winner: Pathology to the rescue in a sea of uncertainty by Ava Pundole from Pune, India (lower image)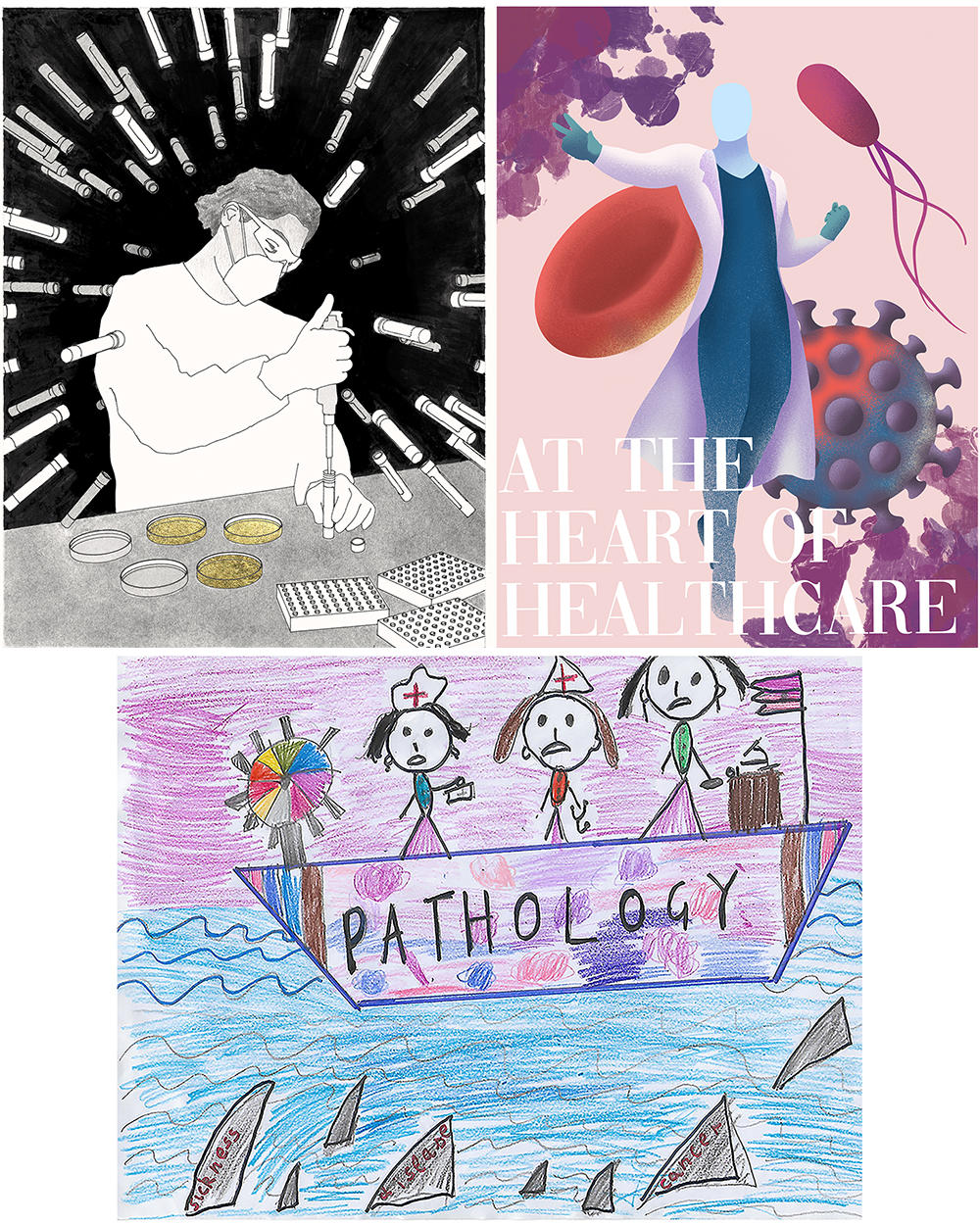 The Art of Pathology competition will reopen in Spring 2021 with a brand-new theme. In the meantime, keep flexing your creativity with our Incredible You colouring in resources and join us for National Pathology Week (2–8 November), where we'll continue to explore the theme 'Pathology: at the heart of healthcare' with origami workshops, pub quizzes and more.