Published today as part of National Pathology Week, 'Disease Detectives' is a brand new pathology-themed resource pack suitable for beaver and Cub Scouts and children aged 6 and up. Developed in partnership with Cub Scout leader and Consultant Clinical Scientist, Dr Derek McKillop FRCPath, the Disease Detectives activity pack aims to assist Cub Scout leaders to complete the Health and Science criteria of various badges.
Some of the team-based games and table-top practical activities from the pack were run with a group of 30 Cubs to mark the launch of Disease Detectives at Belfast's W5 venue on 2 November. The College's Vice-President for Communications, Dr Rachael Liebmann FRCPath, opened the event and a number of RCPath Fellows and trainees, along with some Cub Scout leaders volunteered their time to deliver the activities.
One of the Cubs who participated in the launch event said
'I learnt lots of things like how the digestive system works and how many blood cells our body makes every second. I loved it thank you!'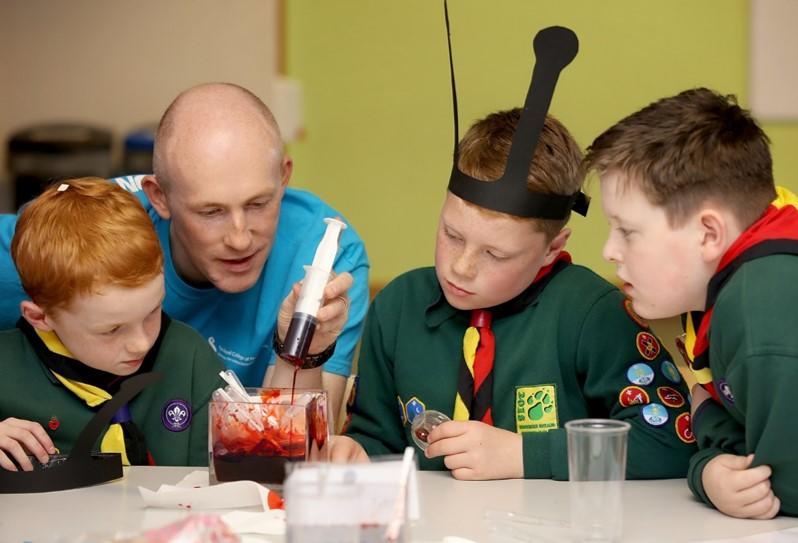 The 18 activities in Disease Detectives are all themed around the prevention, diagnosis and treatment of disease and offer a great way to introduce primary-school age children to the role of pathology and pathologists in detecting diseases and ensuring good health.
The pack contains full instructions for each activity and can also be used by teachers, parents and others who work with young people.
The Northern Ireland Scout council, who have been heavily involved in the development of Disease Detectives, said:
'The Scout Association in Northern Ireland is grateful for the opportunity to work with the Royal College of Pathologists and Health and Social Care Trusts on this exciting pilot project. It will help our young people to be more aware of pathology and the science behind the cure and how the human body works. The pack provides new and exciting activities to deliver the skills-based tasks and challenges that make up the Cub Scout programme. A big thank you to everyone concerned in developing this exciting new resource.'
The pack and all of the accompanying resources can be downloaded from a dedicated page in the College's activities and resources section.