Combining a regional clinical taster day with an event hosted at the new College building, foundation doctors were given the opportunity to find out about the role of pathologists, what the training involves and the variety of career opportunities available across the pathology specialties.
Foundation doctors were given advice about how to apply for specialty training posts, what to expect from the application process and tips for a successful interview, as well as ideas on how to pursue academic and research opportunities in pathology. They also had the chance to put the pathology specialties to the test by taking part in an interactive case study session to diagnose what was wrong with a mystery patient who had been found unconscious in a park. They were offered the opportunity to present a pathology-related poster, and given advice about the necessary steps to help arrange a pathology-related taster day at their own hospital. Congratulations to Dr Helen Bartlett for winning the £100 poster prize, provided by the Association of Clinical Pathologists.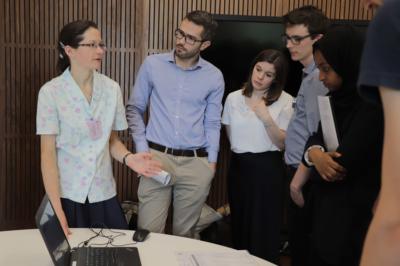 The mix of lectures, specialty break-out sessions and the chance to speak to pathology trainees and consultants about the work they do proved popular with attendees.
One Foundation Taster Day attendee said:
Fun and informative event. I would highly recommend this for anyone considering pathology as a career choice.
Another said the mystery patient case study was:
Easily one of the most exciting workshops I have ever attended!
The Hugh Platt Foundation Essay Prize was launched at the event to give foundation doctors the chance to explore how pathology makes a difference to patients. The prize has been named to commemorate Dr Hugh Platt, an RCPath Fellow who contributed a significant amount to the work of the College, and to the support of postgraduate medical training in pathology disciplines. Organised by the College Foundation Lead, Dr Angharad Davies and Trainee Advisory Committee Chair, Dr Matthew Clarke, the event was sponsored by the British Division of the International Academy of Pathology.