The College has launched Incredible You, a new colouring-in resource for all ages which reveal the surprising beauty of pathology.
Incredible You is a free to download colouring-in resource featuring a series of drawings based on real specimens, revealing the vibrant and intricate patterns of life. Developed with scientist-turned-artist, Dr Lizzie Burns, Incredible You is designed to support learning and relaxation through its intricate depictions of molecules, viruses and cells. These show the unexpected beauty of our body at a tiny scale.
The illustrations cover the 17 pathology specialties and range from the wonder of a human blastocyst developing at the start of life, to tree-like cells in our brain that allow us to learn and grow and are available at Incredible You.
Professor Jo Martin, President, The Royal College of Pathologists, said:
The biological structures that make up life are truly awe-inspiring. Starting at a molecular level, Incredible You shows life in all its complexity. Exploring the science behind our 17 pathology specialties, the illustrations open up a world that is rarely seen.

Pathology underpins every aspect of patient care, from diagnostic testing and treatment to preventing disease and cutting-edge research. We hope people will use our resources to express their creativity, de-stress, and discover more about our bodies and how they work.
Dr Lizzie Burns, creator of the illustrations said:
Working with people in hospital, I saw at first-hand how much colouring-in can be enjoyed to help combat anxiety, loneliness and boredom. Your body is amazing and I hope these images will excite curiosity, learning and delight with beautiful patterns emerging through colour. I also wanted to challenge the image of pathology; these images celebrate life.
Incredible You comprises 19 illustrations that can be downloaded at Incredible You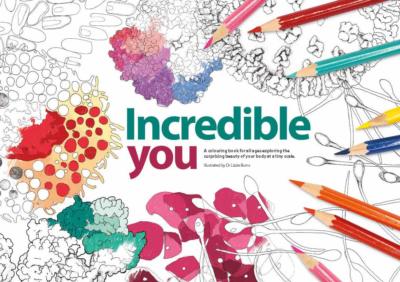 We are encouraging people of all ages to download these free resources and share their coloured-in creations on social media using #IncredibleYouArt.
Dr Lizzie Burns
Dr Lizzie Burns became a full-time science-based artist and communicator in 2002, exploring the beauty and wonder of life and how medicine helps. As well as her own artwork, Lizzie has worked on many outreach projects encouraging young people to get inspired by pathology for the Royal College of Pathologists. Lizzie also works regularly with adults in University College Hospital as a Creative Specialist within Oncology. Lizzie started the Anti-boredom Campaign to raise awareness of boredom in hospitals and encourage people to create resources to improve wellbeing by providing a much needed 'holiday for the mind'.