When it comes to National Pathology Week we are always hugely impressed by the creative and diverse events and activities our members and supporters put on to celebrate pathology. This year has been especially inspirational – the restrictions resulting from the pandemic have not prevented our busy but ever-keen members and supporters from holding innovative and engaging online and socially-distanced events.

The round-up below is a selection of event reports written by members and others who organised something for National Pathology Week 2020. While most had to adjust their usual approach, a team of biomedical scientists on the Isle of Man were able to go ahead with a public gathering thanks to the COVID-free status of their island.
'It is in your hands'
As part of National Pathology Week 2020, members of the University Hospitals Coventry and Warwickshire NHS Trust (UHCW) microbiology team were graciously hosted by the First Steps Kindergarten in Royal Leamington Spa on 2 November 2020.
Dr Sabtu (Consultant Microbiologist), accompanied by Microbiology Foundation Trainees, Dr Patel and Dr Wanderi, hosted the 'It is in Your Hands' campaign – an event that enthused 16 young pre-schoolers' minds to picture how germs transfer between contaminated hands and contaminated surfaces and vice versa, and helped them to appreciate the need for effective hand hygiene especially in this pandemic. It emphasises that the power is in one's hand to help curb this pandemic. The event posters were created by Adriana Natasha Jones, who is a 10-year old student at Telford Junior School.
Fun activities were used to keep the participants engaged including passing around glow in the dark stuffed toys to represent bacteria and viruses, to see how their hands have changed colour. Once their hands were coated in the luminous powder, a fun, catchy tune was used to help teach the children to effectively wash their hands using soap and water to eradicate the 'germs' (luminous powder). 72 hour quarantined goody bags were then handed out to each toddler.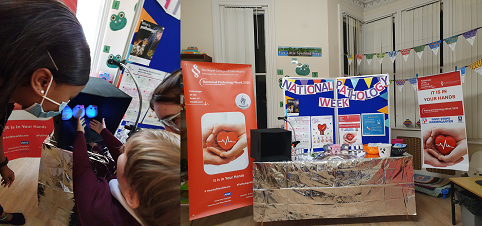 The event was a success and it was clear the children not only learnt something new, but did so while having fun using play and curiosity. One child was extremely excited to receive the goody bag from 'The Doctor' and one mother remarked that her child did not stop talking about it all night long. We are grateful to First Steps Kindergarten for allowing us to empower these young minds; that they too can play a part in curbing this pandemic. After all, it is in your hands.
Dr Nurfarah Sabtu, Consultant Medical Microbiologist, University Hospitals Coventry and Warwickshire NHS Trust.
No COVID restrictions for NPW celebrations on the Isle of Man
The IBMS Isle of Man branch celebrated National Pathology week with a series of displays and posters in Noble's Hospital foyer for patient information and staff canteen for staff engagement. On Friday 6 November there was also a cake giveaway – but it was not quite a giveaway. To get a cake or pathology goodie, staff had to answer a pathology related question.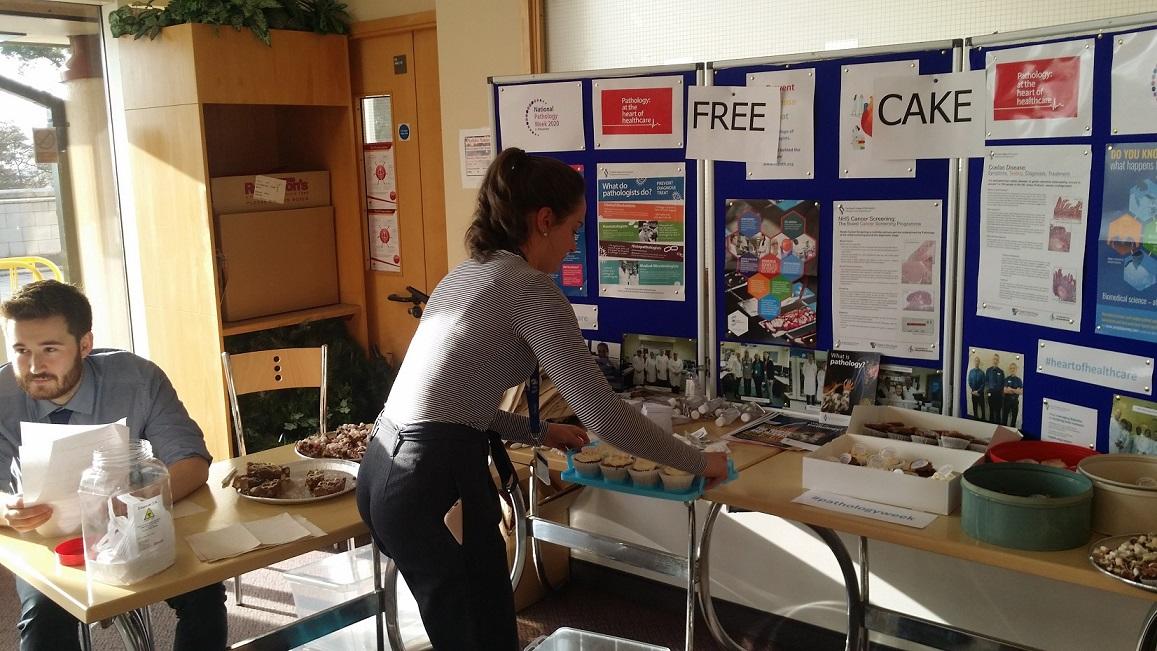 In addition to being a celebration of pathology, we highlighted the important contribution pathology makes to healthcare and raised awareness of pathology with both staff and patients.

We are fortunate on the Isle of Man as being one of the few places which is COVID-free and this has enabled us to make this a public event with no restrictions.
Charlie Houston, biomedical scientist, Noble's Hospital and IBMS Isle of Man branch
The Pathology of Coronavirus - virtual event for school students by medical undergraduates
On 4 November 2020, the Exeter Medical Leadership & Management student society in partnership with the Royal College of Pathologists put together a presentation on the pathology of coronavirus for Exeter College students studying A-level and International Baccalaureate biology. The talk was approximately 50 minutes long and we had an interactive question and answer session afterwards. There were 24 Exeter College students and four members of the Exeter Medical Leadership & Management society members in attendance.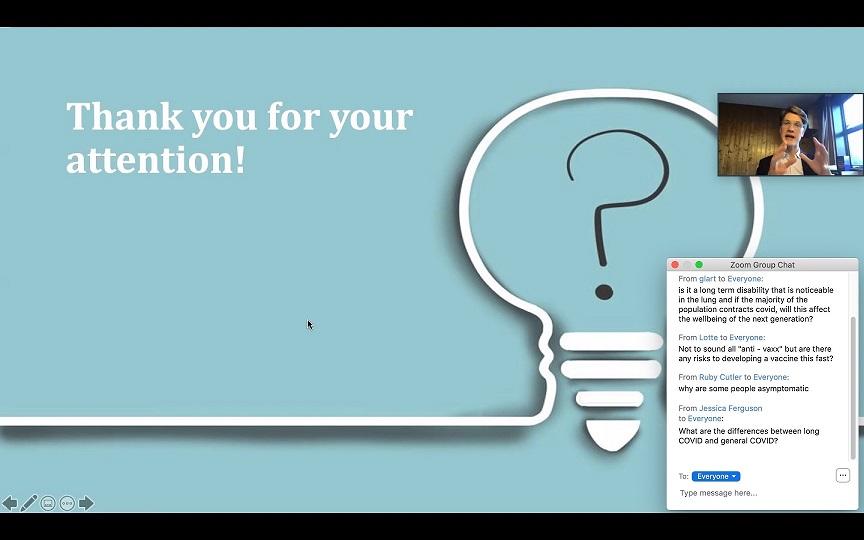 The presentation was given by Pavel Loginovic, a first year medical student at Exeter University and member of the society. Other members of the society were in attendance to answer questions on topics which came up from the presentation. The question and answer session after the presentation allowed for the students to raise concerns about different areas discussed. These included:
1) The necessity for a COVID-19 vaccine
2) Comparison of COVID-19 to previous pandemics
3) How long will we have to live with COVID?
There were also several more general questions from the college students. We believe the talk was a huge success with the students, based on the feedback we received via a short survey after the event. The biology lead of Exeter College, Susan Day, also invited us back to talk on more biology-related topics in the near future. This is something we as a society are hoping to carry out during the course of this academic year.
Joshua Feyi-Waboso, medical undergraduate, University of Exeter
Pathology poetry
National Pathology Week 2020 at University Hospital Southampton this year turned digital and distanced! Gone were the colourful stands of last year, with innovative ways to portraying blood samples from sweeties and DNA from wool, and in came enthusiastic posts to our hospital social media platform 'workplace'.
With the help of three UHS STP trainees (Clare Hughes, Hannah Davey and Elisabeth Rolf), I was able to generate a post for each week day of NPW to engage with hospital staff. Clare, Hannah and Elisabeth each produced fantastic teaching materials on pathology sample acceptance, pseudoaneurysms and histopathology staining. We also circulated and promoted the RCPath's own calendar of events and careers information and announced the winners of my novel 'Laboratory Limerick' competition on social media.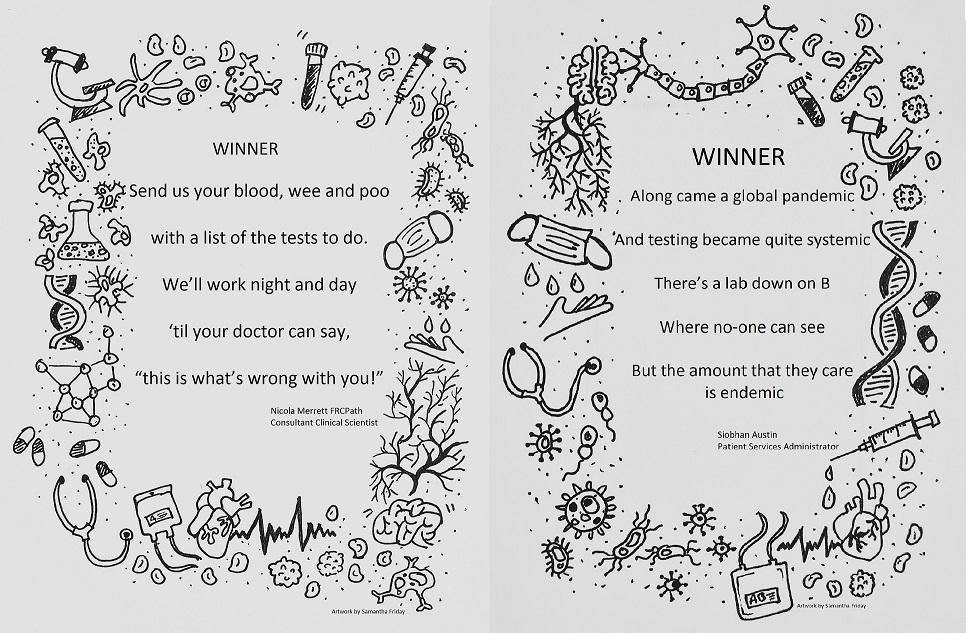 At the time of writing, two educational posts were viewed by more than 300 members of staff and the winning laboratory limericks have been viewed by 850 staff and 'liked' by the UHS Medical Director.
Despite being unable to physically come together, pathology has still been able to spark conversation and curiosity and promote our position in the trust – a successful pathology week!
Jennifer Stevens DipRCPath
Senior Clinical Scientist, University Hospital Southampton, November 2020.

Thanks to everyone who contributed these reports, and to all who participated in this year's NPW. Read about the virtual programme run by the College team here.