From online origami to virtual veterinary pathology, the digital version of National Pathology Week was enjoyed by many people around the UK and beyond. The challenge posed by COVID-19 and social distancing became opportunities to both innovate and reach more audiences.
As well as College-led online events, there were online and socially-distanced activities happening in hospitals and schools all over the UK including a virtual careers talk for sixth formers in Exeter and an online exhibition aboout digital pathology developed by RCPath Fellow Dr Samar Betmouni in collaboration with the National Science and Media Museum in Bradford. We'll be sharing more stories about the amazing ways our members and supporters celebrated National Pathology Week later this week.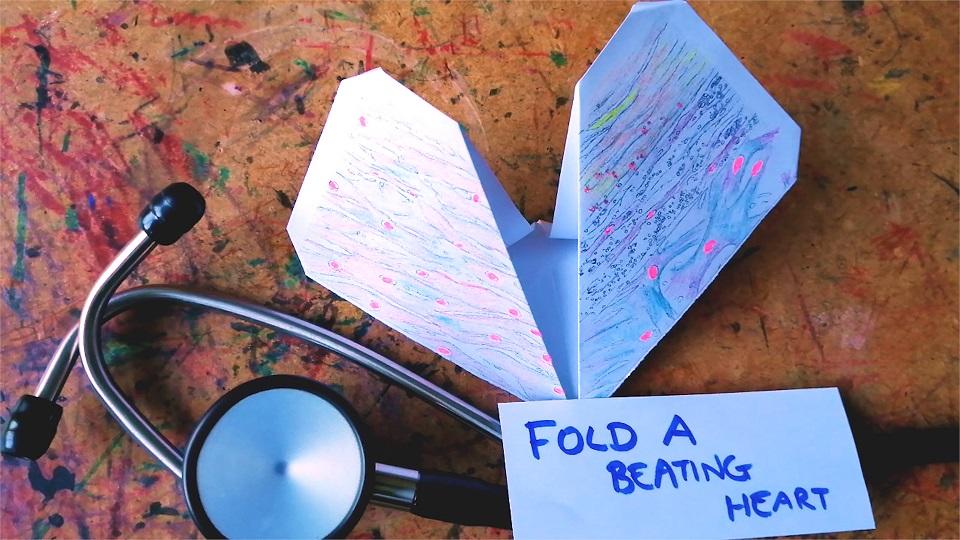 The College's NPW 2020 programme kicked off on Monday 2 November with live-streamed heart origami activities for school students with science-based artist, Dr Lizzie Burns. Lizzie has delivered a wide range of activities and events for the College and her new range of heart-health activity resources for this year's NPW are already proving extremely popular.
'It was a great way for the public to meet / see senior people within the organisation. My 15-year old daughter got her first insight into being a pathologist and this has encouraged her even more!' - attendee at NPW launch event.
The official 'launch' event for NPW 2020 took place in the evening on 2 November; 'Meet the Presidents' was a conversation-style event with both the College President, Professor Jo Martin, and the President-elect, Dr Mike Osborn. Hosted by medical microbiologist, Dr Nicola Hardman, the webinar event offered RCPath members, students, and anyone else with an interest, the chance to hear about Jo and Mikes' careers, and to ask them questions. Around 85 people attended and the feedback, collected via an anonymous survey after the event, was extremely positive. One non-member who attended commented 'It was a great way for the public to meet / see senior people within the organisation. My 15yr old daughter got her first insight into being a pathologist and this has encouraged her even more!'
'This book club introduced me to a type of book I would never have considered looking at. I found the subject of the book fascinating and the discussions very interesting. I am a member of the Lay Governance Group of the RCPath and therefore cannot claim by any measure to be a scientist and normally my books of choice are by the likes of Jane Austen and Ann Cleves - but I ordered this book as soon as the session finished!' - RCPath Book Club event attendee
The first ever 'RCPath Book Club' took place on Tuesday 3 November and featured 'The Pandemic Century'. Following a reading from the book by the author, Mark Honigsbaum, a panel of speakers discussed what they thought of the book, what we can learn from previous pandemics and the importance of pathology during pandemics. The event was hosted by healthcare scientist and science communicator Kip Heath and the panel was made up of virologist Prof. Will Irving, immunologist Dr Shuayb Elkhalifa and Financial Times journalist Anjana Ahuja. Around 70 people attended and there were lots of great questions for Mark and the panel. A recording of the event will be available soon and we hope to run more RCPath Book Club events in the future.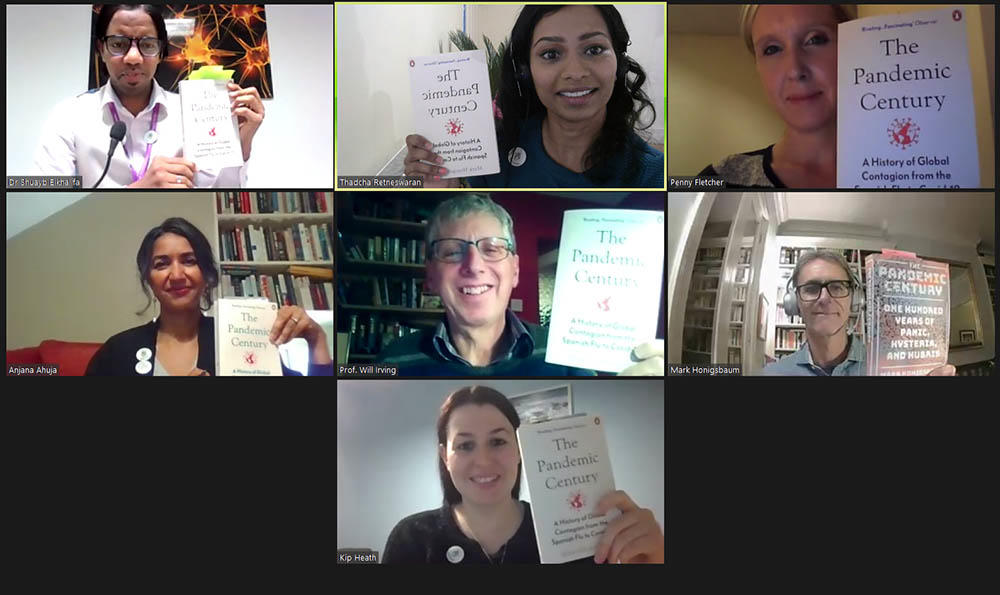 On Wednesday 4 November, school students from around the UK and beyond tuned in to see three RCPath members speaking about their careers and work in the first in a series of virtual 'Meet the Pathologists' events. Consultant haematologist Dr Guy Hannah, consultant histopathologist Dr Seth Horsu and histopathology registrar Dr John Jackson each presented a five minute interactive presentation that gave students an insight to their 'typical day' and the path they took to get to their current positions. The students, who were all aged between 13 and 18, had many fantastic questions for the three presenters after each talk, and were provided with RCPath careers materials and links to careers videos after the event.
To engage undergraduate students studying relevant courses we ran two 'Virtual Pathology Pub Quizzes' on Thursday 5 and Friday 6 November. Quiz questions were provided by RCPath Specialty Advisory Committees and by the RCPath members who were recruited as hosts.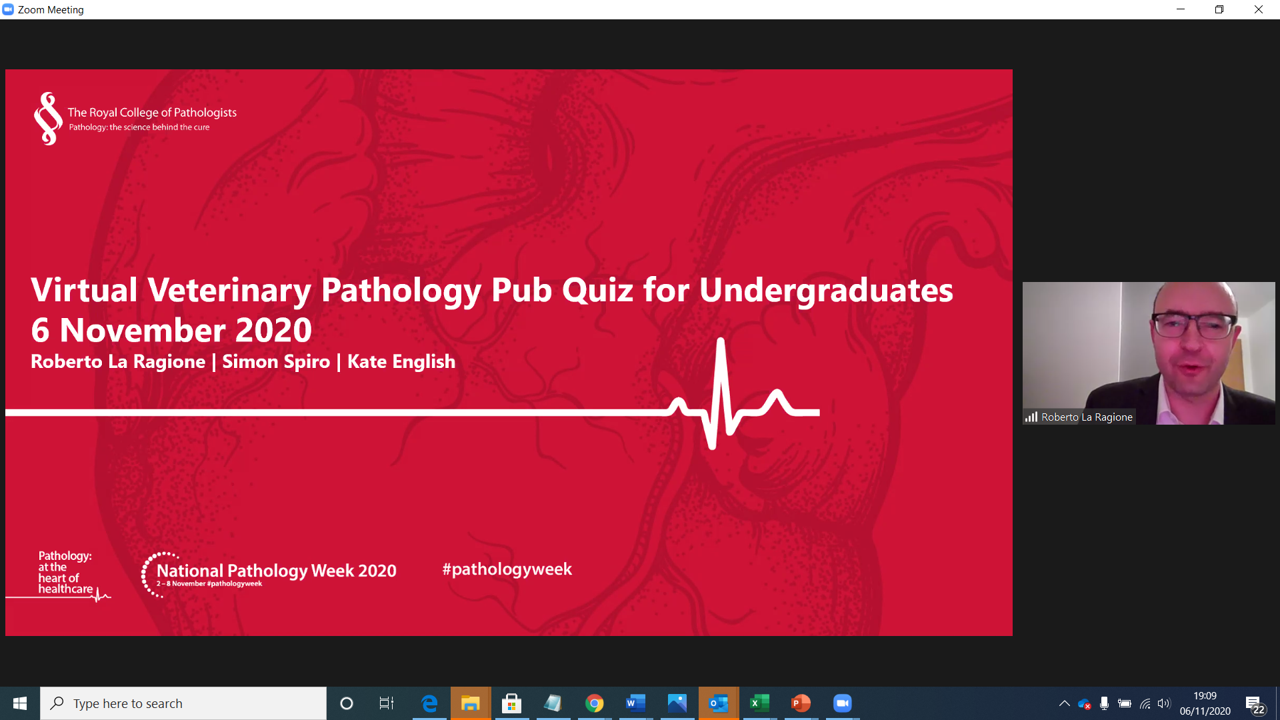 The quiz on Thursday involved around 50 medical and biomedical science students, and was hosted by two chemical pathology trainees, Dr Eamon McCarron and Dr Emma Murray, and RCPath Pathology Foundation Fellow, Dr Rishi Agrawal. And on Friday, a veterinary pathology quiz was enjoyed by around 40 veterinary science and veterinary medicine students. Hosts Professor Roberto La Ragione, Dr Simon Spiro and Dr Kate English represented the three main areas in veterinary pathology and provided a range of both thought-provoking and entertaining questions.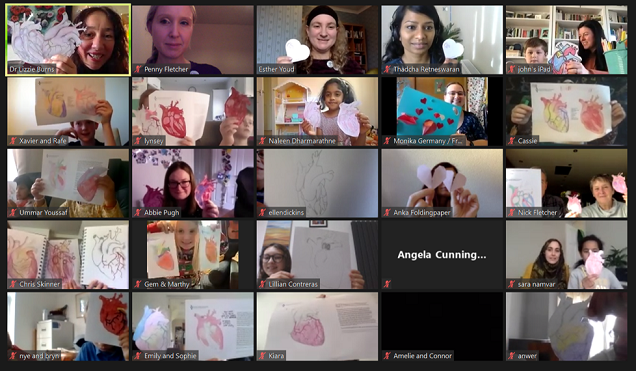 On the Saturday of National Pathology Week, Dr Lizzie Burns was joined by histopathologist Dr Esther Youd for a special heart-themed online event for families. Attendees were sent some of the heart-health resources in advance and were able to ask Dr Youd about the heart and how it works while they carried out the activities introduced by Lizzie. Many of those who joined the Zoom-based event were whole families who all took part and made their own origami 'beating heart'. We shared lots more RCPath activity resources with those who attended by email after the event, as there was lots of enthusiasm to learn more - we ran out of time to answer all of the questions attendees had for Dr Youd.
'Thank you all for this fantastic event and all the work with the workshop. It was a pleasure and great fun to take part. Thank you so much!!!' - Heart-themed art-science workshop attendee
Sunday was a day off from events for the College team, as well as a chance to look at the fantastic photos and comments shared on social media from members and supporters who had run their own NPW events. We'll be sharing our favourite entries in the Twitter-based #HeartOfHealthcare photo competition soon.
Save the date for National Pathology Week 2021: 1 - 7 November. See you next year!