Dr Matthew Clarke: A trainee's experience
Histopathology trainee Dr Matthew Clarke took a while to settle on pathology as a career. First completing a zoology degree at the University of Liverpool, he then completed medical training at Keele University Medical School. Matthew looked set to become a surgeon, having completed the Membership Examination of the Surgical Royal Colleges of Great Britain and Ireland. Yet during his Foundation Year 2 – designed to give junior doctors a broader range of experience – Matthew worked in histopathology and fell in love with the specialty.
I made a decision in my second year of Foundation training to change career paths and have not regretted it. I'm passionate about pathology and love the medical detective work and the breadth and diversity of knowledge that is required.
Histopathology training provides so many opportunities to explore different avenues of the specialty. I recently took an 'out of programme experience' opportunity, spending some time at the Institute of Cancer Research/Royal Marsden to learn about the practical and theoretical aspects of molecular pathology.
I enjoyed the experience so much that I am now working towards a PhD in the molecular pathology of childhood brain tumours. These tumours account for around a fifth of childhood cancers in the UK and are the most common solid tumour occurring in childhood.
The team I work with is undertaking research to find the genes that drive the development of tumours – the aim is to discover and develop new treatments. I find this work immensely rewarding and am gaining valuable experience as an academic as well as a doctor.
My day-to-day work is hugely varied. I spend time in the research laboratory looking after patient-derived cancer cells that we grow in flasks. This tissue is collected with the parents' consent from children who are undergoing an operation to remove the tumour. We attend theatre, collect a small sample of tissue and then bring it back to the lab to process and attempt to grow the cells. Other centres do this around the world too and so we often receive their samples as well.
I enjoyed the experience so much that I am now working towards a PhD in the molecular pathology of childhood brain tumours.
The aim is to identify the tumour and experiment on it to explore the sensitivities of the cells to different drugs. I extract and sequence DNA from tumour samples to find mutations that may have led to the cancer developing. Using my microscope, I then examine the tumours at a cellular level to see if I can identify any unique features that may link to those mutations.
The importance of this is that, once we've identified a new type of tumour, we can make sure that our colleagues in histopathology laboratories are able to recognise and diagnose it. Having a better understanding of the type of tumour a child has means their treatment can be targeted and will therefore be more effective. In some cases, being able to target the treatment leads to less toxic side effects too.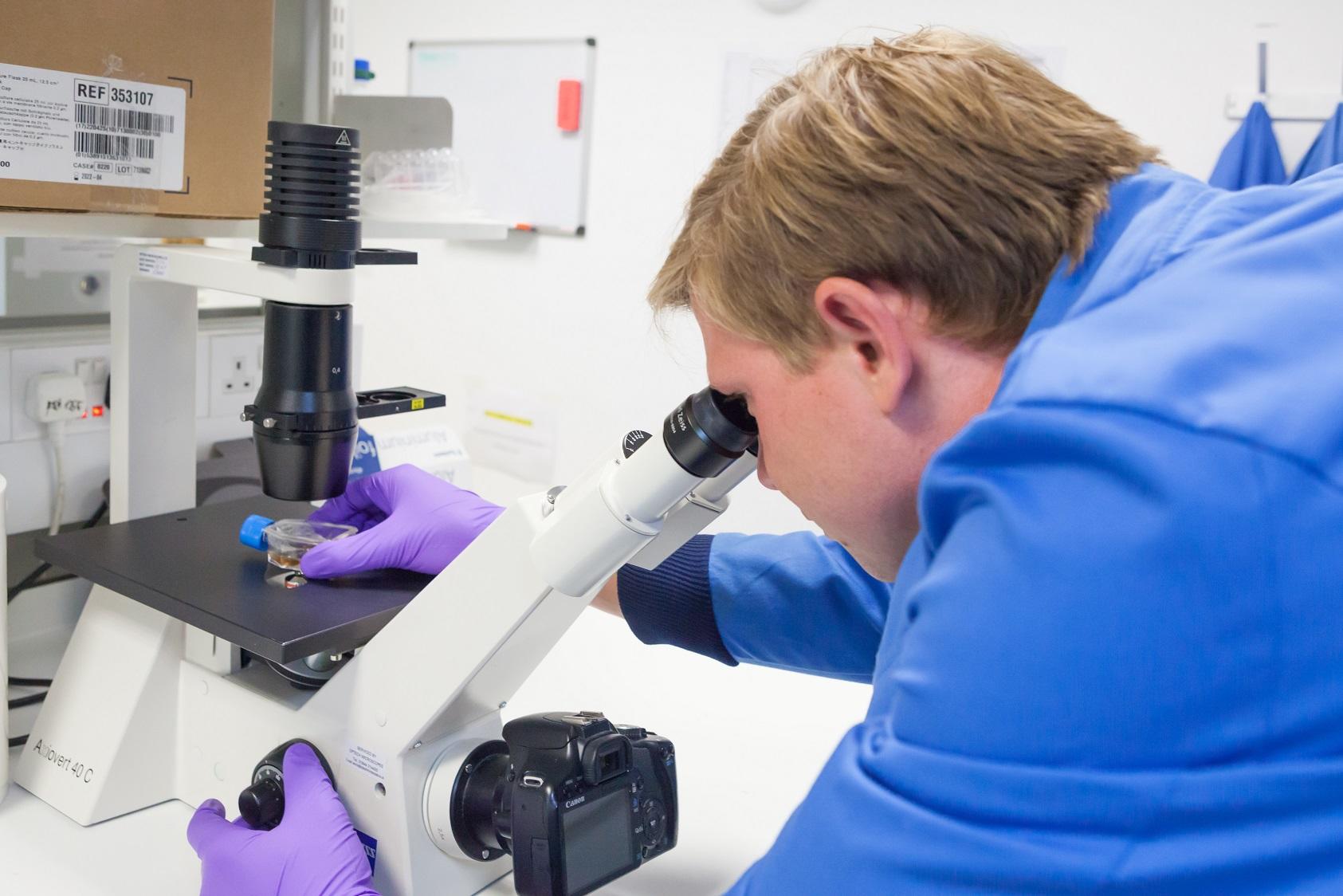 Research in this area is collaborative and in the last year I've had the opportunity to share my work internationally at conferences in Prague, Denver, Heidelberg and London. I'm grateful for fantastic support from colleagues and my supervisor, Professor Chris Jones, and am very proud to be able to showcase our work and learn from experts in the field.
My time in the laboratory is increasing my knowledge of molecular and neuropathology, and will significantly contribute to my preparation for the Part 2 Fellowship examination of the Royal College of Pathologists. I've had to develop a very wide range of practical skills to successfully complete various experiments in my project and the feedback from workplace-based assessments and regular meetings with supervisors help me to monitor my progress.
I am enthusiastic about teaching and public engagement and spend a lot of my spare time involved with these activities. I hold regular teaching slots at the multi-headed microscope where I teach colleagues the basics of histology. I frequently volunteer for public engagement activities, such as demonstrating the importance of pathology to medical undergraduates at the College's Summer School. I also take part in 'speak-easy' sessions for the Institute of Cancer Research, where we visit local pubs and talk to people about the work we do, and give talks in local schools and colleges about science and pathology.
It is an exciting time to train in histopathology. Each week we are understanding more about the biology and complexity of cancer through the analysis of the molecular components of cancer cells and their local environments.
Explore more stories from our Annual Report