The path to choosing chemical pathology
I am currently an ST4 in chemical pathology in the Scotland Deanery. Chemical pathology exists at the interface of clinical practice and laboratory medicine. Despite my specialty's relatively small size, chemical pathologists directly or indirectly contribute to the care of many patients in primary care, from hospital outpatients to nearly every patient admitted to the wards.
As medically qualified clinicians, chemical pathologists are responsible for providing clinical oversight to biochemistry laboratory services. It's a huge task. Typically, our regional laboratory in the north east of Scotland processes over 1,300 specimens of blood, urine or cerebrospinal fluid per day. Each specimen may be accompanied by multiple requests (e.g. liver function tests and C reactive protein) that generate an enormous number of individual assay results in every 24-hour period. Any of these results could fundamentally alter a patient's diagnosis and treatment decisions – ensuring accurate and timely results is an important responsibility.
Beyond laboratory management, chemical pathologists work to bridge the gap between laboratory science and patient care. The dialogue with treating clinicians can include communicating critical results and providing clinical advice. Chemical pathologists also treat patients face to face in an outpatient clinic setting and lead inpatient multidisciplinary parenteral nutrition ward rounds.
For as many years as I can remember, I have always been fascinated by the science of the human body. I had posters of my favourite metabolic pathways, rather than my favourite bands, on my bedroom walls as a teenager.
A career in laboratory medicine appealed throughout medical school and, although I had been aware of the specialty's existence, I was not fully aware of its scope until my Foundation years. I wanted to find out more, so I approached my hospital's Director of Laboratory Medicine who facilitated a small project that allowed me to spend time in the department and understand the actual work of chemical pathologists. I had the opportunity to present this completed project work at a regional clinical biochemistry conference, where I could engage with specialty trainees. It was this moment that confirmed that this was the specialty for me.
I am now in the process of completing my FRCPath examinations, establishing clinical interests in cardiovascular risk management, and pursuing academic opportunities in medical education.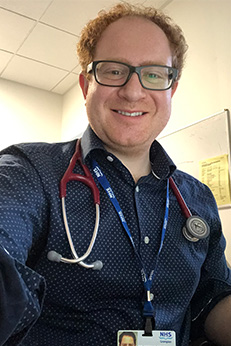 Key achievements
Advocating for chemical pathology
Chemical pathology is an absolutely fantastic career choice for doctors seeking an intellectually stimulating career; however, in common with many other pathology disciplines, my specialty has historically suffered from a visibility problem. As a current trainee, I have advocated for this specialty through contributions to the Royal College of Pathologists' Trainees' Advisory Committee, Specialty Advisory Committee and Specialty Training Committee.
Beyond this work, I am interested in raising the profile of laboratory medicine careers in the eyes of current and prospective medical students, and I have contributed to outreach and careers fairs across the UK.
I have also contributed more broadly by representing my specialty on the Association for Clinical Biochemistry and Laboratory Medicine Education, Training and Workforce Committee and the NHS Grampian Formulary Group.
Engaging learners and inspiring learning
I contribute to teaching of undergraduate and postgraduate students through my academic role at the University of Aberdeen. A key scholarship achievement for me has been the completion of my Postgraduate Certificate of Medical Education. This has given me the confidence to reach for the highest standards of educational practice in my own teaching, but has also made me reflect critically on medical education as an academic discipline. I am committed to continuing to progress as an educator and am working to develop this facet of my professional identity.
COVID-19 and team working in rapidly changing environments
The last 24 months, following the onset of COVID-19, have witnessed periods of unprecedented demand on healthcare resources; these experiences have fundamentally altered my perception of how an institution can effectively respond to unrelenting change. Within my own workplace, my colleagues' dedication and resilience has allowed our team to continue performing at the highest level despite the unpredictable nature of the challenges faced.
As part of the nationwide response to COVID-19, NHS Grampian participated in the Public Health Scotland SARS-CoV-2 seroprevalence enhanced surveillance study. The pandemic's onset coincided with a major five-month clinical laboratory refurbishment; I worked to introduce a novel laboratory protocol that would mitigate against significant impacts and would allow our continued participation in this important study. This protocol was trialled and amended, in collaboration with colleagues, to reflect changes in laboratory operations.
The availability of age- and sex-stratified sera for analysis ultimately relied on the combined expertise of a multidisciplinary team of colleagues including doctors, clinical and biomedical scientists, and biomedical support staff. In recognition of this work, our team was recognised with the NHS Grampian ORANGE Award for outstanding service. I feel incredibly proud to have been involved in this achievement.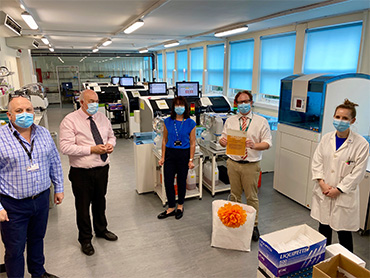 Key challenges for chemical pathologists
Pathology, and pathologists, must continue to adapt to meet the challenges of the future. With respect to my own specialty, those key challenges include when and how to test, and evolving services to address the needs of an increasingly comorbid population.
Better use of testing
The first challenge relates to better use of testing. The publication of the Getting It Right First Time (GIRFT) Programme National Specialty Report highlights the importance of addressing this challenge effectively. While the report focuses on England, its recommendations are broadly applicable to pathology services across the entire UK. Chemical pathology can address this challenge by using expertise to guide appropriate testing protocols before specimens reach the laboratory and minimise unnecessary testing.
Point-of-care testing
The second challenge is to navigate the recent exponential growth in point-of-care testing (PoCT) technologies. Undoubtedly, there are significant advantages to be realised by appropriately using PoCT, not least of which is helping close the gap between the patient, their treating clinician and the diagnostic laboratory. Nevertheless, there are also attendant risks that the wrong tests, perhaps incorrectly performed, analysed or interpreted, could potentially lead to serious harm.
Chemical pathologists are in the unrivalled position to spearhead the safe implementation of biochemical PoCT technologies over the coming years.
The changing needs of the population
The third challenge is to address the needs of an increasingly comorbid population. A typical patient will now be subject to more testing and at more frequent intervals. Inevitably, this means an increase in healthcare costs (including employing the skilled personnel needed to operate an effective diagnostic service). Chemical pathologists have an increasingly important role to play in advocating for the specialty, ensuring that it is adequately resourced to address unprecedented demands.
Promoting pathology careers to trainees
I would highlight the distinct advantages to a career in pathology. There are so many, but I would focus on three specific aspects.
First, the particularly rich training experience that pathology can offer. Training aims to develop the attitudes, behaviours and skills to become proficient in laboratory leadership and management, in addition to building the competencies needed to deliver excellent clinical care. The mix of learning opportunities helps keeps training varied and offers scope to develop your own interests.
Second, securing and sustaining a healthy place to work. Even prior to the start of the COVID-19 pandemic, trainees have told me that they were increasingly concerned about the impact of their work on their physical and mental health. The Royal College of Pathologists has been responsive and is committed to ensuring that pathology's most valuable resources – its people – are valued.
I have been determined to make my own contribution to ensuring important issues are brought to the fore in my own workplace, and was recently appointed as my department's inaugural Equality, Diversity and Inclusion Champion.
Third, the singular satisfaction from understanding the continuum of care (e.g. assessing a patient, collecting a specimen for analysis, undertaking analytical processes and interpreting results, communicating results back to the patient, and discussing the next steps). This is a unique selling point and is common to many pathology disciplines. Pathologists are privileged to understand those parts of the journey that other clinicians will not see.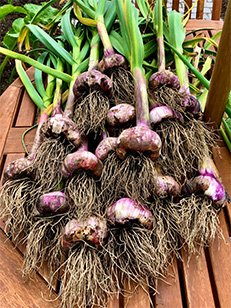 Maintaining a work–life balance
My advice is to find something you are truly passionate about (outside of work) and try to do this as often as you can! My passion is growing fruit and vegetables, and I would highly recommend it. But try to love what you do in both work and in life. My husband tells people that if I was not in training to be a chemical pathologist, then I would definitely be a plant pathologist.