Dr Kathryn Griffin is an academic clinical lecturer in histopathology who is passionate about improving clinical and academic training to meet the needs of trainees. In this profile, she details her slightly convoluted path into academic pathology and highlights the importance of mentorship at all levels.
My journey into academic pathology
I grew up in Beverley, which is a small market town in East Yorkshire, and was inspired to pursue science A levels by female science teachers at school (Mmes Kitching, Ribee and Toes!). I then studied medicine at St John's College, Cambridge, which included spending my third year at the Massachusetts Institute of Technology (MIT; Boston).
I was one of the first medics to take part in the Cambridge–MIT exchange scheme and this provided my first exposure to clinical research. During my time there, I carried out a student project (based at Massachusetts General Hospital) as part of a research team investigating the endocrine effects of anorexia.
My Foundation training, which I completed at Addenbrookes, Hinchingbrooke and Papworth in East Anglia, had a very surgical focus. During my training, I wrote a paper about the management of the 'pink pulseless hand' and really caught the academic bug. It was an inspirational registrar that encouraged me to consider this path despite having not undertaken an Academic Foundation Programme (AFP) position and having to battle my very real imposter syndrome!
I was then an academic clinical fellow (ACF) in vascular surgery before taking time out to undertake a British Heart Foundation-funded PhD investigating the pathophysiology of abdominal aortic aneurysms. During this period of out-of programme research, I decided to switch clinical specialty to histopathology and was ultimately appointed to an ACF post, which I completed during ST1 and ST2 training. Only a few trainees nationally have held more than one ACF post and I consider myself very lucky that both Professor Quirke (the lead of our local integrated training programme), and the National Institute for Health Research (NIHR) supported me to do this as I could continue with my academic work while embarking on a new specialty.
In 2019, I was appointed as an NIHR-funded academic clinical lecturer (CL) in histopathology in Leeds, working across the Leeds Institute of Medical Research (LIMR) and Leeds Institute of Cardiovascular and Metabolic Medicine (LICAMM). I am hoping to undertake my Certificate of Completion of Training (CCT) in 2023 and to continue in a role that combines my academic and clinical career interests.
Key achievements
Representing and mentoring trainees
From a personal point of view, my greatest achievement is my family: my husband and my three children (now 8, 6 and 4). Completing a PhD and passing exams while having a young family is not an easy task and it requires support from those around you, not just at home but in the workplace. This is why I am so passionate about mentoring and improving clinical and academic training through my previous roles in training and education on behalf of the Pathological Society, as the West Yorkshire Clinical Academic Trainees representative, and as a trainee representative on the RCPath Trainees' Advisory Committee.
I currently act as a mentor to the Leeds undergraduate PERKS society and contribute to the INSPIRE programme to encourage and support undergraduates in research. I also helped establish the Pathological Society trainee mentoring scheme and the 'Golden microscope' trainer award, which aims to highlight excellence in histopathology training.
As trainee co-lead for the autopsy teaching programme at Leeds Teaching Hospitals Trust, I established an annual introductory day for our ST1 cohort with my colleague Dr Hawrot. This introduces trainees to the theoretical, practical, legal and ethical issues surrounding autopsy practice. We also run a monthly teaching programme to encourage trainees to continue with autopsy training and help them in their Certificate of Higher Autopsy Training (CHAT) exam preparation.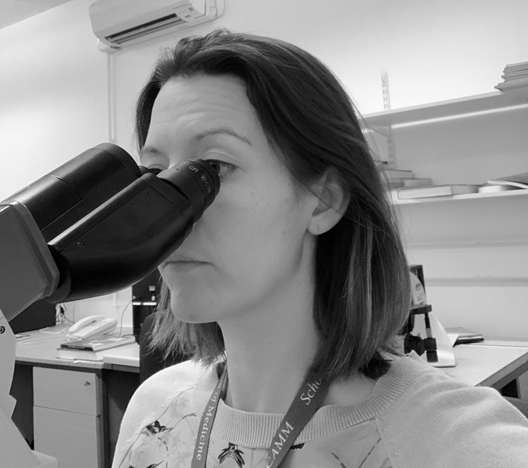 Improving patient outcomes through research
I really enjoy the day-to-day variety that an academic job offers; no two days are the same and I am constantly inspired by people I work with. With my university hat on, I am involved in both the design and delivery of the medical student undergraduate curriculum in Leeds, and I am the assessment lead for Year 2 of the MBChB. I also teach on the cardiovascular strand and provide tutoring to MRes students and supervision to a number of PhD students.
Supporting these students through the pandemic has been particularly challenging and the significant impact that COVID has had on research and academia is still far from understood.
Through my research, I have contributed to over 30 PubMed citable journal articles, including work in arteriosclerosis, thrombosis and vascular biology (ATVB) and circulation research, and have presented my work both nationally and internationally. I love to travel and, pre-COVID, this was a definite bonus of my integrated training pathway with NIHR providing additional study leave support to allow me to attend conferences and meetings.
I feel very fortunate to have had the opportunity to collaborate with some amazing researchers, pathologists and clinicians as part of the various projects I have been involved in. I have worked with vascular surgeons, cardiologists, rheumatologists and, most crucially, their patients, which helps to inform my research questions and its direction.
My research currently focuses on the use of novel 3D imaging techniques for the investigation of vascular networks in health and disease as well as investigating pericyte dysfunction in the context of diabetes and obesity. My previous vascular surgery experience and my current autopsy practice means that I have seen, first-hand, the morbidity and mortality associated with these conditions. Now, by combining my histopathology and research skills, and in collaboration with my basic science colleagues, I hope that we can continue to advance knowledge about the cellular and molecular basis of diabetes and obesity as well as their tissue-specific effects. The impact of obesity is far-reaching, with consistent literature showing an increased risk of multiple cancer types as well as the traditional cardiovascular complications. With studies predicting that by 2030, over 70% of UK adults will be obese, it is something which will ultimately affect all pathologists, in whatever field they work.
Highlighting the role of pathology
Through my research activities, I have been lucky enough to engage with patient initiatives to develop my projects and with public education events to help explain the role of pathology in healthcare. I think it is easy to forget the impact that pathology, and pathologists, can have and I think that, as a profession, we could be better at emphasising our contributions and our specialist expertise.
One particular highlight has been a collaboration with Professor Mary Sheppard (an expert cardiovascular pathologist) and her team at St George's Medical School. We plan to use lightsheet microscopy to help study myocardial innervation in inherited cardiomyopathies and so I spent some time learning about the referrals they receive from around the UK and the work they have produced from their unique database. Professor Sheppard embodies the impact that pathologists can have on patients and their families and the Cardiac Risk in the Young-funded UK cardiac pathology centre is a remarkable achievement.
Future challenges for trainees
Specifically thinking about the needs of academic trainees and the challenges they face, one of the biggest is trying to balance clinical work (specifically preparation for exams) and research activity. This is especially hard at the lecturer stage when one is trying to establish research independence and build a group. Achieving this balance requires educational supervisors and training programme directors who are cognisant of the challenges and a flexible, individualised approach to training as well as mentorship.
I think that external research funding in the post-COVID climate is unpredictable and will likely represent a key challenge in the future. Charities like the British Heart Foundation, which has funded my research, were severely hit by the pandemic and research output has been stalled in many cases by illness, lockdowns and even redeployment.
I believe that universities and research organisations have a responsibility to support early-career researchers who are at this vulnerable stage in their trajectory, otherwise we risk losing a generation of clinical academics.
Personally I feel that it is important that we continue to harness the established benefits of face-to-face training and meetings, while still reaping the advantages of virtual working. I think it is increasingly challenging to justify in-person activity in the Zoom era when more people are working from home and as climate change demands that we travel less but I have benefitted enormously from networking and mentorship which just wouldn't have happened online... digital pathology is likely to be some (but not all) of the solution!
And finally, molecular pathology is advancing at a rate that feels increasingly rapid. It can seem like a constant challenge to keep up to date in such a fast-evolving field and I think trainees need integrated molecular training at every stage of the curriculum to ensure that we are not left behind.
We shouldn't be scared of these advances but instead need to understand and embrace them in order to provide the best care for patients in the future.
Inspiring trainees: mentorship and exposure
I am a strong advocate of mentorship for all, and this includes myself! I have a mentoring partnership through the Academy of Medical Sciences, which helps me to make key decisions about my career pathway and how it fits with my young family. I would urge all trainees to find a mentor (or several) that will not only support you, but also challenge you to be the best that you can be.
Mentors aside, I truly believe that trainees struggle to become what they cannot see. This is why it is so important that medical students are exposed to pathologists from early on in their curriculum. How can we hope to recruit the best students when they have already been enticed into other fields? Recent past Presidents of the College, Dr Suzy Lishman and Professor Jo Martin, have done so much to increase the exposure of our specialty but I still think we could go further, especially in our universities.
Finally, I think it is our collective duty to dispel some of the negative stereotypes that still pervade our specialty and which I encountered first-hand when switching from surgery. I aim to be approachable so that trainees feel comfortable talking to me and asking for advice. I also hope that my love for pathology is obvious and inspiring to other trainees.
Maintaining a work−life balance
I think that maintaining a work–life balance is still one of the things I struggle with the most and I have needed to accept that, for me, being in balance is not the same as work and life being equal. Sometimes work has to take priority, for example in the run-up to exams or a big grant proposal, and sometimes life does. In my opinion, it is often not the imbalance itself but the feeling of lack of control about that imbalance that is the bigger and more stressful issue.
Final thoughts
The academic track offers a career that is full of variety and new opportunities which I would never have had the chance to encounter without undertaking a PhD. If you're even half-thinking about a career in academic pathology, then I would urge you to give it a try and see if it is the right fit for you… I'm always on Twitter and am happy to be contacted by anyone who wants more information about this path that I find both enjoyable and challenging in equal measure!