Supporting our colleagues in Ukraine
The news dominating everyone's minds now is the terrible situation in Ukraine. I know many of you are keen to help if you can and members have been contacting the College to ask what they can do. The College has been liaising with our members, colleagues and representatives from Ukraine to try to help in the most appropriate ways we can. We are working closely with other royal colleges and the Academy of Medical Royal Colleges to provide help and support. For example, we are looking at how we can support doctors fleeing Ukraine who want to settle in the UK.
We have formal links with Ukraine via our Ukraine Country Advisors, and a long-standing memorandum of understanding with Shupyk National Medical Academy of Postgraduate Education. We have been in close touch with our country advisors and the International team has put together detailed information for them to share with Ukrainian doctors seeking refuge in the UK.
This includes details of the Refugee Scheme (UK), which we launched last year and allows free membership of the College and use of all associated resources. We recommend that all refugee pathologists in the UK contact the International team at the College regarding our scheme and a full list of support offered can be found on our website. We are also signposting Ukrainian doctors to the BMA's refugee scheme, which provides assistance and support to all refugee/asylum doctors.
The College is able to collect and store documents and information for registration purposes for safekeeping. If there are any Ukrainian nationals who would like the College to provide assistance with this, they should contact the International team. Further information on how to keep primary medical qualification documentation safe using the Electronic Portfolio of International Credentials (ECFMG/EPIC) can be found here.
We are liaising with government bodies covering all four of our nations (although many are working across the whole UK on this) to offer our expertise, advice and help when appropriate. Donations of actual equipment and supplies are coordinated by the UK government who also organise the logistics around transport. They have been responding to requests from the Ukrainian Government and, as yet, the College has not been asked to help.
Following discussions with government organisations and medical experts on disaster relief and medical aid to war zones, we have been advised that the best way for members to help is by donating to the Disaster Emergency Committee appeal. I will keep you informed if we are asked to contribute anything more specific.
As a show of unity, and in conjunction with other royal colleges, we lit the College building in yellow and blue – the colours of the Ukraine flag. We also published our own statement and supported the Academy of Medical Royal Colleges' statement.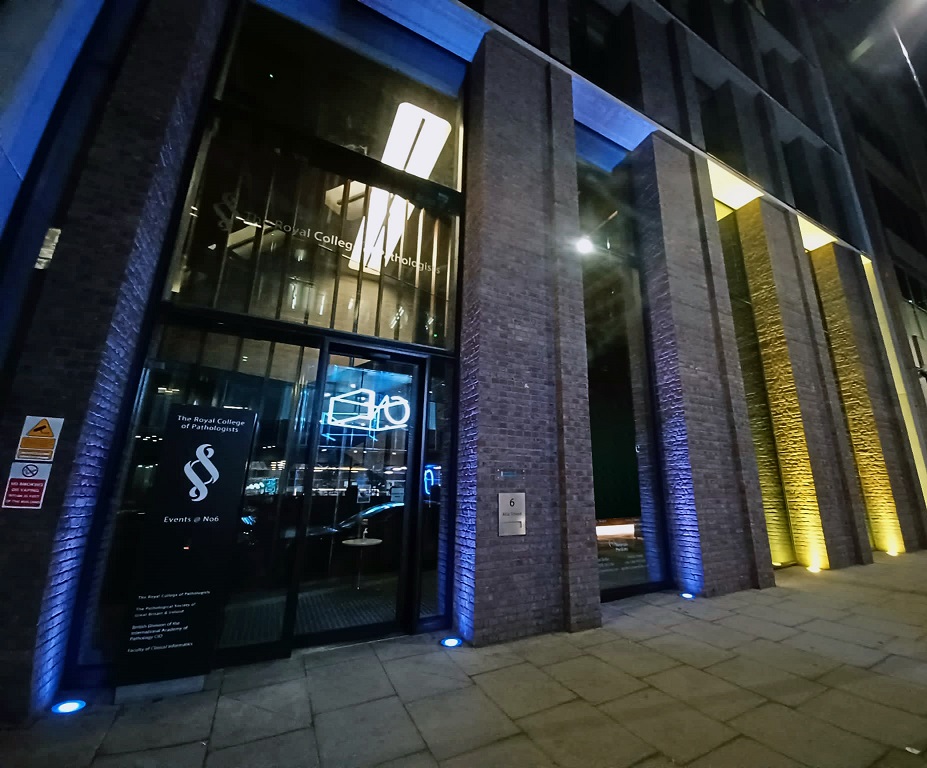 Northern Ireland election priorities for pathology
In May, the people of Northern Ireland will elect their representatives to the Northern Ireland Assembly. A new government will take responsibility for a range of devolved areas, including health services. The College's Regional Council for Northern Ireland, with Dr Gareth McKeeman as Chair, is publishing a set of priorities for pathology that we will be putting forward to the new government. We are aware that the Department of Health for Northern Ireland is proceeding with a portfolio of pathology service transformation. This is to ensure that Health and Social Care has the capacity to address the challenges faced and fully embrace future development opportunities to support even better diagnostic outcomes for patients in the years ahead. Suitable investment in the pathology workforce must be a key objective for this so that significant patient benefits can be achieved. Thank you to Gareth and the whole Northern Ireland Council for your hard work on this. We look forward to working closely with the new government to prioritise pathology and facilitate high-quality patient care.
Road to recovery plan
Along with other medical royal college leaders, I was invited by Sajid Javid to attend the launch of his 'Road to Recovery' plan for the NHS in England. While the aims, tone and content of the plan are admirable, it is very scant on the detail of how the aspirations are to be delivered, particularly given the extreme pressures the NHS is currently under. We will have to wait and see the specifics around the delivery of these aims, but I look forward to working closely with the Secretary of State and his team.
Workforce issues and Bill amendments
I recently met Jeremy Hunt MP, former Secretary of State for Health and now Chair of the Health and Social Care Select Committee, to discuss workforce issues in healthcare and specifically in pathology. As one of his particular areas of interest, he was keen to hear the pathology perspective on this topic. We discussed areas where a lack of resources and staff were becoming even more significant and were at risk of derailing any expansion of services that the government or stakeholders might desire. It was a very useful meeting, and we will be working together to try to address the issues we discussed.
Given this recent discussion with Jeremy Hunt, we were delighted that a revised workforce planning amendment to the Health and Care Bill was passed a second time in the House of Lords – 187 Content to 151 Not Content. The Bill will now go back to the Commons for MPs to either approve or reject the Lords' amendments. We are working hard, along with the other organisations in a group of over 100, to ensure that the government and MPs know that there is a huge amount of support for the workforce amendment when it comes to them for a vote. A letter has gone to the Prime Minister highlighting that the pandemic has reinforced what we've long known: the NHS and social care need more staff. I will keep you posted as to developments.
I recently met with Tom Randall, MP for Gedling in Nottinghamshire, and a former member of staff at the College. We discussed many issues affecting the delivery of high-quality patient care, focusing on pathology. Again, workforce issues dominated the discussion, and we will be working with Tom to highlight this and other issues.
Linked to much of the College's work to highlight the issues hampering the efficient delivery of pathology services, we were pleased to see the House of Commons Committee of Public Accounts report on NHS backlogs and waiting times in England. The report featured evidence on pre-pandemic pathology workforce shortages from the College. We welcome the committee's recommendations for an assessment of the number of staff that will be available to deal with the backlog and how staff who have been working under intense and consistent pressure will be supported.
The Health and Social Care committee expert panel on cancer services also used a large amount of our evidence on cancer services and workforce in their evaluation report. Particular areas highlighted included concerns that certain specialties do not have enough staff in post to meet patient demand and that there have been workforce shortages for some time. Now more than ever, it is vital that services are sufficiently funded and supported. The evaluation also reflected our concerns about how the new Cancer Diagnostic Centres across England would be staffed, and how the capacity of the workforce would expand to match the ­investment in diagnostic pathways.
Institute of Biomedical Science Congress
In mid-March, I was welcomed as a guest to the Institute of Biomedical Science (IBMS) Congress in Birmingham. This was a huge and fantastic event highlighting the work of our biomedical scientist colleagues. There was a large industry show there, showcasing the exciting developments in technology that I am sure will be helpful to us in the future. The high point for me was seeing point-of-care testing for sepsis that could subtype the underlying cause and, thus, inform treatment very rapidly. Other equipment on show promises to streamline many of our laboratory practices, helping to alleviate our current workforce issues and allowing us all to focus on the areas of our roles less amenable to automation.
While at the congress I had several meetings with Lord Bethell, a former health minister, who has an interest in diagnostics and pathology. We had useful discussions around the challenges of service provision and the increasing demands faced by pathology and pathologists. Lord Bethell was keen to raise these with colleagues and to work with us to highlight and try to resolve these issues in the future.
Support for our specialties
The College has been active in more specialty-specific areas. For example, we responded to the All Party Parliamentary Group (APPG) for Allergy and the National Allergy Strategy Group report – Meeting the Challenges of the National Allergy Crisis. We welcome the call for urgent improvement in UK allergy services and support workforce expansion, but this should not come at the expense of clinical immunology and laboratory immunology services, which also require support and expansion. You can read our full response on the College website.
Following this, we met Carla Jones, CEO of Allergy UK, who is keen to work more closely with us in the future. We hope to work collaboratively with the National Allergy Strategy Group and will be including them in one of the Immunology Specialty Advisory Group meetings in the future. By working more closely with all the parties involved, we hope to help provide high-quality allergy and immunology services going forward.
We are pleased that the government has announced a £200 million investment to revamp the Animal and Plant Health Agency laboratories in Weybridge. This investment and redevelopment will help our veterinary colleagues tackle zoonotic diseases such as avian influenza and bovine TB.
Lobbying on behalf of our members and pathology
While lobbying for resources and support to help you provide the best pathology services possible is a core activity for the College, we are also very active in other areas that might affect your working life. Over the last 18 months or so there has been a very significant review of the National Clinical Excellence Awards. The College, with the Academy and other medical royal colleges, contributed significantly to the consultation related to this review and have worked very hard to highlight the views of members around this topic. I appreciate that many members are not eligible to submit applications for these awards, but for many others, they are a very significant area of interest.
Following the review, there have been some radical changes to nominations for these awards and these have been published recently. They include a change to the name – they will now be known as the 'Clinical Impact Awards'. Despite the review and the loud and repeated requests by us and other colleges, unfortunately clinical scientists and pathologists in Northern Ireland and Scotland are still unable to apply for these awards. This is extremely disappointing. The College has been informed that there will be a round of national awards in 2022 and that it will continue to be a recognised National Nominating Body. However, as part of the changes following the review, ACCEA (the body that runs the scheme for the government) has greatly reduced the number of members the College can nominate in 2022. In addition, many pathology specialist societies will no longer be able to nominate their members, and this is another great disappointment. Owing to these changes, competition for College support for these awards is likely to be extremely high. If you want to find out more, please visit the Advisory Committee on Clin-ical Excellence /Impact Awards (ACCE/IA) website.
Join us for the Diamond Jubilee celebrations
As you know, this year we celebrate 60 years of the College with a range of events taking place across our four nations. There is an interactive map on our website showing what is happening near you and when, so please do think about taking part. Some of you will have just finished participating in our virtual events, including walking/running from Dublin to Londonderry or around the Pembrokeshire Coastline or cycling from Land's End to John O'Groats. If you are one of those, well done.
While I was at the IBMS Congress, I had the privilege of meeting Professor Sir Jonathan Van-Tam, the highly respected former Deputy Chief Medical Officer for England, who is very well known to many of us from the regular COVID briefings he gave during the worst parts of the pandemic. Professor Van-Tam will be giving the 2022 Foundation Lecture at the College's open day on 21 June, and more details on our plans for the open day will be released soon.
We are pleased to launch the RCPath Pet Portrait Competition and you can visit our competition page for more information. There are pet hampers for the winners, so be sure to look out for that.
It's been a busy three months and, as always, we are working hard to support you in your working lives. I hope you have a good spring and I look forward to helping judge the entries in the online pet competition.