In this article, Paul Cross introduces the field and discusses the significant developments in cytology, the challenges that cytopathologists face and highlights what the future has to hold.
"I will always remember a respiratory physician in a multidisciplinary team referring to cytology as one of the dark arts. I was amused at the time, thinking the term was some sort of compliment as it implied magic and a special talent. But, on reflection, I realise that this is how many cellular pathology trainees and some consultants also regard cytology. Why?" – Dr Diane Hemming
Background to cytology
1962 – the year the College formed.1 It was the year the Beatles released their first single, the year the polio vaccine was first devised and the year that the two superpowers of the USA and Soviet Union faced off over Cuba while the world stood on the edge of nuclear war. Very few of us now can recall that year or were necessarily even alive. And now, 60 years on, the Royal College of Pathologists is about to celebrate its Diamond Jubilee. Much has changed, but in other ways things have not. How has cytopathology changed over this time?
In 1962, cytology was part of the overall discipline of histopathology, largely as it is today. It was often separate from the main histopathology department and hence the two seldom met. There were enthusiasts but, on the whole, it was an add-on to the cellular pathology discipline where cytology consisted largely of fluids and sputum samples. It was purely morphologically based and relied on good observational and interpretative skills. This is still the basis of good cytology today.
"When I first started training and was faced with a cytology specimen I just did not know where to begin. They don't have the same underlying architecture as a histology specimen to provide some sort of starting point. As I gained experience and started to get my eye into looking at a specimen, what amazed me about cytology was the fact you are able to come to a diagnosis with such a small amount of material and sometimes this material may be obtained by less invasive means than required for an equivalent histological specimen, which can be particularly useful for patients who are very frail and may not be fit for more invasive investigations." – Dr Caroline Russell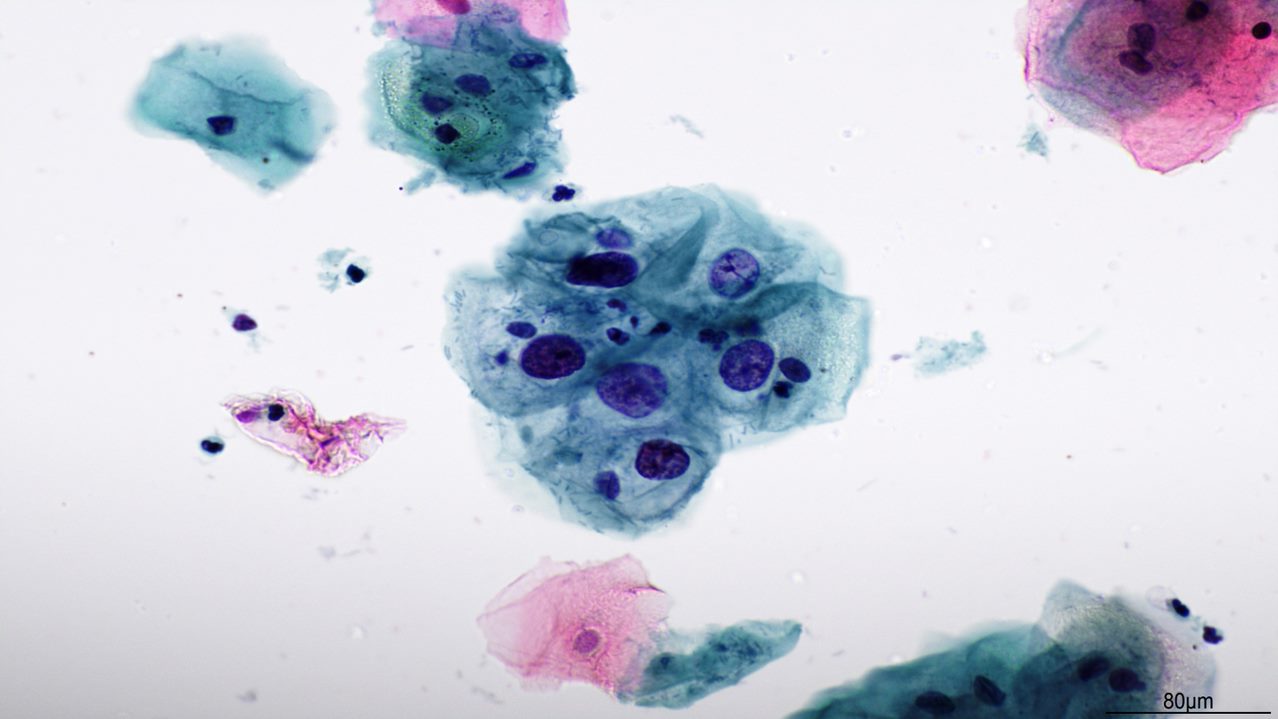 It was purely morphologically based and relied on good observational and interpretative skills. This is still the basis of good cytology today.
Historical approach to training
The ability to observe what is seen down the microscope, interpret the features seen and use this interpretation to arrive at a diagnosis has never changed. It is a core skill of cellular pathologists. Ancillary testing on cytology was a thing of the future. However, for many years and largely until the late 1980s, cytology was perceived by the majority of histopathologists as a dark art and was poorly used or taught. Cytology teaching was often done begrudgingly and invariably with the sole aim of passing the FRCPath Part 2 examination. Many candidates would do a two-week stint of looking at cytology sets pre-exam and expect to pass. Even I can recall being told in my own exam that cytology wasn't that important and that it was the surgical cases that really mattered.
"Cervical screening has always been about more than just looking at cells down a microscope – the professionalism of pathologists and others led to the enthusiastic adoption of a new technology, HPV primary screening, to improve cancer prevention." – Dr Karin Denton
Developments in cytology
Cervical cytology
In many departments, cytology consisted of some diagnostic cytology (as we would call it now) but largely of cervical cytology. Following an unexpected upsurge in cervical cancer and its precursors in young women, the inadequacy of cytology training (medical and non-medical) and quality control was revealed, along with the poor uptake of cytological screening. Much was achieved by Sir JA Muir Gray and his National Coordinating Network for Cervical Screening, set up in 1985 – focusing on quality control of all aspects of the programme – and strongly supported by the British Society for Clinical Cytology (BSCC). Cervical screening is now well known to prevent around 2,000 cervical cancers per year in the UK.2
The introduction of an organised cervical screening programme (CSP) in 1988 brought about a huge increase in cervical cytology for reporting and, despite many recommendations and initiatives, many pathology departments were ill-prepared, or must not have been listening. This reached a crisis point with increasing back-logs. Although this was improving in the 1990s, something had to be done.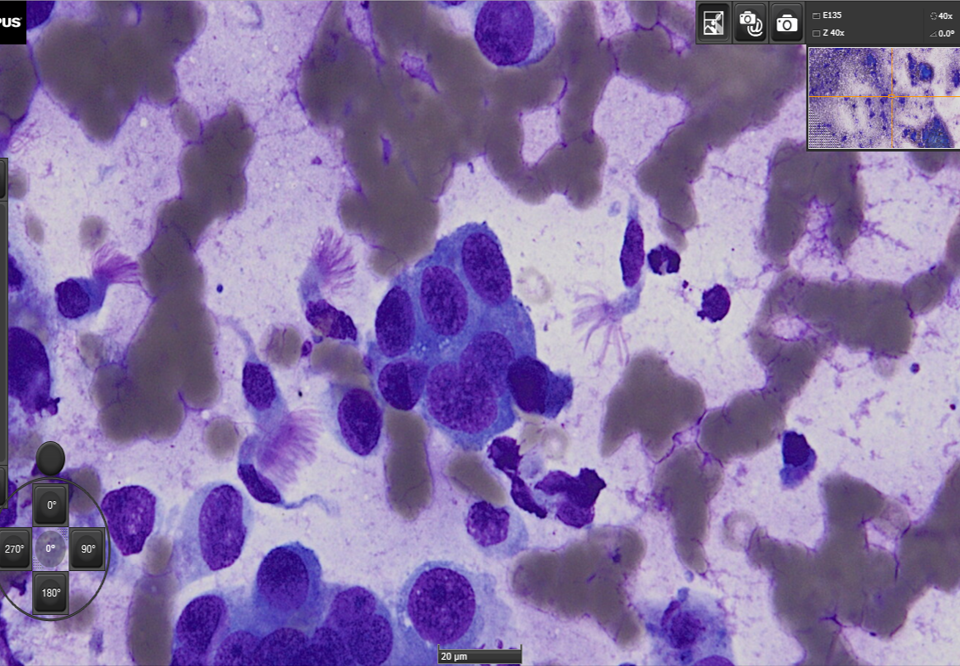 The setting up of the Conjoint Board between the RCPath and IBMS in 2001 and development of an agreed pathway for biomedical scientists (BMS) to obtain qualifications and recognition for the reporting of cervical cytology at consultant level was key.
The development of the Advanced Specialist Diploma in Cervical Cytology was among the first steps to the expansion of scientific roles, which demonstrated that classically perceived medical roles could be undertaken safely and just as well by others. These advanced roles are now so embedded that it is easy to forget this was only just over 20 years ago. This hugely important step paved the way for the establishment of the multitude of advanced roles that we see, not only in pathology, but across all of medicine.
Cytology as a diagnostic tool
Cervical cytology was invariably the mainstay of any cytology processed or reported in many laboratories and remained so well into this century. The role of diagnostic cytology (often called non-gynaecological cytology) was relatively minor apart from a few centres where enthusiasts were helping pioneer its use.
The development of the Breast Screening Programme in the late 1980s and beyond helped develop the use of cytology as a mainstream diagnostic tool. Many centres found themselves offering often daily breast fine needle aspirate (FNA) clinics, and this pre-operative diagnostic triple approach (along with radiology and clinical examination) replaced the use of intra-operative frozen section breast diagnosis.
While cytology was used in many other clinical settings, its use was more limited due to problems with sample collection and poor diagnostic yields.
"I have always believed cytology is an extension of cellular pathology, just another step down (or up) from a very small biopsy, and that all pathologists should be comfortable with reporting cytology. I think the best pathologists are those that can report both. I have found that a knowledge of cytology has helped inform my histology diagnoses and that a working knowledge of histology has informed my cytology practice." – Dr Diane Hemming
The growing importance of good cytology sample collection, handling, preparation and lesion sampling became ever more appreciated and more widely performed.
"One of the biggest changes is what can be done on limited material and how cytology, which in the past was mostly a triage tool, now can provide the only diagnostic tissue. This is especially true in lung pathology, where an EBUS can produce a single cytology sample, which provides diagnosis, staging and molecular information allowing for personalised treatment for the patient." – Dr Caitlin Beggan
Advances in sampling
With the transfer in breast screening from FNA cytology to core biopsy, there was a fear that many pathologists would turn their back on cytology again. However, advances in clinical medicine and treatment averted this. The growing use of radio-logically guided cytology samples – especially in respiratory medicine with samples such as endobronchial ultrasound (EBUS)-guided FNA and the development of rapid on-site assessment to ensure a suitable sample had been taken and could be triaged appropriately – helped arrest this potential demise.
"The role of cytopathology has changed dramatically from being a poorly recognised 'fringe' subject to a vital diagnostic method, benefitting particularly from the collection of fresh, unfixed material for molecular and other techniques, allowing the immediate assessment of sample adequacy to decide what ancillary tests might contribute to diagnosis." – Dr Amanda Herbert
Molecular techniques
Cytology is now well recognised as an excellent substrate for molecular testing. The huge opportunities presented by molecular analysis of samples rich in DNA/RNA that could be used to aid diagnosis and shape treatment has catapulted cytology from relative bystander to a front row seat. The ability to rapidly offer this information from a few hundred cells has shown how key cytology can be in modern medicine. The complete transformation of the cervical screening programme from conventional Papanicolaou cytology smears to a primary HPV molecular testing first, and reflex cytology if required, has shown how cytology and molecular techniques can be fully integrated into a seamless service, all geared to diagnosis and patient management on one sample.
This sort of change has led to a vast reduction in laboratories in the CSP from over 150 a few years ago to just eight in England, which is an apt demonstration of what can be achieved. Staff, service and laboratory configurations have had to undergo a huge transformation, all towards the aim of a better overall patient-centred service.
International standards
The development of standardised international reporting systems in cytology has encouraged a move away from the somewhat individualised and sometimes quirky reporting habits that could be difficult to interpret and act on clinically.
"After 60 years, we are increasingly learning how to use cytology, histology and molecular tools efficiently. This requires an adaptable and multiskilled workforce. It requires a workforce in which different skills are integrated within individuals and, at the same time, one which integrates different traditions and training regimes in the same clinical teams." – Dr Anthony Maddox
The CSP has shown how a standardised cytology reporting system, with agreed definitions, can help in this respect. Diagnostic cytology has taken many years to develop and promote such an approach. Systems such as those used by thyroid,3 urine (Paris), salivary (Milan) cytology and others are now here to stay..4
The challenges facing cytology
Workforce and training
There is still much variation in cytology training, teaching and service delivery. Some of this variation is historic and needs to be better based on science and needs of the service. A total of 84% of pathologists reporting cytology would class themselves as general cellular pathologists.5 The improved integration of cytology with histology services and being more central to many cancer pathways has helped enormously in showcasing what cytology can offer and in whetting pathologists' appetites to deliver it.
But all is not rosy with regards to staffing. There are still many trainees, and trainers, who believe cytology is hard, and for some too hard. While pathologists may baulk at cytology on occasions, here are many of our BMS colleagues who wish to and can offer many aspects of this service, and this will grow. They are a key part of the laboratory and cytology team, and we will rely on them even more if pathologist interest wains. Pathologist training needs to better integrate cytology and histology; each has its uses and limitations. Just as radiologists are used to reporting across different radiological techniques (plain x-ray, CT, MRI, ultrasound scanning) so should pathologists be able to report upon histology and cytology with equal skill.
"More and more patients do not request extensive surgery and prefer chemotherapy, targeted therapies or limited resections. I am truly convinced that only small biopsies and cytology will be useful in the near future. Small biopsies/cytology will be to confirm and possibly type tumours, then look for molecular or genetic changes." – Professor Beatrix Cochand-Priollet
Future technological developments
The future of cytology, like histology, will involve greater uses of digital systems for reporting, educational and training. Cytology samples are currently less suited to whole slide imaging, but this is improving with advances in computer technology, and familiarity with systems and their use, but also with more considered and efficient technical handling and preparation of specimens. The use of artificial intelligence is also developing, with some systems already in use in cervical screening programmes.6 With time, this will no doubt also be used more frequently.
The future of cytology
The last 60 years have shown how cytology has moved from the dark into the light. The desire to do more and more with less and less will again show how flexible and well-suited cytology samples are to modern medicine. The increasing use of small biopsies and samples will require us to further develop and refine our skills. This will include not only the bed rock of cellular morphology but also a wider range of molecular and genetic testing. Will we be termed cytomolecularists in the future? I am very positive about the next 60 years for cytology and its place within the overall umbrella of cellular pathology, as are the many colleagues who have helped provide ideas and comments for this article.
Acknowledgements
I am indebted to many colleagues who have helped with this article, with the ideas, comments and quotes they have kindly provided. I would like to thank Drs Caitlin Beggan, Beatrix Cochand-Priollet, Ash Chandra, Karin Denton, Diane Hemming, Amanda Herbert, Tony Maddox, Caroline Russell, David Poller, David Shelton and Louise Smart.