Become a chemical pathologist
Chemical pathology (or clinical biochemistry) involves monitoring bodily fluids like blood and urine to detect important changes in the body's chemistry. Pathologists in this area play a key role in diagnosing and monitoring patients with a wide variety of illnesses – from high cholesterol to rare genetic diseases.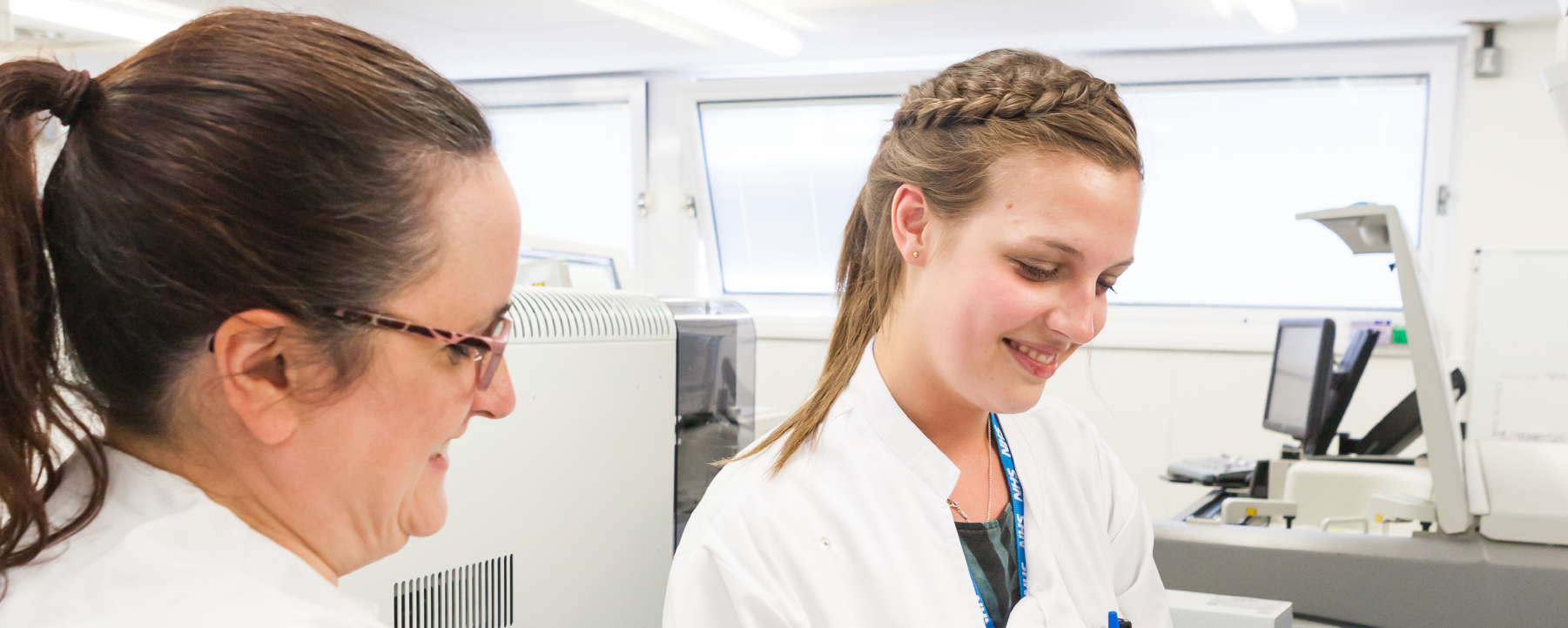 Chemical pathologists interact with patients at several different points through their treatment journeys – they investigate test results and meet patients in person to support their treatment. They oversee various outpatient clinics in hospital, like lipid clinics (that monitor people who may have raised levels of cholesterol and triglycerides in their blood) and metabolic bone clinics (that monitor people with disorders of bone strength).
In a metabolic bone clinic, for example, a chemical pathologist will have appointments with patients with osteoporosis (fragile bones). They'll talk through their bone density scans and blood tests and help them to prevent future fractures. They also meet with patients as part of ward rounds.
Outside of patient work, chemical pathologists often give GPs and hospital doctors advice on abnormal biochemistry test results. While they don't always work in the laboratory, chemical pathologists work closely with clinical scientists to make sure the work done there is of high quality/ They will monitor how the technical tools and processes used by their scientist counterparts impact on results.
With faster, more effective tests being developed all the time, chemical pathologists are usually the first to trial new diagnostic tools, and witness the benefits for patients first hand.
If you want to hear more from Joanne, watch her full interview on our YouTube channel.
What will my working environment be like?
As a chemical pathologist, you'll have a very varied work environment – seeing patients in clinics, providing expert advice to hospital staff and GPs, and working with scientists who oversee the laboratory. Training will also be part of your role, and there may be opportunities to be involved in research projects.
As pathologists in this area work mostly with patients with ongoing health problems, there are few emergency cases. Chemical pathologists are not the primary consultant for inpatients, so on-call work is generally carried out from home. Hence, the specialty is well suited to flexible working.
Read more about Kate's day-to-day working as a Consultant Chemical Pathologist in a Metabolic Bone Department.
What skills will I need?
Confidence and advocacy skills – chemical pathology is not a well-known specialty, so you'll play a role in making sure other hospital doctors know who to come to for help.
Warmth and empathy – you'll get to know your patients well, since many of them will have chronic illnesses, so it's important to develop good relationships.
Adept at data handling and statistical methods – chemical pathology tests produce vast numerical and statistics data, which undergo further manipulation by other systems to enhance and interpret results.
Find out what it's like to work in a clinical blood sciences lab by following the journey of a blood sample:
How do I train?
To become a consultant chemical pathologist, you'll need to complete:
undergraduate training at medical school
the UK Foundation Training Programme or equivalent
Core medical training (if undertaking subspecialty training metabolic medicine)
specialty training in clinical biochemistry.
Learn more about training to be a chemical pathologist.
Explore more careers