Dr Eranga Nissanka-Jayasuriya, oral and maxillofacial pathologist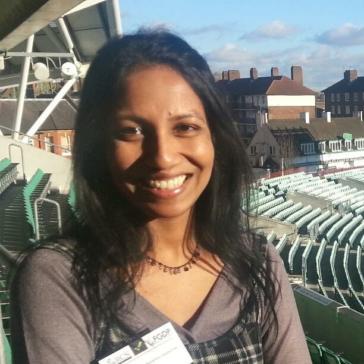 Can you tell us what oral and maxillofacial pathology is?
Oral and maxillofacial (OMF) pathology involves dealing with all neoplastic and non-neoplastic pathologies (abnormal growth) which occur in the head and neck. These could be diagnostic biopsies or large complex surgical specimens such as a hemi maxillectomy (upper jaw) for carcinoma.
The specialty is an overlap between doctors taking up ear, nose and throat (ENT) pathology and dentists taking up oral and maxillofacial pathology.
The job is challenging but equally rewarding, since the OMF pathologist plays a vital role in the management of all head and neck oncology patients.
What does your average day at work look like?
My work day begins at 7 am. I work best in the morning, so starting early suits me and I usually report most of my challenging cases before the departmental disturbances kick in. I like to keep on top of my work, so I try to report most of my uncomplicated cases by 10am. This is when I do my cut up, which may involve dealing with a neck dissection, a mandible, a tongue or a larynx.
I have constant breaks and keep myself active throughout the day. A lunch time walk or a run is a bonus! We get frozen sections usually early afternoon and I try to scan all other cases and order extra stains before I leave work. I do not report any critical cases in the afternoon since my brain does not function well after 3pm. Planning trainee teaching sessions, research work and administrative work are mostly dealt with in the evening.
Why did you choose this specialty?
Everybody asks me why on earth I ended up as an OMF pathologist, when I could have been a dentist with an easy life driving a Ferrari! The answer is very simple. The first day I sat in front of a microscope during my oral pathology rotation as an undergraduate dental student, I knew this was where all my strengths got focused in one specialty. Even though the journey was rough, it was worthwhile. As an undergraduate my strongest subjects were histology, anatomy, general pathology, microbiology and I won prestigious awards for oral medicine and oral pathology.
One main attraction was the academic aspect, and the fact I had material that could be used for research projects. I joined my university as a junior lecturer in oral pathology and enjoyed teaching immensely. But there was no training pathway for the subject in Sri Lanka at the time, and that is how I ended up in the UK. I had to work in dental practice as a general dentist for five years since OMF pathology in UK is oversubscribed with only about 13 training positions for the whole country. The competition is high as the specialty is getting more recognition.
What do you enjoy most about your job and specialty?
What is most rewarding about this role is being able to directly get involved with oral cancer management. The OMF pathologist plays an important role in the head and neck cancer multidisciplinary team by diagnosing all oncology cases and reviewing diagnosed cancer cases from peripheral hospitals. Whilst it is important to respect the other specialists, it is also important to maintain a strict principle of work ethics. I feel pathologists need to be strict in obtaining the relevant clinical information and other details to optimize the diagnostic accuracy and minimize errors.
A difficult case is like working on an unsolved mystery and solving it is what gives me the greatest joy in this speciality!
Apart from your job, do you take part in other pathology related activities?
I take part in related External Quality Assessments (EQAs) and I attend the London oral pathology group meetings held once every two months where interesting cases are discussed. I am also an item writer for my specialty, which involves writing questions for FRCPath part 1 examination. I am currently developing my leadership, management, teaching and research skills. These activities enrich my knowledge and ability to work effectively and therefore do not hinder my job in any way, if I manage them efficiently by being organised.
What advice would you give to students looking to enter your field?
Being an OMF pathologist is not everybody's cup of tea. You have little interaction with patients and most of your work will be in a laboratory environment. The personalities best suited for it are good in managing their time and work pattern. You should also be very organised, efficient and know your limitations.
For dentists who are interested you should gain exposure in oral and maxillofacial surgery, oral medicine and dental radiology and ideally should have done at least one year core training in oral pathology before you apply for a specialist training post.
The world under the microscope is fascinating (than looking in the mouth as a dentist) and never boring.