RCPath Science Communication Prize
This year's Science Communication Prize is now open! Entries should be submitted to [email protected] by 23.59 GMT on Monday 17 July 2023.
What is the Science Communication Prize?
The Royal College of Pathologists Science Communication Prize is kindly sponsored by Sonic Healthcare UK. It is an award given to a pathology trainee, Foundation doctor or undergraduate who has shown excellence in their science communication activities throughout the year. The prizes aim to:
cultivate awareness among pathology trainees and undergraduates about the importance of public engagement.

reward and recognise trainees, Foundation doctors and undergraduates who have undertaken sustained high-quality science communication activities.
There will be two prizes, one for each of the following categories.
Trainee category - UK pathology trainees

Undergraduate category - UK undergraduates and Foundation doctors
Each winner in the trainee and undergraduate category will receive £500 and be invited to accept their prize at the College's New Fellow's Ceremony, with the prize awarded by representatives of Sonic Healthcare UK. An interview with the winner will be posted on the College website.
Judging process

The decision on the Science Communication Prize winner will be made by a selection committee composed of the Vice President for Communications, Director of Publishing and Engagement and a member of the Public Engagement department. Selection by the committee will be based on evidence of a sustained commitment to high quality public engagement activities – further information is in the guidance for applicants below.
About our sponsor: Sonic Healthcare UK

The Science Communication Prize's sponsor, Sonic Healthcare UK, are leaders in consultant-led diagnostics, innovation, value, and long-term investment in healthcare provision. They have over 30 years' experience in the UK pathology market and have been working in partnership with the NHS for over 20 years.
Sonic Healthcare UK has been at the forefront of COVID-19 testing for the UK since the disease first emerged. The team has developed new testing methods, worked closely with hospitals, helped others open their own labs, and by the end of September 2020 was processing more than 10,000 PCR tests a day.
Sonic Healthcare UK, which incorporates the TDL Group of laboratories and services, is part of the Sonic Healthcare group, one of the world's largest clinical diagnostics groups with a demonstrated track record of medical excellence. Find out more at www.sonichealthcare.co.uk.
2022 prize winners
Congratulations to this year's winners: Victoria (Kip) Heath and Dr Vinaya Gunasri! Thanks to the generous sponsorship of this competition by Sonic Healthcare UK, both winners will be awarded £500 each.
Victoria (Kip) Heath
Kip is a Deputy Trust Lead Healthcare Scientist at Great Ormond Street Hospital. During the course of the year, Kip has completed more than 100 hours of science communication. She was part of the #PathologyROAR project, where she worked with healthcare scientists from seven NHS Trusts and four professional bodies to create a series of 19 videos that raised the profile of pathology careers. These videos are now part of the Health Education England national work experience catalogue. Kip also showcased her science comedy skills at her first international comedy gig at BrightClub Ireland. She was also invited to speak at New Scientist Live in Manchester, where she highlighted pathology careers and the impact of microbiologists during a session on Antibiotic Resistance.
In addition, Kip has gained funding for science communication skills training for pathology apprentices and researchers respectively. She has promoted pathology careers to school students by giving careers talks and providing shadowing opportunities for sixth form students. Each year, she also provides mentoring and interview coaching to 15 or so graduates. You may recognize Kip from some of RCPath's public engagement activities, namely our National Pathology Week undergraduate pub quiz which she co-hosted.
Q&A with Kip
How do you feel about winning this year's RCPath Science Communication Prize? I was simultaneously shocked and thrilled to win this year's RCPath Science Communication Prize. It was great to have the work I've done recognised and appreciated by the judges – I'm really grateful to have been selected as a winner.
Why did you enter this year's competition? It was a last minute decision as I didn't think I had a chance. On the last day before going on leave I decided it was worth a try anyway, and clearly that was the right decision!
What would you say to anyone who is considering entering this competition? Give it a go! Most of the people I speak to are far more qualified and accomplished than they believe. Try writing your nomination by imagining you're writing it about someone else.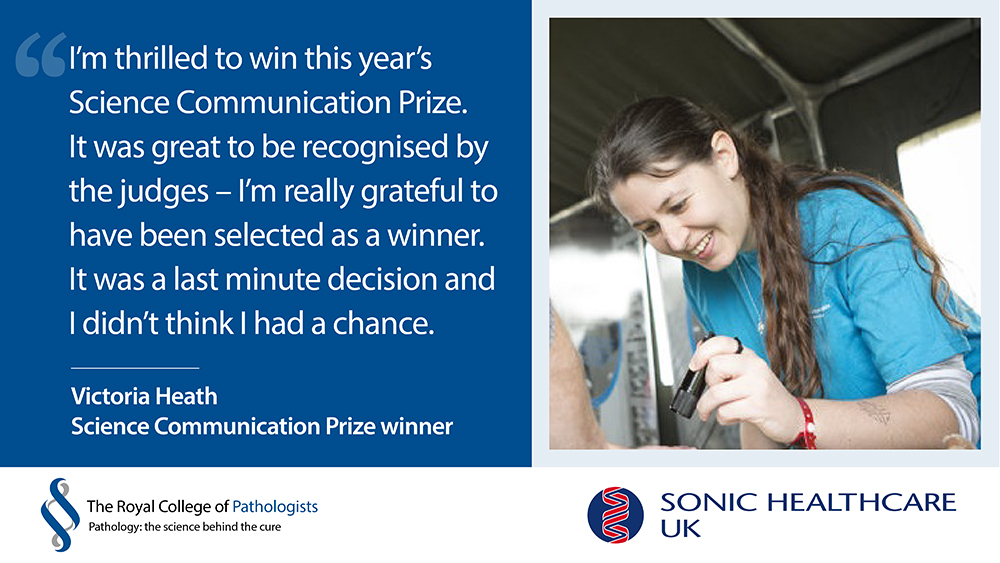 Dr Vinaya Gunasri
Vinaya is a histopathology registrar undertaking a PhD at Queen Mary University London. Vinaya's passion for spreading pathology information to audiences of different ethnic background and languages was evident from her application. She wrote: 'It is recognised in the literature that screening uptake in ethnic minorities in the UK is lower than the rest of the population, partly due to language barriers and embarrassment discussing sensitive procedures. This highlights the need for a translation project such as ours which targeted communities who may not speak English well and are hard to reach.'
Vinaya led a project involving the translation of voiceovers and subtitles for videos (created by Cancer Research UK) on bowel cancer and cervical screening into Sylheti Bengali and Urdu. The videos are now available to watch on YouTube. She worked hard to publicise the videos to relevant communities and charities, as well as the Royal College of Obstetricians and Gynaecologists and the Royal College of Physicians. On World Cancer Day, Vinaya also spoke on live radio to Voice of Islam. She also wrote an invited article for Cysters, a charity working with ethnic minorities to reach target groups within their campaigns.
Q&A with Vinaya
How do you feel about winning this year's RCPath Science Communication Prize? I'm honoured to have been selected as the winner for this year's Science Communication Prize.
Why did you enter this year's competition? I am passionate about minimising inequalities in access to healthcare in the UK. Language barriers can prevent people from engaging with cancer screening. Together with Cancer Research UK, I led a project on translation of videos on bowel cancer and cervical screening into Sylheti Bengali and Urdu to minimise such barriers. Positive feedback suggested that the project reached people who had previously disengaged with screening. The project used a small amount of funding (£1000) to adapt existing resources. I wanted to highlight that low-cost approaches can be useful in making a difference, especially to encourage any trainees who may want to take up public engagement activities but are put off by lack of funding opportunities.
What would you say to anyone who is considering entering this competition? It is important that advances in science and medicine are communicated to the public. I'm grateful to the Royal College for setting up this prize to encourage trainees to undertake public engagement. The Science Communication Prize is a fantastic platform to showcase public engagement work done by trainee pathologists. To anyone considering applying, go for it!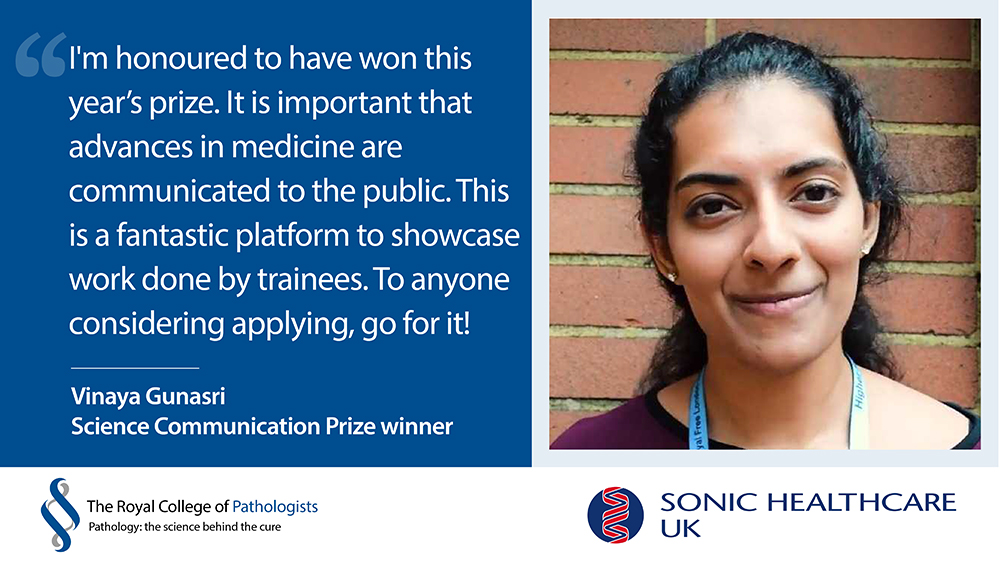 How to apply
Use the application form below to self-nominate for this prize. There is a space on the form for a referee to provide a supporting statement for your application. Refer to the guidance for applicants document below before you complete the form. You can apply as a team rather than an individual but the maximum number of people that can be included in one prize application is four. Completed application forms should be returned by email to [email protected].